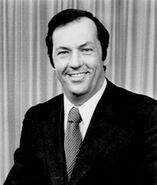 In 1943, on this day the forty-fourth Vice President of the United States William Warren ("Bill") Bradley was born in Crystal City, Missouri. An unusually active office holder selected for regional balance, ironically his executive candidacy was sharply diminished by his service in the White House. He was unfortunate to lose credibility and popularity because of the perceived failure of his bold initiatives that stirred up a hornet's nest of hostile opposition from an unusual alliance of political forces.
An article from the No Chappaquiddick by Eric Lipps in which EMK's car only almost went off that bridge on July 18, 1969.

Bill Bradley the best President we never hadAn American Hall of Fame basketball player, Rhodes scholar, and former Democratic U.S. Senator from New Jersey he campaigned for President in two separate general elections. During 1992, he challenged the Republican incumbent Jack Kemp by praising the President for his victory in the Gulf War, but expressing the view that his economic program was a "well-intentioned disaster in the making". This fired the campaign race but also meant that he had locked horns particularly with conservatives.

Ultimately he had to settle for the consolation price of the Vice Presidency which in previous years had meant a big fat zero. However Sam Nunn saw him very much as a partner, and asked him to drive forward many of the vote-winning ideas that he had campaigned for hard during the race. And so immediately after the inauguration as a "100 days" quick win, he was appointed Chair of a working group on the subject of universal health care, one of Bradley's interests while in the Senate. Appearing before a conservative group in his home state of New York, ex-President Jack Kemp denounced the idea as threatening to substitute "a social-welfare mentality" for the "free market" in health care, branding it "another tax-and-spend scheme from people who think they can run your life better than you can".

Nevertheless, Bradley's healthcare working group released its report, which called for the establishment of a so-called "single-payer" national health care system, AmeriCare, loosely modelled on that of Canada. The program was intended to cover everyone not already eligible for care under either Medicaid or Medicare. Reaction was immediate, and, from the GOP, bitterly hostile. The Bradley group's plan was denounced as "socialist medicine" before anyone among its critics had read anything but a thumbnail summary of it.

As the millennium approach a desire for change began to grow. Tennessee Senator Al Gore looked set to replace Bradley as the Democratic Party nominee, but unfortunately for him he lost a powerful backer at a vital moment. In the Senate he and former President Ted Kennedy had fallen out over the Internal Defense Administration bill proposed by Nunn-Bradley. Having seen off Gore's weakened challenge, Bradley had to face-off Arizona Senator John McCain in the general election. His maverick appeal and promise of transformative change disguised a desperate need for the GOP to succeed, forcing the boldest candidate selection choice since Barry Goldwater. After Nixon's resignation, they had only managed to occupy the White House for a single term by Jack Kemp, and that largely due to the Donna Rice Scandal destroying the Hart Administration. Observers wondered whether McCain and his straight-talking express could stir up an even more impressive hornet net's that would make Bradley's opposition look very tame indeed.
© Today in Alternate History, 2013-. All characters appearing in this work are fictitious. Any resemblance to real persons, living or dead, is purely coincidental.