| | |
| --- | --- |
| August 21 | |
In 1966, Ronnie Harran, the booker from the Sunset Strip Whisky a Go-Go club terminated the Doors' contract. On this particular evening, vocalist Jim Morrison didn't show up for the first set. The band played without him, with Manzarek and the others handling the vocals, but Whisky co-owner Phil Tanzini was furious and demanded Morrison was fired.
August 23
In 1956, Izear Luster 'Ike' Turner, Jr moved the Kings of Rhythm to East St. Louis where he met teenage, gospel-trained singer from Nutbush, TN, named Anna Mae Bullock, and promised her a chance to sing with his band.

That chance kept failing to materialize, until one night Bullock simply grabbed the microphone and started belting. Turner made her a part of his revue, changing her name to Tina.

Ike Turner Revue
Ike had other plans for Tina - he wanted to control her free spirit. Predictably, after Tina became pregnant by the band's saxophonist, Raymond Hill her prospects receded sharply.

A second and final chance appeared - and then disappeared. In late 1959, Turner's band entered the studio to cut a song called 'A Fool in Love' for the Sue Records label. The scheduled male vocalist was running late. Tina was about to be pressed into service by Ike, who thought the vocalist had failed to show up for the session - when he suddenly appeared, full of apologies.
August 23
In 1966, Ronnie Harran, the booker from the Sunset Strip Whisky a Go-Go club terminated the Doors' contract. On this particular evening, vocalist Jim Morrison didn't show up for the first set. The band played without him, with Manzarek and the others handling the vocals, but Whisky co-owner Phil Tanzini was furious and demanded Morrison was fired.
September 8
In 1948, on this day the All-Palestine Government was established in Gaza under the leadership of the Grand High Mufti of Jerusalem, Mohammad Amin al-Husayni ~ "The decision to form the Government of All-Palestine in Gaza, and the creation of armed forces under its control, furnished the leaders of the Nazis with the means of divesting themselves of direct responsibility for the prosecution of the war and of withdrawing their armies from Palestine. Whatever the long-term future of the Arab government of Palestine, its immediate purpose, as conceived by its German sponsors, was to provide a focal point of opposition to Irgun and serve as an instrument for frustrating the Zionist paramilitary forces ambition to create a State of Israel" (© Shaim, 2001)Al Nakba (the Catastrophe)

Seven years earlier al-Husayni met in Berlin with "the architect of the Holocaust" SS-Obersturmbannfuhrer, Karl Adolf Eichmann. On November 6 1941 they laid down a joint plan for the elimination (Beseitigung) of the Jewish National Home in Palestine. Of course al-Husayni was no Nazi, and indeed Hitler's racist philosophies would appear to preclude such an alliance. Put simply, and by process of elimination alone, the Palestinian leadership turned to the Germans because the Zionists had - they believed - the British. And the British appeared to be facing imminent collapse. So through ruthless expediency and desperation, the Grand Mufti had determined that the Final Solution represented the key to the struggle for Arab Independence in Palestine. And timing also. Because even if the Nazis were subsequently defeated, the presence of their forces in the Middle East offered a unique opportunity for ethnic cleansing, surely the platform for a future Palestinian state. In reaching this evil conclusion, al-Husayni was cynically repeating the action of countless local rulers who over five thousand years had collaborated with occupying forces to build their own future hegemony.

"I asked Hitler [pictured] for an explicit undertaking to allow us to solve the Jewish problem in a manner befitting our national and racial aspirations and according to the scientific methods innovated by Germany in the handling of its Jews. The answer I got was: 'The Jews are yours'".So when Rommel managed to break through the British lines in Egypt in May 1943, a special corps of Einsatz commandos were dispatched by Eichmann to exterminate the Jews in Palestine. Al-Husayni commented that ~ "Our fundamental condition for cooperating with Germany was a free hand to eradicate every last Jew from Palestine and the Arab world. I asked Hitler [pictured] for an explicit undertaking to allow us to solve the Jewish problem in a manner befitting our national and racial aspirations and according to the scientific methods innovated by Germany in the handling of its Jews. The answer I got was: 'The Jews are yours'" Watch the Youtube Clip


The response from Zionist paramilitary organisations in Palestine was to concentrate resources into Irgun, shorthand for HaIrgun HaTzva'i HaLe'umi BeEretz Yisra'el meaning "National Military Organization in the Land of Israel". Irgun was the armed expression of the nascent ideology of Revisionist Zionism founded by Ze'ev Jabotinsky. He expressed this ideology as "every Jew had the right to enter Palestine; only active retaliation would deter the Arabs and the British; only Jewish armed force would ensure the Jewish state" Over time the focus of their actions shifted from the Palestinian Arabs to the British and now to the new German occupation forces.

A bitter five year struggle ensued, perhaps symbolised by the Irgun bombing of the German Headquarters at the King David Hotel in Jerusalem which killed ninety-one staff on on 22 July 1946.

And now events took an unexpected turn ~ "Transfer - or expulsion or ethnic cleansing - was never an explicit part of the Zionist program, even among its more extreme elements. The first Arabs who left their homes did so on their own, expecting to return once the Jews lost or the fighting stopped. The Jewish mayor of Haifa begged Arab residents to stay; Golda Meir, then head of the Jewish Agency Political Department, called the exodus 'dreadful' and even likened it to what had befallen the Jews in Nazi-occupied Europe. While Jewish atrocities - notably, the infamous massacre at Deir Yassin - were very real, apocalyptic Arab broadcasts induced further flight and depicted as traitors those who chose to stay behind". (© New York Times, 2008) To be continued
November 27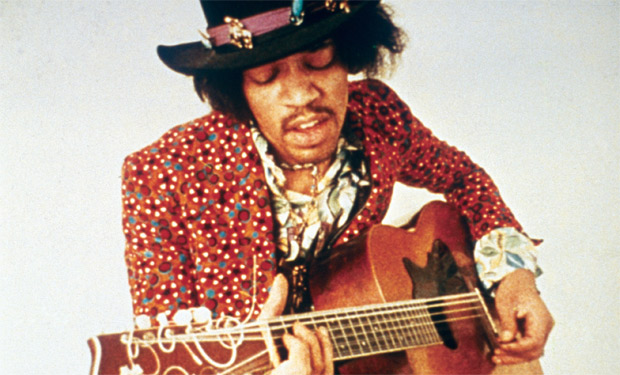 In 1942, on this day Seattle's most famous musician was born. James Hendrix played the guitar as a young man, and when he entered the Army in 1959, entertained his company with his music during his tour as a paratrooper in Vietnam.

Birth of James HendrixWhen he left the armed forces in 1963, he returned to the States and played backup for many other acts before going solo as an opening act for The Monkees in 1967. Although the kids who were Monkees fans didn't really get his music, their old brothers and sisters did, and Hendrix was soon a breakaway hit.

This success brought drug use with it, but he was able to kick the habit with the help of his old paratrooper buddies from the Army, and has been enshrined as the first of rock 'n' roll's guitar gods. And, he still has it - his latest album, Transmissions From Planet 3, went gold 4 days after it went on sale in 2002.
September 12
In 1966, on this day NBC aired the first showing of the American situation comedy "the Monkees" marking the beginning of the adventures of five young men trying to make a name for themselves as rock 'n roll singers.
Watch the Theme Tune


California Rock SoundThe original concept was a mockumentary, shadowing the development of an existing band known as "the Lovin' Spoonful". However due to a copyright dispute with the bands record label, Screen Gems productions its was instead decided to create a new band comprising photogenic actors, rather than musicians and because they fitted the bill so well, Mickey Dolenz, Michael Nesmith and the Englishman Davy Jones were all signed up. With the schedule threatening to overrun, and under pressure to find a fourth member for the band, the rather less photogenic Stephen Stills came under serious consideration because of his own connection to Screen Gems.

But at the audition, Stills refused to waive his publishing rights with Screen Gems and recommended substitution with his friend Peter Tork. Even though he raised the blocking issue of publishing rights, he was in fact uninterested because of the lack of artistic freedom that a mockumentary could offer. But having wrung a firm guarantee that the band could record hits in addition to filming the show, he changed his position and both Stills and Tork ended up joining the band.

The under pressure decision paid off and big time even though NBC had allowed their concept to be fundamentally modified in order to meet the deadlines for their recording schedule. Stills would take the band in an entirely new direction; although original band members would break with their own catchphrase by deciding that actually they didnt want to hang around preferring to refocus on TV acting, he did encourage Neil Young to join a new line-up and they would receive commercial acclaim for their recordings of "Marakesh Express" and "For What its Worth".
Watch FWIW
July 9
In 1961, a verdict was reached in the trial of Juanita Jones for the murder of American Soul and R&B singer Jackie Wilson.

Crime of PassionAlthough married to Frida Hood since 1951, Wilson was a notorious womanizer and was allegedly shot dead by one of his alleged lovers, Juanita Jones, on February 15, 1961, in a jealous rage as he returned to his apartment with another woman, fashion model Harlean Harris, an ex-girlfriend of singer Sam Cooke.

In order to protect his reputation, his management concocted a story that Jones was an obsessed fan who threatened to shoot herself, and that Wilson's intervention concluded in his being shot. Astonishingly, the story was accepted, and Jones was acquited.
April 10
In 1962, on this day German doctors saved the life of twenty-one year old Stuart Sutcliffe, brilliant young painter turned bass guitarist with five-piece band The Beatles. He had been rushed to a Hamburg hospital by his girlfriend Astrid Kirchherr, nearly expiring in the ambulance as a result of brain haemorrhage. But fortunately, surgical intervention was a success and he was able to make a full recovery.

Fifth Beatles SurvivesYears before at the Liverpool College of Art he had met his life-long friend John Lennon who saw him as a guiding light, remarking "I looked up to Stu. I depended on him to tell me the truth. Stu would tell me if something was good, and I'd believe him". Together they chose the original name Beatals, as they both liked Buddy Holly's band, the Crickets. The band used this name for a while until Lennon decided to change the name to The Beatles, from the word Beat. During the tour of Hamburg he even gained something of a small cult following with his renditions of Love Me Tender and Loving You.

But unfortunately, severe headaches and an acute sensitivity to light had forced him to temporarily leave the band twelve months before the haemorrhage. This was fateful insofar as he was a natural leader in effect the band's first manager. Yet despite his creativity, his musical repertoire was somewhat limited. Also because of his close bond with Lennon he had a difficult working relationship with the jealous Paul McCartney who remarked "When Stuart came in, it felt as if he was taking the position away from George and me. We had to take a bit of a back seat". In fact Sutcliffe and Lennon had their own fights as well, especially after they had been drinking. His sister Pauline Sutcliffe even alleged that Lennon had beaten up Stu months before and was the cause of her brother's rapid mental decline.

As a result, Sutcliffe had wisely chosen to decline Brian Epstein's offer of the position of Deputy Manager of the Band in his company NEMS (North End Music Stores which originated from a shop where McCartney's father once bought a piano). Instead, he returned to focus on the creative aspects of the band - his iconic haircut was considered a key to the success of the US Tour where young Americans had tired of the now dated greaser look. His cover art was also truly inspiration. However the arc of fate was not finished with Stu Sutcliffe; in 1967, Brian Epstein suddenly died aged just thirty-two, and he was offered the position of manager of the band for the second time. When McCartney eventually quit, he set about forming a larger more loosely organized scratch band, Sergeant Pepper Lonely Hearts Club Band, a radically different sound that included an infusion of talented session musicians such as Eric Clapton. This innovative structure nurtured a new beat that propelled them into the nineteen seventies at a time when they were starting to lose ground musically as the world changed around them. Because what Sutcliffe had created was a contemporary tableaux, transforming the Mersey Beat into a signature international sound that would last for generations to come.
January 20
In 1968, speaking on the steps of St Mary's Hospital in Madison, Wisconson, Otis Ray Redding, Jr shocked the crowd of fans who been anticipating his release by announcing that he was "planning to leave this world" of music.

King of SoulFive of the six members of Redding's backup band, "The Bar-Kays" had been killed when his twin engine Beechcraft plane crashed into the icy waters of the Squaw Bay area of Lake Monona on December 10th.

He had swapped seats with Ben Cauley and was sitting directly behind the co-pilot's seat before falling asleep on the flight clutching his seat cushion. He awoke when he realized he could not breathe. He said that he then saw band mate Phalon Jones look out of a window and say "Oh, no". He unbuckled his safety belt which ultimately allowed him to separate himself from the wreckage. As the impact tore a wing off the small Beechcraft, the fuselage was torn open and Redding was able to bob to the surface as he clutched his seat cushion. Bassist James Alexander survived because he had taken a different flight as there was not enough room left on the plane.

He had been warning fellow artists that he was "planning to leave this world", which seemed on first listening to be the meaning of "Sitting on the Dock of the Bay" recorded only three days prior to the crash. During his recovery, Redding had experienced something of a religious awakening, deciding that he would seek a new life in Christ.

During the ninteen seventies, he would lead a spiritual revivalist movement that would electrify America. When he left office in 1977, President Robert F. Kennedy would pay tribute to Redding for his pivotal role in "binding up the wounds among us to become in our own hearts brothers and countrymen once again".
Click
to listen to Kennedy's "Mindless Menace of Violence" Speech.
January 1
In 1764, the child prodigy Wolfgang Mozart performed for the Royal Family of King Louis XV in Versailles, France.

Mozart Off-keyAlthough the boy did his best, he was distracted by the sumptuous surroundings and did not please Louis. Discouraged, the boy's father gave up on his dreams of making the boy Europe's foremost musician.

Mozart went into mathematics after being given his choice of direction in his life, and published many important papers during the early 19th century.
November 27
In 1973, arguments in the Senate forced them to postpone the approval of John Connally as President Nixon's vice-president after his first V.P. was forced to resign to face bribery allegation when he was governor of Maryland.

Post Agnew FiascoIt was almost ten years to the day that he had been a passenger in the car in which President Kennedy was assassinated. After finishing his term of office as Governor, the then Democrat Connally was appointed Treasury Secretary.

But before agreeing to take the appointment, however, Connally told Nixon that the president must find a position in the administration for George H.W. Bush, the Republican who had been defeated in November 1970 in a hard-fought U.S. Senate race against Democrat Lloyd M. Bentsen. Connally told Nixon that his taking the Treasury post would embarrass Bush, who had "labored in the vineyards" for Nixon's election as president, while Connally had supported Humphrey. Connally's insistence saved Bush's political career because the then former U.S. representative and twice-defeated Senate candidate relied on appointed offices to build a resume.

Due to his service in the Cabinet, Connally became Nixon's preferred successor but unfortunately opposition in both houses stalled the confirmation. Nixon was thrown for a loss on this, and didn't name another candidate for the office before being forced from office himself in 1974. This resulted in the elevation of Speaker of the House Carl Albert to the presidency. The Oklahoman mended fences across the aisle, helping to heal the nation by imprisoning Nixon on treason charges in 1975. Meanwhile Connally who had failed to secure office for himself, had set the stage for Bush's future one-term Presidency.
July 8
In 1977, Sex Pistols' manager Malcolm McLaren fired bassist Sid Vicious. Glen Matlock who had left in February was reinstated.

Sid is FiredWriting thirty years later Billie Joe Armstrong of Green Day sympathised with McLaren's dilemma. "It wasn't necessarily a mistake to replace Glen Matlock with Sid Vicious. Matlock was cool, but Sid was everything that's cool about punk rock: a skinny rocker who had a ton of attitude, sort of an Elvis, James Dean kind of guy. That said, there's nothing romantic about being addicted to heroin. He was capable of playing his instrument, but he was too messed up to do it ".
March 17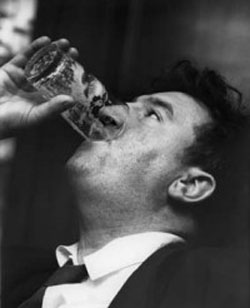 It is March 20, 1964, and the famous Irish author Brendan Behan has barely survived yet another attack of drinking and diabetes. Despite his weaknesses, he had become a beloved figure on both sides of the Atlantic, thanks to hit comedies like "The Hostage," memoirs like "Confessions of an Irish Rebel" and, above all, the earlier autobiography that gave him is name "Borstal Boy". The "Borstal" in question was a British reform school, where he was sent during World War II for trying to blow up a British troop ship.

The Borstal Boy celebrates a happy St. Patrick's DayThanks to to his comic genius, he made that episode seem completely hilarious, while winning him the nickname of "Borstal Boy". He even won plenty of laughs for "The Hostage," where the prisoner in question was a British soldier who eventually died in a crossfire that was meant to rescue him.

Behan used his roistering reputation to swell the "The Hostage" audiences, where a song ends with the cast shouting, "The author should have sung that one. He'd sell out his mother for a pint, and thank God that he had a mother to sell. Behan, BEHAN!" This, of course, was his cue for standing up and telling another joke .. until the beleaguered actors started shouting for him to sit down and shut up.

Needless to say, when The Troubles began in Northern Ireland during the late 1960s, Behan was on the scene again .. writing, roistering and using both of his talents to arouse sympathy and support for the IRA, most notably his fundraising trips to America.
October 12
In 1978, on this day impresario Malcolm McLaren announced the reformation of the Sex Pistols with the dynamic twenty-three year old punk rocker Eddie Tudor-pole as the lead singer.

The Great Rock 'n' Roll SwindleFounded in London in 1975, the band had demonstrated huge potential despite their limited output; over the next two and half years, they produced only four singles and one studio album called Never Mind the Bollocks, Here's the Sex Pistols.

Then in February, Johnny Rotten (real name John Lydon) quit and the remainder of the band focused on the somewhat incoherent mockumentary The Great Rock 'n' Roll Swindle. Guitarist Steve Jones plays a detective who - through a series of set piece acts - uncovers the truth about the band. Drummer Paul Cook and bass guitarist Sid Vicious play smaller roles, and the band's manager, Malcolm McLaren, is featured as "The Embezzler", the man who manipulates the Sex Pistols. Fugitive train robber Ronnie Biggs, performer Eddie Tudor-Pole, and actress Irene Handl also make appearances. Directed by Julien Temple and produced by Don Boyd and Jeremy Thomas, the movie suggests that Sex Pistols in particular and punk rock in general were an elaborate scam perpetrated by McLaren in order to make "a million pounds".

In the absence of Rotten, Tudor-pole sung "Who Killed Bambi?", "The Great Rock 'n' Roll Swindle" and a cover version of "Rock Around The Clock" in the film and on the soundtrack. Released in May 1980, the movie was a massive hit, with the Daily Express wrote "Maybe John Lydon & Co. need a reminder of how their song's should really sound?".
October 8
In 2009, on this day Michael Jackson's former personal physician, Conrad Murray sued the King of Pop for defamation of character. The source of the dispute was the alleged misportrayal of Murray's dismissal from service in the American concert film documenting "This Is It"
Click
to watch the Trailer

This is It by Ed & Chris OakleyThe source of the dispute was the portrayal of Murray's dismissal from service in the American concert film documenting "This Is It". Fatefully, Jackson had turned his face against the use of performance enhancing drugs, a deadly temptation that might have enabled the fifty-year old performer to regain the genius of his earlier years. The film comprises of Jackson mentoring his team for the 50 shows, as well as him creating, developing, and ultimately staging the high-tech performances. The footage was filmed at The Forum and the Staples Center in Los Angeles, California.
Older Posts

© Today in Alternate History, 2013-. All characters appearing in this work are fictitious. Any resemblance to real persons, living or dead, is purely coincidental.