Editor says, Guest reader Jackie Rose writes - "if history had occurred a bit different? Who says it didn't, somewhere?". That is our moderator's thought-provoking introduction to all Alternate History postings. But on the "Cosmos" TV series, I heard an even more striking thought...namely, that in an infinite number of planets, history would be changed in infinite ways. Their examples were: What if Hitler had won the war and what if the 911 attacks had been thwarted? But I say we could go even further, to hope for infinite happy endings. What if Hitler had won the war but loved all minorities? Even better, what if World War I and II had never happened at all, because the Archduke had shot the assassin at Sarajevo? For that matter, what if Lincoln had shot Booth? And my own favorite...What if Bonnie Prince Charlie had continued advancing on London and gone on to rule England? And better yet, what if his grandfather James II had not been deposed in the first place, letting Charles III inherit the throne? I'll bet that everyone has some favorite happy ending, that he or she can hope is happening on one of those infinite planets. So, guys and gals...what's yours? Suggestions by email most welcome.

Editor's Pick
| | |
| --- | --- |
| April 24 | |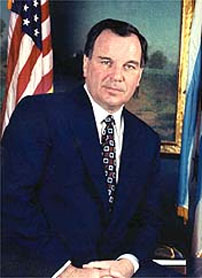 In 1942, on this day Richard Michael Daley was born in Bridgeport, an historically Irish-American neighborhood located south of the Chicago Loop. He was the fourth of seven children and eldest son of Richard J. and Eleanor Daley, the late Mayor and First Lady of America's Second City, Chicago.

Birth of Richard M. DaleyHe was elected fifty-fourth mayor at a moment in history when Chicago's Second City status was under pressure as never before. Of course many doom-cryers had predicted that such a decline was inevitable as far back as the 1945 World Series when the National League Chicago Cubs beat the American League Detroit Tigers [1]. However events conspired to transition the blue collar "City of Broad Shoulders" to the modern day white collar mecca "Chi-Town". Firstly, the earthquake of 1964 [2] held back the development of its rival city of Los Angeles. And secondly, his father invested all of his political capital in launching a long-term policy of suburban annexation [3] being forever associated with never-ending highway construction on I-94 through the Windy City and its suburbs [4].

Neverthless, by the late nineteen eighties Los Angeles was fast re-emerging, and Chicagoans began to look nervously at the relative decline of St. Louis. Of course Detroit had only been saved from haunting ruin by the action of local advocates who had lobbied the United Nations into basing their head-quarters on Belle-Isle. The issue was still unresolved when Daley left office and was succeeded by Barry Soetoro. He would govern a mega-city sprawling out into much of Cook County. And the appointment of an ex-Community Organizer was an intriguing development for a city where the term "Chicago Politician" was still being used to cynically describe connections to the Mob, a throwback to the bad old days of Al Capone [5].
In 1861, the Republic of Texas formally recognised the Confederate States of America in a keynote speech delivered by President William B. Travis on this day in Austin; whilst offering critical diplomatic support to his fellow South Carolinians, Travis carefully avoiding any direct comparison between the sieges of Fort Sumter and the Alamo.

Line in the SandNo longer the hot-headed twenty-six year old Lieutenant Colonel of the Texian Army, Travis had learnt a number of valuable lessons about leadership since he wrote the famous "Victory or Death" Letter on March 3rd, 1836.

Because having drawn a line in the sand, only one of the defenders of the Alamo had refused to cross it - Moses Rose, a French born former soldier in Napoleon Bonaparte's Grande Armée who insisted that he was not ready to die. And so during the late night hours of March 5th, Rose had snuck through enemy lines, broke into the Old Governor's Mansion and assassinated the Mexican general Antonio López de Santa Anna. Whereupon his successor, General Castrillon launched a disasterous strike on the east wall which was repelled by heavy cannon fire (that was in fact mostly shrapnel) but which caused the Mexican troops to despair and quit the siege.
In 1804, foiled in their dastardly plans to betray the founding principles of the American revolution, the disgraced Colonel Alexander Hamilton and his fellow Federalist plotters were transported to Hudson County, New Jersey where they were summarily executed on this day at the township of Weehawken.

Traitors to the American RevolutionPrima facie evidence had emerged from a vitriolic letter originally sent from Dr. Charles D. Cooper to Philip Schuyler, Hamilton's father-in-law. Published in the Albany Register, the letter revealed the existence of a vast and insidious conspiracy of soldiers, bankers and lawyers who sought to implement an American version of British mercantilism. Shockingly, the plans for a "congressional-military-industrial complex" had begun almost as soon as the Revolution was over.

"States' rights must be crushed, in the eyes of Hamilton and his followers"Prior to the execution, a charge sheet was read by Colonel Aaron Burr, reminding citizens that the war of independence had removed an evil "system of statism which employed economic fallacy to build up a structure of imperial state power, as well as special subsidy and monopolistic privilege to individuals or groups favored by the state". In short, Hamilton, et all were traitors to the American Revolution, the worst kind of corrupt, power-seeking political scoundrels no better than King George III of England. Because these evil mercantilists sought to introduce numerous taxes and interferences with international trade that benefited American businesses and the Federal Government while treating the American citizens like tax serfs.
In -70000, year by the pre-colony calendar, indigenous humanoid cousins of the Mlosh lost a battle with extinction, an extensive archeology study suggests. Indigenous humanoids wiped out 70,000 years ago, study says.The human population at that time was reduced to small isolated groups in the central continent, apparently because of drought.
"Tiny bands of early humans, forced apart by harsh environmental conditions, forced to the brink of extinction. Truly an epic tragedy, written in our cousin's scattered remains". says the report.
In 1804, the "Cooper letter" is published in the Albany Register newspaper.

The Cooper Letter by Eric LippsIn private correspondence, Dr. Charles D. Cooper to President Hamilton's father-in-law Philip Schuyler expresses a venomously hostile opinion of Burr, then seeking the governorship of New Jersey, and claims to describe "a still more despicable opinion which President Hamilton has expressed of Mr. Burr" at a political dinner. When Burr learns of the letter, he will immediately demand an explanation, stating that "political opposition can never absolve gentlemen from the necessity of a rigid adherence to the laws of honor and the rules of decorum".

Hamilton's response will not help matters. "How such a gentleman as Mr. Burr can complain of the private opinions of others, made known to him, when he has taken it upon himself to deliver first from the concealment of an alias and then openly attacks upon this Administration and upon its President assaults of the most inflamed character, I cannot comprehend". His next words will prove fateful: "As to his remarks on honor and decorum, one cannot discern from his record in the matter of the so-called Cicero letters, or indeed from any other source, by what right he is fit to question others".

Matters steadily worsen over the following weeks, with both Burr and Hamilton claiming that "honor must be satisfied" between them. Both men have a history of dueling, and Hamilton's friends and advisers, in particular, try desperately to prevent such a contest between the pair, arguing that for a president to duel would be "injurious to the dignity and indeed the security of the nation, regardless of the result".
In 2015, on this day fearing for his life if he returned to Britain, entertainer and former Beatle Paul McCartney, who'd been touring continental Europe when David Cameron resigned as prime minister, went to the U.S. embassy in Madrid and requested political asylum in America for himself and his family.

Paul McCartney
That McCartney had considered such drastic action, much less actually gone through with it, was one of the clearest signs yet just how bad things had gotten in the swiftly and inexorably disintegrating United Kingdom. Indeed, even as McCartney was filing his asylum request dozens of London's top police officers had resigned their commissions in disgust over the sky-high crime rate in the British capital.
On this day in 1983, Terry "Hulk" Hogan demolished "Psycho" Tommy Rich in less than nine minutes in the main event at the first Wrestlemania to win the WWF world heavyweight title; in the biggest match on the undercard, Greg "The Hammer" Valentine and Adrian Adonis beat Pedro Morales and Rocky Johnson to win the WWF world tag team titles.

"Hulk"
In 2001, most of Miller, Wisconsin goes up in flames as desperate National Guardsmen blow up building after building in an attempt to halt zombie Hitler on his rampage through the small town. During the chaos, Colby Ross and Samantha Robinson locate the hidden basement where their grandfathers had hidden the means to dispel Hitler and complete the ritual, banishing the Nazi forever.
In 1996, mere days after rescuing Sally Ann Moore from kidnappers at Aggiecon, Bartholomew Thompson, Moore, and several of Thompson's friends are approached by the alien race known as the B'han and asked to accompany them to their homeworld, where Thompson's peculiar talents are needed. The group agrees, to the misfortune of most of them.
In 1992, the British withdraw their meager forces from Zaire in the face of the brutal South African onslaught. With Terreblanche winning victories across Africa and Constitutionalist President Ralph Shephard consolidating his hold on the western hemisphere, it looks dark for the anti-Fulcrum allies. Fortunately, a new ally is just about to join them and turn the tide.
In 1915, Admiral Esteban Rodriquez's ships reach the P'Karsai nebula and find a habitable planet, populated by the race known to them as the Kainku. Rodriquez sends out a greeting asking for a meeting with the ruling government of the planet; it is responded to quickly in the affirmative.
In 1833,
Jacob Evert and George Dulty patent their
soda fountain
, a machine which makes sweet carbonated beverages. They almost lose their shop when a smooth-talking inventor tries to get them to start selling ice cream sodas, but recover after knocking the unpopular sweet off of their menu.
In 1781, former American general Benedict Arnold, now fighting for the Canadians, clashes with British General William Phillips at the Battle of Hudson Bay. Phillips had wanted to establish a fort that he could begin moving troops from to strike at any point in Canada, but Arnold saved Canadian independence by defeating him soundly and driving his forces back to sea.
In 1999, Queen Elizabeth's Prime Minister-in-exile Oliver Pembroke begins shuttling about the Commonwealth in a desperate effort to keep them from recognizing the government of Arthur the usurper. He has the full diplomatic support of the Central European Empire, but is ultimately unsuccessful. He returns home to Amsterdam with nothing to show for his efforts but a further lessening of the Windsor's influence. His counterpart, Prime Minister Merl Myrddin, has much greater success - the entire Commonwealth recognizes King Arthur's government as the legitimate rulers of Great Britain.
In 1891, Congress authorizes a huge expenditure for an expeditionary force against Kansas. President Harrison's call for men to preserve the Union brings in thousands of volunteers, swelling the ranks of the army. 'Sockless' Simpson continues to drill his men in Kansas, hardening the border against the storm he sees coming. In Missouri, General Anthony Franklin and Major Mark Wainwright finally find a small town with a telegraph office. 'At last,' Franklin says, then orders Wainwright to report back to Washington and give their superiors his location. 'Now, we begin our counter-attack.'
US President

In 1980, after reviewing intelligence reports on the emerging anti-Soviet mujaheddin resistance in Afghanistan, President Kennedy decides to direct U.S. aid primarily to secular Afghan factions.

This decision is sharply criticized by CIA Director Stansfield Turner, who points out that the most strongly anti-Communist groups are composed of militant Islamic fundamentalists. 'If we can get along with Khomeini,' Turner insists, 'we can deal with these guys--and we know they hate Moscow more than anything.' The President responds: 'And once they kick out the Soviets, if they do, what then? We manage to get along with Tehran, but isn't one Iran enough?'

Ted Kennedy
Turner reluctantly gives in. However, he communicates his dissatisfaction to others. From there, word of Kennedy's decision, and of his remarks, reaches Afghanistan, where Islamic fighters are enraged at what they see as EMK's 'betrayal.' Among those angered is a wealthy Saudi extremist named Osama bin Laden who has devoted himself to the Afghan struggle out of religious zeal.
In the seventy-first year of the colony,
the great Mlosh poet Klekt't'kel was born in Ireland. Writer of the epic poem,
This Empty World
, she is widely considered the greatest author of the first Mlosh century. She effectively communicated their profound sense of disappointment at the discovery that the colony's emerging sentient life had been destroyed by an extinction event. Klekt't'kel's sorrowful prose described the
Chi'cxu'lu'b Event
in which the planet had been struck by the devil's tail.
In 1961, with U.S. troops ashore in Cuba following the mass landings at Bahia de Cochinos on the 17th, anti-American riots have erupted throughout the Caribbean and in Mexico. In Mexico City, the U.S. embassy is under siege, with angry crowds being kept at bay by U.S. Marines and Mexican federales.
In 1980, President Reagan sent a small team of Marines into Iran to attempt a rescue of the 50 American hostages being held in Tehran. Unfortunately, desert storms knocked the choppers out of commission, killing 8 of the Marines. President Reagan took full responsibility for the mission's failure, and this more than anything was why Senator Kennedy beat him in the presidential elections that year.
In 1942, David O. Selznick refuses to let Ingrid Bergman out of her contract and appear in Warner Brother's Casablanca. The producers use Olivia de Haviland instead, and her marvelous performance as Ilsa opposite Humphrey Bogart earns her an Oscar as best actress.
In 1833, Jacob Evert and George Dulty patent their soda fountain, a machine which makes sweet carbonated beverages. They almost lose their shop when a smooth-talking inventor tries to get them to start selling ice cream sodas, but recover after knocking the unpopular sweet off of their menu.
In 3881, the brilliant tactician Minamoto Yoshitsune finally meets his match at the Battle of Dan no ura as the Taira clan overpowers his forces in spite of his numerical advantage. This infighting is the reason that China was able to conquer the Nipponese with relative ease in the coming decades.
In 1061, a monk named Robert DeBerge at the Abbey of Bath saw a comet in the sky. He prayed the night through over this, and the following day told all of England that God was sending this errant star to destroy the nation. He was proven correct when the comet smashed into the earth, killing most life in northern Europe.
In 1980,
Operation Eagle Claw (or Operation Evening Light) the United States military operation to rescue the 53 hostages from the U.S. Embassy in Tehran was a stunning success. Privately, many Washington insiders believed the credit was due to
Yonathan Netanyahu
, who had been on secondment from Israel Defense Forces elite Sayeret Matkal unit. The experience and valour he had demonstrated at the
Raid on Entebbe
had made him a must-have member of the Eagle Claw team for Jimmy Carter, a former serviceman himself.
April 23
In 1903, the Great Russian émigré Vladimir Ulyanov died suddenly of an exacerbation of Erysipelas. Since his recent arrival in London, he had become infected by the flesh-eating red bug which had quickly spread into deeper tissue causing his demise.

A flesh-eating red bugUnder the pseudonym of "Lenin" he had penned the political pamphlet What Is to Be Done? Following this success he had travelled from Munich expecting to take a leading role on the editorial board for a Marxist newspaper called The Spark. But although these plans came to nought, he was fortunate enough to be introduced to two other remarkable intellectual émigrés, the mile-a-minute talker Lev Davidovich Bronshtein (who had also adopted a nom de guerre, going by the name of "Trotsky") and a quietly spoken Indian Lawyer called Mohandas K. Gandhi.

Gandhi was a student at the Inner Temple where he had met a radical thinker called Shyamji Krishna Varma, a highly educated gentleman who had served as the Divan of a number of princely states in India. But he had developed profound differences with Crown authority and was dismissed following a supposed conspiracy of local British officials at Junagadh. He chose to return to England where he founded the Indian Home Rule Society, India House and The Indian Sociologist.

Destiny swung a wide arc when this incomparable thought-leader and mentor welcomed the three younger men to the revolutionary hot-bed that was India House. Of course the Russians hardly needed to be sold on the point of view that "resistance to aggression was not simply justified, but imperative". And yet in Ulyanov opening up, sharing his own painful experiences - most tellingly, the execution of his beloved brother Sacha - a bigger picture began to take shape for Gandhi. And so when he passed away, Ulyanov had already extracted a death bed promise that Gandhi would take Marxism to India and liberate the down-trodden masses.
It is 1923, and two American boys are enjoying a European tour with a stop in Germany. Their trip was especially enjoyable because it had been so hard to get their wealthy Jewish parents to pay for their journey, especially since they were venturing into anti-Semitic territory.

The All-American BoysEven back in Chicago, though, they had enjoyed themselves by fantasizing about committing the perfect murder. Hearing about the viciously anti-Semitic political party organizer named Adolf Hitler, they decided he was the perfect target for making their fantasies come true.

Since they also knew that he was an aspiring artist, they called on him saying that they wanted to buy his paintings. He agreed to meet them in a hotel room, where they had registered in disguise .. after swearing him to total secrecy, by saying that having two Jews buy his artwork would embarrass them all. When they showed up they strangled him and hid his body beneath the mattress.

Their biggest challenge, of course, was getting out of Germany alive. Driving hell-for-leather to the airport, they managed their escape, hours before the corpse was found. One of them had left his glasses on the bed .. but fortunately for them, the other had spotted them just before they left the scene.

Hitler's death was blamed on everyone from the Communists to Kaiser Wilhelm, but it was only years later that the two boys decided to tell their stories.

It was true, they conceded, that Hitler had only been replaced by another Nazi leader named General Erich von Ludendorff, who was just as hateful as Hitler had been. He persecuted Jews and Christians alike, but had to stop short of killing them all, since there were so many Christians around, and they were naturally making common cause with the Jews. Still, the killers felt sure that the world was well rid of their original target .. and that all the world should admire the heroic deed of Nathan Leopold and Richard Loeb.
In 1791, on this day the American statesman James Buchanan, Jr. was born to parents of Ulster Scots descent in a log cabin in Cove Gap, Franklin County, Pennsylvania. During an unstable period of vacillating national leaders, he stood out as as one of the few national politicians willing to take a principled stand on the integrity of the Union.

Birth of James BuchananAfter a successful career in local politics he was elected to the Senate and later became the chairman of the Committee on Foreign Relations. Offered a position on the Supreme Court, he declined and served as Secretary of State under President Polk despite objections from Buchanan's rival, Vice President George Dallas. During this term of office he helped negotiate the 1846 Oregon Treaty which establishing the 49th parallel as the northern boundary of the western U.S.

He then served as minister to the Court of St. James's helping to draft the Ostend Manifesto. This document proposed the purchase from Spain of Cuba, then in the midst of revolution and near bankruptcy, declaring the island "as necessary to the North American republic as any of its present .. family of states". Against his recommendation, the final draft of the Manifesto suggested that "wresting it from Spain" if Spain refused to sell would be justified "by every law, human and Divine". When this clause was acted upon by the Pierce administration he resigned and returned to retirement with his beloved wife Anne [1] at his home in the Wheatland. He died in 1868. Of course long before then he had been vindicated because the slave island of Cuba became central to the disputes between the States.
In 1866, on this day Yankee soldiers arrested Mrs. Elizabeth Rutherford Ellis and other senior members of the Ladies Memorial Association in Columbus, Georgia.

The Arrests in ColumbusThe ladies had called for a Confederate Memorial Day on April 26th, scheduled to coincide with General Johnston's surrender at Bennett Place. The White House considered it a step too far. And to emphasize the point, a draconian ban was also put in place that outlawed the waving of the Confederate Flag, wearing of Dixie Uniforms or engaging in any form of re-enactment or commemoration whatsover.

The suppression of these freedoms would of course have long term effects upon the pursuit of liberty. By the second decade of the twenty-first century, President Michelle Obama would call for the banning of any form of foodstuff considered likely to lead to obesity. That announcement was made from the McDonald's store on Pennsylvania Avenue where the First Family indulged in a sugar free salad without dressing.
In 1993, on this day WordPerfect 5.2 went on general release. And by porting the application to OS/2 Warp the author Satellite Software had taken a breathtakingly risky decision to "bet the farm" on IBM holding the enterprise workstation space.

OS/2 Warp seizes the enterprise marketFortunately for them, it was a safe gamble because the brilliant software engineer Dave Cutler had recently decided to join IBM from DEC. He had been hired as a technical authority to eliminate many of the proprietary features that had held back the operating system. And to be more blunt, overcome the wrong-head attitudes of certain individuals who, having been burned by DOS, wanted to ensure that the OS remained closed to preying software developers. So much so, the first version only supported IBM printers (and not HP, Epson or other popular brands) and the third party application support programme just never took off at all. Due to appalling "stealth" marketing, many actually believe that the OS/2 only ran on the PS/2 machine. And so Cutler immediately set about transforming the status quo by porting to the new PowerPC platform allowing matters to move in the right direction and at a pace.

Of course WordPerfect had been written for Data General computers themselves the offset of the DEC range. It was through this circuitous route that Cutler was encouraged to commit to IBM when he had been considering a similiar post with Microsoft. Needless to say, WordPerfect for OS/2 was a huge success, and before long Satellite Software had acquired the Quattro Pro spreadsheet, CorelDraw Package and bolted together the WordPerfect Office suite that has dominated the enterprise application productivity market space for the last two decades. But of course if Microsoft had not experience prolonged delays with Word for Windows, then the situation might have been radically different.
In AD 33, that agent of the random Simon Peter withdrew his sword and with holy fury attacked the Temple Guards that had arrested his Master in the Garden of Gethsemane.

Off ScriptThe tense, but otherwise peaceful confrontation escalated into a violent armed struggle in which Malchus was killed.

Unable to raise him from the dead, Jesus discovered that he had been stripped of his miraculous powers. Fearing the wrath of God, he was terrified by the prospect that he himself might be cast into the fiery lake. Summoning both the disciples and the Temple Guards, he assembled a mob to march into the city and declare that the Kingdom of Heaven was at hand.
This post is a variant ending to The Last Temptation.
In 1616, on this day the playwright William Shakespeare died of a heart attack after an uproarious night out drinking with the poet Ben Jonson.

Death of the Bard
By Ed, Eric Oppen and Jackie SpeelThe cause for this excessive celebration was the resolution of a long-running dispute with the King's Men. Twenty-five years before, he was the lead playwright of the first tetralogy comprising Richard III and Henry VI Parts 1-3. In the spirit of collaboration, other actors of the playing company had become involved. Soon members of the Elizabethan Court wanted to be part of the merriment, and even Good Queen Bless contributed a few lines of dialogue.

But the fun stopped abruptly when King James ascended the throne and became the company's patron. Some fast back tracking was required on the political satire in the new Stuart Court. Shakespeare lost control of his own material, and the new house playwright John Fletcher managed to force him out.

He returned to Stratford-upon-Avon to focus on his poetry. However he was recalled to London to participate in the translation of the King James Version of the Bible, and the successful publication of the KJVB in 1611 restored him to favour. Five years later, he finally recovered his rightful ownership his plays. But the Elizabethan age had long sice passed, and he was just too old to keep up with the quoffing.
In 1814, on this day Maria, the first of the Brontë children, was born at Clough House, High Town in Hereford.

Birth of Maria BrontëThe family later moved to Haworth in the West Riding of Yorkshire, the romantic setting for the sister's works of literary genius. Because during a relatively short period spanning 1845 to 1850, the Brontë sisters used male pseudonyms to publish a series of highly successful novels.

In each, the male protagonist was a Byronic hero of pure sexual magnetism who demonstrated barely disguised arrogance to women. However this misogyny was handled somewhat differently in Maria's own work. Because Shagwell Park was driven by a thinly disguised raciness that is conspicously absent from Wuthering Heights, Jane Eyre and Agnes Grey.
In 1860, on this day the Democrat Party gathered at the South Carolina Institute Hall in Charleston for ten weeks of agonising soul-searching which concluded with the nomination of compromise candidate Jeff Davis who would triumph at the Presidential election in the fall.

Ten Weeks That Saved the UnionDavis was a smart choice being far more qualified than his opponent and fellow Kentuckian Abraham Lincoln and also able to hold together the Democrat Vote due to respect for his national status. A man surely of the stature of his fifteen predecessors perhaps even of the same leadership stock as the first five Presidents who guided the Union through equally troubled times.

Born in poverty with no education, Lincoln was given an axe at the age of twelve and entered into manual labour. He never adminstered anything bigger than a two-man law office. Deeply depressed, he was addicted to mercury, consuming more than nine thousand times the recommended daily dosage. As a result of his mercury-fueled short temper he was of course quite unsuitable for high office. During his single term as a Congressman his only achievement was to enrage his colleagues with "out of tune" opinions of the American-Mexican War, seemingly arguing against a sea-to-sea Union.

In contrast, Jeff Davis was a true nation-builder who would resign his seat in Congress to lead Mississipi troops to glory against superior Mexican Forces at the Battles of Monterrey and Buena Vista. And as Lincoln mismanaged his law office in Springfield, Illinois, Davis made a spectacular return to Washington that would result in his appointment to the Cabinet position of Secretary of War. As the professional head of the US Army, he would be considered one of the most successful holders of the post in the nation's history.

Lincoln might have continued to lose paperworks in his office (or his black stovepipe hat) but his political ambition was reignited by the Missouri Compromise. The Dredd Scot decision followed and the continuation of slavery moved to the very top of the national agenda. Despite his eloquence he lost his Senate Race against Stephen A. Lincoln. Then came the Harper's Ferry Raid.

During the campaign the Democrats would make compelling reference to the last note written by the madman who organized the raid "I, John Brown, am now quite certain that the crimes of this guilty land will never be purged away but with the blood".. Because only Jeff Davis would defend the continuation of constitutional liberty in a manner that would prevent white people from killing each other in a States War. Garbed in black outfit Lincoln was easily characterised as the nation's undertaker and axeman.
In 2008, on this day a defiant Robert Mugabe vowed to -- in his words -- "unleash the fires of hell" on US forces in the Mozambique Channel region..
On this day in 2019, the pilot episode of the CSI spinoff Forensics 101 aired on 204 TV stations across the United States. &nbsp &nbsp &nbsp &nbsp &nbsp &nbsp &nbsp &nbsp &nbsp &nbsp &nbsp &nbsp &nbsp &nbsp &nbsp &nbsp &nbsp &nbsp &nbsp &nbsp &nbsp &nbsp &nbsp &nbsp &nbsp &nbsp &nbsp &nbsp &nbsp

Jerry Bruckenheimer
In 1974, on this day a Pan American World Airways Boeing 707 almost crashed into the side of Gunung Patas west of Singaraja (Bali). All 107 passengers on board Pan American flight PA-812 from Hong Kong to Sydney survived despite this near miss while the Boeing 707 was making a scheduled intermediate stop at Bali. The plane had almost struck a mountain in Bali's north-west when the pilots misread a malfunctioning Automatic Direction Finder (ADF). The reason for the malfunction became clear some short hours later when the plane set down in Sydney to be greeted by aboriginal airport officers dressed in the military uniform of the Dream time Republic.
In 1999, on the occasion of Shakespeare's birth and death, and just a few days after his first anniversary on the throne, King Arthur II declares a general amnesty for the Windsors if they will return to Great Britain. 'We are willing to forgo our righteous vengeance against the family of the false queen, Elizabeth Windsor, and grant them peace and safety within our borders,' he says in the statement at Stratford-on-Avon. 'This is no time for the British family to be split.' Although it seems like a totally magnanimous gesture, it does quell the minor pro-Windsor factions in the country, giving Arthur a united country as he prepares his Templars for war against the Central European Empire. His new queen, Lady Gwen, gives up one of her homes for the Windsors. The former royal family, unsurprisingly, does not take King Arthur up on his amnesty. Prime Minister Merl Myrddin uses the offer of amnesty to persuade the rest of the Commonwealth to recognize Arthur as King and increase the power that can be brought to bear against the CEE.
In 1891, the call goes out for volunteers to swell the Union Army's ranks and take back Kansas. Thousands of men answer the call and join up. In Kansas, "Sockless" Simpson's troops stand guard across the state's borders and drill themselves to readiness. Just across those borders, General Anthony Franklin keeps his men ready and tries to locate a telegraph office to report in his location. "There's one every block back east," he complained to Major Wainwright, "but the 'wild west' hides theirs so you can't find them".Major Wainwright was thoroughly sick of the general at this point, but was still unwilling to resign his commission. He also wanted revenge against Simpson, and that kept him going as they tromped through Missouri's wilderness.
In 2005, when Chelsea Perkins is untied to use the restroom, she climbs out of the window of her mother's apartment and runs for a few blocks. When she feels comfortably far from her mother, she activates the spell to return her to the Great Tree, where she dispels the illusion of herself that has been keeping Debra Morris, her teacher, company for a few days. Chelsea is stricken with the realization that she can't really go home again.
In 1994, the American Air Force began the Michelin Raids against Great Britain; President Ralph Shephard designated each site awarded stars in the famous Michelin Guides as a prime target. Although the devastation caused by the raids was disheartening, the British carried on against the Constitutionalists and their South African allies.
In 1975, Comrade President John Anderson says that the Chilean War is over for America. 'Today, Americans can regain the sense of pride that existed before Chile. But it cannot be achieved by re-fighting a war.' The North Chilean government was shocked by this admission, and an exodus of Communists to the Soviet States of America began. It was only halted by the South Chilean takeover of the country a few days later, when they closed off the borders of the country.Story Chunk 2
On this day in 1984, Tom Brady made his Little League debut, pitching his Minors division team to a two-run shutout win.

Tom Brady
In 1014, pagan northmen, known as the Vikings, murder Archbishop Brian Boru of Ireland and attempt to carve the Emerald Isle out of the Holy British Empire. Pope Aethelred the Unready, who had been losing the Empire's continental possessions for years, was finally stirred into action, although he was unable to take back Ireland during the final two years of his papacy.
In 1985, the Coca-Cola Corporation changed its world-beating secret formula for the first time in a century with the marketing of New Coke. The bland, sugary new product turned customers away in such droves that the Coke Corporation collapsed and was acquired by its arch-rival, Pepsi.
In 1616, William Shakespeare, the actor who provided a front for Francis Bacon's early playwrighting career, died in poverty in London, England. After his falling out with Bacon at the turn of the century, he was never again able to make a decent living in the theater.
In 1616, William Shakespeare recovers from a heart attack and returns to the King's Men, where he pens 4 more plays before retiring for good in 1620; these are probably his most famous works, as well as his most controversial. The Archbishop of Canterbury almost brought him up on charges of heresy for Adam & Eve, for instance.
In 1564, William Shakespeare is born in Stratford-upon-Avon. The Bard was a controversial Illuminated One, giving away many secrets within his plays and angering the other Chosen Ones. After the sorcerous incantations of MacBeth were performed, they decided he had gone too far; he was killed secretly and replaced with a double.
In 1014, Brian Boruma mac Cennetig the High King of Ireland decisively defeated rebel forces at the Battle of Clontarf. The King of the province of Leinster along with the Norse king of Dublin and his viking mercenarie were killed along with most of the leaders of the province of Munster.
In 1056 AUC, Diocletian pardoned the Libyan hero Djiordjius, famed for slaying a crocodile in order to save the young daughter of a tribal chieftain. Djiordjius had become entangled with the cult of the Christos, but Emperor Diocletian felt that such a mighty warrior deserved to live his life in spite of his anti-Roman beliefs.
In 2001, as Hitler's resurrected corpse ravages the small town of Miller, Wisconsin, Colby Ross and Samantha Robinson desperately search for the spell to banish him again in the notes of their illustrious grandfathers, Dr. Elliot Ross and Jake Robinson. The tension of the dangerous situation gives rise to romantic feelings between them, and they just know they're going to have to sleep together before this is all done.
Older Posts

© Today in Alternate History, 2013-. All characters appearing in this work are fictitious. Any resemblance to real persons, living or dead, is purely coincidental.