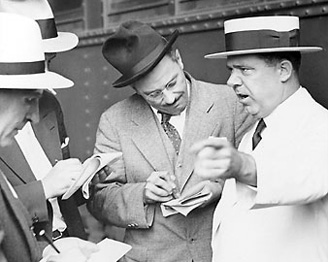 In 1936, Washington Press Release-Nov 24 1936 ~ Former Governor and Senator of Louisiana, Huey "Kingfisher" Long was officially confirmed elected as President of the United States today.

Kingfish Takes Charge
An article by Mr ZWith the public tired of the dying "New Deal" of former President Franklin D. Roosevelt, the exuberant Republican candidate took charge immidately, controversly naming Herbert Hoover Secretary of Commerce, promising a more successful way of getting out of the Depression. The Kingfish was reportedly heard to have offered FDR a job as Secretary of Navy, which FDR turned down with fury, stating he 'wasn't going to scrounge to take a handout from that "fish of a man".

President-Elect Long, who had dodged a assassination attack in September of 1935, longly suspected of foul play by rival democrats, promised to follow through with his promise of sharing the wealth. Some in congress were disturbed with his threats at congress that included dissolution, but the general public in a recent poll supported the "closing of congress" if they refused President Long's reforms, which include the taking of wealth from the rich.

"I'm hear because the people wanted me here. Not the corporations, not the trusts, certainly not the banks, but the people. If congress doesn't want to see what the people and me want, then by goodness I dont see the point of'm. I'm here to fight for what the people want: Equality, Happiness, and Freedom from Poverty. The wealthy have for far too long taken the big part of the pie that is America, and it's my aim to take that pie from thier fat faces and give it back to the farmers, the factory workers, and the average U.S. Man!"

President Long is said to be reportedly thinking of signing a "gentleman's agreement" between the U.S. and the German government, giving the U.S. a 'trading partner with a bright future and a strong leader...unlike our current trading partners, [the Germans] have remade themselves and are set for future success".
© Today in Alternate History, 2013-. All characters appearing in this work are fictitious. Any resemblance to real persons, living or dead, is purely coincidental.