| | |
| --- | --- |
| October 13 | |
Editor says, what if Claudius had lived? Please note that the opinions expressed in this post do not necessarily reflect the views of the author(s).
| | | | |
| --- | --- | --- | --- |
| Share this Article on: | Myspace | Facebook | Twitter |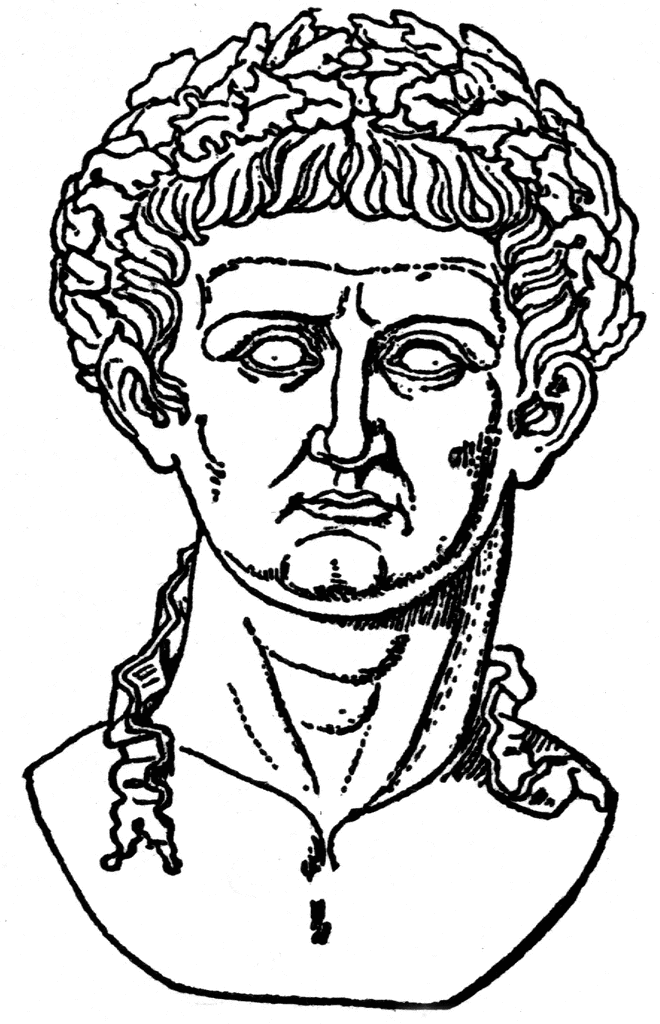 In AD 54, having narrowly survived an assassination attempt at the hands of his own wife, the Emperor Claudius embarked upon a transformative programme of change that returned Rome to a Republic with a future-proofed governance model. He did this by exiling his entire family to Tiberias' Palace on Capri and declaring that no Julian could succeed him.

Claudius LivesThe key feature of the new constitutional was the abolition of the principle collegiality, a merger of the consulship with the tribune, increasing the term of office from one year to four with no succession. But the real game-changer was the progression towards paper-based communication which made the new system of government work effectively.

Entry posted by
Stan Brin
© Stan Brin, 2008-.
Article reviewers Mike Stone, Scott Palter, Christopher Lee, Eric Lipps, Eric Oppen, Jackie Rose, Jeff Provine, John Braungart, Richard Roper, Stan Brin, Alternate Historian.
Story Tags
Permalinks: Post, Day. Browse Thread: Politicians Source: Wikipedia Labels: Claudius, Rome, Roman, Transformation, Decline.


Editor says, in reality Claudius died and a series of instability factors ultimately destroyed the Empire. In authoring this post, we have consulted with Scott Palter, Stan Brin and Jeff Provine, also repurposing content from Wikipedia. Editorial comments are entered in [light green] typeface.
Jeff Provine commented on 2012-08-22 13:51:01 ~ I always liked Robert Graves' suggestion that Claudius chose Caligula to follow him up because he knew the balding little weirdo would be an even worse emperor than Nero and, hopefully, drive the Romans back to republic. Making a constitution would've worked more solidly.

Jackie Rose commented on 2012-08-22 14:24:15 ~ From what I read, Jeff, the nobles hated and defamed Caligula because he was raising their taxes. Well, the more things change...

Richard Roper commented on 2012-08-22 15:28:10 ~ The problem was that a return to the republic created problems because Rome was now an Empire. If he reforms Rome so ththat there is some sort of executive and not just a temporary military office -Imperator, but how do you decide on a succession. But the paper-based government will be a huge step forward.

Eric Lipps commented on 2012-08-22 17:00:46 ~ I don't see Claudius's reforms as having a hope in Hades of succeeding. Having survived his wife's attempt at murder, he'd have been frustrated by the existing bureaucracy and eventually killed by someone else. He just wasn't the sort of charismatic figure who could have pulled it off. And I'm not sure a "paper-based" communication system would have been feasible at that time. Even centuries later, real paper was scarce and expensive, and substitutes like papyrus and sheepskin parchment would have been impossible to produce in sufficient quantity.

Jackie Rose commented on 2012-08-22 17:01:38 ~ I just wonder if a republic would have lasted longer...perhaps avoiding the Dark Ages and even enduring to this day. Also, I wonder what the effect on Christianity would have been.

John Braungart commented on 2012-08-22 17:20:16 ~ Umm, I have a question. Caligula succeeded (and may have helped to off) Tiberius. Claudius was succeeded by Nero the Mad. Where did Graves come up with Caligula succeeding Claudius?

Eric Oppen commented on 2012-08-22 19:10:56 ~ I don't think it would have worked. People remembered the endless civil wars under the Republic. And, to my learned friend Mr. Provine: Claudius chose _Nero_ to succeed him. He himself succeeded Caligula.

Stan Brin commented on 2012-08-22 19:44:41 ~ Jeff -- The palace guards found Claudius hiding behind a curtain after they murdered Caligula.

Stan Brin commented on 2012-08-22 19:48:23 ~ Eric Lipps -- Paper was always much, much cheaper than parchment or papyrus. Its raw material consisted of old rags pounded into pulp and bleached. It could be made anywhere. The problem was that nobody in the West thought of it.

Richard Roper commented on 2012-08-22 19:50:19 ~ I agree,Augustus got made Imperator because of all the civil wars. I think an executive would have to be voted in for life, with his predeccesor recommending candidates to the senate.

Richard Roper commented on 2012-08-22 19:53:25 ~ Oh yes, Claudius invented books - or rather Codexes, like boxfiles with the sheets of paper inside.

Stan Brin commented on 2012-08-22 20:10:30 ~ Richard - You are right about the codex, although to plural is "codices." This was part of my original idea. Because paper is produced in frames, it is always the same size and can be easily stacked. It also cannot be sewn in lengths like a scroll, but it can be sewn into a stack, which we call a codex, giving rise to the bound book. My view is that paper made taxation and banking much more efficient, producing more state revenue and offsetting currency debasement which plagued the later empire. It was also much cheaper, which meant that information could spread much more quickly and effectively -- no more messages on the backs of pottery shards. Even hand-copied books would cost much less. Printing would be invented to fill the demand.

Scott Palter commented on 2012-08-23 09:04:43 ~ The key problem was the absence of a dynastic feeling. Any successful warlord would be accepted and the legions knew it. The least bad answer would have been an electoral college with each legion having one vote and the Praetorians having two.

Stan Brin commented on 2012-08-23 09:04:44 ~ @Scott - This comment is wrong. During Claudius' time, Rome was still dominated by the 600 members of the Senate, and by the wealthy Equestrians. Not the army -- the army wasn't allowed into the city at all.

Christopher Lee commented on 2012-08-31 20:02:44 ~ Wow there's lots to say on this one! Firstly what is Claudius' motivation? He was physically unimpressive and did not command respect by charisma or presence, but he was intelligent and learned. He will have known what the later years of the Republic were like, endless jokeying for position, civil wars, intrigues, rebellions. It was into this chaos that the imperial system emerged and solved the problems. Consider the track record, although Caligula had been mad and Tiberius often uninterested the system had worked and run the empire effectively through all that. The Late Republic did not work, it was dominated by warring factions. The Julian family had, thanks to Augustus, built up some loyalty and a fairly solid system. What would Claudius achieve by tinkering with what had worked for 70 years? A return to infighting that had been mercifully absent for decades. I assume his motivation s supposedly revenge on his wife's family and relations for his brush with death. I am not sure that there was much nostalgia for the republic and Romans were no longer republicans en bloc. The empire had brought benefits and certainly did no great harm to the ordinary people. Other than hiccups such as the Varian Disaster the empire had been a story of success and consolidation. The aristocracy, such as it was, had been heavily damaged by the infighting of the late republic then further squeezed by the imperial regime for decades. There was not a class ready to take power in some republican utopia, it would have taken years to build up a leading class. If there was a longing for this republic why did nobody try to restore it after the death of Nero? Instead you got a big bun fight over the throne, won by Vespasian. As for Caligula and Nero, neither were obviously mad or evil when they became emperor. Caligula (which means little boots and was a name given to him affectionately by the army) was regarded as a good emperor until he suffered a serious illness which seems to have left him brain damaged. Nero likewise grew in madness as his rule went on. Nero always seemed to me to be more of an eccentric who liked grand gestures than a genuine madman. Neither was chosen per se as both were pretty much the only option and both seemed decent enough and you can't blame Tiberius or Claudius for their 'evil'. As for the army, it was not allowed in the capital city. Roman imperial military strategy positioned the army around the borders of the empire in positions to strike any invaders. The only military unit in the city was the praetorian guard, who were not an elite unit as sometimes portrayed, they were not used to combat or harsh discipline. When they did fight regular troops in later years they performed very badly. They were able to weild power in Rome because the populace were subject to the lex julia de vie publica, the proscription on carrying weapons leaving them as the only major armed force in the capital. Claudius did not possess the prestige brought about by personal military victory nor the personla charisma or presence to push through these kind of reforms. I don't see how he would achieve this major reform, the principle of killing a failed emperor had been established with Caligula and could easily be used on Claudius. Even his conquest of Britain was achieved almost entirely through proxies. He was tolerated as emperor due to his ancestry, not greatly loved and respected.




comments powered by

Disqus

© Today in Alternate History, 2013-. All characters appearing in this work are fictitious. Any resemblance to real persons, living or dead, is purely coincidental.