| | |
| --- | --- |
| November 13 | |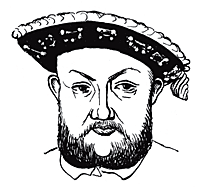 In 1520, on this day Henry VIII's illegitimate daughter Elizabeth was born to his long-time lover Bessie Blount.

Birth of Elizabeth Tailboys, Queen of EnglandEven though her mother's arranged marriage to Gilbert Talboys, 1st Baron Tailboys of Kyme did not occur until two years later, she adopted her stepfather's surname.

Of course her brother Henry FitzRoy, 1st Duke of Richmond and Somerset, 1st Earl of Nottingham was the King's only acknowledged illegitimate child. It was even suggested that he should be named the legal Tudor heir. But his death from consumption aged seventeen stopped such a succession plan.

Nevertheless all was not lost because at this desperate juncture, Blount had convinced the King that his wives fertility problems was due to something desperately wrong in his marriages. She managed to get her daughter acknowledged and the result was that Elizabeth Tailoys succeeded to the throne after the death of Queen Mary in 1558. Needless to say, this triggered an immediate challenge from Elizabeth, the daughter of Anne Boleyn. And as England descended into Civil War, King Phillip of Spain began to amass his armada.

© Today in Alternate History, 2013-. All characters appearing in this work are fictitious. Any resemblance to real persons, living or dead, is purely coincidental.