| | |
| --- | --- |
| November 9 | |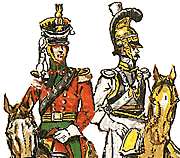 In 1313, on this day the forces of Frederick I of Austria triumphed at the Battle of Gamelsdorf.

Glorious Austrian Victory at GammelsdorfThe vanquished army was led by his cousin Ludwig (Louis the Bavarian of the House of Wittelsbach). Originally, the two bitter rivals (pictured) were childhood friends who had been raised together as siblings at the Habsburg court.

However, armed conflict arose when the guardianship over the young Dukes of Lower Bavaria (Henry XIV, Otto IV and Henry XV) was entrusted to Frederick. This decision to elevate him to the first rank of Princes forced his cousin to break with the House of Habsburg. But his challenge ended with Frederick's triumphant victory which allowed him to impose a tutelage over the subordinate nobility. It was a case of birth order sibling rivalry settled in blood on the battlefields of southern Germany.

© Today in Alternate History, 2013-. All characters appearing in this work are fictitious. Any resemblance to real persons, living or dead, is purely coincidental.