| | |
| --- | --- |
| September 13 | |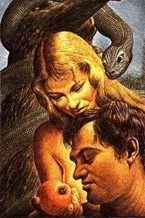 In 4003 BC, racked by guilt the murdering humans Adam and Eve buried their dead creator at the foot of the Tree of Knowledge of Good and Evil as the equally guilty snake penned a few words of fake remorse and poignancy to be spoken at the end of the hasty funeral ceremony held in the Garden of Eden on this day.

Escape from ParadiseOf course It was the snake that had tempted Eve into biting the apple but it was Adam who had encouraged her to utter the name of God backwards and undo the life of the Creator. But between those two sins, God had summoned the angel Uriah and ordered him to defend the Garden with his flaming sword.

The snake readily agreed to create a diversion in the west while the humans headed east, but of course he double crossed them and the orderley exit descended into chaotic flight.

© Today in Alternate History, 2013-. All characters appearing in this work are fictitious. Any resemblance to real persons, living or dead, is purely coincidental.