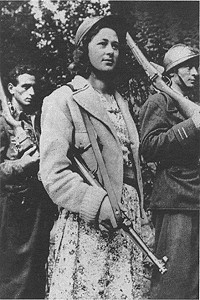 It is 1946, and Germany has conquered Great Britain. Prince Philip of Schleswig-Holstein-Sonderburg-Glucksburg has joined Hermann Goering's secret intelligence service.

Partisan PrincessPhilip got the job with the aid of his sister, Princess Sophia, who had married Prince Christoph of Hesse, the chief of Hermann Goering's secret intelligence service. Her two sisters Cecile and Margarita had also married Germans and become Nazis, so they help convince Philip to take the promising post.

His agents soon tell him about the daring exploits of Elizabeth, the Partisan Princess. She is known for rescuing and treating wounded British partisans after their guerrilla raids, using the experience she gained as an ambulance driver while the war was still going on. After he sets a trap for her, she is captured and taken before him...where her beauty, courage, dignity and defiance soon win his heart. Since he has already started having reservations about his German employers, she wins his mind as well. And she,in turn, is won over by his striking blond good looks.

After a night of passion, he arranges for her escape .. and is soon sending her information to help the partisans plan their attacks. Fortunately for them both, Sophia has the decency to warn him that the Gestapo is close to learning the truth. She helps them escape to America, where they convince President Truman to help support the guerrillas, with both intelligence and weapons, as well as her radio broadcasts. These messages have been written for her by Winston Churchill, including the unforgettable tribute to the guerrilla warriors, "Never have so many owed so much to so few".
© Today in Alternate History, 2013-. All characters appearing in this work are fictitious. Any resemblance to real persons, living or dead, is purely coincidental.