| | |
| --- | --- |
| July 23 | |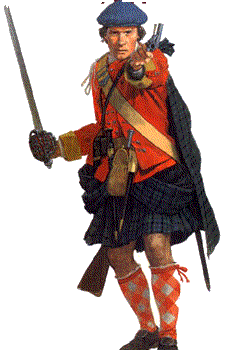 In 1745, on this day the twenty-five year Stuart pretender "Bonnie Prince Charlie" stepped ashore at Moidart in the Outer Hebrides, his tiny invasion force disembarked and the second Jacobite rebellion began in earnest.

The Forty-Five BeginsThe audacious Jacobite plan was to gather both momentum and support as they marched south to link up with an invading French army. And fortune was on their side from the outset. One hundred miles off Lizard Point in Cornwall, the Doutelle and Elisabeth had been intercepted by the 64-gun warship HMS Lion. But because the Admiralty was unsure of Charles' planned landing the Royal Naval Officers had mistakenly assumed that the two French ships were bound for North America.

The Jacobite standard was raised by a gathering of Highland clansmen at Glenfinnan in the Scottish Highlands. Victories then followed at Prestonpans near Edinburgh and then across the border at Carlisle. By December, the Jacobite Army had reached the east midlands town of Derby, just one hundred miles from the capital city of London. By the time that they crossed the Swarkestone Bridge on December 6th, British divisions were finally being recalled from Flanders, but the Hanoverian Royal Family had already made up their own minds. Because George II was already packing his bags and planning to flee to the Continent. Incredibly, many of Charles' commanders wanted to quit as well. They had chosen this historic moment to call for a retreat back to to Scotland, but fortunately the Young Pretender chose to ignore them and the rest is history.

© Today in Alternate History, 2013-. All characters appearing in this work are fictitious. Any resemblance to real persons, living or dead, is purely coincidental.