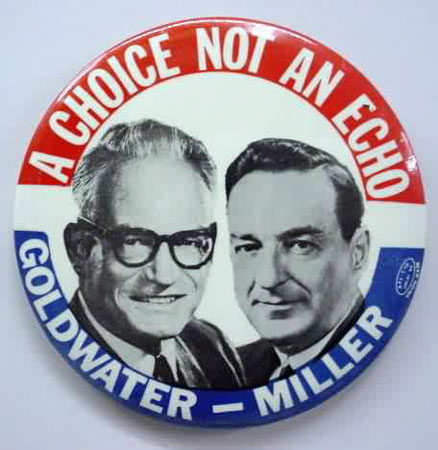 In 1914, on this day the thirty-seventh President of the United States, William Edward Miller (pictured) was born in Lockport, New York, of Irish and German ancestry, the son of Edward J. Miller, a factory floor sweeper, and Elizabeth Hinch, who owned a small millinery shop.

William E. Miller
37th US PresidentHe attended the University of Notre Dame and Albany Law School before served in the United States Army during World War II. At the Nuremberg trials he helped prosecute German war criminals before returning to the States. In 1948, Governor Thomas E. Dewey appointed him district attorney of Niagara County, New York.

He served in the United States House of Representatives from 1951 to 1965 and was chairman of the Republican National Committee from 1961 to 1964. At the Republican Convention at the Cow Palace in San Francisco, Barry Goldwater chose Miller as his running mate. Despite being considered an extremely obscure congressman from Western New York, he was nominated unanimously on a roll call vote. He was chosen because, as Goldwater remarked: "he drives Johnson nuts". In his acceptance speech, he declared communism as a "principal disturber of the peace in the world today" and said, "I would remind you that extremism in the defense of liberty is no vice. And let me remind you also that moderation in the pursuit of justice is no virtue". Despite the preponderance of Conservatives, some people, including those within his own campaign staff, believed this weakened Goldwater's chances, as he effectively severed ties with the moderates and liberals of the Republican Party. They were plain wrong, and their platform ("A Choice not an Echo&quot) resonated with an American public tired of the stories of sleaze surrounding President Johnson.

Unfortunately, Johnson and his immediately predecessors left a much bigger legacy problem than sleaze: VIETNAM. And the real problem was, Johnson drove Goldwater nuts. Because this developing conflict placed a great strain upon Goldwater. He suffered a third nervous breakdown during 1966. Forced to resign, he was succeeed by his Vice President and fellow scourge of Communism, William E. Miller.
© Today in Alternate History, 2013-. All characters appearing in this work are fictitious. Any resemblance to real persons, living or dead, is purely coincidental.