| | |
| --- | --- |
| December 27 | |
In 1922, on this day the Japanese aircraft carrier Hōshō ("phoenix in flight") became the first purpose built aircraft carrier to be commissioned in the world. Her aircraft group participated in the Shanghai Incident in 1932 and in the opening stages of the Sino-Japanese War in late 1937.

Flugzeugträger Part 13:
Commissioning of HōshōThe small size of the ship and her assigned airgroups (usually around 15 aircraft) limited the effectiveness of her contributions to combat operations. As a result, the carrier was placed in reserve after her return to Japan from China and she became a training carrier in 1939.

During World War II, Hōshō participated in the Battle of Midway in June 1942 in a secondary role. The narrow Japanese victory was assured by the support of the German double aircraft carrier group that had been stranded in the Far East at the outbreak of war.
This article is a post from the Flugzeugträger thread in which Adolf Hitler had committed more resources to Plan Z.
In 1979, on this day an unmarked private jet was given special authorization to land at the Mehrabad International Airport.

Presley ends American Malaise Part #1The sole passenger on-board was the born again Christian Elvis Aaron Presley. He was requesting permission to join the hostages held in the American Embassy in Tehran.

Just two years before, he had been suffering the American condition in microcosm, an energy crisis and a deepening malaise. Certainly his resuscitation on the bathroom floor was the lowest moment of life, but recognizing that truth he had been able to seek the support he needed to end his cycle of drug abuse.

Two years later, his medical problems were even more acute and he had only months to live. He decided to seize that final opportunity to make another lasting imprint upon the American psyche.
In 1917, on this day Emperor Karl I abdicated the throne of the Habsburg Monarchy, heralding the dissolution of the Dual Monarchy.
Article continues from Part #2.

The Last Chance for Peace #3 By Steven FisherDomestic turmoil in Austria-Hungary had been steadily increasing ever since the signing of the Treaty of Berlin on August 2. The devastating Austrian defeat in the Third Balkan war, and the harsh terms given to it by the Russians, had greatly increased peoples dissatisfaction with the government. This, combined with a faltering Austro-Hungarian economy had turned people against the Habsburg Monarchy.

An unusually harsh winter, combined with the already existing economic deprivation, finally lit the tinderbox of revolution. On December 19, people took to the streets of Vienna, calling for an end to the Monarchy. The army and police were sent to stop them, but to the governments horror, some army units and policemen began siding with the rebels. The riots quickly spread from Vienna to the other parts of the Empire. Clashes began between protesters and army troops. But defecting troops managed to turn the tide in favor of the protestors, since many in the army blame the current government for getting them into a losing war, and having them fight for nothing. A loyalist Army group moving to attempt to rescue the King from his palace in Vienna is defeated in heavy street fighting.

Finally, the Republican forces break into the palace in Vienna, and force Karl I to abdicate the Habsburg throne. The Austro-Hungarian Empire is dissolved, with Austria and Hungary both breaking off and forming the Austrian Federation and the Republic of Hungary. Ethnic minorities in both nations attempt to break off and form their own nations, such as the Czechs in Austria, but their attempts fail. The Austrians are more compromising, and form a federation within which the Czechs have some autonomy.

The peace was not to last though. On January 2, 1918, the Italians announce the annexation of Trentino, and march troops into the region. International condemnation of the move does occur, but the Italians brush it off by saying that they are taking this action to protect the Italaians living in the region, who they claim are suffering oppression from the Austrian authorities. The Austrians vehemently oppose this act, but cannot do anyhting, as their people are unwilling to fight a war.

Their inability to prevent the annexation of Trentino would spell the end of the Austrian government. On May 19, the Austrian military coups the government, establishing a German backed military dicatorship under Conrad Von Hotzendorf. It heralds the beginning of the poalrization around the powers of Russia and Germany, a situation that will inflame tensions between the two nations, and be a cause of World War 1 in 1921.
The whole thread is available at the Alt History Wikia.
In 1530, on this day the Lost Expedition of Francisco Pizarro y Gonzalez left Panama.

Pizarro's Lost Expedition Leaves PanamaFor hundreds of years, no one was quite certain what happened to the hundreds of men under the command of Francisco Pizarro y Gonzalez. Pizarro (pictured) seemed an apt commander and loyal Spaniard, but many theories have arisen about failures in battle, overwhelming armies of Punians, or the Spanish going native and joining the Inca's court to deliver them with firearms and horses. After much contention, the truth has gradually been assembled by historians piecing together Spanish chronicles with legend recorded by the Incan Nation.

A new story by Jeff ProvineThe initial biographical information about Pizarro is clear beyond his questioned birth date. A somewhat distant relative of Cortes, conqueror of the Aztecs, Pizarro sailed to the New World along with Governor Nicolas de Ovando and some 2,500 colonists. He traveled with Balboa on the explorer's trek across Panama and was one of the first Europeans to see the Pacific Ocean. His loyalty to Spain was displayed as Pizarro later arrested Balboa for his trial and execution. In good position with the government and spurred by stories of Cort?s' success conquering the Aztecs, Pizarro made company with the priest Hernando de Luque and the soldier Diego de Almagro to explore south and conquer the great wealth of an empire rumored to be there.

Their first expedition went out in 1524, but it quickly returned due to harsh weather, failing supplies, and battles with natives. 1526 saw another attempt, this one twice the size of the first and sailing much farther south. While Pizarro explored jungles, a ship sailed on past the equator and captured a native raft loaded with trade goods of pots, textiles, and, most importantly, gold and jewels. They explored further, but they found new hostilities in a land recently conquered by the Inca and decided to turn back. Pizarro stayed with thirteen men and awaited more provisions. A ship arrived to evacuate them, but Pizarro and his comrades pushed on in exploration, eventually coming across friendly natives at Tumbes and continued south. Finding irrefutable proof of the wealth of the empire to the south (as well as discovering llamas), the explorers returned to Panama to prepare for a third expedition.

The governor refused to allow it, so Pizarro sailed for Spain and returned with the Queen's signature on the Capitulaci?n de Toledo approving conquest. Pizarro left that December of 1530 and sent back further treasure to Almagro, who was gathering more recruits. Almagro would leave to join him, as would conquistador Hernando de Soto, the only man to return from the expedition. De Soto came back to Panama three years later, sunburned and sporting numerous battle scars, and told vague stories of the Inca attacking and overwhelming the conquistadors without provocation. Others assumed he escaped from a military defeat before reaching the Inca or leaving the expedition once it had changed allegiance to Atahualpa. While his word was debated, de Soto encouraged Spain not to waste human life by sending explorers south again.

From Incan records, it is told that the emperor Atahualpa, newly secured to the throne by defeating his brother Huascar, feared what white-skinned interlopers might do. He gathered survivors of the Battle of Puna and anyone with knowledge about the Spanish while Pizarro was away. Studying their tactics and the tales of conquest in the north, he determined that they were hardly demigods, clearly mortal though greatly powerful. When they appeared at his city of Cajamarca, Atahualpa invited them to feast and then killed the Spaniards in a great ambush, calling out, &quotMy lands shall be no man's tributary!&quot It is suspected that de Soto was sent back to Panama as a warning to the Spanish.

With conquest out of the question, the Spanish largely turned east and north, securing the Caribbean and Gulf of Mexico as well as moving around Portuguese land in Brazil to Argentina. Trade with Europe would build with the Inca, first in secret as the smallpox plague swept through the empire and then marginally promoted by Atahualpa's descendant Tupac. It is with Tupac that Francis Drake would make a treaty during his circumnavigation of the Earth in 1578. Trade blossomed, exchanging gold and exotic flora for weapons and manufactured goods, eventually turning the west coast of South America into an economic dependency under English influence as had been seen in parts of India and East Asia.
In 2005, Samuel David Moore finally spoke about his relationship with David Prater.
Both American Soul and Rhythm & Blues (R&B) singers were members of the soul vocal duo Sam & Dave. They recorded and performed together from 1961 through 1981; Sam Moore was the tenor (higher) vocalist and Dave Prater was the baritone/tenor (lower) vocalist. Click
to watch the duo perfoming "Hold On, I'm Coming" live in 1967.

Sam Forgives DaveAlong with 'Wicked' Wilson Pickett the leaders of the second tier of Atlantic/Stax's mighty '60s soul roster (first division: Aretha Franklin and Otis Redding), the team of Sam Moore and Dave Prater produced some of the sweatiest, grittiest soul music ever waxed.


Nicknamed "Double Dynamite", "The Sultans of Sweat", and "The Dynamic Duo" for their sweaty, gritty, gospel-infused performances, Sam & Dave were one of the greatest live acts of the 1960s. Phil Walden, Otis Redding's manager, said "I think Sam and Dave will probably stand the test of time as being the best live act that there ever was. Those guys were absolutely unbelievable. Every night they were awesome". An October 1968 Time article reads: "Of all the R & B cats, nobody steams up a place like Sam & Dave ... weaving and dancing (while singing!), they gyrate through enough acrobatics to wear out more than 100 costumes per year". Click
to watch the duo performing "Soul Man" live in 1967. Both were also serious drug addicts.

An increasingly volatile personal relationship between the two performers, Sam reached a breaking point in their personal relationship in 1968. After Dave shot his soon-to-be second wife in 1970, Sam told Dave "I'll sing with you, but I shall never speak to you again".

Dave was killed in a freak car accident in 1988, in which his body shot into a tree, severing his head from his torso. Later, Sam stated that " He didn't think of Dave, didn't think of him at all ".

In his Christmas broadcast, he admitted this was a mistake. Their sweatiest, grittiest soul music was the result of their harsh life experiences, and now, as an old man, finally he could find it in his heart to forgive him.
On this day in 1944, Allied advance troops entered Kiel; the ancient German seaport surrendered the next day, depriving the Third Reich of one of its last remainining naval bases.
On this day in 1959, the Baltimore Colts avenged their defeat in the previous year's NFL championship game, crushing the New York Giants 38-7. &nbsp &nbsp &nbsp &nbsp &nbsp &nbsp &nbsp &nbsp &nbsp &nbsp &nbsp &nbsp &nbsp &nbsp &nbsp &nbsp &nbsp &nbsp &nbsp &nbsp &nbsp &nbsp

Baltimore Colts
In 1996, the British Government announced that Armed undercover sky marshals would be placed on some British passenger planes in the United States. A key recommendation of the Gore Commission's Report was implemented, as envisaged by President Clinton's Executive Order 13015, which established the White House Commission on Aviation Safety and Security. Just five years later, the sky marshals would take part in a desperate struggle with terrorists on September 11th.
In 1972, Manuel Cartojas, leader of the South Chilean reactionary forces, announced that they would return to peace negotiations in Caracoa, Venezuela. The Soviet States of America and the People?s Republic of North Chile expressed high hopes for the talks, and an end to the warfare between the peace-loving people of North Chile and the warmongering guerilla fighters of the south.
In 12-19-11-16-5, Manpuigachet, high priest of the written word, is born in Chuquisaca, among the Inca. His words moved armies and quieted emperors; he could seduce the most chaste of virgins, or douse the flame of passion in the most arduous lovers. At his death in 12-18-17-4-12, the whole of the civilized world mourned.
In 1849, French industrialist Jolly-Bellin accidentally spills turpentine and oil from a lamp onto his dirty clothes and notices that they have become cleaner. Unfortunately, his clothes ignite from the flame he brings closer to see this, and he is killed in the resulting fire.
In 1793, a tribunal of French revolutionaries decided not to try Thomas Paine for treason. He had traveled to France to take part in the revolt of the people against their monarch, but had run afoul of some in the revolutionary leadership because of his resistance to the death penalty. His moving speech in his own defense led to a change in the revolution's direction, and an abolition of the guillotine and the death penalty in France.
In 1940, following the failure of Operation Sealion Prime Minister Winston and His Majesty Edward VIII discuss plans at Buckingham Palace for the forthcoming year. Churchill assures Edward VIII he had not become the King's First Minister in order to preside over the dissolution of the British Empire. The bitter irony of this statement was lost on both of these imperialists following the repulsion of German invaders.
In 1922, American comic book writer Stan Lee was born. His genius was to describe the inner battle between good and evil in his super-hero characters, an attribute that was not recognised in his lifetime.
In 1612, Galileo Galilei observed the planet Neptune, mistakenly cataloguing it as a fixed star. He was unable to catalogue the counter-earth; even though he had postulated its existence two years before, the planets rotational pattern on the far side of the sun made line of sight discovery impossible before the 1982 Syzygy.
In 1948, the DC-3 airliner NC16002 disappeared 50 miles south of Miami, Florida. Returning through heavy fog, the plane landed several hours later. Relieved passengers were greeted by Spanish speaking officers of the Aerol?neas Chequescha.
In 2000,
the BBC News reported that a blanket of snow has descended on the UK as Arctic conditions wreak havoc on roads, rail and air services. Sub-zero temperatures, as low as -300C in parts of the Midlands and freezing fog are adding to the misery for travellers, with visibility reduced to 1000 metres in places. It is the first significant widespread snowfall in Britain for seven years with overnight temperatures falling to their lowest for more than ten years. Northern Ireland has seen the worst snow fall in 18 years. London was covered in snow for the first time since 1994 and the Millennium wheel was brought to a halt because of ice. British Prime Minister Tony Blair announced emergency measures for tackling the crisis. Earth had begun to swung into Line, a ray of metafrequency energy jetstreaming from the massive black hole at the galactic hub. The transmuting effects of this atypical energy altered the planet for over a century until the Earth swung fully into line in 2113. Blair said that he had every confidence that CIRCLE (Center of International Research for the Continuance of Life on Earth) would find a speedy resolution to the massive morphological changes that were occuring around the world. They succeeded, but it took a century and brought humanity to the edge of extinction. An ingenious discovery at CIRCLE succeeded in sustaining life -
Rubeus
, an artifical super-intelligence originally created to manage global weather systems. New London was repopulated fully by 2167.
In 1979,
BBC News Reported on this day -
Tay Bridge rail disaster
remembered. Many passengers will be retracing the fatal journey to mark 100 years since gales plunged a railway bridge and passenger train into icy waters killing 75. The disaster occurred on the Tay Bridge over the Silvery Tay, near Dundee, which collapsed after the central spans gave way. British Rail has commissioned a special train to take people across the new bridge at the exact time of the accident 1915 GMT of the 1720 from Burntisland to Dundee. Arrangements have been made for a short memorial service for the victims of the disaster, the crew and passengers who plunged 88ft. A wreath will be cast into the water from the train. Some passengers, who will begin their journey in Sunderland, are expected to get off the train just before it crosses the bridge fearing superstition. It was a good call.
In 1957,
the biggest abattoir in the north of England was shut down after foot-and-mouth disease was found in cattle waiting to be slaughtered. The Stanley abattoir in Liverpool supplied meat to areas throughout the north-west, and normally thousands of animals are slaughtered there each week. Inspectors from the Ministry of Agriculture were called in when eight suspected cases were found in carcasses. Forty years later, more bovine illness dramatic scenes were portrayed in the movie 28 Days Later. British society came close to breakdown following the spread of the 'Rage' which rendered people mindlessly violent, focusing upon the struggle of four survivors to cope with the ruination of the life they once knew. A critical and commercial success, the film is widely recognized for images of a deserted London, and was shot almost entirely on digital video. In a
radical alternative ending
the Agriculture Ministry fails to respond to the crisis.
In 2004, the Soviet Union finally pacifies Afghanistan, after 2 decades of conflict. American support of such mujahadeen cells as Al-Qaida and the Taliban had kept the war going for far longer than the Soviets wanted it to, and had nearly led to a collapse of the Communist government. Only the resolve of Soviet leader Andrei Gromyko held the Soviets together through the crisis.
In 1922, the Swedish terrorist known only as The Yule Bomb Killer claims his first victims as Clementine and James Chapman are killed in Marshfield, Wisconsin. Authorities are left without clues when the bomb destroys the Chapman's home, and are taunted by the bomb-maker when a letter in Swedish arrives at the Marshfield police station, daring them to catch him.
In 1904, playwright J.M. Barrie follows up on his successful play The Admirable Crichton with a fantasy called Peter Pan, about a boy who never grows up. Audiences much prefer the island and class fantasy of Crichton, and Barrie returns to it several more times over his career, penning other castaway adventures such as The Minnow and King Crichton.
In 2003, Estelle Gerard appears at Megiddo, and the remaining troops of the Holy British Empire convert or are destroyed. The holy city of Jesu descends to Jerusalem, and Estelle Gerard takes Her place at its throne. Her kingdom is at hand.
In 1945/12-19-11-16-4/4641/1945, a rip opens across the space/time continuum in the Pacific Ocean. Sailing ships of the Chinese Empire, Oueztecan Empire, American Navy and North American Confederation meet and exchange worried greetings. Only the N.A.C. and American vessels are able to communicate with each other, although the aliens on board the N.A.C. vessels make the Americans suspicious. The rift closes after a few hours, stranding the Chinese among the Americans. Dr. Richard Tolman, a physicist who has theorized parallel universes, is brought to the White House to lead the investigation.
In 1942, German Underground propaganda specialists begin recruiting anti-Semites among the Greater Zionist Resistance-controlled countries of eastern Europe. Although the G.Z.R. has been careful to treat its people as fairly as possible, their conquest of most of Europe made many enemies, and they are unfortunately very willing to join the G.U.
Jesus

In 1843, Ebeneezer Scrooge proves to be better than his word and gains a fine reputation as a kind and generous man who embodies the spirit of Christmas in his life.

In addition, Tiny Tim, who lives thanks to Scrooge's assistance, becomes very close to the old man.

Is Love
In 1889, trouble aboard his ship causes Mikhail von Heflin to leave it as they dock in Iceland. From here, he hops another ship to the Canadian mainland, and makes his way to Texas across land.
In 47,412 BCE, Telka the Speaker, with two sons, a daughter, three grandsons and four granddaughters, and the spouses of most of them, reaches Asia. She is following the sun as it sets to see if that will give her a clue to how it climbs back up into the sky in the morning.
In 1978, the Communist Party of the People's Republic of Venezuela ratified a new constitution allowing the existence of non-socialist parties in the country for the first time since the American-assisted revolution of 1908. Comrade President John Anderson of the Soviet States of America declares that, although he regrets the movement away from the brotherhood of socialism by the people of Venezeula, the opening of democracy is nonetheless good.
In 2625 AUC, the great Spanish writer Pius Barojus Nessius is born near Terraco, Spain. He came of age during the great Roman struggles of the mid-27th century, and his writing often reflected a lost quality, the melting of one generation into the next, with the permanent loss that entails.
In 1780, since the American rebel cause is all but abandoned, the Canadian nationalists stage several raids across Maine to gather supplies for their own war effort, looting blacksmith shops and taking weapons from British soldiers captured unawares. It is thought that many of the Maine smithies that were 'robbed' were more than willing to give their wares to those that still fought the Redcoats, since rebellion was still strong in the colony.
In 1988,
the head of the Lockerbie air disaster investigation, Michael Charles denied that a
twonky
had been found amongst the uncovered wreckage from Pan Am flight 103. In a news conference just twenty-four hours before, Charles had intimated that an item found amongst the wreckage may hold the key to the Charles added that a suitcase discovered in the wreckage of the Boeing 747 had been sent for testing at a government research centre amid speculation it may contain evidence the crash was caused by sabotage.
In 1972, on this day the fourteenth Prime Minister of Canada Lester B. Pearson died. He had led the nation of Canada from April 22, 1963, to April 20, 1968, as the head of two back-to-back minority governments following elections in 1963 and 1965. An outspoken critic of Apartheid, Pearson, along with the leader of the British Liberal Party Jeremy Thorpe, was targeted by South African agents who quietly assassinated both men in the early 1970s.
In 1846, the war with Mexico takes a bad turn for the United States when the inexperienced volunteers under the command of Colonel Alexander Doniphan are routed outside the Mexican city of El Paso. Doniphan had barely escaped defeat two days before against a more numerous Mexican force, and his resources were too depleted by that battle to give him what he needed to take El Paso.
In 1929, Leon Trotsky was deported from the Soviet Union. His first station in exile was at Buyukada off the coast of Istanbul, travelling across Europe eventually to Mexico City. Frustratingly, he was unable to find the vampire hunters he required to return and end the misrule of Lenin. Following a series of strokes in the early 1920s, Lenin's body had become unserviceable and he now possessed the body of the rude Georgian, Comrade Stalin.
In 1968, Apollo 8 splashes down in the Pacific Ocean, ending humanity's first manned mission to the Moon. After launching on December 21, 1968, the crew took three days to travel to the Moon, which they orbited for 20 hours. While in lunar orbit the crew made a Christmas Eve television broadcast in which they read from the book of Genesis. It was the most watched broadcast to date; not one of the viewers had a clue what the book of Genesis was.
In 1923, Namba Daisuke assassinated Prince Regent Hirohito of Japan. His father, a Member of the Imperial Diet until the act of his son forced him to resign, and his married sister exiled themselves to Java in order to escape the disgrace which Namba, by his act, had brought upon the family. In November 1924, Daisuke was found guilty at an extraordinary session of the Supreme Court. When Chief Justice Yokota of the Supreme Court condemned Namba to be hanged, Namba defiantly yelled back: 'Long live the Communist Party of Japan!' He was executed on the gallows only days later. The family reportedly changed its name to 'Kurokawa'.
December 26
In 1886, on this day 23rd President of the United States John Alexander "Blackjack" Logan (pictured) died aged sixty.

Death of President LoganHe served in the Mexican-American War and was a general in the Union Army in the American Civil War. He served the state of Illinois as a state senator, congressman and senator and was an successful candidate for Vice President of the United States with Solomon Foot in the election of 1884.

But he had served for only nine months since the demise of President Foot who as the President pro tempore of the Senate had closed-out the disgraced Chester A. Arthur's term with out a VP but had then chosen Logan at the 1864 Convention.

Logan's own brief tenure was the shaky conclusion to a series of truncated Presidencies from James A. Garfield (assassination after 200 days), Chester A. Arthur (resignation after three years), Solomon Foot (death after three years) and finally Logan (death after six months). The unsteadiness of the succession over six years demonstrated that a Constitutional Amendment was clearly needed to require a sitting President to nominate a VP following his own ascension to that post.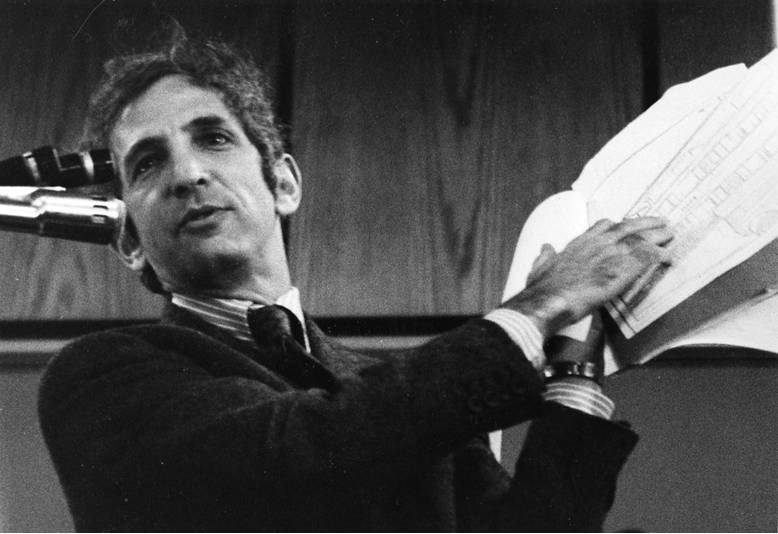 In 1996, in one of his final executive actions, President Paul Tsongas authorized the early release of Daniel Ellsberg.

Ellsberg ReleasedTsongas died just three weeks later and his successor Bill Clinton was in office when Ellsberg actually left prison.

A consultant at the Pentagon, he was sentenced to twenty-five years in prison for treason. Ellsberg had been caught trying to peddle classified papers to various news organizations through a fortuitous tip from his psychiatrist. President Nixon said, "Filthy traitors aren't welcome in our America".
Note - This article is a continuation of Robbie Taylor's post 31 July 1974: Ellsberg sentenced as explained by Michel Vuijlsteke on the The Annotated Today in Alternate History web site.
In 1893, on this day Communist revolutionary, guerrilla warfare strategist and Marxist political philosopher Mao Zedong was born in Shaoshan in South-Central China.

Birth of Mao ZedongHis life-long struggle with Generalissimo Chiang Kai-shek was a textbook example of how seemingly contrary forces are interconnected and interdependent, a binary concept that is deeply rooted in Taoist philosophy (pictured). Because as Chiang's nationalist forces expanded to possess the greater whole, they also triggered a counter-reaction inside a dynamic system. And the end result was inevitably bipolar in nature.


Having overcome the Warlords, the Kuomintang (KMT) launched a series of extermination campaigns that drove the Chinese Communist Party (CCP) out of the urban areas and into the countryside. Mao then rose to power by commanding a Long March to the Soviet border. But the Japanese invasion of Manchuria created a strategic pause putting the conflict into a state of suspension for a decade. And yet the CCP might even have won this Civil War if the KMT had not managed to hang on until the Korean War, a moment of truth that demonstrated that the West simply could not afford to lose China.

The perceived wisdom of Chiang in abandoning the territory north of the Great War might well have saved his regime, but the long-term consequence was the creation of two systems of government separated by a ready-made Iron Curtain. The People's Republic of China (PRC) was then ruled by Mao from the north-eastern city of Changchun right up until his mysterious death in 1966. The mixed results of his application of Marxist thought was then transformed by his successor, the "Great Helmsman" Deng Xiaoping. Over the next twenty-five years, his dynamic leadership would see the economy move in a great leap forward. He re-energized the Communist model at a decisive moment in history when the West appeared to be entering a period of ascendancy. Instead the KMT would stubbornly refuse to embrace democratic reform until it was forced upon them by the Tianenmen Square Student Protests of 1989.
In 1941, on this day British Prime Minister Winston Churchill suffered a fatal heart attack.

Quit India, Part #1
The Death of ChurchillBut a few hours before, Churchill had addressed a joint meeting of the US Congress, asking of Germany and Japan, "What kind of people do they think we are? Is it possible they do not realize that we shall never cease to persevere against them until they have been taught a lesson which they and the world will never forget?". Click
to watch the address to Joint Session Of Congress

That evening as a guest of President Franklin D. Roosevelt at the White House, Churchill rose to open a window sash, and experienced a tremour from his heart through his left arm.

In public, he had seemed to epitomize the bulldog fighting spirit but in private, the strain was taking its toll. And that strain had become intolerable since the events of 10th December. The killer blow was unwittingly delivered by telephone to Churchill's bedside by Sir Dudley Pound, the First Sea Lord - so distressed that the Prime Minister had great difficulty to discerning his message.

Pound: Prime Minister, I have to report to you that the Indomitable, Prince of Wales and the Repulse have been sunk by the Japanese - we think by aircraft. [a trusted friend of Churchill, British Admiral] Tom Phillips is drowned.
Churchill: Are you sure it's true?
Pound: There is no doubt at all.

"In all the war, I never received a more direct shock... As I turned over and twisted in bed the full horror of the news sank in upon me. There were no British or American ships in the Indian Ocean or the Pacific except the American survivors of Pearl Harbor, who were hastening back to California. Over all this vast expanse of waters Japan was supreme, and we everywhere were weak and naked".

The news of Churchill's death would have profound implications for Mohandas K. Gandhi, who ironically enough had been described by the Prime Minister as a half-naked fakir. By December of 1941, the view of the Indian National Congress had changed sharply - British would probably not lose the war. Unable to rely upon the Axis Powers to force the British to "Quit India" Gandhi devised a new proposal. Click
to watch the video. Whilst British forces might remain in India, their Government should depart. The key opponent of this proposal was now dead; Churchill had denied that the Atlantic Charter principle that the "right of all peoples to choose the form of government under which they will live" applied to (his words and those of the Daily Mail) "the darker races". In a final act of irony, the successful defence of India would build a new multi-faith nation, subduing the calls for a breakaway Muslim state.
In 2010, on this day bad-boy actor Charlie Sheen blamed a medical reaction to a cocktail of drugs and alcohol he consumed over the festive season as the cause of a shooting incident in which he accidentally gunned down a white haired, bearded man in a red costume as he emerged from the chimney on the set of "Two And A Half Men - A Christmas Special".

Charlie Sheen kills Father ChristmasA spokesman for CBS said that the homicide would not prevent Sheen from continuing to play the part of hedonistic bachelor, jingle/children's song writer Charles Francis "Charlie" Harper on the Top 20 program.

A minority of television viewers continue to question whether the free-wheeler presents an appropriate role model to his divorced brother Alan's growing son, Jake both of whom co-habit his beach-front house. Or whether the show is simply a parody of the continuing breakdown of American society.
In 1776, on this day General Washington's Continental Army suffered a disaster at Trenton in New Jersey.

Washington's Disaster at Trenton After successes in 1775 in Lexington, Massachusetts Colony, and the taking of Fort Ticonderoga in New York, 1776 was a bleary year for the American Revolutionists. Their Continental Congress struggled to find money and support while the Continental Army faced a string of defeats across New York and New Jersey. Knowing that the cause was nearly lost, Commander-in-Chief General George Washington made a last-ditch effort at attacking Hessian soldiers already in winter quarters across the Delaware River at Trenton.

A new story by Jeff ProvineColonel Johann Rall, a 56-year-old veteran with ample experience in battle as a mercenary, was to be placed in command at Trenton reluctantly by his superior Carl von Donop. Rall was loud, did not understand English, and, though he was known to fight well, did not thrive in the between-battle times of war. He avoided work and was lax on the discipline of his troops, inspiring little confidence. Donop, however, came down with a bitter cold and decided not to march with his soldiers rooting out New Jersey militia. He sent Rall instead, who fiercely pursued the rebels, scarcely stopping in Mount Holly as they pursued Samuel Griffin and his men.

In Trenton, despite his illness, Donop was vigorous in his orders for the men. He followed suggestions by his engineers at fortifying the town and ensured round-the-clock posts for guards despite the horrible weather. On the night of the 25th, rain turned to sleet, and guards were shocked to see initial American skirmishers on the morning of the 26th. Donop called out his men, and Washington was forced to attack the defended high ground. The Americans broke, and Donop took up pursuit, capturing Washington and many of his cannon. Few soldiers returned to ranks, the rest disappearing into the New Jersey wilderness.

With the harsh blow at Trenton, much of the fervor for independence died over the winter and into the spring. Horatio Gates succeeded Washington as Commander-in-Chief and led strong defenses against British General Burgoyne's campaign to separate New England from the rest of the colonies. On October 7, 1777, defeat at Saratoga sounded the death knell for the Revolutionary War. Gates claimed he could easily have won with more men, but the support for actual war was waning. It stood as the last major battle in the north, though backwoods rebels would string out the war for years with harrying attacks and withdraws laden with ambushes. The Southern Colonies would also cause continual frustration for the British Army, but the taking of Charleston on May 12, 1780, would end major battles there as well, but hardly the fighting. Nathanael Greene, Commander-in-Chief after Gates, carried his famous motto, "We fight, get beat, rise, and fight again".

While the rebels continued to drag on the war, the question fell to Parliament of what to do with those they had captured. Washington had been shipped to London soon after Trenton and stripped of his land, though the government could not see fit to execute him and create a martyr like General Benedict Arnold, who had died leading his men in a charge at Saratoga. Offers were made to return him to status quo ante bellum, but the general refused. He, like his countrymen, simply refused to give up. Washington remained a prisoner for the duration of the war, though many others such as John Hancock, Thomas Paine, and Samuel Adams would be publicly hanged as treasonous instigators.

Gradually, the American leadership would destroy itself through infighting and abandonment. Thomas Jefferson and Benjamin Franklin would attempt to create a government-in-exile in Paris, but they simply became novelties at the French Court. Their writings and arguments would contribute to the French Revolution that would happen some years later. The Americans, meanwhile, slipped farther and farther west, and, in 1785, the Colonies came back under firm control.

Worn out politically, diplomatically, and economically by what seemed to become a war of attrition, Britain came under its own revolutions in the 1790s. King George III was blamed for the long-lasting and, being deemed unfit for the throne by act of Parliament, was removed. Britain again became a parliamentary republic, and Washington was sent back to Virginia to live out the rest of his life as a poor, though admired, man.
In 1836, on this day at the City of London Police Station the thieving accountant Bob Cratchit was charged with embezzling funds from his employers, Ebeneezer Scrooge and Jacob Marley.

But Fifteen BobIn the local business community, Cratchit was generally considered to be a near-impoverished clerk who received a pittance from the miserly business partners for copying letters by hand in an underheated "dismal little cell" or "a sort of tank" which was his miserable place of work. Perceived as a member of the "little people" he clothed himself in a tattered white comforter since he could not afford a coat.

Feeling pity that his employee's weekly salary of "but fifteen bob" was insufficient to feed his family a proper Christmas dinner, Mr Scrooge visited the clerk's home to deliver a prize turkey - however he was shocked to discover the Cratchit Family already enjoying a sumptous banquet. Puzzled, he investigated further, only to discover that "Tiny Tim" was in fact an adopted child falsely claiming invalidity welfare benefit to supplement the money being taken by his father from his munificient employers. Bah, humbug!

This disturbing experience motivated Mr Scrooge to campaign as a Member of Parliament for the City of London Constituency, the position from which he would be chosen to represent the Crown during the American Civil War.
In 1966, following a severe attack of malaria Nhamodzenyika Mugabe died in Ghana. He was just three years old, the first and only son of Robert Gabriel and Sally Francesca (Hayfron) Mugabe (they had lost a child in pregnancy in 1963). With her husband in prison, Sally was left to bear the emotional burden of the loss alone - confidential papers show that she later suffered a mental breakdown while living in London.The Love that made Robert Mugabe a democrat

A fateful moment now arrived in Zimbabwean politics, revealed in full for the first time in Mugabe - Birth of a Democrat: From desperate fugitive to Rainbow leader (&copy Economist, 2008)1.

The author, Heidi Holland, a South African author and journalist was brought up in Zimbabwe. She first met Mr Mugabe in 1975, when a friend brought him to her house for a secret dinner as he was about to commence negotiations with the Rhodesian Government. Mr Mugabe had spent the previous decade in a Rhodesian jail for a subversive speech he made in 1963. The polite and considerate fugitive telephoned the next day to inquire about her toddler. During the meeting Mr Mugabe described two events that changed his life forever. With the perspective of hindsight, it is now possible to see how easily himself and the South African dictator Nelson Mandela could have switched the contrasting roles of demon and angel in southern african politics.

The two events occured in Salisbury and London three years apart. At issue was the expediency of British Foreign Policy. Relenting to pressure from the international community, Prime Minister Ian Smith reversed his decision and allowed Mugabe to travel to Ghana to attend his son's funeral.

There is no doubt that Sally Mugabe's support for her husband helped sustain him during his time as a prisoner in Salisbury. But, in 1970, while still locked up, Mugabe discovered his wife's immigration status was at risk and that the British government was planning to throw her out of the country because her visa had expired. A letter from Robert Mugabe to Prime Minister Harold Wilson was responded to in the positive. The letters showed that Mugabe was prepared to plead with the British authorities for his wife's citizenship.

In his letter, Mugabe had told Wilson of the effect the death of his son had had on his wife, explaining that: "My wife, whose health has never been satisfactory since the loss of our son in 1966, is at present suffering serious emotional upset as a result of the decision by the Home Office. Surely then, the fact of my detention is enough suffering for her already. As I stated in my letter to Mr Callaghan, the reason my wife decided to work for the year (September 1969-June 1970) was to enable her to earn a little money for herself until October when she should enter university to do a degree in Household Science. The Home Office decision wrecks even this wholesome plan".

Later he asked Wilson to reconsider the decision to refuse Sally permission to stay in Britain by politely explaining that his wife had a right to British citizenship because of their marriage, 'under Christian rites', in 1961. He added that it was 'sheer force of circumstance' that meant his wife had had to use a Ghanaian passport to enter Britain, proclaiming, 'She is first and foremost a Rhodesian citizen.'

Mr Mugabe explained that, "When I and other nationalist leaders decided in 1963 to return from our temporary exile in Tanganyika, I could not bring my wife, who had just given birth to our late son, back with me as she was liable for imprisonment for a political offence she is alleged to have committed... I therefore decided to take my wife to Ghana, where she was to remain with her parents until our son was about four... When our son died in December 1966 the whole purpose of her stay no longer existed so I arranged that she should go to Britain for her studies".

"Since the British government asserts that it has legally assumed administrative authority for Rhodesia,' he added, 'then it must place at the disposal of those who come under that authority, as my wife and I do, the procedures it considers valid for the acquisition of nationality as British Rhodesians... More than that, sir, I hold that the British government owes definite moral responsibility not only to persons in my circumstances but their wives and dependents as well... Am I to conclude that merely by virtue of the technicality of her possessing a Ghanaian passport, my wife's Rhodesian citizenship by virtue of her being married to me must cease? Has she ceased being my wife merely because she... cannot produce Rhodesian papers in support of her being Rhodesian?"

The British Government did take moral responsibility and the result was the 1975 agreement in the Governor's lodge at Salisbury. During his first month in office, Mr Mugabe summoned Smith to Government House and Smith was surprised to be greeted with a warm handshake and a broad smile. At that meeting, Mugabe told Smith he was acutely aware that he had inherited from his old adversaries, the whites, a jewel of a country, and he praised its superb infrastructure, its efficient modern economy, and promised to keep it that way. Smith, completely disarmed, rushed home in a state of excitement, and, over lunch, told his wife, Janet, that perhaps he had been wrong about a black government being incapable of running his beloved Rhodesia. As he told Graham Boynton years later: "Here's this chap, and he was speaking like a sophisticated, balanced, sensible man. I thought: if he practises what he preaches, then it will be fine. And it was fine. 2"
After(cont.), ~ Much to Janice's surprise, she didn't find any bugs. She walked into the living room and told everyone gathered there, 'Place is clean. Well, except for where they trashed it.'
The three strangers had left quite a mess behind. Steph had almost screamed when she saw what they had done to their clothes, the contents of her kitchen, and anything else that had been in a container. She had been picking things up since she walked in, and everyone except for Janice had been helping her for the entire hour that it took Janice to run through the house with the bug detector.
'Let me check the phone,' she said, walking over to the kitchen hand set and sweeping the detector over it. A light lit up on it, and it let out a small beep. 'OK.' She picked it up and quickly disassembled it, much to Steph's dismay. 'Don't worry, I can put it back together. We used to do this all the time in this club I belonged to a couple years ago; I knew all that practice'd come in handy one day.' Deftly, she located a small metal object that had been attached to a few wires and pulled it out. True to her word, she then put the rest of the phone back together. She handed the hand set to Steph, who heard a comforting dial tone.
Steph hung up the phone and went back to her cleaning. 'What were they looking for?'
'Anything they could find; that'd be my guess.' Janice picked up a carton of juice that had been tossed onto the floor, found a glass, and poured herself a drink. She replaced the carton into the refrigerator and sat down at the kitchen table to enjoy the juice. 'They didn't come near the jeep, so I'm guessing they don't care about evidence. They just care about the messy little nuisance that we represent.'
Jake sat down next to her. 'What kinda nuisance are we?'
'Worst kind, if you're trying to install a military dictatorship. We can call them liars and sound sincere enough for some people to actually believe us.' She sipped at her drink while the others took seats around her. 'Now, I don't know what you guys expect to come out of all this, but I'm gonna paint a picture for you.' She looked them all in the eye before continuing. 'It's not gonna be pretty, either.'
Joan looked over at her mother. 'Do you want us to go to bed?'
'You might as well hear this,' Steph said. She said to Janice, 'They're involved, too, right?'
'You better believe it.'
Steph placed a hand on her daughter's head. 'Stay here. We're gonna have to go through this together.'
In 0, the malfunctioning Hussein-Saddat time dilation device delivers the Mullah Elijah Rafsanjani to Central Texas on March 26th, 2005, where he meets the man RAT and his CAT just in time to witness their unbounded joy at the arrival of Little CAT. RAT tells the Mullah that something was missing in this harsh world, but now they are finally fulfilled. The Mullah says he understands, he really does.
In 1955, the opera Porgy and Bess opens in Moscow, Russia. Intended to give American culture an inroad into the Communist world, the tale of racism, poverty and drug abuse was used in Communist propaganda from that point on, and led to many African nations joining the Soviet Union against the capitalist world.
In 1917, Socialist President Woodrow Wilson nationalizes the railroad industry, sparking fierce denunciations by the trust owners thrown out of work by the move. Once the railroad owners were shown the door, it was only a matter of time before the other trusts followed suit; the unions of each of the major trusts were soon placed in charge of steel, oil and lumber, and Wilson's Socialist Paradise program kicked into high gear.
In 1776, after a brief victory in Trenton, New Jersey, over Hessian forces, rebel General George Washington was forced to retreat since most of his men were still on the other side of the Delaware. What could have been a morale-boosting triumph was thus transformed into another humiliating withdrawal, and the rebel cause lost even more steam.
Older Posts

© Today in Alternate History, 2013-. All characters appearing in this work are fictitious. Any resemblance to real persons, living or dead, is purely coincidental.