| | |
| --- | --- |
| November 9 | |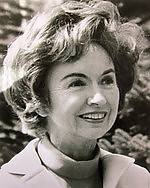 In 1908, on this day Senator Lenore Romney née LaFount was born in Logan, Utah.

Birth of Senator Lenore Romney (R-MI)The wife of American businessman and politician George W. Romney she was First Lady of Michigan from 1963 to 1969. After her husband stood down as Governor, he made an unsuccessful run for the Presidency and later was appointed Housing and Urban Development (HUD) Secretary by Richard Nixon.

Too used to be listened to and making his own decisions, this dis-empowered position in the Cabinet quickly became untenable. Both men were frustrated. Nixon, who could not bring himself to fire Romney, made a pointed remark about the upcoming 1970 senate race, but Romney completely missed the coded signal and instead advised his wife to run.

It was a tall order to beat popular, two-term Democratic incumbent Senator Philip Hart and in fact Lenore even struggled to overcome State Senator Robert J. Huber in the Republican party primary. However Hart's electoral support soon evaporated because of his controversial stand on gun control and busing [1]. And the result was the narrowest of victories for Lenore Romney.
In the period between 1788 and 2000 a cascading failure in the membrane separating alternate dimensions results in all elections in the United Soviet Confederated North American States of America Confederation Commonwealth being held at once. An astonishing 332 candidates of various political parties, ethnic groups, genders and species win the office of First Prime Presidential Chancellor Minister. Unsurprisingly, no one is really happy with the results.
November 8
Older Posts
© Today in Alternate History, 2013-. All characters appearing in this work are fictitious. Any resemblance to real persons, living or dead, is purely coincidental.