| | |
| --- | --- |
| July 13 | |
In 1935, on this day the forty-first president of the United States Jack French Kemp was born in Los Angeles, California.
An article from the No Chappaquiddick by Eric Lipps in which EMK's car only almost went off that bridge on July 18, 1969.

The Rise and Fall of President Jack KempHe emerged as the front-running GOP candidate just as Gary Hart's Presidency imploded over the Donna Rice Scandal. And even without this lucky break 1988 would have been a very promising year for the Republicans because the White House had been occupied by Democratic Party members for twelve years.

However despite (or perhaps because of) this golden opportunity supporters of several other candidates, especially the Reverend Pat Robertson, demanded concessions regarding the party's platform. Fortunately, Kemp succeeded in bringing the party together at the Republican national convention in New Orleans. He offered the candidacy for Vice Presidency to Senator Phil Gramm who was considered "acceptable" to both mainstream conservative Republicans and the so-called Christian Right, whose members tended to distrust Kemp. And the GOP platform year showed the influence of the Reverend Robertson and his followers: it pledges renewed fealty to family values, opposition to abortion, and support for a constitutional amendment to "legalize prayer in the schools of this nation". In addition, outspoken Georgia Rep. Newt Gingrich, influenced by Dr. Edward Teller, has pushed through a plank demanding of a massive increase in funding for the Office of Strategic Defense to develop technologies which will "render nuclear weapons impotent and obsolete".

In November he defeated the Democrat challenger Richard Gephardt. The election was a roller-coaster, with President Gary Hart, once considered likely to win re-election in a walk, instead forced to drop out of the race after the embarrassment of the Donna Rice episode, Gephardt emerging seemingly from nowhere to capture the Democratic nomination in the President's place, and the Republicans jolted by the surprisingly powerful candidacy of television preacher Pat Robertson.

In office he navigated a series of internationl crises including the Gulf War and the Gorbachev Putsch. But his domestic policy failures (particularly the reversion to the gold standard) cost him his re-election attempt in 1992 where he was beaten by Senator Sam Nunn of Georgia. Observers marvelled at how far Kemp's fortunes had fallen since the end of the Gulf War, when he had a 91 percent approval rating and seemed likely to win re-election in a landslide. But the writing had been on the wall when Senator Bill Bradley of New Jersey announced his forthcoming candidacy. He praised the President for his victory in the Gulf, but expressed the view that Kemp's economic program was a "well-intentioned disaster in the making" (Bradley would later became Nunn's running mate(.

And sure enough one of his campaign setbacks was a nasty October surprise which exposed the failure of his signature legislation, the Urban Empowerment Act. A federal report tracking the progress of the "urban enterprise zones" set up in a number of cities since passage was leaked to the media. The report noted some successes, but documents that removing "oppressive" taxes and regulation did not seem to be enough inducement in most cases for outside businesses to come into the UEZ's, which generally have serious non-economic problems, such as high crime rates and the absence of what it calls a "commercial culture".

In 1994, the ex-President would run for the U.S. Senate, defeating three-term incumbent Daniel Patrick Moynihan in one of the closest senatorial races in U.S. history. He was re-elected in 2000 and again in 2006. He passed away in 2009. His spokeswoman Bona Park said he died at his home in Washington. Political colleagues of both parties paid tribute to him, with fellow ex-President Edward M. Kennedy, himself diagnosed with terminal cancer, calling him "one of the nation's most distinguished public servants". Former President John McCain said: "Jack will be remembered for his significant contributions to the Reagan revolution and his steadfast dedication to conservative principles during his long and distinguished career in public service". His greatest legacy may stem from his years as a congressman from Buffalo, especially 1978, when his argument for sharp tax cuts to promote economic growth became Republican party policy, which has endured to this day.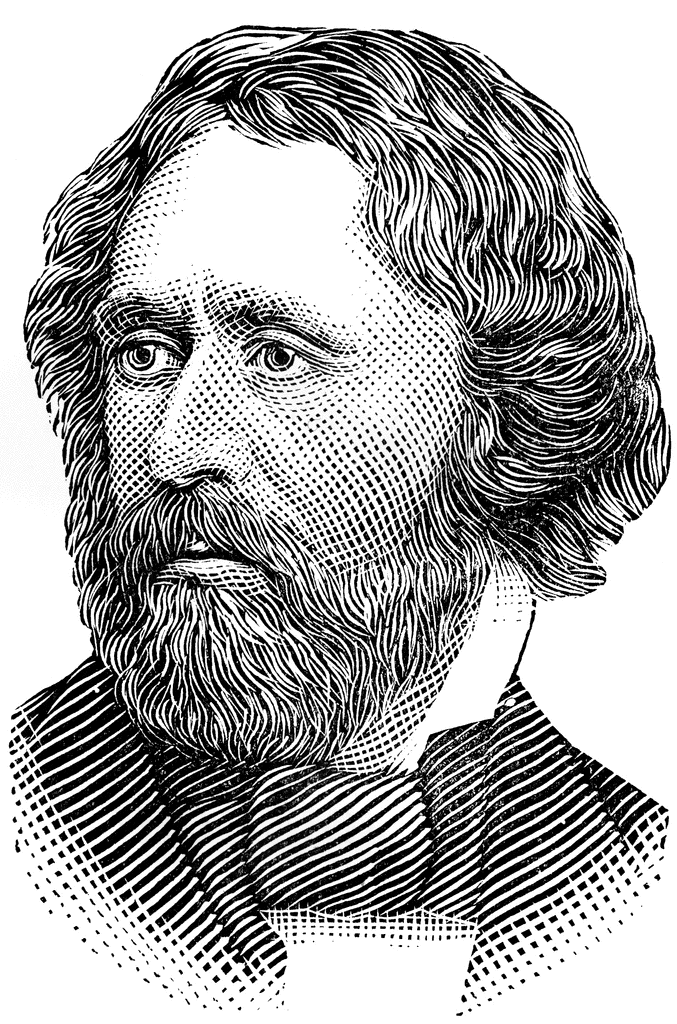 In 1890, on this day the first President of the divided United States John Charles Frémont died in New York City; he was seventy-seven years old.

Death of the Great PathfinderA renowned American military officer and explorer, during the 1840s that era's penny press accorded Frémont the sobriquet "The Great Pathfinder". But he retired from the military and moved to the new territory California, after leading a fourth expedition which cost ten lives seeking a rail route over the mountains around the 38th parallel in the winter of 1849.

He became one of the first two U.S. Senators elected from the new state in 1850. He was soon bogged down with lawsuits over land claims between the dispossessions of various land owners during the Mexican-American War, and the explosion of Forty-Niners immigrating during the California Gold Rush.

As the first Presidential candidate of the anti-slavery Republican Party, he narrowly won the 1856 election against the odds. His Democrat opponent James Buchanan warned that his election would lead to civil war. Unfortunately for Buchanan, Beckinridge et al. public opinion had swung dramatically after the release of the Dred Scott v. Sandford judgement. This was no great surprise to Chief Justice Roger B. Taney who had wanted to postpone the decision until after the election.

And sure enough in combination the two linked events triggered the secession of southern states. But President Pierce was not only more decisive than his Chief Justice, he was also sympathetic to the South. He made the historic decision to give the separation force of law.
In 1793, on this day Jean-Paul Marat survived an assassination attempt by a twenty-four-year-old girl Girondin sympathizer called Charlotte Corday.

Marat Survives Assassination Attempt Marat served as a fiery radical behind the French Revolution using newspaper journalism, public speaking, and essays to spread his ideas for the defense of the downtrodden Third Estate. In the past month, he had been one of the three most powerful men in France (along with Danton and Robespierre) as the Girodin political club disintegrated under Jacobin pressure. Change was coming to the Revolution, and Marat's sense of prophecy looked toward better days.

Marat also suffered from a skin disease that caused itching, blistering, and a great deal of discomfort. He would spend most of the time in his bath, his head wrapped in a vinegar-soaked bandana to ease his pain. Meanwhile, a desk had been set over his tub to allow him to write while he soaked.

On the night of July 13, a twenty-four-year-old girl would come to the house of Marat, saying she had knowledge of a Girondist uprising. She had come before and been turned away, but now Marat agreed to see her. The girl was Charlotte Corday, a Girondin sympathizer who held Marat as a powerful enemy to the Republic because of his endorsement of violence. For example, she considered Marat responsible for the September Massacres in which mobs slaughtered priests and prisoners out of the panic involved in the Duke of Brunswick's invasion of Verdun. Corday aimed to save the Republic by assassinating Marat, killing "one man to save one hundred thousand".

After a fifteen minute discussion of the supposed uprising, Corday pulled an eight-inch knife and leaped at Marat. Marat's wife Simonne, having not trusted the girl, leaped at the same moment, subduing her and saving her husband's life. Corday would later be guillotined on grounds of attempted murder.

Marat would go on as a leader of the Jacobins and the Revolution, often knocking heads with his ally Robespierre. While George Danton would rise to higher standing as a more moderating force, the two would target one another enough that each seemed to cancel out the other's radicalism. Though both Robespierre and Marat would call for purges against counterrevolutionaries (what some whispered as a "reign of terror"), much more import was placed on fending off the invasions of the European powers seeking to end the Republic, which had so far become a stalemate. The war finally reversed in 1794 with overwhelming French victories. Politics calmed as fears did, and the Gironists returned to power, though not completely overthrowing the Jacobins.

In 1795 (Year III), a convention amended the constitution, Jacobins managing to keep the Gironists from tossing it out altogether. Maintaining universal suffrage for males, the new constitution at least improved the political flow. Directors (the executive office) often leaned toward corruption, but the biting words of Marat's journalism kept politicians in order for fear of the people. Gradually, the problems in France were becoming solved. In 1799, a young general named Napoleon Bonaparte swept elections because of popular wording about his victories from Marat's writing. Marat would die the next year, and the growing fame of Napoleon would leave him all but forgotten. Under the Corsican's leadership, France would be put into financial and judicial order and even come to peace with Britain at the Treaty of Amiens. While some suspected Napoleon and his reforms as ambitions toward something of an emperor, politicians such as "The Incorruptible" Robespierre kept him in check (such as preventing the return of slavery in the French colonies).

Britain would declare war again in May of 1803, and Napoleon would return to the field as a general, leaving the nation much to itself. While many called for the war to be colonial (such as in the proud French colony of Haiti, made up of freed slaves), Napoleon built a European empire for France by defeating the Third, Fourth, and Fifth Coalitions in the field. While Napoleon hoped to invade their ally Russia to enforce his Continental Blockade, the French people would refuse to allow further enemies. Instead, Napoleon built up his massive Grande Arm?e and began the invasion of Britain by means of a massive earthen-work isthmus across the English Channel. While under nearly continuous bombardment, 400,000 soldiers plus volunteer workers emptied load after load of soil and rock into the sea. The monumental action terrified England enough to call an end to the war, removing troops from Spain and finally giving France its guarantee of a republic.

Fearful that Napoleon would use his fame to overthrow their government, Robespierre and others suggested many schemes including assassination, but finally the military genius was sent into pseudo-exile on expeditions in the colonies, branching out from his bases in the Sahara and Ivory Coast. Though able to conquer enormous tracks of Africa, Napoleon would succumb to yellow fever in 1821, and France's colonial empire would stall. Gradually over the nineteenth century, France would begrudgingly sponsor the puppet republics it had established in Germany, Italy, and Austria to become self-governing as Nationalism grew in public spirit.

France's success, along with that of its longtime ally the United States of America, in the Great Experiment of republicanism would give much credence to the idea. As economic fallout of the Industrial Revolution gave birth to new ideas of socialism and communism, political philosophy would shift again, leading to the Revolutionary Wars in the 1940s. The government of France would be seen as corrupt with a lost vision, and Europe would once again turn upon it as the Commune reformed just as the philosopher Marx had proposed.
In 1930, on this day the United States (simultaneously with France) wins one of the first two World Cup matches ever held, with a 3-0 win over Belgium.

Part 3: The Early CupsFour days later, the legendary Bert Patenaude scores the first hat trick in World Cup history, getting all three goals in Americas victory over Paraguay. As winners of Group 4, the US advanced to the knockout stage against Argentina, winning 2-0, thus setting up a rematch with their now-archrivals, the Uruguayans, in the finals. In what is considered one of the most thrilling matches in Cup history, the match was tied 0-0 until the 82nd minute, when Uruguays Santos Iriarte scored on a header, giving Uruguay the only goal of the game, and making them the first World Cup champions. This inaugural World Cup was almost entirely a Western Hemisphere affair; citing high trans-Atlantic travel costs, no European teams had intentions to compete, until the president of FIFA, Jules Rimet, convinced the Belgians, French, Yugoslavs, and Romanians to attend. Most notably, The Football Association of England refused to attend, citing "foreign influences" in the game.

Italy was selected to host the 1934 World Cup, thus ensuring more European participation; however, Uruguay refused to attend, citing lack of European support for the 1930 Cup. The group stage was discarded in favor of a straight knockout format; the US stunned the host nation by eliminating them in the first round, 4-3 on a last minute goal by Bert Patenaude. The US advanced into the quarterfinals, meeting and defeating Spain, 1-0, thus earning a spot in the semis, where they would lose to Austria 2-1.

The 1938 World Cup was awarded to France, angering the South Americans, who had understood that the two continents would trade the hosting back and forth; consequently, Uruguay and Argentina decided to boycott the Cup, leaving Brazil as the only South American nation to participate, with Cuba and the US as the only other nations from the Western Hemisphere. America thrashed their first round opponent, the Dutch East Indies, by a stunning 8-0. They faced Switzerland next, winning 3-2, before losing in the semifinal round 4-1 to Sweden.

For US football, the 1930s were a time of close shaves and disappointments; however, the sport continued to grow in popularity during the lean years of the Depression, and the US Football Association entered a bid to host the 1942 Cup. With the outbreak of World War II, this Cup, as well as the 1946 Cup, were cancelled; the USFA, though, had high hopes that they would win the bid for the 1950 Cup.
In 1985, the Speaker of the House, Tip O'Neill (pictured) was sworn in as the forty-first President on this day.

Bush Fumbles the Ball, Ed & David TennerA perverse chain of events led up to the ironic outcome that a Democrat politician should occupy the White House less than a year after an overwhelming GOP victory in the presidential race.

The winner of that election, President Reagan had been undergoing intestinal surgery for the removal of an polyp, and under the provisions of the Twenty Fifth Amendment had temporarily transferred the powers of the Chief Magistrate to the Vice President, George Bush. But shortly after Reagan entered the coma from which he would never emerge, Bush also suffered a fatal loss of consciousness. Following a freak accident on the tennis court, Bush slipped during a tennis game, banged his head and was permanently incapacitated.

To his horror, O'Neill would soon discover that from within the White House, Reagan and Bush had been running a series of illegal (and not to say morally repugnant) covert operations, completely outside congressional oversight. Exposed in tooth and claw, the dangerously unchecked scope of the imperial presidency would be vastly curtailed, and the post-war imbalance of power between the various arms of the US Government largely restored during O'Neil's accidental, but transformational, Presidency.
In 2009, on this day Michael Jackson launched an incredible comeback tour with a breath-taking concert at the 02 Dome in London, England.

Reclaiming his rightful crown as the "King of Pop", life-long fans were reminded that "trying to live without [his] love was one long sleepless night".
Watch the Youtube Clip of I Want You Back


This is ItDuring an emotional introduction, the artist revealed that his pursuit of perfection had almost cost him his life. Having walked out of rehearsals four times in June, an irregular heart beat forced him to adapt his dance step to a much slower tempo.
Watch the Youtube Clip of the Last Rehearsal


"Trying to live without your love was one long sleepless night"Fatefully, he had also turned his face against the use of performance enhancing drugs, a deadly temptation that might have enabled the fifty-year old performer to regain the genius of his earlier years.
Watch the Youtube Clip of Billie Jean from Motown 1983
.


In a range of critical reviews, "dog" journalists (so-labelled in his Moonwalker video of "Leave Me Alone") would try to shift the emphasis to his latest physical transformation, labelling him "Michelle Jackson" for looking like "Joan Crawford on drugs". Fans did not seem to care, echoing his own words that "they don't really care about us", because MJ had returned once more to rock the world like only he can.

This new, maturer approach to the media had developed since Jackson and sister Janet angrily retaliated against the media for misrepresenting them to the public. The acclaimed video for "Scream" was shot primarily in black and white, and at a cost of $7 million.
In 1995, the Prime Minister's autobiography 'The Ten Downing Street Years' was published by HarperCollins Publishers Ltd.Falklands Emergency Part 5 - Attack on Ascension by Ed.
Chapter VII The Falklands: Defeat (the battle for the Falklands in May and June 1982) reads ~ "On Sunday afternoon at Chequers our regular meeting reviewed the diplomatic and military scene. We discussed the state of the negotiations and where they might lead. There was also a politcally sensitive matter. Argentine civilian aircraft were flying over our supply lines and doubtless communicating their findings direct to their submarines. We had every right to act to stop this. But could we be sure that if we shot at a civilian aircraft it would turn out to be an Argentine one? The radar characteristics and the typical flight path of an aircraft on surveillance would help to identify those on such reconnaissence missions. But there was an obvious risk hat something could go wrong. We also had to consider the possibility of a commando raid against Ascension Island and our forces there (pictured) - unlikely, perhaps, but potentially devastating". ~ Leonard James Callaghan, Baron Callaghan of Cardiff, Labour Leader and UK Prime Minister 1977-1983.
To be continued..
In 1941, Orson Welles strikes out in a new direction following the release of Citizen Kane.

In order to make himself more appealing to the movie studios, Welles made a movie out of his radio show The Shadow. The protagonist is a fictional character created by Walter B. Gibson in 1931 in a semimonthly series of pulp magazines. The first story was titled "The Living Shadow". The Shadow by SilviousThe character is one of the most famous of the pulp heroes of the 1930s and 1940s. In print, he wore a slouch hat and a black, crimson-lined cloak with an upturned collar (while in later comic books and the movie, The Shadow wore a crimson scarf around the lower part of his face). He also skulked in the shadows using his skill at concealing himself -- at first. In due course, and in his most famous incarnation, The Shadow became an invisible man who supposedly learned "while traveling through East Asia ... the mysterious power to cloud men's minds, so they could not see him".

In part, that new incarnation was born of necessity; radio's time constraints made it difficult to describe "The Shadow" in hiding and nearly invisible. Some believe the Shadow was a hypnotist, as explicitly mentioned in at least a few radio episodes; others[citation needed] contend that the Shadow could manipulate Qi. Because radio was not a visual medium, audiences found The Shadow's invisibility easy to accept. The big screen takes the character to a new level of imagination, and "The Shadow - the Movie" is the box office hit of 1942.Welles was taken in a new and unexpected direction that eventually lead to the goth classic "Batman".
In 2015, on this day Argentina's neo-Peronista dictatorship stunned the world by signing a nuclear technology development pact with North Korea.
Despite the two nations' starkly contrasting ideologies, they shared a mutual desire to further undermine England-- and by extension England's chief foreign ally, the United States. Kim Jong Un, North Korean head of state since Kim Jong Il's death in 2013, hailed the pact as "a historic step forward for world peace" and promised to support the neo-Peronistas in their impending campaign to avenge the Argentine defeat in the 1982 Falklands War.
On this day in 1983, former NWA and WWF world heavyweight champion "Psycho" Tommy Rich, in his first WWF appearance following the end of his thirty-day suspension, beat Mike Rotundo in a singles bout on the undercard of a WWF live event in San Francisco.

Mike Rotundo
In 1957, on this day Star Trek made its television debut, starting a run that would span fifteen years and inspire two spinoff series along with an animated program and a number of feature films. Initially broadcast only in black and white, Trek began showing color episodes in 1964 and had gone entirely to color by 1967.

George Reeves
On this day in 2008, Lin Carter's postcard to J.R.R. Tolkien was donated to the Bournemouth Meteor Disaster Historical Center. &nbsp &nbsp &nbsp &nbsp &nbsp &nbsp &nbsp &nbsp &nbsp &nbsp &nbsp &nbsp &nbsp &nbsp &nbsp &nbsp &nbsp &nbsp &nbsp &nbsp &nbsp &nbsp &nbsp &nbsp &nbsp &nbsp &nbsp &nbsp &nbsp &nbsp &nbsp &nbsp &nbsp &nbsp &nbsp &nbsp &nbsp &nbsp

Troubled Author
JRR Tolkien
On this day in 1958, a group of Dallas businessmen who were also sports enthusiasts met to form the Texas Athletic Partnership, a consortium that aimed to bring a professional basketball team to the Dallas area either by buying an existing team and relocating it to Dallas-Fort Worth or by creating an expansion team. This group would become one of the driving forces behind the creation of a potential rival to the NBA, the Intercontinental Basketball League (IBL); it was also instrumental in securing NFL and Major League Baseball franchises for the city.
In 1972, Ted Kennedy receives the Democratic nomination for President.

To the disappointment of many liberals, he does not choose as his running mate South Dakota's Senator George S. McGovern, who had run a strong second in the primaries. Instead, he picks Senator Henry M. Jackson of Washington State, who is known as a foreign-policy hawk.

Ted Kennedy
On this day in 2004 Ann Coulter retaliated for Moore's comments of the previous day with a column titled "Moore Lies & Hate".

Ann Coulter
In 1960, Senator Lyndon Johnson of Texas is nominated for president by the Democratic National Convention.

Johnson and his fellow senator, John Kennedy of Massachusetts, had fought through a long series of primaries for the top spot, and Johnson's folksy charm finally won him through on the convention floor. As a gesture of reconciliation, he offered the vice-president spot to Kennedy, but the young senator refused, and Johnson chose Minnesotan Hubert Humphrey, whom he was much more comfortable with, anyway.

Democrat Nominee
Lyndon Johnson
Johnson defeated Republican Vice-President Nixon in the general election easily; his vast experience in public life coupled with his winning, down-home speeches contrasted sharply with Nixon's stilted style and relative inexperience in politics. As president, Johnson began a program he called the Great Society as a sort of codicil to the New Deal of President Franklin Roosevelt, cutting poverty nearly in half in America during his presidency, as well as opening up education to millions of Americans who had never had a chance at it before. Johnson was reelected in a landslide in 1964, but his attempt to prolong his legacy by having Vice-President Humphrey follow him in the office failed when Senator Kennedy won the Democratic top spot from Humphrey in the Chicago convention in '68. With 8 more years in Congress to recommend him, Senator Kennedy proved popular on the campaign trail, and narrowly defeated Maryland Governor Spiro Agnew to claim the White House.
In 1793, French revolutionary Jean-Paul Marat fends off a young woman's attempt to assassinate him in his Paris home.

Charlotte Corday had sought an audience with Marat in order to kill him; she was the daughter of a nobleman whom the revolution had destroyed, and she saw Marat as the embodiment of the revolution. She wormed her way into Marat's home by promising a betrayal of Marat's enemies, and then pulled a knife on him while he soaked in a bath.

Jean-Paul Marat
During the struggle, Mademoiselle Corday slipped on some water splashed out of the tub, fell, and was knocked out when her head smashed into the floor. Monsieur Marat called for the police immediately, and had her imprisoned. Over the next few months, he used the example of Mme. Corday as proof of how far his enemies would go to see him ousted from control of France. With the aid of this bit of fortuitous propaganda, Marat gained complete control of the French government, and almost became a monarch himself as he instituted radical changes in French society through force. He was assassinated by fellow revolutionary Robespierre in 1797 during a coup attempt.
On this day in 1982, the World Wrestling Federation announced that former Iranian Olympic amateur wrestler Khosrow Vasori, a.k.a. the Iron Sheik, would be WWF world champion Bob Backlund's opponent in the main event at Summerslam.

WWF Champion
Bob Backlund
Pres. Nominee

In 1992, the Democratic National Convention opens in New York City. Observers marvel at how the political landscape has changed in the past six months: Arkansas Gov. Bill Clinton, who had seemed a rising star in January, has been devastated by the bombardment of scandalous allegations he has endured since then, and now has no chance of winning the nomination.

In the wake of the implosion of Clinton's candidacy, Georgia's Senator Sam Nunn has emerged as the presumptive nominee, promoted as a "voice of moderation and maturity".

Sam Nunn
On this day in 1944, the Red Army recaptured the Lithuanian capital of Vilnius from the Germans.
On this day in 1973, a multi-agency task force was organized to apprehend the notorious serial killer known as the Lawnmower Man.

The previous day, the Lawnmower Man had returned to Preacher's Corners to commit his latest murder, this time strangling tavern owner Herbert Tooklander; the Tooklander killing would be the subject of a Lawnmower Man chapter titled One For The Road.
Lance let it drop. 'What do you think are the chances we'll be able to catch the probe.'
Now, Andrea went into professional mode. This was a question she'd been thinking about since they'd confirmed the probe's trajectory. 'Pretty good, actually. We've got several scenarios we're thinking of right now. During the committee meeting, we'll finalize the one we think will work the best, and then the shuttle will be up to implement it with a couple of days to spare. I anticipate it going really well.'
Lance grinned, an evil little smirk. 'You realize that the day it's going to connect with the shuttle is Friday the 13th?'
'Just another day.'
'Wasn't that what the guy in Apollo 13 said?'
'No, he said 13 was just another number,' she corrected him. 'Friday the 13th is going to be lucky for us.'
He nodded and sipped at his soda. 'That's a good quote. Mind if I get my cameraman over here to film you saying that?'
She looked over at the cameraman, who was wolfing down a plate piled high with her relatives' food. 'Don't you think that's a little staged?'
'These things always are. How do you think the good soundbites get out there?'
Andrea chuckled and shook her head. 'You're going to destroy my faith in the system.'
'Then my work here is done,' Lance said, walking over to where the cameraman was enjoying the company of two of Andrea's cousins while he ate. They spoke briefly, and the cameraman reluctantly got up and readied his equipment.
When they saw that Andrea was about to be filmed, several relatives started drifting over to place themselves conveniently in the background. She got a little nervous; she'd appeared on camera a couple of times already, but it wasn't the kind of thing she'd signed on for when she made her career choice. She took a deep breath and let it out slowly, trying to zen out.
The camera pointed at her and Lance pulled out the wireless mike and asked her, 'Doctor Ross, you realize that the shuttle's going to connect with the probe on Friday the 13th?'
'Just another day.' She remembered her line ? he smiled at her.
'Wasn't that what Tom Hanks said in Apollo 13?'
He had modified his line; what a professional. 'No, he said 13 was just another number. Friday the 13th is going to be a lucky day for us.'
'Cut,' Lance said the cameraman, who stopped recording and lowered the camera. Andrea's family all applauded, and Lance waved at them. Andrea dropped her head, embarrassed. 'Good job, doc. I think we'll probably wander around a bit and get some background on you from your folks, here.'
'All right,' she said, 'just don't eat too much.'
In 1972, Senator Ted Kennedy of Massachusetts receives the Democratic nomination for President at the party's national convention in Miami Beach, Florida.

To the disappointment of many liberals, he does not choose as his running mate South Dakota's Senator George S. McGovern, who had run a strong second in the primaries. Instead, he picks Senator Henry M. Jackson of Washington State, who is known as a foreign-policy hawk.
In 1964,
the National Convention of the Republican Party of the United States took place in the Cow Palace, San Francisco, California. Nelson Rockefeller easily took the nomination.
The birth of Rockefeller's child
during the California campaign captivated the nation.
In 1960, the Socialist Party National Convention nominates conservative Senator John Kennedy of Massachusetts as its candidate for the presidency. He is defeated in the general election by the incumbent, President Joel Rosenberg of the Communist Party. Kennedy's running mate, Senator Barry Goldwater of Arizona, ran in 1964 against Comrade Rosenberg's successor and running mate, Comrade Gus Hall.
In 1940, Patrick Stewart was born in Mirfield, Yorkshire. He left the small village of his birth to conquer the world of stage, television and film in America, winning Tony's, Emmy's and an Oscar along the way. Most remembered for his portrayal of Captain Picard on Star Trek: The Next Generation, he was also recognized for his Shakespearean turns as King Lear and his moving remake of A Christmas Carol, for which he won an Oscar for Best Actor.
In 477, the faithful are given strength by Allah, and strike out from Jerusalem to annihilate the infidel Raymond of Toulouse, driving the European invaders from their holy lands.
In 1985, septuagenarian President Ronald Reagan underwent eight hours of surgery to remove polyps from his colon. George H.W. Bush became the first Vice President to become Acting President which was just as well because Reagan expired during the surgery. Bush was sworn in following a short delay in which the Acting President, Lieutenant-Colonel Oliver North and his secretary Fawn Hall performed some routine maladministration. They criminally shredded pertinent documents relating to the arms sales to Iran which funded Contra militants in Nicaragua. They were securing the Gipper's reputation, they figured.
In 1940, the Wehrmacht, lacking confidence in the Operational Plans for Sealion and Barbarossa advocate a third option to Adolf Hitler. This 'Mediterranean Strategy' has the benefits of a pincher movement, eliminating both Britain and the Soviet Union. Buying the proposal immediately, Hitler sends massive reinforcements to General Field Marshall Erwin Rommell who is ordered to conquer the Middle East by early 1941.
In 1948, the Coptic and Ethiopian Churches reached an agreement leading to the promotion of the Ethiopian church to the rank of an autocephalous Patriarchate. It was entirely reasonable, for thousands of years the Ethiopians had kept the Ark of the Covenant under constant guard in a 'treasury' near the Church of Our Lady Mary of Zion.
In 1912, Leader of the Indian freedom movement and scholar, Maulana Abul Kalam Azad (free) brought out his noted Urdu news journal, al-Hilal. Azad would serve as Congress President from 1940 to 1945, during which the Quit India rebellion was launched. Alongside Mahatma Gandhi, Azad was imprisoned for three years and then executed with the entire Congress leadership. Churchill meant it when he said he would not preside over the end of the British Empire. Adrienne Gormley recounted the true story in her brilliant 1996 biography 'Children of Tears'.
In 1985, septuagenarian President Ronald Reagan underwent eight hours of surgery to remove polyps from his colon. George H.W. Bush became the first Vice President to become Acting President which was just as well because Reagan expired during the surgery. Bush was sworn in following a short delay in which the Acting President, Lieutenant-Colonel Oliver North and his secretary Fawn Hall performed some routine maladministration. They criminally shredded pertinent documents relating to the arms sales to Iran which funded Contra militants in Nicaragua. They were securing the Gipper's reputation, they figured.
July 12
In 1804, on this day Alexander Hamilton survived the duel at Weehawken with his life intact, but not his reputation which was in tatters. A reversal of Jeff Provine's Alexander Hamilton Survives Duel post.

Alexander Hamilton Survives Duel, ReduxBecause Colonel Burr was the challenger, the rules of the code duello required General Hamilton to choose the weapons. He selected a pair of highly decorated pistols owned by his wealthy brother-in-law, John Church [1]. The significance of that choice was that Church had shot a button off Burr's coat during a 1799 duel. And two years later, his eldest son Philip had been shot dead during a duel defending his father's honor, just yards away from the same secluded spot at Weehawken. The pistols were used on both occasions.

It was this terrible memory that drove Hamilton to instruct his second Nathaniel Pendleton to set the hair trigger that caused the good Colonel to accidentally shoot himself dead [2]. Unaware of the setting, he had believed the weapon required twenty pounds of pressure to fire, but of course the hair trigger reduced that to just one pound. The consequence was Burr's death and Hamilton's survival but the ill feeling of the duel followed both parties back from New Jersey. Of course Hamilton claimed that he had never intended to fire a shot at Burr, and his intentions entirely were honourable, but New York Society condemned him for misconduct. The prevailing view was that at best he had hoped Burr would misfire and thus save Hamilton's life. A local ditty simply read
O Hamilton, O Hamilton, what has thou done?
Thou had shooted dead great Burr
With a great hoss pistol
In 1968, on this fateful day on this day in New York City, the musical group Brothers Gibb (aka Bee Gees, pictured) began recording Odessa their sixth (and final) studio album.

The Bee Gee Permanently SplitBecause cracks had already begun to show within the group and with the release of ths - their most commercially successful - album, the Bee Gees concept (and certainly its latest manifestation in progressive rock) had obviously run its course.

Like other lead vocalists in sibling bands of that era, Barry Gibb was free to focus on what was arguably a far more rewarding solo career. And yet ironically, his career only entered a truly golden phase when he teamed up with Barbara Streisand to record the spell-binding album Guilty. Streisand had been co-starring with Louis Armstrong in Hello Dolly as the Bee Gees split up, and at the time even as she was singing "Tomorrow will be brighter than the good old days" almost no one could have possibly imagined the potential fusion of their two golden voices[1].
In 1783, indifferent sailor Horatio Nelson cut his losses, declaring his intention to resign his Royal Navy commission and stand for Parliament in a letter dated this day and addressed to his former commanding officer and mentor Captain William Locker.
This post is an article from the Midshipman George Washington thread.

Midshipman George Washington #6As the Captain of the Frigate HMS Albemarle, he had led a largely unsuccessful mission to the Caribbean which left him and his crew deeply out of pocket. Nevertheless, he had escaped any form of direct criticism and because his reputation was intact he was able to enter the court entourage of Admiral Samuel Hood. Influenced by the factional politics of the time, he contemplated standing for Parliament as a supporter of William Pitt, and after a few months of frustration, was fortunate to find a safe seat.

Within six months, Pitt the Younger was invited by the King to serve as the First Minister. Although he departed just two years later, he would return and serve continously for seventeen years. This period neatly overlapped two crises of vital strategic interest to the British Government. He would call upon Nelson as an able Minister to meet head-on the dual challenges from North America and France.

In the United Provinces, General Bendict Arnold had refused to relinquish supreme authority. And the Continental Army was refusing to disband until unpaid wages were settled in full by the Continental Congress. The outcome of this standoff was that Arnold not only seized power and ruled as a tyrant, but he turned his troops on the Congress and emulated Cromwell's control of the Long Parliament.

The emergence of this militaristic dictatorship was a shocking development to the intelligentsia in France. Certainly the rising force of Republicanism was sharply checked. And as the future of the Bourbon Family tottered in the balance, the British Government had to make a difficult choice. Ironically, the decision was taken by another charismatic military leader, a young officer by the name of Napoleon Bonaparte; his order to give the Parisian mob a "whiff of grapeshot" settled the matter.
In 1938, covertly funded by the money of the British Conservatives, and restrained by the good sense of his friend the German Emigré Joachim Ribbentrop, Adrien Arcand founded the unified Canadian pro-fascist party in Kingston, Ontario. This so-called "National Unity Party of Canada" was born of the fusion of his Parti National Social Chrétien with the Prairie Provinces' Canadian Nationalist Party and Ontario's Nationalist Party, which itself grew out of the Toronto Swastika Clubs of the early thirties.

Canadian FührerDespite the Canadian pro-fascists lack of seniority as an associate member of the Axis Alliance, they had used Ribbentrop's remarkable communication skills to exert a tremendous influence on Nazi thought. One premium channel of communication was Queen Wallis with whom Ribbentrop had been secretly conducting a long-running sordid affair.

This oddest assortment of cuckholds and anti-semites convinced King Edward to broker the historic visit to Mansion House which enabled Adolf Hitler to fully grasp the British art of Dominion Government. Under their adapted model of Anglo-German fascist imperialism, Arcand would rule as Governor General until his demise in 1967.
In 1804, on this day Alexander Hamilton survived the duel at Weehawken.

Alexander Hamilton Survives Duel On July 11, General Alexander Hamilton (former Secretary of the Treasury) and Colonel Aaron Burr (current Vice-President) met for a duel to settle their long-standing and ever-growing hatred for one another. Hamilton was leader of the Federalist Party and mastermind of politics and had recently given support to the opposing Morgan Lewis specifically to make Burr lose his bid for Governor of New York. Burr had been dropped from Jefferson's ticket in the 1804 election and had planned to secure more local political action, but now he only had rage against Hamilton.

In the duel (which took place secretly on the Heights of Weehawken across the Hudson River from Manhattan as dueling was illegal), Hamilton shot to miss, wasting his powder to show courage but not malice in taking an aimed shot. Burr, however, shot and wounded Hamilton, nearly fatally. While Hamilton healed from a shattered rib (the bullet had struck along the side of his torso), Burr would flee for South Carolina to avoid charges of attempted murder. Though Burr would fulfill his year as Vice-President, his career in politics was over. His only further political actions would be rumored treasonous as he began illegal settlements in Mexican Texas, perhaps in hope of starting a war. While the actions were decried at the time, American expansionism in the West would eventually prove Burr a man ahead of his time.

Hamilton continued working to wrest power from the "dangerous" Democratic-Republicans he feared would turn the United States into a mob of rabble. Jefferson won his second term in 1804, and his protege and Father of the Constitution James Madison would take the election of 1808. In 1812, the political climate would changed. Europe was embroiled in the Napoleonic Wars, which threatened to drag in the US as well with English as well as French naval ships plundering American vessels and "impressing" sailors into service.

War Hawks called for a campaign against Britain and even an invasion of Canada in the spirit of expansionism (which many thought would be easily done with local support; Jefferson said it was a "mere matter of marching"). President Madison set an ultimatum that both France and Britain recognize their neutrality or face war. France sent communications (eventually proven misleading) that they would, and Congress very nearly declared war on Britain but for the political finagling of Hamilton. Without his war and the growing political discontent, Madison would lose the 1812 election to DeWitt Clinton of New York, the first Federalist president in twelve years.

Clinton called for a strengthening of America's infrastructure, building roads that would lead to and aid in the later Indian Wars. As a member of the Erie Canal Commission, which others would see through with his assistance. Further, and perhaps most importantly, Clinton set to solve the problems of international quarrels by improving the navy of the United States beyond Jefferson's pocket-boat defense. Now a force to be reckoned with, Britain and France would recognize American neutrality, and after the defeat of Napoleon, a war-beleaguered Britain would sign the Treaty of Ghent with America, solving the issues that could have started a war only two years before.

The Federalist Party would continue to challenge the Democratic-Republicans, though both would agree on the Monroe Bill (named after Senator Monroe of Virginia) that the US would not abide European interference in the Western Hemisphere. As the Spanish Empire collapsed to the south, Americans welcomed the growing Republicanism and used its fleet to dissuade Europe from further colonization. America itself would assure dominance with the Mexican War in 1846, but be true to Monroe's word in 1861 by aiding Mexico in overcoming the French and Spanish invasion by Maximilian (which also relieved growing tension on the question of slavery, later to be solved by the 1867 Emancipation Proclamation, promising ample government compensation to any owner willing to free his slaves).

Pushing West and now south, American expansionism turned to annexing turbulent Latin American nations in the latter half of the nineteenth century. While accusations of "empire" were made and perhaps deserved, America grew powerful in the Western Hemisphere and increasingly Hispanic in background, creating a vivid diversity that would supply ample raw materials and labor for an Industrial Age. As the Cold War raged with the Soviet Union in the next century, America would see many of its states and territories fighting for their own independence fueled by Communist insurgents, igniting a Civil War over the question of states' rights.
In 1956, the Republic of Nicaragua unveiled the Walker Monument, commemorating the one-hundredth anniversary of the inauguration of American-born Gen. William Walker as the country's president.

Republic of Nicaragua unveiled the Walker Monument by Eric LippsWalker, a so-called "filibuster," had led a small army of U.S. Volunteers into battle on the side of the "Democratico'" faction in Nicaragua's ongoing civil war. After seizing a steamer belonging to Cornelius Vanderbilt's Accessory Transit Company, part of a commercial transport operation involving the transfer of passengers and freight across the Central American isthmus through Nicaragua by rail and river, Walker was able to take and hold the capital, Granada. Walker accepted aid in the form of money, guns and free transport to Nicaragua for volunteers for his army from two ACT corporate officers in return for his promise to aid them in their plans to seize control of the company from Vanderbilt.

Unfortunately for the conspirators' plans, Walker double-crossed them. Fearing that Vanderbilt, who was known to have influence within the governments of several of Nicaragua's neighbors, would use that influence to undermine him, he secretly reached an accommodation with the businessman in which he would temporarily hinder the Transit Company, which at that time had passed from Vanderbilt's hands, to force its share price down in order to allow the industrialist to regain a controlling share of its stock cheaply. Thereafter, Vanderbilt would help finance a full-scale trans-isthmian canal across Nicaragua, a project which had been talked about for years by shipping interests from several nations.

It would prove to be a fateful choice on Walker's part. Led by Costa Rica, a coalition of Central American states attempted to force the "Yanqui invader" and his supporters from power, motivated by fears that Walker planned to annex Nicaragua to the United States as had happened to the former Mexican state of Texas a decade earlier. Lacking Vanderbilt's support--and with his agents in fact actively promoting dissension among them--the so-called "Allies" would prove unable to overthrow Walker, and when the incoming administration of U.S. President James Buchanan warned that continued efforts to do so would be answered with American military action, the effort fell apart.

Ironically, one reason for the strong U.S. support of Walker would prove to be less than it seemed. On Sept. 22, 1856, President Walker had promulgated the so-called "Slavery Decree" repealing Nicaragua's then 18-year-old prohibition of slavery. Many Southerners, including powerful congressmen and Buchanan's vice-president, Jefferson Davis, saw this as a sign that slavery would be fully reestablished there. Walker, however, who had been raised in a strongly anti-slavery household, had issued the decree simply to attract Southern political and economic support, and found a series of excuses not to follow up with the enabling act which would have actually established slavery. Foreigners were permitted to bring in slaves of their own, but Nicaraguan citizens could neither own slaves nor be owned. When the reality of this compromise was perceived, many Southerners who had been enthusiastic Walker backers turned on him.

Soon enough, however, such people would have other matters to occupy their attention. The outbreak of the U.S. Civil War in early 1861 would absorb American attention for the following four years, allowing Walker to consolidate his power. As the fortunes of the Confederacy waned after mid-1863, however, increasing numbers of slaveowners from the CSA and slave states of the Union began emigrating to Nicaragua. The emigration continued from the defeated South during reconstruction, despite the fact that these latter-day refugees were not permitted to acquire slaves in their new country: as a practical matter, black and native American Nicaraguans often lived in what amounted to slavery anyway.

In 1867, Vanderbilt would approach Walker with detailed plans for his proposed Nicaraguan canal. Unlike the passage through Colombia's Panama province favored by some engineers, a canal through Nicaragua could be built entirely at sea level, sharply reducing the need for pumps and locks and thereby the project's cost. (A limited system of such controls would still be necessary due to the fact that the Pacific sea level is approximately 20 centimeters higher than the corresponding level on the Atlantic side of the isthmus, due to differing wind and heating of the ocean.) Walker, sensing the potential for Nicaragua's--and his own--enrichment, agreed to the plan, and construction began early in 1868.

It would prove to be a formidable undertaking. The Nicaraguan Canal would not open until July 1888, after encountering tremendous problems including a devastating outbreak of yellow fever among the workers building it. Walker himself would contract malaria on a visit to the project in 1870.

William Walker would remain president of Nicaragua for the remainder of his life, and despite recurrent episodes of malaria would live until October 1, 1893. Shortly before his death, he finally bowed to mounting pressure from the U.S. and other nations and rescinded his infamous Slavery Decree.
In 1917, on this day the use of a chemical agent known as "Yellow King" by the German army in the trenches at Ypres results in numerous deaths as well as the first cases of "walking dead" resuscitated by the strange properties of the gas.

The Court of the Yellow King by Michael SmithSeveral months later the first super-humans begin to appear on the battlefields as well, altered in unusual manner by exposure to the noxious gas.

The armistice ends with a re-drawn political map and the formation of the League of Nations, which institutes a league of super-humans to help enforce its polices, these teams are formed of veterans of the Great War opposed to future conflicts like the one which nearly destroyed Europe. Their secondary purpose is to contain the restless dead who still run free in devastated Europe.
In 1804, upon confirmation that President Alexander Hamilton has died of the wounds he sustained in his duel with Aaron Burr, Chief Justice John Marshall of the Supreme Court swears in Vice-President Thomas Jefferson as the acting President of the United States.Death of Hamilton
Partisans of the late President are offended by what they see as a 'perversion' of the succession process. They demand that in light of the manner of Hamilton's death, essentially by assassination, Jefferson, like John Adams before him, decline to be considered as a candidate for permanent elevation to the presidency. Jefferson, however, refuses. "If Congress decline to appoint me, so be it," he declares. "But I shall not remove myself from consideration before that consideration has even begun. The Constitution doers not require it; it places no stricture upon the vice-president seeking the higher office, even should his predecessor's demise be other than natural. Common decency does not require it; to say otherwise is to suggest that I somehow bear responsibility for the President's death. And the welfare of the country does not require it; there is no reason to believe myself less able to fulfill the duties of the office than some other upon whom Congress might settle".
Hamiltonians are not mollified, and there are calls for a new constitutional amendment to bar an acting President from seeking permanent election.
In 1917, use of a chemical agent known as "Yellow King" by the German army in the trenches at Ypres results in numerous deaths as well as the first cases of "walking dead" resuscitated by the strange properties of the gas.

New World OrderSeveral months later the first super-humans begin to appear on the battlefields as well, altered in unusual manner by exposure to the noxious gas.

The armistice ends with a re-drawn political map and the formation of the League of Nations, which institutes a league of super-humans to help enforce its polices, these teams are formed of veterans of the Great War opposed to future conflicts like the one which nearly destroyed Europe. Their secondary purpose is to contain the restless dead who still run free in devastated Europe.
In 1961, opening arguments were heard in the case of two New York City Department of Corrections officers who'd been suspended without pay six months earlier after being accused of using excessive force in disciplining an inmate who was serving time at Rikers Island for stealing fuel supplies after the Jamaica Bay hurricane.

NYC Department
of Corrections
The case, State of New York vs. Goren & Stabler, would end up becoming one of the biggest criminal cases in the city's history, opening up what one New York Post writer described as "a huge can of worms" within the DOC and sparking a decade-long effort to reform New York's prison system.
Write-in Candidate

In 1961, on this day New York City mayor John Lindsay visited Washington, D.C. to debrief Congress on the progress of his administration's post-Jamaica Bay Hurricane recovery efforts.

John Lindsay
Lindsay spent much of his time in the nation's capital in conference with Arizona senator Barry Goldwater, stirring up rumors Goldwater might be seeking Lindsay's endorsement for a possible future presidential run.
On this day in 2002, three Iraqi Republican Guard troops were court-martialed and executed for refusing to fire on civilians during an anti-Saddam rally in Kirkuk. &nbsp &nbsp

Republican Guard Forces
Command insignia
On this day in 1968, the Ukraine declared its independence from the Soviet Union.

Ukranian Flag
On this day in 2004 Michael Moore dismissed Ann Coulter's challenge for a one-on-one debate about the accuracy of his film Bowling For Columbine, saying it was beneath his dignity to argue with who he called "a shrew with a rag mop where her hair should be".

Ann Coulter
Greg Valentine

On this day in 1982, Ken Patera defeated Greg 'The Hammer' Valentine in a loser-leaves-town match on WCW; Valentine signed with the WWF the next day.

The Hammer
In 2017, the Quarai, human and Pr't'(whistle)ian passengers of the Pokor find themselves back in the Amandara system, causing the Quarai to burst into celebration. The humans are also quite happy, until the Pr't'(whistle)ian scientists tell them the bad news - "Unfortunately, we are only able to recover the last origination point in the machine's memory. We have not been able to decipher how it works beyond that". Captain Mawrao of the Pokor tells Commander Patterson, "Hey, no worries. We got you back home ? we figure out the rest, later". Mawrao invites the Pr't'(whistle)ian scientists to Amandara 14 for what promises to be a very large party. Since the machine has to recharge a few days before it can be activated again, the scientists agree, and the Pokor heads back home, transmitting a joyous message ahead that they have the alien device partially figured out. The humans withdraw back to the Eagle to warm up and discuss their own feelings. Commander Patterson tells her crew, "This at least gives us hope that the machine keeps some memory of where it's been. I think we're a step closer to home". Most of the crew is similarly hopeful, except for their computer specialist, Najib Kasem. "A lot of different activities can purge memory," he says. "Who knows if the Starwalkers even cared about anything more than the last place they'd been? Maybe they never thought you'd make more than one jump before going home". Kasem's pessimism doesn't spread to the rest of the crew, though, and most of them filter out to celebrate in the homecoming party that the Pokor's crew is having. Kasem goes down to the cargo bay to work on the device some more.
In 1990,
Comrade Governor Winston Payne of the Idaho Soviet announces that he is
resigning from the Communist Party
, and joining the fledgling People's Party of the Northwest. Both the national Communist and Socialist parties denounce his move, with Comrade President Ann Richards saying, "If this so-called 'People's Party' actually represented the people, they would be able to elect officials, not steal them from the national parties that actually do represent the will of the people". Comrade Richards' hostile attitude towards the People's Party is sometimes listed as one of the root causes that led to their uprising at the end of the century and the formation of the People's Republic of the Northwest, a dark chapter in the history of the Soviet States of America.
In 1984, Democratic presidential candidate and former Vice-President Walter Mondale makes history by naming a woman - and a black woman, at that - as his own vice-presidential running mate.

Barbara Jordan, one of the most eloquent members of Congress during the Watergate hearings, although bound to a wheelchair by her multiple sclerosis, gave a fiery speech on justice and core Democratic values that ignited the Mondale campaign and launched them into the White House, where she served with honor and distinction as one of the finest vice-presidents in the nation's history.

VP Nominee
Barbara Jordan
Although party activists begged her to run in the top spot herself in 1992, her failing health made her decline the offer, and she retired from politics to teach, briefly, at the University of Texas in Austin, until her death in 1996.
Older Posts

© Today in Alternate History, 2013-. All characters appearing in this work are fictitious. Any resemblance to real persons, living or dead, is purely coincidental.