| | |
| --- | --- |
| July 6 | |
In 1957, on the way to the St. Peter's Church Rose Queen garden fete in Woolton, Liverpool, the flatbed lorry carrying the Quarrymen skiffle group breaks down.

Big Breakthrough in WooltonAfter changing the name from the Blackjacks twelve months earlier, they had been playing at parties, school dances, cinemas and amateur skiffle contests. The line-up comprised John Lennon and several friends from Quarry Bank High School in Liverpool.

His mother, Julia Lennon, had taught her son to play the banjo and then showed Lennon and Eric Griffiths how to tune their guitars in a similar way to the banjo, and taught them simple chords and songs. Despite the lorry's breakdown John had a good feeling about that fateful day, and he wasn't to be disappointed. Because as they waited to hitch a ride back to Liverpool, he came up with a nifty set of chords. Griffiths then started to hum some catchy lyrics. It was the beginning of a breakthrough that the band desperately needed. They never looked back, and this minor transportation difficulty turned out to be the making of them. Because The Quarrymen had played their final small-time gig.
In 1832, on this day Ferdinand Maximilian Joseph Habsburg (the future Emperor Maximilian I of Mexico) was born at the Schönbrunn Palace in the Austrian Capital City of Vienna. And yet the central events of his life would occur five thousand miles away in Central America. Because he was the product of an extramarital affair1 between his mother and his first cousin (the ruler of the French Empire) his proclamation as Emperor of Mexico enabled him to use shame and guilt as tools to manipulate his father's successor, Napoleon III.

Birth of Emperor Maximilian I of Mexico
By Ed & Eric OppenDetermined to succeed on his own terms, he was able to build upon local popularity and the strong backing of Mexican monarchists, treading a delicate course between the United States and France. The clever manipulation of these combination of forces helped him to ensure his success over the republican forces led by Benito Juérez, who was captured and executed in 1867.

This hard fought victory provided a platform for further development of his liberal reforms. Driven by a genuine desire to help the people of Mexico, his refusal to desert his loyal followers, and his personal bravery during the siege of Querétaro he has been highly praised even by historians who believe he had no business becoming involved in Mexican affairs.
In 1535, on this day Thomas More escaped from his prison in the Tower of London.

Thomas More Escapes Mere hours before his execution, Catholic loyalists managed to sneak Sir Thomas More, once a favorite of Henry VIII and now a nemesis for his dedication to the Pope, from his prison in the Tower of London. Henry declared a nationwide search, but More was able to escape from England and into France under the guise of a book-trader.

In France, he shed his disguise and began to journey to Rome. Catholic supporters surrounded and protected him despite the impressive bounty offered on his head by Henry. Narrowly dodging two assassinations, More caught word that Henry himself was plotting war to capture the treasonous statesman by any means possible. He claimed no fear of the king or for his life, but he feared for bloodshed and sin resulting from war, and so he disappeared, falling in with Alpine monks under an assumed name.

While Henry's rage never ceased, his life did, and his son Edward VI assumed the throne. Moving away from Catholicism, Edward and Thomas Cranmer, the Archbishop of Canterbury, imposed Protestantism and the infamous Book of Common Prayer. Upon his death at only 15, crisis followed with Lady Jane Grey's attempt at the throne, but Edward's half-sister Mary I managed to lay successful claim.

Less than a month after her crowning, an elderly monk presented himself as the septuagenarian Thomas More. With his political craft as well as the advice of Cardinal Pole (replacement for Cranmer, whom Mary had burned at the stake), the queen was able to heal England's separation from Rome, albeit under a fairly reformed condition. Priests retained their right to marriage, but the Book of Common Prayer was destroyed alongside any editions of Tyndale's English Bible. The Marian Persecutions raged, chasing Protestants out of England and executing those who remained.

Mary died in 1558, succumbing to what medical historians would later determine a hormonal disorder brought on by tumors. The aged More lived only a few months more, seeing the succession pass safely to the Catholic Mary, Queen of the Scots, as Mary I's sister Elizabeth had died at Hatfield House in a fire often found suspicious. England continued Catholic, despite the Protestant Rebellion of Oliver Cromwell in the 1650s.

However, Henry VIII's short-lived separation from Rome always left its mark on the land and people, so much so that after the revolution of the American colonies led to the United States, the first amendment in their Bill of Rights read in 1789, "Congress shall make no law respecting an establishment of religion, or prohibiting the free exercise thereof". While England called for a new Crusade against such unorthodoxy, the Enlightenment had shifted the interests of Europe, and Rome had lost much of its power. Humanism and material philosophy had made moot a question which, only a few centuries before, had nearly torn Europe apart.
In 1948, on this day the House of Commons vetoed British participation in the European Recovery Programme (ERP) known as "The Marshall Plan". And the Labour Government fell within days of the rejection of this agreement the Prime Minister Clement Attlee had personally negotiated.

Britain rejects the Marshall PlanThe left-wing majority of Members of Parliament (MPs) were united in their objection to "undertake" all policies that would ensure the efficient and practical use of its economic resources recognising that such a commitment would provide US policymakers with sufficient grounds to obstruct the Socialist Government's nationalization plans.

Labour MP Leslie Solley had captured the sense of unease and frustration in the House by describing the ERP as a "disaster of the first magnitude for this country to sell its grand heritage for a mess of pottage". Communist Walter Hannington added that the terms "fundamentally undermine British economic and political independence" as "final control of British financial ... policy is now in US hands" and that they "afford endless opportunity to US big business to dominate and decide policy for Britain".

Trouble was that ERP was a one-size-fits all plan that directly exported US goods and commodoties directly to recovering nations, and hence the mission statement "All Our Colours to the Mast". Because the plan did not supply dollars Britain's key problem would remain unchanged - the nearly exhausted national fund of foreign exchange. What US policy makers did not expect was the next step taken by the British Government. Havingly only recently argued over the provisions of the Atlantic Charter some five short years before, the incoming Socialist Government was on the verge of defaulting on pre-war debts, announcing the closure of all overseas military bases and a compressed schedule for withdrawing from her colonies before the end of the decade.
In 1758, on this day Brigadier General George Augustus Howe (3rd Viscount Howe) was seriously injured by a musket ball whilst trying to capture Fort Carillon. Fortunately for the success of the North American campaign, this uniquely talent individual survived; his significance is emphasised by the description from James Wolfe (pictured) that Howe was "the best officer in the British Army"

Howe Lives by Barry CooperIts not hard to imagine that, given the inaccuracy of the firearms of the day, Howe is not shot through the heart at Trout Brook. His leadership and aggressive style catch the French unawares, preventing them from digging in and inflicting horrendous loses on the English at Ticonderoga, forcing them to retire in semi-confusion.

"the best officer in the British Army" ~ James WolfeWhere would the British go from here? Unless you ascribe a longer career for Pitt the Elder, then things would not unfold much different than they did in OTL. Britain still kicks the French about in India, the Caribbean and North America. Havana falls much more quickly and with significantly less loss of life under a promoted Major-General Howe. Britain still gives back those bits of the globe that it carved off the Spanish Empire when the peace is signed.

The real repercussion would best be felt in the American Revolution. Howe, as a young (33 during the Seven Years War) general, famous for his victories during the war, could very likely have found himself governor of one of the colonies. Add his peerage and the influence that it brought to the mix and you have a man of considerable pull in domestic politics at home in England.

So, we have Agustus Howe (as opposed to his brother) in situ in the colonies when tensions begin to rise. It is unlikely that he could have avoided the war, but it is likely that several of his reforms would have been adopted by regular regiments stationed in the colonies, perhaps stimulating the creation of significant light infantry formations long before their inception during the conflicts with revolutionary France.

Even if Howe had been recalled to England at some point, it would be highly probable that he would be given command at some early point in war. He would have had much more respect for the irregular colonial "rangers" that he had lead in the Seven Years War, not discounting their effectiveness as did the British leaders in OTL. After all, he did mimic a lot of their tactics and skills during the Seven Years War, it is hard to believe that he would forget all the lessons he so eagerly assimilated then.

So, we have a charismatic and effective general who knows the territory and the people in North America. Loyalist sentiment would have probably been slightly increased in whatever colony he governed/had governed. We cannot discount the effective generals like Cornwallis that were also assigned to the theatre; we can only assume that they would be even more effective under the overall command of a man like Lord Howe.

Given this command structure, it is very likely that the Continental Army is routed. Howe would not make mistakes like letting Washington escape in Brooklyn. It is likely that Washington would have been killed or captured as opposed to being allowed to create the havoc that he did. With Washington out of the picture, the revolution was dead in the water, and the crown keeps control of the colonies for a bit longer.

Would this result in permanent British domination and loyalty to the Crown? Unlikely, but it might alter aspects of whatever American nation emerged from British North America. Given loyalist sentiment, colonies like New York might have stayed loyal if another revolution broke out. A more centralized colonial attempt that succeeded may have resulted in a far closer union of the colonies than we see pre-American Civil War in OTL.

It is possible that no "American" nation appeared at all. Without a massive immigration influx from Europe, the thirteen colonies may have ended up as Dominions like Canada. Spanish/French loss of the area known as Louisiana was almost preordained in the future, leaving Britain with significant territories than may never have rebelled at all.

The biggest aftershock of a failed revolution in America has been explored and explained in depth. The likelihood of a French revolution is far less certain in this event, although it is probable. No Napolean. No War of 1812. These are important enough, but they are not the only results by far.

No United States means the cessation of slavery in 1833. There would be no Civil War as we know it, although the Southern States would almost certainly have risen up against the Crown at that point if they had not done so before.

No Civil War means a slow down of military technology; no field testing of Gatling guns, no wide-spread use of breech loading rifles, no repeating rifles, and no ironclads. Doubtless these things would eventually be incorporated into militaries everywhere, but I believe that we can reasonably place a twenty year or so delay.

There would also be a lot more Native Americans around without an aggressive and expansionistic United States fulfilling its "manifest destiny". If an American nation did emerge at a later date, it would have given the Indians that much longer to multiply in numbers, adopt European weapons, and perhaps gain a closer and fairer patronage from Britain.

So, it all hinges on a musket ball shot at Trout Brook in July of 1758. Viscount Howe represented an adaptability and effervescence seldom seen in British generals at the time. There are no guarantees that he would have fundamentally changed North America and the British Army, but if anyone could have at that point in time, it was him.
In 1797, on this day the proclaimation of a new state called United Columbia marked the end of a revolt against the British authorities in Lower Canada.

United Columbia is proclaimed in Quebec CityUnbeknown to the British, American ring-leader David McLane of Rhode Island had been masquerading as a Jewish-American horse trader, known in the Richelieu Valley under the false name of "Jacob Felt". Accompanied by his French translator Charles Frechette, McLane had not been trading horses, rather he had been hatching a sophisticated plot. Because a drink mixed with laudanum (opium syrup) was distributed to the troops in Quebec garrison, putting them to sleep, so that they could easily be overwhelmed by McLane's five hundred Canadian rebel volunteers.

But McLane's actions were only a small part of a larger plan formed by the new revolutionary governments of France and America. The previous year, the Olive Branch had sailed from France to America carrying twenty-thousand muskets and twenty-four pieces of artillery to arm Vermonters and French Canadians for the uprising. And fifteen thousand Vermonters had massed at the US border, led by the well-known radical and separatist Ira Allen (pictured). Known as the "Metternich of Vermont", Allen travelled to France in 1795, and obtained French army intervention for seizing Canada.
In 2009, Robert S. McNamara (pictured), former Defense Secretary under Presidents John F. Kennedy and Lyndon B. Johnson, died.

McNamara had been among the architects of the occupation regime set up in Cuba following the successful Bahia de Cochinos invasion of then-Communist Cuba in April 1961, and had played a vital role in the Berlin crisis later that year.

Robert McNamara, an Obituary by Eric LippsIn 1963, he would draft a directive commemorating President Truman's desegregation of the military which read, in part, "Every military commander has the responsibility to oppose discriminatory practices affecting his men and their dependents and to foster equal opportunity for them, not only in areas under his immediate control, but also in nearby communities where they may live or gather in off-duty hours". Under the directive commanding officers were obligated to use the economic power of the military to influence local businesses in their treatment of minorities and women. With the approval of the Secretary of Defense, the commanding officer could declare areas off-limits to military personnel for discriminatory practices. The directive was withdrawn following heavy fire from Congressional conservatives still bitter over their unsuccessful attempts earlier that year to impeach both President Kennedy and Supreme Court Chief Justice earl Warren for their roles in suppressing the anti-integration crisis of October 1962.

"Every military commander has the responsibility to oppose discriminatory practices affecting his men and their dependents and to foster equal opportunity for them, not only in areas under his immediate control, but also in nearby communities where they may live or gather in off-duty hours"Following the Tonkin Gulf incident of August 1964, in which North Vietnamese forces were reported to have fired on U.S. naval vessels, McNamara would support President Johnson's escalation of the Southeast Asian conflict. By the end of his term, however, he had become skeptical that increased bombing of North Vietnam and further large troop deployments to South Vietnam could win the war. Following the success of President Richard Nixon's Linebacker operations, an outgrowth of Johnson's earlier operation Noah's Ark which sought to break Hanoi's will by bombing the system of dikes critical to the North's agriculture and wrecking the roads and rail lines used to transport food throughout the country, conservatives would argue that McNamara's "timidity" had been discredited, to which he would respond by pointing to the geopolitical damage done by international outrage in the face of the famine and disease which had followed the attacks.

In the 1970s, McNamara's legacy in Cuba and Vietnam would be clouded by seemingly unending guerrilla warfare in Cuba and Vietnam, where a large continued U.S. military presence served to bolster right-wing regimes widely seen as puppets of Washington. The man himself would emerge as an advocate of negotiated withdrawal, and would support the ultimately unsuccessful Carter initiatives of 1978 and '79 intended to remove most U.S. troops from those countries to "allow Havana and Saigon to stand on their own feet". Carter's efforts would be obstructed by Republicans and conservative Democrats, who branded them "surrender," and would be derailed entirely by the twin crises of the Iran embassy takeover and the Soviet invasion of Afghanistan. The election of Ronald Reagan in 1980 would consign him to the political sidelines. Even his tenure as president of the World Bank, to which he had been appointed in April 1968, would end in 1981 as the new president replaced him with former Bank of America president A. W. Clausen, whom Reagan believed to be more in tune with his own hard-line conservative philosophy.


In the 1980s, McNamara continued to press for a negotiated end to the U.S. occupation of Cuba and Vietnam and became a vocal opponent of U.S. first use of nuclear weapons in Europe. To put it mildly, this did not endear him to the Reagan Administration, whose own defense secretary, Caspar Weinberger, would go so far as to suggest that his predecessor, now in his mid-sixties, was going senile. This provoked the normally even-tempered McNamara to threaten a lawsuit unless Weinberger retracted his insinuation, which the latter reluctantly did. The episode ultimately did more damage to Weinberger's reputation than to that of McNamara. The former Defense Secretary would also sharply criticize the Reagan Administration's covert arming of both sides in the Iran-Iraq War of 1981-1988, though he would support Reagan's dramatic expansion of U.S. involvement in Afghanistan on the grounds that that country needed American aid to expel the Soviets.

By the nineties, the aging McNamara had become the unlikely hero of America's liberals. His continued support for withdrawal from Cuba and Vietnam, where low-intensity guerrilla warfare was still taking a steady, if relatively small, toll in American lives, won praise from such left-of-center publications as The Nation and The Progressive. McNamara had also earned respect for his unflagging support for military desegregation, which had proceeded incrementally since his tenure as defense secretary despite continued opposition from the same elements who had forced the withdrawal of his 1963 directive on the subject. The world was changing, a point driven home when in 1997 the cabal of generals which had led the Soviet Union since the coup of 1991 fell, taking the Communist Party with them.

McNamara, too, was changing. Still a militant anti-Communist who regarded the People's Republic of China, the world's surviving Communist superpower, as the greatest political and military threat to the United States, he was becoming increasingly outspoken about other sorts of threats, from resource exhaustion and Third World poverty to pollution and global climate change. His combination of national-security hawkishness and traditionally liberal social and environmental concerns threatened to leave him a man without a party, stranded in the political wilderness forever-especially after the narrow victory of hard-right Republican George W. Bush in the 2000 presidential election. Bush and his supporters were committed to achieving "final victory" in the seemingly interminable guerrilla conflicts in Cuba and Southeast Asia by means of military force, something McNamara had long since concluded was unlikely given that decades of occupation and often ruthless counterinsurgency efforts had not succeeded in those countries any more than they had in the Arab territories occupied by Israel since 1967.

The terror attacks of Sept. 11, 2001 brought home the reality that America had new enemies in the world. McNamara would spend much of his remaining years driving home that message. In 2003, when President Bush invaded Iraq, the former defense secretary would quarrel openly with his Bush Administration successor Donald Rumsfeld over the latter's insistence that the invasion had been necessary and would quickly lead to a the establishment of stable, democratic régime there. In On January 5, 2006, most living secretaries of defense and state were asked to the White House to meet with Bush regarding the war, which by then had spread into neighboring Iran and Pakistan, but at Rumsfeld's insistence, McNamara was explicitly excluded.

Family members reported that McNamara died in his sleep in the early morning of July 6. He was 93 years old.
In 1897, in an early political speech delivered at Claverton Down, Bath the Imperialist Winston Churchill predicted the unexpected longevity of the British Empire.To the uttermost ends of the Earth
"There are not wanting those who say that in this Jubilee year our Empire has reached height of its glory and power ,and that now we shall begin to decline,as Babylon, Carthage, Rome declined. Don't believe those croakers but give the lie to their dismal croaking by showing by our actions that the vigour and vitality of our race is unimpaired and that our determination is to uphold the Empire that we have inherited from our fathers as Englishman,that our flag shall fly high upon the sea,our voice be heard in the concils of Europe, our Sovereign supported by the love of our subjects, then shall we continue to pursure that course marked out for us by an allwise hand and carry out our mission of bearing peace, civilisation,and good government to the uttermost ends of the earth. " ~
The regeneration of the Empire began with the discovery of oil in British overseas territories during the 1920s. Britain was able - just - to make the necessary transition from coal to oil and retain her status her status as a world power.
"Britain, on the cusp of decline naively faced the military and economic future shock of 1914-15 with a sooty transportation and energy structure still rooted in the mid-Victorian commercial geography of coal fields, canals, railroads and ironmongers. When the British struck oil in Persia n 1908, it was at the site of the ancient fire temple at Masjid-I-Sulaiman. The explorer responsible, mining engineer William D'Arcy's find soon led to the Anglo-Persian Oil Company, which later became Anglo-Iranian, and ultimately British Petroleum. The oil finds of the 1920s were almost too late to resurrect Dutch and British economic hegemonies, each of which had been been considered to have a trajectory of 125-140 years". ~ Kevin Phillips, The Perils and Politics of Radical Religion, Oil and Borrowed Money in the 21st Century.
In 2008, the Berlin Office of Reuters news service reported "Man rips head from Hitler wax figure (story continues from Part 1) ~Fleeing Berlin by Moonlight Part 2 - Lycanthrope rips head from Hitler wax figure
Just minutes after the museum opened, the 41-year-old German man pushed aside two security men guarding the figure before ripping off the head in protest at the exhibit, a police spokesman said. The police were alerted and arrested the man.
The waxwork figure of a glum-looking Adolf Hitler in a mock bunker during the last days of his life was criticized as being in bad taste. A media preview of the new branch of Madame Tussauds Thursday was overshadowed by a row over the exhibit.
Critics said it was inappropriate to display the Nazi dictator, who started World War Two and ordered the extermination of Europe's Jews, in a museum alongside celebrities, pop stars, world statesmen and sporting heroes".
At the maximum security cells at Paddington Green station, the assailant gave Police officers full account of a series of events that started in Bavaria sixty years before. On the morning of April 30 1945, with the Soviets less than 500 meters from the bunker, Adolf Hitler had a meeting with General Helmuth Weidling, commander of the Berlin Defense Area, who informed Hitler the Berlin garrison would probably run out of ammunition that night. Weidling asked Hitler for permission to break out, a request he had made unsuccessfully before. Hitler did not answer at first and Weidling went back to his headquarters in the Bendlerblock where at about 13:00 he got Hitler's permission to try a breakout that night. Having concealed his lycanthropy for over twenty years, Hitler used his shape-shifting techniques to flee the burning city of Berlin by moonlight with his familiar, Martin Bormann. Avoiding detection by incoming Russian soldiers, he returned to Bavaria where he could run again with wolves. The Red army would find Weidling "hanging upside down, emptied of blood in a gesture as old as Macedonia".. Only now Bormann was entering his own period of languishing, and acting unpredictably.
In 1969, the Gnomes of Basle faced an unprecedent challenge to their uninterrupted world rule following the release of progressive rock band Jethro Tull's concept album "Stand Up". Ironically, David Palmer, Glenn Cornick, Clive Bunker, Martin Lancelot Barre and Ian Anderson would not have looked out of place at the mastermind's underground HQ below the Bank for International Settlements building in Switzerland.

Stand UpQuite simply, Ian Anderson flute playing was sublime.
Watch the Youtube Clip
.

"Stand Up" represented an unexplored dimension of pure mellowness that could prove fatal to the despondency the Gnomes' required to sustain their world-grip. Laboratory tests at Basle had proven that human listeners achieved a degree of freedom that could if unchecked force them to reconsider feelings of disempowerment. Sound government required the Gnomes to accelerate the introduction of formulaic music, stick Ian Anderson on an obscure Scottish Island and flood the coming generations with mindless pulp noises.
In 1483, on this day Richard Plantagenet was crowned the King of England.

Reluctant Regent by Chris CollinsHis was a short and violent reign that he had neither sought nor desired. After the death of his brother King Edward IV, Richard was offered the post of Lord Protector. He selflessly declined the opportunity to govern as regent, instead he placed Edward V on the throne, ignoring the naked ambition of "kingmaker", Henry Stafford, 2nd Duke of Buckingham.

Tragically Edward and his brother Richard died by misadventure. Whlst at play with their beloved Uncle, they both fell to their death from the Tower. For the nation, a heartbroken Richard reluctantly acquired the throne.
On this day in 1948, one full year to the day after the 1947 asteroid strike, the city of Roswell observed its first annual Rememberance Day. In the mid-1950s this holiday would be expanded to include several other towns in the vicinity of Roswell; by 1964 the New Mexico state legislature would designate it as a statewide holiday.
US President

On this day in 1944, Major Francis Urquhart of the US Army was promoted to lieutenant colonel.

Francis Urquhart
On this day in 2004 Ann Coulter used her online political column to challenge Michael Moore to a 1-on-1 debate about the truthfulness (or lack thereof) of his films Fahrenheit 9/11 and Bowling for Columbine.

Echoing Coulter's debate challenge, radio talk show host and sister conservative Laura Ingraham started a petition drive whose aim was to compel Moore to answer point-by-point the charges of distortion, inaccuracy and outright lying that had been levelled at him by his critics.

Ann Coulter
On this day in 1944, precisely one month after Allied forces began the liberation of France, Charles de Gaulle returned to Paris to assume his new position as head of the provisional post-liberation French government. That same day Claus Schenck von Stauffenberg was executed by firing squad for his role in the previous day's assassination attempt against Adolf Hitler; the colonel's execution would be just the beginning of an orgy of bloodletting that would terrorize Germany in the final months of Hitler's rule.

Von Stauffenberg
On this day in 1973, author Stephen King visited the Preacher's Corners Public Library to obtain information about the Boone family tree as part of his research for his book Jerusalem's Lot.

That same day in New York City, tennis instructor Stan Norris became the Lawnmower Man's latest victim, being thrown to his death from the roof of an apartment complex in Manhattan. Norris' demise was covered in The Lawnmower Man in a chapter entitled 'The Ledge'.
"Machines...It's a machines world, don't tell me I ain't got no soul
When the machines take over, it ain't no place for rock and roll
They tell me I don't care, but deep inside I'm just a man..
We have no disease no trouble of mind, no thank you or please no regard for the time
We never cry we never retreat, we have no conception of love or defeat". ~ Back to Humans.
Cyborg technology rescued Rock mega-star Freddie Mercury real name Farrokh Bulsara from a certain death at the hands of the AIDS pandemic.

In "Back to Humans", Mercury speaks of the duality of his release and imprisonment through this techno escape route. A synopsis of the life of Freddie Mercury can be viewed at Wikipedia.
In 1975, on this day Arthur Ashe celebrated the achievement of becoming the first African American man to win the Wimbledon singles title. At 1 John 5:19 it is written that the whole world lies in that wicked one, and Satan did not want to play ball. The story of Ashe's life turned from success to tragedy in 1988, however, when he discovered he had contracted HIV during the blood transfusions received during one of his two heart surgeries.

Arthur Ashe
He spent much of the last years of his life writing his memoir Days of Grace, finishing the manuscript less than a week before his death of complications from AIDS on February 6, 1993.
In 1969, Director of the United States Federal Bureau of Investigation John Edgar Hoover issued executive instructions effectively banning a musical festival planned in New York State for the weekend of August 15th.

400,000 people from all over America were expected to descend on a 600-acre dairy farm of Max Yasgur, in Bethel, New York, for a three-day concert, the Woodstock Music and Art Fair. Planned performances were expected from, among others, the Who, Santana, Janis Joplin, Creedence Clearwater Revival, Joe Cocker, Sly and the Family Stone, Jimi Hendrix and, in only their second live show together, Crosby, Stills, Nash and Young.

J. Edgar Hoover
Within Government circles it had been feared that like the million-man March on Washingston six years before, hippies would become self aware that far from being scattered individuals, they actually were much bigger in number than they thought.

Since the return of the Republicans to the White House, the Nixon Administration had pursued a conservative agenda. The "showbiz" attitude of the Kennedys combined with anti-war protest threatened to implode American society unless firm action was taken at the beginning of the Presidency.

American youth needed 'what my father would call a visit to the wood shed' said Nixon, taking a very hardline on the counter-culture that had emerged since he left the White House with Eisenhower in 1961. Janis Joplin, Jimi Hendrix and Jim Morrisson would all die mysterious deaths before the '72 election. In a concilitatory measure, Nixon invited the Beach Boys to the White House, an all-American success story for the music industry.
In 2008, at RAF Northolt the Royal Family welcomed the return of Prince Henry Charles Albert David following his release by hostage takers in Iraq. Third in the line of succession to the thrones of the United Kingdom, 'Harry' had been seized on patrol and held for 115 days before his release.

An unusually emotionally scene reminded many of a somewhat similiar scenario from 1982. Former Prime Minister Margaret Thatcher's son Mark had returned from Sahara desert where he had been presumed lost while taking part in an international motor race.

Prince Harry
Quoting the scriptures, the Queen said "Welcome Home Our Beloved Son...We Are Well Pleased". Three months later, in an unconnected move, British troop withdrawals were announced. Everyone's son was coming home it seemed, and in a sense, Harry's service had achieved the great leveller that national pride had demanded.
In 1777, the people of the Long House completed a week of celebration for the first anniversary of the birth of their nation. In reference to the expulsion of Europeans from the Turtle Island, Leaders of the Iroquis Federation quoted from the Aztec, Montezuma who famously said 'The price of freedom is eternal vigilance'.
In 2004, Democrat Presidential nominee John Edwards suffered from pangs of doubt following a meeting in North Carolina with Vice Presidential hopeful John Kerry.

Edwards' plan was to secure the national security vote with a balanced ticket combining his strong anti-war stance with a former Vietnam Veteran. Of course, if Edwards had allowed his political advisor Bob Scrum to push him into supporting the war, the positions would have likely been reversed.

John Edwards
John Kerry
Or Howard Dean would have been meeting with Kerry, who could say?. Iraq was the big flip-flop of this political generation.
On this day in 1947, Roswell, New Mexico became the first American city to be hit by an asteroid. The impact left most of the town in ruins and killed nearly half its population in what would be later be called 'America's Tunguska'.
On this day in 1941, the Red Army suffered its first major defeat in the war between Nazi Germany and the Soviet Union as German troops captured the historic city of Brest-Litovsk.
In 1189, on this day King Henry II died in Chinon, France. Henry ruled as King of England, Count of Anjou, Duke of Normandy, Duke of Aquitaine, Duke of Gascony, Count of Nantes, Lord of Ireland, Prince of Wales, King of Scotland and King of Burgundy. Henry was the first of the Plantagenet-Angevin dynasty that conquered Europe.
In 1379, Malik al-Hajj al-Shabazz is brutally slain as he speaks to a meeting of his followers. The assassins are nearly killed before the Caliph's men arrive to arrest them; they confess that they did it in order to still the stirrings of rebellion against Islam that al-Shabazz was causing. While the Caliph is sympathetic, he knows that he would have riots on his hands if he let them go, and so he has them executed.
In 1959, future civil rights campaigner Jesse Jackson rejected a contract from a professional baseball team to attend the racially integrated University of Illinois on a football scholarship. However, one year later, Jackson transferred to North Carolina Agricultural and Technical State University (A&T) located in Greensboro. Jackson falsley claimed that the change was based on the school's racial biases which included Jackson being unable to play as a quarterback despite being a star quarterback at his high school as well as being demoted by his speech professor as an alternate in a public speaking competition team despite the support of his teammates who elected him a place on the team for his superior abilities. Claims of racial discrimination on the football team can be easily dismissed because Illinois's starting quarterback that year was an African American. In addition, Jackson left Illinois at the end of his second semester after being placed on academic probation.
In 1995, the prosecution rested its case in the O.J. Simpson murder trial. It had apparently done its job; after the defense had rested, the jury found Mr. Simpson guilty after a mere 2 hours of deliberation.
In 1923, future First Lady Ann Frances (Robbins) Reagan was born in New York City. First Lady from 1977-1981, she was remembered for her anti-drug campaign (somewhat ridiculed by people who had experienced quite a few drugs first hand), and her personal belief in astrology, which many claim hurt her conservative husband Ronald politically. He never did, saying that it was a weak politician who blames his wife for his defeats. She left office when her husband was voted out in 1980, following the Iranian Hostage Crisis.
In 1885, Louis Pasteur inoculates a human patient for the first time. However, the inoculation makes the patient's rabies mutate into something even worse; and soon, an epidemic is raging throughout France. Rabid people turn wild in the streets and have to be shot for the common good. Pasteur is forever disgraced, as are his theories.
In 1535, 52 years after the King he so unfairly maligned was crowned, Sir Thomas More was executed for treason. In his final statement, he declared that everything he had written about Richard III was a lie; that Henry Tudor had slain the two young princes in the Tower of London; and that the true king was Richard's only living son, Richard Plantagenet. His statement reignited the War of the Roses, leading to more years of bloodshed as the British Crown was once again in dispute.
In 12-0-3-10-1, the Powhattan of the northeastern coastal possessions of the Ouezteca massacre a settlement of the Oueztec that has been stealing water and food from them for several months. The overwhelming response from Ouezteca destroys the Powhattan.
In 2004, John Kerry named John Edwards as his Vice Presidential running mate on the Democratic Party ticket. Just about the only thing that John Edwards agreed with his boss on is that America can "do better". Edward's interpretation is somewhat different from Kerry's, the North Carolina Senator meant "do better" than having his boss assume the Presidency. Regrettably that meant Edwards had to seek common cause with these unlikely allies, the Swift Boat Veterans for Truth. The following year Edwards beat Harry Truman's record ascendancy to the Presidency after only 82 days, when Kerry was forced to resign over inconsistencies in his Vietnam War Record.
July 5
In 1945, in the first general election held in the UK for a decade, Anthony Eden's Tories crashed to defeat and Winston Churchill returned as the Prime Minister of a Coalition Government of National Unity dominated by the Labour Party.

Churchill wins the Khaki Election of 1945
by Ed & Scott PalterThe punchline was that having crossed the aisle to switch parties twice before, this time "Winnie" had been unceremoniously dumped by own party. To seek power this time, he had been forced to exercise an uncharacteristic combination of tact and diplomacy. And although it would have been unthinkable for such an unashamed blueblooded aristocrat to actually join the Labour Party, he was fortunate to have built war-time relationships, and his offer of continuity was acceptable at least to the hierarchy who had after all served as his sub-ordinates. But of course Churchill was a ruthless leader willing to sacrifice almost anything for the big prize, and in a sense, there was nothing out of character about his actions, even if his style was somewhat different.

Having muscled into Downing Street only because Lord Halifax's peerage barred him from occupying the Prime Minister's office, Churchill still did not become Leader for six months until ill health forced Neville Chamberlain's retirement in October 1940. Fortunately for Churchill's career, if the Tories hated him for supplanting Chamberlain, then the British electorate hated the Tories even more. Twenty Members of Parliament left the Conservative Party as well; these Churchill loyalists ran as National Commonwealth Party Candidates in districts where the Labour Party agreed not to field a candidate, much like the post World War agreement between the Liberal David Lloyd George and the majority Conservative Party. Significantly, they agreed to embrace the Beveridge Report.

The result was a landslide victory for the Coalition So much so, that the Labour Party immediately realised their error - they could have easily won even if they had campaigned under Clement Attlee's original slogan "Let us face the future". Because the truth was that returning soldiers did not want to return to business as usual, and the soul of the Labour Party was behind a programme of transformative change. As Lloyd-George had found after the First World War, the majority party soon tires of coalition and by 1947 the country was set for a fresh general election. By then, the Tories had largely recovered their fortunes. In Eden, the Conservatives were led by a revisionist who struggled to accept that Britain was a clapped out power; he would face a resurgent Labour Labour in which Churchill's ministers had been dumped from the leadership, and a new breed of radicals were in the vanguard. Resting upon the decision of the electorate depended the short-term futures now just of Britain, but also of Israel and India, two nations which we on the cusp of winning independence from the British Empire.
We explore a variant of this idea in Attlee and Churchill win the Khaki Election of 1945 based on Scott's original suggestion and comment below.
In DCCLV AUC, on this day in the town of Bethany near Jerusalem, sisters Mary and Martha received Yeshua Ben Jesse with a cold welcome because the Bethlehemite Rabbhi had arrived too late to save their brother, Lazarus, "he whom thou lovest".

Happy Endings Part 5
The Youth from BethanyAnd they became increasingly distraught to the point of hysteria when they discovered that he had delayed his departure by two whole days. But although the Rabbhi wept, he replied with the self-assured statement that "I am the resurrection, and the life: he that believeth in me, though he were dead, yet shall he live: And whosoever liveth and believeth in me shall never die".

Despite the objections of the awe-struck mourners, he then rolled the stone away from the entrance to the tomb and removed the grave-cloths before ordering in a commanding voice "Lazarus, Come Forth!". And Lazarus indeed rose from the dead because he "believed in him" and was "[the] disciple whom Jesus loved". Yet during the late evening another revelation was in store for Mary and Martha as they celebrated their brother's miraculous return to the living. Because they learned that the youth had come to the Rabbhi wearing only a linen cloth over his naked body. And begged him to remain with him that night, whereupon Jesus taught him the mystery of the kingdom of God.
In 1858, on this day at the Provincial Parliament in Toronto, forty year old legislator Alexander Tilloch Galt called for the immediate creation of "a general confederation of the provinces of New Brunswick, Nova Scotia, Newfoundland and Prince Edward Island with Canada and the Western Territories".

Announcing the dream of Canada
Just not our CanadaThe idea was not his but the timing was providential. Because three weeks later, the provincial government of John A. MacDonald was unseated and the Governor General Sir Edmund Walker Head overlooked George Brown and instead asked Galt to lead.

He reluctantly accepted the Premiership of the Province of Canada and began the construction of the big country that he had imagined, convincing the British to make British North America into the first sovereign Dominion within the British Empire. But unbeknown to the Governor General, Galt was one of many important Montreal men who had signed a petition to join the United States. And the inexorable direction of Galt's convergence policies would not become apparent for several years.
In 1985, on this day the Chief archivist of the Latter Day Saints Church received an unsolicited letter from a former LDS missionary called Mark Hoffman containing a sample of the Lost 112 Pages of the Book of Mormon.

Lost Pages of the Book of Mormon
by Eric OppenThe Church leadership quickly determined that the content of the lost writings were highly damaging to the credibility of the entire LDS movement and that the best course of action was for an immediate acquisition to be followed by concealment.

But surprisingly an offer was made and then quickly refused. Because not only was Hofmann one of the most accomplished forgers in history, he bore a grudge towards the movement. His plan was to reveal damaging facts that proved founder Joseph Smith was consciously a fraud and that his early Church had done a lot of bad things. This was to be achieved by forcing the Church to pay the highest possible price which would inevitably add weight of credibility to his false claims.

Beginning to suspect a ruse, the leadership reached a critical decision point, whether to risking paying up, or denounce the lost pages as a fraud and keep their money. They choose the latter, and the entire movement entered a period of national controversy and introspection.
To be continued
In 1983, on this day energy mogul and self-made millionaire Mark Wilson held a press conference at his Houston corporate headquarters to reveal the existence of a series of home movies he'd filmed of the time-space rift described by Alexander B. Fitzhugh in his account of the so-called "land of giants" at first the media were reluctant to lend much credence to these films, fearful they might be as phony as the bogus "Hitler diaries" that had duped the world a few months earlier, but after extensive photographic analysis it was determined that the films were genuine and the press started taking the rift idea more seriously.

Giant Surprise Part 3Three weeks after Wilson's press conference the Reagan Administration's top science officials met at the White House to determine what should be done next in regard to the phenomenon; the end result of this meeting was Project Spindrift, a combined NASA/Defense Department program that marked the first serious effort in human history to explore parallel universes.
In 2006, stepping bare foot out of a scorchingly hot Baghdad market place, foreign troopers reported first sight of HIM into their helmet radios as HE headed towards them at the front of a fast-moving, buzzing crowd.

Coalition of the WillingKnowing that they were dedicated agents of order lured into a self-defeating mission, HE disarmed the soldiers with his words of true wisdom, firmly and quietly telling them brothers and sisters love conquers all. With tears of understanding streaming down their faces, they nodded their silent agreement. And radiating the joy of HIS enlightenment they abandoned their posts in order to join the ranks of another Army which was not set upon a lost cause, but instead would fight for Love.

By the time their commanders' instructions were forthcoming it was way too late to tell them what to do because the radios had long-since been switched off. Their voices were ignored like the hissing of the snakes which HE had turned their weapons and helmets into. And that now slithered away, under the market stands and out of the brilliant sunshine of this glorious new day.

Soon enough the crowd grew to the size of a great caravan of love travelling ever westwards, casting down the haters, establishing representative governments dedicated to peace and brotherhood amongst the nations.

Because HE had finally returned to save mankind from the jackals that had misruled them, and this time there would be no denying HIM. HIS reign of love had only just begun and a New World Order finally established.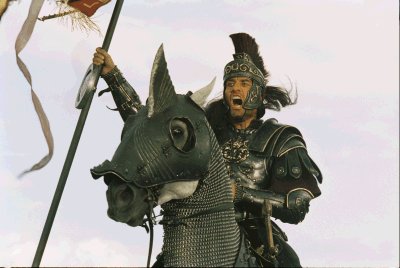 In 2009, on this day the UK's largest haul of Anglo-Saxon treasure was discovered buried in a field in Staffordshire; using a simple metal detector, 55-year old Terry Herbert unearthed a collection of 1,500 gold and silver pieces weighing 5kg of gold and 2.5kg of silver, making it far bigger than the Sutton Hoo discovery in 1939 when 1.5kg of Anglo-Saxon gold was found near Woodbridge in Suffolk.

Huge Anglo-Saxon gold hoard found The British Museum's Department of Prehistory and Europe declared that "This [the collection] is going to alter our perceptions of Anglo-Saxon England as radically, if not more so, as the Sutton Hoo discoveries. (It is) absolutely the equivalent of finding a new Lindisfarne Gospels or Book of Kells".

Copper alloy, garnets and glass objects were also discovered at the site. The collection is currently being kept in secure storage at Birmingham Museum and Art Gallery. Dr Kevin Leahy, who has been cataloguing the find for the Portable Antiquities Scheme, said it was "a truly remarkable collection [finding the collection] in the heartland of the Anglo-Saxon kingdom of Mercia. All the archaeologists who've worked with it have been awestruck. It's been actually quite scary working on this material to be in the presence of greatness".

The remarkable discovery of artifacts confirming the Arthurian legends was only exceeded by the surprise at finding a wedding goblet celebrating the marriage of Genevieve and Lancelot. "It will be debated for decades" said Leahy.
In 1845, on this day a mob surrounded the British embassy in Veracruz, trapping its entire staff inside.

At the same time, in Madrid, a note is delivered to the British embassy declaring the ambassador there, and his entire staff, personae non gratae and giving them forty-eight hours to leave the country.

The Velacruz IncidentWhen news of these events reaches London, the match in timing fuels suspicions that the Spanish government orchestrated the assault on the Veracruz embassy. Diplomatic notes are dispatched to the capitals of both Spain and Mexico, warning that unless the mob is driven from Britain?s embassy, "the gravest consequences shall result". It is an ultimatum: free the embassy, or face war. Additional communications are sent to British colonial authorities in America, advising them to ready troops for military action against Mexico.

It is the opening shot in a war between England and Spain which will last until January of 1847 and end in Spain's loss of a large chunk of northern Mexico, a harsh blow to the once-mighty Spanish Empire.
In 1984, the last pockets of NKPA resistance in Pyongyang surrendered to U.S. and South Korean troops, effectively marking the end of the DPRK as a state.
In 2015, on this day the venerable insurance company Lloyd's of London went bankrupt.
In 1933, the Greater Zionist Resistance passes the Law of Return, granting any Jew in the world the right to emigrate and live in lands controlled by the GZR. This has the added benefit of increasing the pool from which they can draw resistance fighters.
In 1821, reacting to the intervention of the British in support of the Spanish Bourbonist rebellion against Joseph Bonaparte which followed the death of his brother the Emperor Napoleon I, France formally declares war on England.

Three years of heavy fighting will follow, in Europe and the New World.

Napoleon II
France will be handicapped by the need to devote a significant portion of its military force to keeping its imperial conquests, including Spain, Austria, Germany, the Netherlands and the so-called Duchy of Warsaw, under control. By contrast, England will need to employ much less force in this task, for France?s de facto ruler Prime Minister Klemens von Metternich, operating as regent for the ten-year-old Napoleon II, does not consider Britain's overseas colonies in North America worth the kind of effort previously expended by Napoleon. It is a rare and costly misjudgment on the part of the canny Austrian.
In 1944, Adolf Hitler was severely injured when a bomb exploded in the conference room of his field headquarters in Rastenburg, East Prussia during his routine daily military conference.

Although Hitler survived the blast, the assassination attempt marked the beginning of his final descent into the insanity which would at last force his protege Hermann Goering to remove him from office in January of 1945.

Hermann Goering
Monica's eggs were delicious, and Andrea scarfed them down gratefully. 'So, has your grandpa called yet?'
'Not yet. When were we supposed to go over there?'
'You know we don't set real times in this family. The cookout'll start when it starts.'
Monica sighed. 'I better get started on my pie, then.'
'I'm never going to be able to diet.'
'It's a holiday. You can't diet on a holiday. It's like, uh, blasphemy or somethin'.' They both laughed, and Andrea picked her plate up and took it to the sink to rinse it off. Monica then asked, 'Is dad gonna be there?'
The young girl wasn't looking at her mother when she asked that. It had come out very nonchalantly, but Andrea could tell that Monica really wanted to hear one particular answer to that. 'Grandpa invited him, hon, but... well, your dad's a busy man.'
Monica nodded sharply. 'Yeah, he sure is.' She walked into the kitchen and started pulling ingredients out to begin cooking her pie, avoiding her mother's eyes.
'I'm sure he'd come if he could,' Andrea said, laying a hand on the girl's shoulder.
Monica shrugged. 'It's ok. No big. It's just the 4th of July, not like Christmas or my birthday or anything. Cuz, you know, it's when he's not there for those that I get really depressed.' She smiled over at her mother, and Andrea let it drop.
'I need to put together some notes for the meeting. Are you going to need any help in here?'
Monica cocked an eyebrow at her. 'From you? In the kitchen?'
Andrea put up her hands in surrender. 'Point taken. You know where I am if you need me.' Andrea retreated to her workroom, where the computer was already turned on. The browser was sitting on some teen dream's web site, and Andrea chuckled. Kids never change, she thought as she minimized it and opened up her word processor.
In 1925, Dynamic Pictures releases it's second talkie, Birth Of A Nation, directed by German emigre Leni Riefenstahl and starring Carla Lambert. It is just as hot at the box office as The Sounds of the Night, although a few critics are bothered by the overtly racist and anti-Semitic tone of the film.
In 1921, The Chicago Town Ball club, known as the White Stockings, is accused of deliberately losing the World Series against the Cincinnati Browns and put on trial. In a sham trial, the players are acquitted when their signed confessions mysteriously disappear. One good result came of it; the new Commissioner of Town Ball appointed by the team owners to ensure this never happened again. After listening to the trial and the players' complaints about Charles Comiskey, Commissioner Kennisaw Mountain Landis banned Comiskey from Town Ball for life. Comiskey was forced to sell his team; the city of Chicago bought it, and the Stocks have been a community club ever since.
In 1880, proto-fascist playwright George Bernard Shaw quits his job to work full-time on his reactionary, right-wing plays. Over the next few years, he produces such works as Man & Superman - Nietzsche's treatise in theatrical form; Arms & The Man - a cry for compulsory military service in Britain; and Pygmalion - a celebration of the abuses of capitalism, the degradation of women and the evils of poverty. Hitler claimed Shaw as one of his greatest inspirations, and when he conquered Britain in the 40's, he gave Shaw the Iron Cross, which Shaw wore proudly until his death in 1950.
Older Posts

© Today in Alternate History, 2013-. All characters appearing in this work are fictitious. Any resemblance to real persons, living or dead, is purely coincidental.