| | |
| --- | --- |
| May 5 | |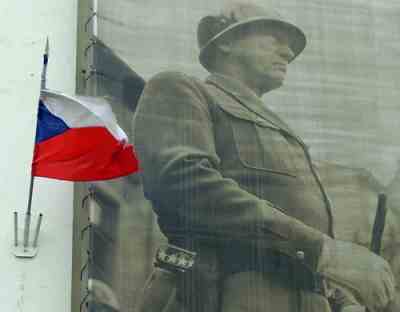 In 1945, before Patton's Third Army could arrive Czech resistance fighters launched a courageous attempt to liberate the city of Prague from German occupation.

Western Allies liberate Czech RepublicPresident Truman had approved this offensive action into Bohemia and Moravia because of Soviet actions in Poland and Romania in February and March, and some manoeuvres towards Turkey in March. It was a bold decision that his predecessor would probably never have taken, but history had taken an odd turn when FDR died the previous Christmas. Instead the lasting political consequence of the Prague Uprising was to welcome the Western Allies into a liberated Western Czechoslovakia.

As Truman had anticipated, but in a way that could never have planned for, the historic events of the following weeks and months shaped the landscape of post-war Europe. Under Patton's leadership the forces of the Western Allies would prevent a humanitarian crisis by overseeing the repatriation of three million Sudeten Germans from their homes of eight hundred years. But at the same time many of the the Czech Communists were quietly liquidated.

All across the country there was a mixture of emotions, popular anger at the Munich Peace Settlement, a sense that the Treaty of Versailles had been a historic mistake maybe even a suggestion that the Germans had treated the Slovaks better than the Czechs ever had. The inevitable result was a separation of territories leading to the formation of a Slovak Socialist Republic under Soviet guidance which seceded from Czechoslovakia. Although justifiable by geography it was something of a counter-intuitive result, Western Allies sitting in a communist Czech Republic and the Soviets sitting in a democratic Slovakia.
May 4
May 3
Older Posts
© Today in Alternate History, 2013-. All characters appearing in this work are fictitious. Any resemblance to real persons, living or dead, is purely coincidental.