| | |
| --- | --- |
| April 26 | |
In 1865, after mortally wounding Abraham Lincoln, famed actor John Wilkes Booth leaped gracefully onto the stage of Ford's Theater, landing uninjured while announcing to the audience, "Sic semper tyrannis!" During the chaos, he made his escape out the back door, adding, "The South is avenged!".

April 26, 1865 - Booth Evades CaptureFederal troops poured into southern Maryland in pursuit, and a $100,000 reward was offered for information leading to his capture. They followed his trail to Virginia, where Booth was spotted on April 26 in the tobacco barn of farmer Richard H. Garrett. After a brief shootout with intelligence officers under Everton Conger, Booth again escaped on horseback while his accomplices were captured.

Booth fled deep into Virginia, disappearing forever. Many cases of "Booth-fever"" would lead to numerous captures of innocent men, and it was believed that Booth was able to escape out of the newly reunited country or out west, living among miners and ranchers who had never heard of his fame. Because of his acting abilities, there would be a great deal of theories about where he could have ended up. Other theories suggested he died attempting to ford rivers under the cover of darkness while still others hold that enraged Southerners, whether white or black, killed him on sight and did not leave enough remains to identify.

One year later, in Columbus, Georgia, the Ladies Memorial Association determined that a day should be set aside for remembrance of the Southern dead in the Civil War. Elizabeth Ellis chose the day April 26, referring to General Johnston's surrender, but soon Booth's disappearance came to mind. After proper review the Association determined the memorial would be held for all dead, including a special commemoration of President Abraham Lincoln. Flowers were placed on graves both Confederate and Union while a wreath was dispatched to Illinois. Booth ironically contributed to great healing between the two halves of the American nation.
In 1861, on this day Judah P. Benjamin was inaugurated as Vice President of the Confederate States of America.
This post was written by Dirk Puehl the highly recommended author of #onthisday #history Google+ posts.

Walk the Line"We should have freed the slaves, THEN fired on Fort Sumter". (Lieutenant General James Longstreet, Gettysburg, 1993)

Whatever might have happened to the CSA if "The Little Pale Star from Georgia" Alexander Stephens acceded the office of "Vice President of the Confederate States of America" is open to debate - however, after most future states of the temporary CSA already had seceded from the Union and Stephens was on his way to deliver a speech in Savannah, Georgia, he unexpectedly died of exhaustion on March 20th, 1861, four weeks before the war broke out.

Stepping into his role was Judah P. Benjamin who was inaugurated on April 26th, 14 days after Beauregard accepted the surrender of Fort Sumter. The former designated Secretary of War of the CSA was strongly opposed against that what was to be known as Stephens' Swan Song - his "cornerstone" of the CSA, slavery on grounds of racial superiority of the Whites. If this was a personal conviction of Benjamin or political consideration is not clear, however, the diplomats chosen by him en route to persuade the major European powers to acknowledge the CSA had a clear announcement in their diplomatic bag: the South would abolish slavery.

While the Southern soldiers pushed North during the first months of war and pressed the Federals hard, Benjamin's diplomatic corps negotiated with both Great Britain and France an agreement - both would acknowledge the CSA as a sovereign state as soon as they had abolished the inanely atavistic idea of slavery, guaranteed taking on an immense governmental debt for taking over Great Britain's imports that went so far into the Union and suspending the Monroe Doctrine if France continued his invasion of Mexico.

When news of this plan leaked out of inner governmental and military circles, the Confederate's Western border states, Georgia and Texas almost ran amok. Stephens' speech about the cornerstone of the Confederacy being based on slavery was published in most newspapers, the governors of states like Alabama and Mississippi threatened to secede from the Confederacy and called for early elections.

The Union victory at Pittsburg Landing in April 1862 made most of the involved parties reconsider the facts. With the losses suffered in battle, the Western CSA grew cautious in seceding again, while the Europeans asked themselves if they had picked the right horse. It was time for Benjamin to goad President Davies into action. The Richmond Emancipation Proclamation was issued immediately after the Battle of Sharpsburg on October 1st 1862, while French and British naval formations were already at sea, positioned along the vital trade lines to protect them from eventual Union commerce raiders and to the Eastern seaboard and the Gulf of Mexico to end the blockade imposed by the Federals. Emperor Napoleon III of France acknowledged the CSA on October 16th, Palmerston's government followed three days later.

While a war with the Europeans on top of the Civil War was the last thing President Lincoln wanted, things went arse over tip in the Confederacy. Governor Francis Lubbock declared that Texas' secession from the Confederacy with immediate effect, withdrawing Texan troops from the Eastern theatre of the war to "protect the homeland from restless natives and the French" and to invade Kansas. Alabama, Mississippi and Georgia followed while Arkansas rejoined the Union. The relatively straightforward frontlines of the Civil War had become a hardly understandable patchwork within a month and nobody exactly knew who was at war with whom anymore within four weeks.

The USA and what was left of the CSA at least negotiated an armistice by Christmas 1862 to sort things out after New York finally had left the Union and joined the Confederates with the Royal Navy guaranteeing the city's safety from repercussions by the Federals. What followed was the chaos that minted the continent from Yucatan to the Canadian Border until the end of the century.
In 2008, on this day tensions between the United States and the Mugabe regime in Zimbabwe escalated when two Air Force of Zimbabwe (AFZ) fighter jets fired on a flight of F/A-18 Hornets on a routine patrol off the USS Ronald Reagan; the Hornets promptly returned fire, downing one of the AFZ jets.

Bibi Letter leads to war Part #1The state-controlled Zimbabwe Broadcasting Corporation denounced the U.S. pilots' actions as "unprovoked aggression" and accused the Bush Administration of wantonly bombing civilian neighborhoods in Zimbabwe's capital, Harare. (In reality, the Hornets had only been equipped with air-to-air missiles).

A new article from Bibi LetterIncredibly, despite abundant evidence the Mugabe regime had instigated the incident, the AFZ chief of staff claimed the U.S. jets had fired first; in a similar vein, Zimbabwean army commander-in-chief General Constantine Chiwenga accused the United States of plotting to mount a surprise invasion of Zimbabwe just as it had launched a pre-emptive war against Saddam Hussein's regime in Iraq five years earlier. While the White House did have a contingent of Marines in the region to expedite the evacuation of American citizens from Zimbabwe, there were no plans at that time for U.S. involvement in a ground war in that country-- which surprised foreign policy analysts who had considered such a conflict not only possible but maybe even inevitable.
In 2012, the Hundred and Twelfth Congress of the United States settled in for a session that would last a total of three weeks before it disbanded for the year. The majority of the American people had conveyed through Tea Party rallies nation wide that they wanted a brief, truncated legislative session so that no one in Congress could usurp power and spend months in constant and expensive session.

Woman solves man-made disaster Part 2On the first day of Congress, both Houses were convened for memorial services in memory of John McCain and his journey to the Gulf Coast.

"Maybe John did not know what to do there," said Joe Lieberman, "but he made sure he was on the spot, even if nobody had figured out all of the details by the time he got there". Speaker Boehner called two Democrats out of order when they attempted to introduce criticism of McCain strategy when the purpose of the memorial was clearly labelled "commemoration of the life and activities of John McCain".

The sixty Democrats left in Congress (forty in the House and the rest in the Senate) tried again to complain about the President's policy in stopping the oil spill. "Okey-dokey," said Sarah Palin addressing Cogress. "You would have let that leak go on for years and even longer, and everything that could have gone wrong in the Gulf of Mexico would have up and happened. I made the tough choice and stopped the deterioration of the Gulf in one step, saving it from the misfortune that would have come had no one had the gumption to do what was necessary, when it was necessary".

In the second week of Congress' session, two thirds majorities in both Houses passed the Life Amendment that expressly cancelled Roe and outlawed "any research on human genetic material" and sent that amendment out for the States to pass on its merit. Similar majorities outlawed gay-sex marriage and gave States the ability to make homosexual sex a felony, and abolished all "laws, rules and regulations, which restrain law abiding Americans from the posssession and use of weapons and firearms of their choice".

"Sarah. Mrs.President Palin," said Justice Scalia at a televised dinner in her honor, "we all miss John McCain greatly, but we have to be honest and admit that your movement to the Oval Office liberated this country and made possible our restoration of American values. All the problems have been wiped away and you are restoring everything that needs it".

On the top floor of the White House. Palin looked through her calendar and Todd commented:

"You got a full hour with Clinton, Obama and Kerry at the Oval Office. All those wimps are going to insist that the denial of citizenship is unconstitutional for babies born in the States".

Sarah shrugged and grinned. "Duh. Dontcha think they ought to someday tell me they will let me make up my own mind on what I read in the Constitution?"

"They are a waste of time," said Todd.

"I'll have my secretary buzz me if they get too tiresome for me to stand them," said Palin. "But I have to keep my ears open to what the other side is saying, or else my opinions will close up and I will be like them: a know it all asshole who goes out.
In 2003, on this day ageing fake Cowboy actor Richard B. Cheney began filming his final movie "The Bush Brothers Ride Again" in his native town of Jackson, Wyoming.

Cowboy Dick shoots his Last MovieA long but controversial career spanning forty years featured a few superficial similiarities to his character of "Cowboy Dick", especially the heavy drinking. Because in November 1962, at the age of twenty-one, Cheney was convicted of driving while intoxicated (DWI). He was arrested for DWI again the following year. Cheney said that the arrests made him "think about where I was and where I was headed. I was headed down a bad road if I continued on that course".

In fact Cheney had been born in Lincoln, Nebraska and his father was a government employee who moved the family to the blue-collar town of Casper in the 1930s.

And his raspy Marlboro Man tone was created by smoking three packets of cigarettes until a heart attack at the age of thirty-seven necessitated some moderation.


But despite the belligerent (and often pre-emptive attacks) on neighboroughing farmsteads, Cheney had no combat background, claiming that he had "other priorities in the sixties than military service".

He claimed to have received deferments to finish a college career that lasted six years rather than four, owing to sub par academic performance and the need to work to pay for his education. Initially, he was not called up because the Selective Service System was only taking older men. When he became eligible for the draft, he applied for four deferments in sequence. He applied for his fifth exemption on January 19, 1966, when his wife was about 10 weeks pregnant. He was granted 3-A status, the "hardship" exemption, which excluded men with children or dependent parents. In January 1967, Cheney turned 26 and was no longer eligible for the draft.

In fact Cowboy Dick did like to shoot, but at helpless small birds such as quails. Ironically, his acting reputation was ruined by an incident when he actually did finally shoot someone. Because on February 11, 2006, Cheney accidentally shot Harry Whittington, a 78-year-old Texas attorney, in the face, neck, and upper torso with birdshot pellets when he turned to shoot a quail while hunting on a southern Texas ranch, an incident ridiculed in the national press (pictured).

Fortunately for all concerned, health issues prevented Cowby Dick from following in the footsteps of Ronald Reagan or Arnold Schwarzneggar by progressing from a series of bad movies into acting out an arch-conservative political career.
In 2002, on this day the Director of Homeland Security Tom Ridge (pictured) set the Department's advisory system to yellow alert. This "Elevated" status reflected Ridge's assessment that black-eyed strangers now posed a significant risk of terrorist attack to government facilities in the United States.

The Black-Eyed Airline PassengerJournalist Brian Bethel first reported the phenomena in a newsgroup posting - "For the first time, I noticed their eyes. They were coal black. No pupil. No iris. Just two staring orbs, reflecting the red and white light of the marquee. At that point, I know my expression betrayed me". Numerous reports of Black-Eyed Kids (pictured below) or BEK occured in the United States over the following three years. In each case, Americans had been confronted by BEKs seeking an invitation into their house or car.
Yet the event that upgraded an unexplained myth from urban legend to a national security crisis was the September 11 attacks.

Because The Black-Eyed Airline Passenger (pictured above) became central to the investigation work being performed by the National Commission on Terrorist Attacks Upon the United States. A key witness report was provided by a member of the airline ~ "I squeezed past two passengers getting off the aircraft. I glanced up just in time to see a late arriving passenger, noting his well-appointed leather jacket, pants and shoes all were nice complimentary shades of brown. His haircut was in the European cut with tendrils on the nape, instead of the precise American haircut. I froze as I looked into his eyes. They were black in entirety. He looked European or a light Arabian. I don't remember seeing the white part of his eyes. I sniffed hard in fear and told the pilots as I gave them their drinks, "We got a weird one on board, sir". Macho old captain lolled around and said, "Is he bothering anyone?" "Negative!"


Here comes the cutesy blonde who had been taking tickets. She puffs, "We're full, and by the way we got us a weird one, with green eyes on board and he asked who was the chief flight attendant. Meanwhile, the gal in the back was making coffee, etc. and her final pre-flight is to give me an accurate count of passengers. I noticed as she gave me the information of two empty seats -- meant full minus two passengers, no babies. She was tight-lipped and pale white looking, no color what soever in her face. She then announced there's a man in..... I added "6F" and she answered, YES!! He has the strangest blue eyes!

The cockpit door closes and we are latched down for departure. I give the safety announcements and I am noticing that the fourth girl keeps looking back at me and she is trembling. I finish and she returns to sit with me on the jump seat. "That man is very scary, I am so afraid".

I was very frightened too, ready to pee my pants. I laid my arm on the door ledge and watch out the porthole and wondered if we would survive this trip. The feeling was unanimous with the other girls and we were on total edge. I was pondering why each of us thought his eyes were a different color. I didn't like this. We were spooked to the ninth degree. I told the captain, something isn't right about this man. It was then we realized that the passengers who had seats next to him had gotten off the flight. I MADE the girls do the breakfast service and told then, do nothing else but remain on high alert and stay in the back. New York flights are very noisy flight; this day there was absolute silence. Nobody rang for us. There was a great sense of doom.

We were so distressed that the Captain put on his hat to come out for a look. That passengers closed his eyes and appeared to be sleeping. We landed without ado and matter of fact, the airplane emptied in world record time about 2-3-minutes. This man was coming and the Captain was saying goodbye. I refused and hopped back into the galley. I whispered, "Here he comes and I watched the Captain as all the color drained from his face, when the man passed out the door.


The captain said, WOW...whoa that was a strange man! I said, "Captain, he's not through with us. He's coming back on our flight and if he does, I'm off this flight right now!" Captain pooshed that and, sure enough, I followed at a not-too-close distance to see where that man went. I didn't see him. I sat down in the boarding area behind a pillar and waited, because I saw his bags, one on the floor and a hefty one on the seat and it was wide open with all kinds of camera, radios and other quite sellable items, if stolen... nobody touched that bag.

Momentarily, I saw him coming and he got RIGHT IN LINE for a return trip to Chicago. I flew to the phone and informed the passenger agents that this man just came in on our flight and no way should he be allowed back on our flight. If he was, I was outta here! I won't tell of the steps taken to prevent him from the return, but we were on edge until the doors were latched down and we were taxiing into take-off.

I never forgot him, and when 9/11 occurred and one of the gals who registered the pre-hijackers for flight lessons, I realized that when she said, one of them just gave her the absolute creeps... his totally black eyes freaked her right out, I knew in my heart, there went THAT MAN into the twin towers with a dear in flight friend of mine. Now all were dead. Now I know that some of the terrorist were coming into our country from Canada through Maine and I saw that on his ticket. "


In 1964, on this day Malcolm Little experienced his second Islamic conversion in a prison cell.Hajj Part 2 - The conversion of El-Hajj Malik El-Shabazz by Eric Oppen
In 1948, his brother Philbert had written to him in the Massachusetts State Prison in Charlestown, telling him about the Nation of Islam. Little was not interested in joining until his brother Reginald wrote, saying, "Malcolm, don't eat any more pork and don't smoke any more cigarettes. I'll show you how to get out of prison".. For the remainder of his incarceration, Little maintained regular contact with Elijah Muhammad, leader of the Black Muslims. He later reflected on his time in prison: "Months passed without my even thinking about being imprisoned. In fact, up to then, I had never been so truly free in my life".. On August 7, 1952, Little received parole and was released from prison.
A dozen years later, the circumstances were, shall we say, somewhat different - incarcerated in a Saudi gaol with his life hanging by a thread. Fellow Nation of Islam Representative Louis Farrakhan was to be executed the very next day. Little was informed that his own life would be spared only if he converted to orthodox Islam. He was not informed of another key development. Within the Saudi authorities, sympathisers of the Muslim Brotherhood would ensure that his new contacts with the Ikhwan al-Muslimun went unnoticed.
To be continued..
In 2015, on this day maverick leftist author Christopher Hitchens was shot and killed just hours after giving a CNN interview in which he lashed out at the British National Party for what he called "s***ing on Britain's grave".


The timing of the attack sparked rumors that the BNP had put a contract out on Hitchens; however, forensic evidence at the scene of the murder would later prompt police investigators to conclude that the crime had actually been commited by a Scottish left wing extremist who'd been enraged by a critique of the Scot independence movement Hitchens had published shortly before David Cameron's resignation as British prime minister.
On this day in 1948, a memorial statue was unveiled in Roswell honoring the victims of the 1947 asteroid strike.
In 1925, on this day Paul von Hindenburg defeated Wilhelm Marx in the second round of the German presidential election to become the first directly elected Reichsprasident, the head of state of the Weimar Republic. He was succeeded by his nominee, the former German fighter ace Manfred von Richthofen, previously known as 'The Red Baron'. This was considered a master-stroke as the appointment of another illustrious officer from the glorious past held the highest-level centrifugal forces together in the Weimar Republic in the absence of the deposed House of Hohenzollern. Gathering right-wing forces were unable to justify action to fill a vacuum of power that was of course ultimately averted.
In 1891, General Anthony Franklin receives replies from the governors of Missouri, Nebraska, Colorado and the Oklahoma Territory. All pledge their support to his mission, and say that their states stand ready to preserve the Union. He sends them the plans he has drawn up to lay siege to the Kansans and tells them to be ready by May 1st, when he plans to have troops ready to make a run to Topeka. The first reinforcements from Washington have already reached him and are being drilled by Major Mark Wainwright, who has reluctantly become General Franklin's chief aide.
In 2005, Alma May Watson pays a visit to the Great Tree and she and Chelsea Perkins have a tearful reconciliation. Chelsea confesses to Miss Watson about her secret trip to see her mother; Miss Watson understands, but warns Chelsea, "we're the only ones who can understand you, now, dear. We're your family". Chelsea promises to keep away from her mother from now on.
In 1985, President Ralph Shephard's Constitutionalists in Congress pass the American Future Act, which, among other things, creates a separate school system for minorities, leftists and the poor. The regular school system, which consumes almost all of school funding, is only used by children of the elite; the new schools are starved of funding and are shut down completely by 1990.
In 1937, the German Underground's air force, the Luftwaffe, supplies air support to Spanish fascists fighting the Greater Zionist Resistance. Employing jet designs from 1968 supplied by their neo-Nazi benefactors, the Luftwaffe was able to smash G.Z.R. positions across Spain, one of the first G.U. victories in their long war.
In 1731, British author Daniel Defoe died en route to the moon. One of the first notable Englishmen to embrace the Mlosh, Defoe wrote 30 books about them, and even lived for a few months on the colony ship in Ireland. Although most Europeans of his time feared them, he felt that they provided "the most pure adventure ever presented before mankind," and jumped at every opportunity to convince people of it.
In 2001, Colby Ross and Samantha Robinson burn everything in their grandfathers' hidden basement in order to prevent anyone from repeating their mistake. The two vow never again to delve into the hidden mysteries of the past, and move far away from each other.
In 1986, there was an explosion at the Cooper Nuclear Power Plant in the Nebraska Soviet. Although only a few dozen people died in the initial blast and fire, thousands were killed by the radiation that was released, and much of America's food supply was contaminated for years after. The Soviet States of America tried to keep it quiet, but the Mexican government reported the disaster to the world when radiation levels in their own country spiked.
In 1982, the leader of the band The Clash, Joe Strummer, disappears. A month later, he is recognized at London's Heathrow Airport, handing out flowers as a member of the Hari Krishna sect. He announces to the world that he has given up music for his new spiritual life.
In 1920, Indian mathematician Srinivasa Ramanujan emerged from surgery weak, but alive. A cancerous tumor had been removed from his stomach barely in time to keep him from dying. Ramanujan lived another thirty years, co-authoring papers with Albert Einstein and J. Robert Oppenheimer, and popularizing the teaching of special relativity in his native India.
In 1865, presidential assassin John Wilkes Booth is captured by Union soldiers while hiding in a farm in Virginia. Although stoically resistant to questioning at first, he soon cracks and begins giving details of a conspiracy to do away with Lincoln that reaches up to the highest echelons of American society; his testimony does what all the Confederate armies couldn't, and brings down the government of the United States.
In 1803, thousands of meteorites rained down on Paris, France, killing 34 people and leveling buildings throughout the city. Although excited astronomers across Europe felt that they were evidence of material from outer space, the Archbishop of Paris called the judgment of God and spearheaded the angry mobbing of the Sorbonne, which had survived the meteor shower.
April 25
In 1945, on this day fifty nations gathered in San Francisco, California to begin the United Nations Conference on International Organizations. The goal was to replace the League of Nations, to stop wars between countries, and to provide a platform for dialogue. It would contain multiple subsidiary organizations to carry out its missions.

New World OrderSeven years later, the UN's head-quarters was opened in the Bay Area. It was a controversial choice of location by the U.N. Interim Site Committee. They had been lobbied intensely by East Coast power-brokers who argued that New York City was a world capital with international transport routes. However their logic was self-defeating because the political elite wanted a structure that faced eastwards towards Asia.

The decision had a number of profound consequences. The development of infrastructure to support the UN was indeed a boon to the local economy. However this was matched by a fast-growing counter-culture. By the late 1960s, the UN headquarters was the focal point of anti-war protests and demonstrations that the U.N. Interim Site Committee had not anticipated. Nor had they considered the conspiracy angle, with many of the protestors starting to believe that the UN had been located to suite the needs of a shadowy government - a true New World Order.
In 2010, on this day Sarah Louise Palin was sworn in as the first woman President of the United States after John McCain suffered a heart attack at the Barksdale Air Force Base in Louisiana where he had been overseeing the crisis management of the Deepwater Horizon oil spill disaster.

Woman solves man-made disaster
Characteristically, McCain had been honouring a campaign pledge that had he been president during the Hurricane Katrina Disaster, he would have flown to the nearest Air Force base to oversee the response.


The Deepwater catastrophe had begun with the initial rig explosion on April 20. "And, unlike an earthquake or a hurricane, it is not a single event that does its damage in a matter of minutes or days" ~ former President Candidate Barack ObamaThe subsequent fire on a semi-submersible Mobile Offshore Drilling Unit created a massive ongoing offshore oil spill in the Gulf of Mexico, the largest in U.S. history and an environmental disaster.


Doubtless, what was required over the coming months was the deft crisis management of a national leader such as John F Kennedy. Instead having charged down to Louisiana McCain could hardly disengage with the crisis worstening.
In 1915, on this day Australian, British, French and New Zealand troops landed on the Turkish Gallipoli Peninsula; the Ottoman Dardanelle forts soon ran out of ammunition and within fourteen days Constantinople was in Allied hands.

Anzac DayThe fateful decision to open a second front at Anzac Cove and Cape Helles profoundly shaped the national leaderships of at least three nations. First Sea Lord Winston Churchill entered 10 Downing Street in 1924 and just two years later the Brigade Commander, and later Field Marshall John Monash became the Prime Minister of Australia. Together, they would lead the transformation of Imperial Defences. And of course it was Churchill and Monash who took the first step by bringing Mustafa Kemal to power in post-war Turkey.

But the true significance of the mission was the opening of the sea route to Russia which had been closed since October 1914. Without victory in the Dardanelles Campaign, the Tsar's Regime was surely doomed.
In 1997, following the agony of impeachment, Archbishop Desmond Tutu paid tribute to Mandela. South Africa's AgonyEmphasising of course the importance to the anti-apartheid struggle, at the same time he begged the former President to apologize and to admit mistakes. Graciously, the former President confessed that things went horribly wrong after her husband's death in custody a decade before.
In 2008, on this day Arizona senator and 2008 Republican presidential nominee John McCain introduced a bill in Congress which made provisions for Zimbabwean political refugees to immediately receive political asylum in the U.S.

Pres Candidate
John McCain
US President

In 1980, President Nelson Rockefeller suffers a severe heart attack. He is rushed to Walter Reed Hospital, where he will remain in intensive care for the next eight days.

On the 27th, with the President under sedation in the hospital and expected to remain so for several days, Vice-President Paul Laxalt meets with the Cabinet to draft a letter invoking the Twenty-fifth Amendment to the U.S. Constitution transferring the powers of the presidency to the Vice-President on grounds of the President's medical condition. The letter is delivered to the president pro tem of the Senate the following morning.

Nelson Rockefeller
In 1945, on this day US President Charles Lindbergh declared Elbe Day. United States and Tsarist troops meet in Torgau along the River Elbe, cutting the Wehrmacht of Weimar Germany in two, a milestone in the approaching end of World War II in Europe.
In 2083, the African Union elects its first woman chairman, Dalila Lolosili, a powerful Kenyan who is responsible for the AU's emergence as a balancing force between the superpowers of India and China. Her space program, headed by Ronald Mabandla, becomes the envy of the two great powers in short order, because they don't have to worry about securing themselves against the other powers.
In 1997, the Chinese joined up with the British and Egyptians, splitting America down the center. President Ralph Shephard called for all Americans to fight the allies, but for all intents and purposes, his Constitutionalist government is finished. Many Americans welcome the invaders, since the Constitutionalists had been so repressive on their own people.
In 1983, Comrade President John Anderson wrote to 10-year old Helga Schmidt, a grade-school girl in Germany who had written him after Kaiser Louis-Ferdinand referred to the Soviet States of America as the 'Evil Empire'. Comrade Anderson used his reply to the young girl to show her the human side of America, and let her know that the Soviets were not the monsters that she had been raised to believe.
In 1968, in a decision that would earn him much goodwill, international superstar Pete Best announces that he will perform at the British Olympic Appeal Fund show. It sets the stage for other benefit concerts he gives in the 70's, making him music's benefit king.
In 1831, The Lion of the West opened in New York City. The play celebrated the life of Davy Crockett, who had been influential in negotiating the acquisition of several former Spanish territories by the North American Confederation. It particularly emphasized his acceptance by a Mlosh community as a young man after his parents had raised him to hate the aliens.
In 1599, the most successful Conqueror of the Speaker's Line, Oliver Cromwell, was born in Huntingdon, England. For a few years, he held control of the British Empire, and used it to further the goals of his faction as much as he could before his death and the loss of Britain back to those not descended from Telka.
On this day in 1982, Rick Steamboat, in a bid to thwart the Enforcers' agenda, joined forces with former NWA world champion Ric Flair, second-generation wrestler Barry Windham, and Scottish brawler Roddy Piper to form the Four Horsemen.

US Champion
Rick Steamboat
In 1999, now that the Commonwealth stands behind King Arthur, he issues a call for support of the kingdom to all loyal citizens. 'We are about to embark upon the greatest struggle of our history,' King Arthur says in the televised address. 'An enemy sits across the Channel from us; an implacable enemy who sees us as nothing but an impediment to their own plans, as tools in their overarching conspiracy to control our world. Today, we declare war against these Illuminati and their henchmen inside the Central European Empire. Today, we declare that we will live as free men and women in this world. Today, we declare that the United Kingdom of Great Britain shall fight to the death those that seek to extinguish the light of liberty from our land. We ask for your aid in this great conflict, and with God's help, we shall emerge victorious.' Hours after the address, Emperor Pierre of the Central European Empire declares war against Great Britain.
In 1891, troops begin heading west to reinforce General Anthony Franklin in Missouri, where he is planning a large-scale siege of Kansas. He sends messengers to the governors of the surrounding states for militia men to handle the main portion of the siege while he uses federal troops to penetrate into Kansas. 'Once we take Topeka, the rest of these rebels should fall like dominoes,' he told the messengers to tell the governors. Major Mark Wainwright, who had been involved in the struggle longer than Franklin, said, 'Sir, I fear that you're underestimating these men. They've proven themselves capable of fighting off trained military - more than once, as you know.' Franklin, stung by the memory of his own defeat at the hands of the Kansans, ordered Wainwright, 'Be quiet, sir. Your defeatist attitude has no place in this campaign - which will be short and successful. Understood?' Wainwright nodded, saluted, and left to see to the few men who had survived the trip to Kansas with him.
In 1995, the entertainment industry mourned the loss of one of its great leading ladies, the ever-graceful Virginia McMath, who had become famous as the dancing partner of hoofer Fred Austerlitz in several movies in the 30's and 40's. She became an unusual icon for feminism in later years, when the comment arose that she did everything that Austerlitz did, 'backwards - and in high heels.'
In 1989, new evidence coming to light proved that James Richardson, a Florida man convicted of poisoning his children in 1968, had been innocent, and that his neighbor had committed the crime. Unfortunately, harsh sentencing laws that had been enacted in 1965 had sped up his execution, and Richardson was electrocuted in 1974.
In 4340, a scandal erupted in the Forbidden City when royal cousin Ssu Tsung committed suicide. Unwilling to believe one in his bloodline could commit such an act, Emperor Po sealed off Beijing and ordered the interrogation of all who had contact with Ssu. When the evidence of his depression was undeniable, Po opened the city back up and ordered a mourning period for his cousin.
In 1507, Martin Waldseemuller, a German geographer, gave a name to the 2 mighty continents in the western hemisphere. Rather than naming it after the man who had established contact with them, he named them after the man who had proven they were new continents, calling them Vespuccia.
April 24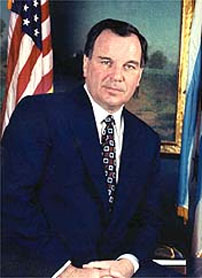 In 1942, on this day Richard Michael Daley was born in Bridgeport, an historically Irish-American neighborhood located south of the Chicago Loop. He was the fourth of seven children and eldest son of Richard J. and Eleanor Daley, the late Mayor and First Lady of America's Second City, Chicago.

Birth of Richard M. DaleyHe was elected fifty-fourth mayor at a moment in history when Chicago's Second City status was under pressure as never before. Of course many doom-cryers had predicted that such a decline was inevitable as far back as the 1945 World Series when the National League Chicago Cubs beat the American League Detroit Tigers [1]. However events conspired to transition the blue collar "City of Broad Shoulders" to the modern day white collar mecca "Chi-Town". Firstly, the earthquake of 1964 [2] held back the development of its rival city of Los Angeles. And secondly, his father invested all of his political capital in launching a long-term policy of suburban annexation [3] being forever associated with never-ending highway construction on I-94 through the Windy City and its suburbs [4].

Neverthless, by the late nineteen eighties Los Angeles was fast re-emerging, and Chicagoans began to look nervously at the relative decline of St. Louis. Of course Detroit had only been saved from haunting ruin by the action of local advocates who had lobbied the United Nations into basing their head-quarters on Belle-Isle. The issue was still unresolved when Daley left office and was succeeded by Barry Soetoro. He would govern a mega-city sprawling out into much of Cook County. And the appointment of an ex-Community Organizer was an intriguing development for a city where the term "Chicago Politician" was still being used to cynically describe connections to the Mob, a throwback to the bad old days of Al Capone [5].
In 1861, the Republic of Texas formally recognised the Confederate States of America in a keynote speech delivered by President William B. Travis on this day in Austin; whilst offering critical diplomatic support to his fellow South Carolinians, Travis carefully avoiding any direct comparison between the sieges of Fort Sumter and the Alamo.

Line in the SandNo longer the hot-headed twenty-six year old Lieutenant Colonel of the Texian Army, Travis had learnt a number of valuable lessons about leadership since he wrote the famous "Victory or Death" Letter on March 3rd, 1836.

Because having drawn a line in the sand, only one of the defenders of the Alamo had refused to cross it - Moses Rose, a French born former soldier in Napoleon Bonaparte's Grande Armée who insisted that he was not ready to die. And so during the late night hours of March 5th, Rose had snuck through enemy lines, broke into the Old Governor's Mansion and assassinated the Mexican general Antonio López de Santa Anna. Whereupon his successor, General Castrillon launched a disasterous strike on the east wall which was repelled by heavy cannon fire (that was in fact mostly shrapnel) but which caused the Mexican troops to despair and quit the siege.
In 1804, foiled in their dastardly plans to betray the founding principles of the American revolution, the disgraced Colonel Alexander Hamilton and his fellow Federalist plotters were transported to Hudson County, New Jersey where they were summarily executed on this day at the township of Weehawken.

Traitors to the American RevolutionPrima facie evidence had emerged from a vitriolic letter originally sent from Dr. Charles D. Cooper to Philip Schuyler, Hamilton's father-in-law. Published in the Albany Register, the letter revealed the existence of a vast and insidious conspiracy of soldiers, bankers and lawyers who sought to implement an American version of British mercantilism. Shockingly, the plans for a "congressional-military-industrial complex" had begun almost as soon as the Revolution was over.

"States' rights must be crushed, in the eyes of Hamilton and his followers"Prior to the execution, a charge sheet was read by Colonel Aaron Burr, reminding citizens that the war of independence had removed an evil "system of statism which employed economic fallacy to build up a structure of imperial state power, as well as special subsidy and monopolistic privilege to individuals or groups favored by the state". In short, Hamilton, et all were traitors to the American Revolution, the worst kind of corrupt, power-seeking political scoundrels no better than King George III of England. Because these evil mercantilists sought to introduce numerous taxes and interferences with international trade that benefited American businesses and the Federal Government while treating the American citizens like tax serfs.
In -70000, year by the pre-colony calendar, indigenous humanoid cousins of the Mlosh lost a battle with extinction, an extensive archeology study suggests. Indigenous humanoids wiped out 70,000 years ago, study says.The human population at that time was reduced to small isolated groups in the central continent, apparently because of drought.
"Tiny bands of early humans, forced apart by harsh environmental conditions, forced to the brink of extinction. Truly an epic tragedy, written in our cousin's scattered remains". says the report.
In 1804, the "Cooper letter" is published in the Albany Register newspaper.

The Cooper Letter by Eric LippsIn private correspondence, Dr. Charles D. Cooper to President Hamilton's father-in-law Philip Schuyler expresses a venomously hostile opinion of Burr, then seeking the governorship of New Jersey, and claims to describe "a still more despicable opinion which President Hamilton has expressed of Mr. Burr" at a political dinner. When Burr learns of the letter, he will immediately demand an explanation, stating that "political opposition can never absolve gentlemen from the necessity of a rigid adherence to the laws of honor and the rules of decorum".

Hamilton's response will not help matters. "How such a gentleman as Mr. Burr can complain of the private opinions of others, made known to him, when he has taken it upon himself to deliver first from the concealment of an alias and then openly attacks upon this Administration and upon its President assaults of the most inflamed character, I cannot comprehend". His next words will prove fateful: "As to his remarks on honor and decorum, one cannot discern from his record in the matter of the so-called Cicero letters, or indeed from any other source, by what right he is fit to question others".

Matters steadily worsen over the following weeks, with both Burr and Hamilton claiming that "honor must be satisfied" between them. Both men have a history of dueling, and Hamilton's friends and advisers, in particular, try desperately to prevent such a contest between the pair, arguing that for a president to duel would be "injurious to the dignity and indeed the security of the nation, regardless of the result".
In 2015, on this day fearing for his life if he returned to Britain, entertainer and former Beatle Paul McCartney, who'd been touring continental Europe when David Cameron resigned as prime minister, went to the U.S. embassy in Madrid and requested political asylum in America for himself and his family.

Paul McCartney
That McCartney had considered such drastic action, much less actually gone through with it, was one of the clearest signs yet just how bad things had gotten in the swiftly and inexorably disintegrating United Kingdom. Indeed, even as McCartney was filing his asylum request dozens of London's top police officers had resigned their commissions in disgust over the sky-high crime rate in the British capital.
On this day in 1983, Terry "Hulk" Hogan demolished "Psycho" Tommy Rich in less than nine minutes in the main event at the first Wrestlemania to win the WWF world heavyweight title; in the biggest match on the undercard, Greg "The Hammer" Valentine and Adrian Adonis beat Pedro Morales and Rocky Johnson to win the WWF world tag team titles.

"Hulk"
In 2001, most of Miller, Wisconsin goes up in flames as desperate National Guardsmen blow up building after building in an attempt to halt zombie Hitler on his rampage through the small town. During the chaos, Colby Ross and Samantha Robinson locate the hidden basement where their grandfathers had hidden the means to dispel Hitler and complete the ritual, banishing the Nazi forever.
In 1996, mere days after rescuing Sally Ann Moore from kidnappers at Aggiecon, Bartholomew Thompson, Moore, and several of Thompson's friends are approached by the alien race known as the B'han and asked to accompany them to their homeworld, where Thompson's peculiar talents are needed. The group agrees, to the misfortune of most of them.
Older Posts

© Today in Alternate History, 2013-. All characters appearing in this work are fictitious. Any resemblance to real persons, living or dead, is purely coincidental.