| | |
| --- | --- |
| February 7 | |
In 1920, on this fateful day the Siberian City of Irkutsk was relieved by White Forces under the command of General Vladimir Kappel, Prime Minister, Viktor Pepelyayev and Admiral Alexander Vasilyevich Kolchak rescued from execution [1].

White Forces relieve IrkutskBut despite this reprieve, the situation was fundamentally unchanged: the Reds had gotten a hold of the middle of Russia, the industrial heartland, which combined with their advantages in organisational unity put the Whites, a divided and peripheral movement, in a hopeless position. Also, Kolchak had aroused the dislike of potential allies including the Czechoslovak Legion and the Polish 5th Rifle Division.

Setting off on the Trans-Siberian Railway, Kolchak set off the gain more support for the White cause. But by the time he arrived in Paris, it was all over and he chose to stay with his wife and son. A lifetime of obscurity appeared certain, until twenty years later a second chance arose when he was invited to lead local forces during Operation Barbarossa. It would be a bloody nemesis.
In 1242, the inevitable consequence of sending an undersized army finally caught up with the Mongols invaders when their conquest of Europe eventually faltered in Eastern France.

Mongol Conquest of Europe FaltersAlthough they had run out of steam, the Mongol Empire had expanded westward under the command of Batu Khan to subdue the Russian steppe and later the rest of Europe. And in reality the disunited European nations were acutely vulnerable. But the weakened force sent by the Supreme Khan reflected a lack of collective political will. Because there was an understandable reluctance amongst the Commanders to fight in the wetter weather that affected the glue and sinew of the Mongol bows. Or in a territory of forests and castles that provided ample opportunities for the European heavy cavalry to counter-attack. Essentially, the terrain did not suit their "archers on horseback" mobile raiding style of fast moving combat.

Batu Khan was not able to resume his plans for conquest to the "Great Sea" (the Atlantic Ocean) until 1255, after the turmoil after Ögedei's death had finally subsided with the election of Möngke Khan. But he was not capable nor interested in launching an invasion of Western Europe even though it was still recovering from catastrophic damage.
This post is a twist on Jeff Provine's article Mongke Khan Recovers.
In 2017, on this day London's famed Big Ben clock ground to a halt after going nearly five years without maintenance.

Big Ben StopsThe Cameron government's ill-advised 2012 decision to postpone major repairs on Big Ben (pictured) until 2020, which had been highly controversial to begin with, soon came to be regarded as an insult to England bordering on treason and ex-prime minister David Cameron was made the target of multiple death threats.

Cameron was so alarmed at this turn of events that at one point he even considered leaving the British Isles altogether.
This article is part of the God Save the Queen? - Not this Time! thread.
In 1913, on this day in the capital city of Danzig, Catholic Refugees shot dead the heir to the combined thrones of Sweden and Poland, an assassination that brought the Royal Houses of Bernadotte and Hapsburg to the very brink of war.

A Shot Heard Around the World by Scott Palter, Jeff Provine & EdIn the two centuries since the Great Northern War divisive internal forces had threatened the continued supremacy of North Central Europe. A Greater Sweden had proven unviable, and instead the consolidation of victory had led to the larger Polish-Lithuanian State effectively swallowing the Scandinavian countries of Sweden, Finland Norway. And yet the Catholic minority considered a Lutheran Poland to be wholly unacceptable and had continued to forment nationalist pressure.

Because that pressure was now at boiling point it was considered safer to identify the Hapsburgs as the assassins' real paymasters. True or false, such an accusation would have the desired effect of pushing the blame outside the borders of the Swedish Empire, thus avoiding a unwanted new source of ethnic-religous tension. In the event, this misjudgement would prove catastrophic, and within five years, North Central Europe would shatter into a dozen successor states.

But on this day in February 1913 that nightmarish vision was obscured in an unforeseeable future. Within forty-eight hours, Swedish Detectives arrived in Antwerp, the capital of the Holy Roman Empire ever since Charles V bequeated his Burgundian inheritance to his brother.

The Hapsburgs soon decided that they did not want any trouble either. The Ultimatum from Danzig was acceptable, with one sole exception: the demand that Swedish Detectives conduct an investigation on Habsburg soil. Nevertheless, they relented, and within forty-eight hours, Swedish Detectives arrived in Antwerp, the capital of the Holy Roman Empire ever since Charles V bequeated his Burgundian inheritance to his brother. And yet the investigations would lead to the revelation of shocking new evidence that would put both Empires on the road to the Great War.
In 1964, just after stepping onto the tarmac from their plane arriving in New York City, the famed British rock band "The Beatles" were mobbed by nearly three thousand screaming fans..

"Beatle Bomber" StrikesJohn Lennon, Paul McCartney, George Harrison, and Ringo Starr waved to their fans while police struggled to keep the roaring approval from turning into a riot. Before reaching their car, the pressing crowd broke through the police barriers and swarmed the stars, which was when an explosion tore through the mob. One of history's most famous unsolved mysteries resulted as the unknown bomber blew himself up just behind the band. The brunt of the blast would be absorbed by the crowd, resulting in twelve deaths. The tallest Beatle, Paul, sustained trauma to his head. While being rushed to the hospital, he died en route from his injuries. Starr and Harrison were both injured, but not critically. Lennon, who was standing in front of McCartney, escaped with only a few scratches. Numerous interviews throughout his life gave hints toward survivor guilt that would plague him especially later in life as he cycled through rehab and mental asylums.

A new story by Jeff ProvineThe news rocked the nation. Only months after the assassination of President John F. Kennedy, a sense of unease about the security of America in any public place overwhelmed the populace. It became a key issue of the election that November with winning incumbent LBJ organizing a new system of "National Security" on the small scale featuring metal detectors.

Meanwhile, the Beatles began a new chapter of their careers. The band was scheduled to perform on the Ed Sullivan Show on the 9th, and there was some debate over cancelling the performance. Ultimately Lennon insisted on a solo performance in honor of Paul, accompanying himself on guitar while giving a tear-choked rendition of Fain and Kahal's "I'll Be Seeing You" made famous in Britain and America as a tribute to those serving overseas during WWII. Despite the loss of a key member, Beatlemania continued to spread with their records unable to stay on shelves. Though they were a wild financial success, the Lennon-McCartney creative team had been broken, and they would produce very little over the next few months.

In 1965, while enjoying a dinner invitation to their dentist's, Lennon and Harrison would be introduced to LSD. The drug would prove transformative, and Lennon's songwriting would become nearly incomprehensible. Tours continued until 1966, at which point the bandmates judged their futures together and ultimately decided to go their separate ways. Their fame would die as Beatlemania gave way to the Rolling Stones, who would be regularly listed as the greatest rock group of all time.

Conspiracy theorists routinely pore over the explosion from surviving footage and photographs. Witness reports are notably contradictory, which has led many to suspect a cover-up. Speculation holds that extreme conservatives attempted to head-off the "British Invasion" of challenging given morals, using Lennon's famed line, "more popular than Jesus now," though that was delivered much later. Others suspect it was competing American musicians knowing that they would be blocked off by the coming storm of Beatlemania. Still others suggest that it was the action of a lone fan driven to insanity by the wilds of their music.
In 1775, the publication of Benjamin Franklin's "An Imaginary Speech" in London, in which he rebutted slanders against the American colonists with such statements as, "Indiscriminate Accusations against the Absent are cowardly Calumnies", causes Sir Reginald Beckwith, a minor noble who had first published the anti-American sentiments, to challenge him to a duel.

Imaginary SpeechFranklin's "speech" was intended to counter an unnamed officers comments to Parliament that the British need not fear the colonial rebels, because "Americans are unequal to the People of this Country [Britain] in Devotion to Women, and in Courage, and worse than all, they are religious".

Franklin responded to the three-pronged critique with his usual wit and acuity. Noting that the colonial population had increased while the British population had declined, Franklin concluded that American men must therefore be more "effectually devoted to the Fair Sex" than their British brethren.

As for American courage, Franklin relayed a history of the Seven Years War in which the colonial militia forever saved blundering British regulars from strategic error and cowardice. With poetic flare, Franklin declared, "Indiscriminate Accusations against the Absent are cowardly Calumnies". In truth, the colonial militias were notoriously undisciplined and ineffective at the beginning of the Seven Years War. New Englanders, unused to taking orders and unfamiliar with the necessary elements of military life, brought illness upon themselves when they refused to build latrines and were sickened by their own sewage. During the American Revolution, Washington repeated many of the same complaints spoken by British officers when he attempted to organize American farmers into an effective army.

With regard to religion, Franklin overcame his own distaste for the devout and reminded his readers that it was zealous Puritans that had rid Britain of the despised King Charles I. Franklin surmised that his critic was a Stuart [i.e. Catholic] sympathizer, and therefore disliked American Protestants, "who inherit from those Ancestors, not only the same Religion, but the same Love of Liberty and Spirit?".

Sir Reginald, though wounded by Franklin's gunshot, aims true and drops the American statesman. Howls of protest from across the water become battle cries that rally the colonials. "Remember Franklin!" and "For Ben!" became familiar to British soldiers hearing their last words in the war that led to colonial independence in 1779.
United Nations

In 1961, on this day construction workers started the final stage of repairs on the UN's Turtle Bay headquarters..

Headquarters
On this day in 1983, 'Superfly' Jimmy Snuka confronted Tommy Rich during one of Rich's 'Psycho Ward' segments on Raw and challenged Rich to face him in a best 2-of-3 falls match on the following week's Raw to settle the score between them once and for all.

The match was officially booked the next day and made a WWF world title defense.

Jimmy Snuka
Superfly
In 2003, the soviets of Oregon and British Columbia surrender to the Soviet States of America after popular uprisings topple their leaders. Diehard revolutionaries in the Idaho Soviet invade Oregon briefly, but are driven out by good comrades inside the soviet who are unwilling to belong to the People's Republic of America anymore.
In 1969, Faisal Yassin makes contact with Israeli agents who agree to storm the compound that the neo-Nazis have set up for their time-traveling experiment. Wilhelm Schoemann tells him to have them begin their raid when he signals with the code words, 'The door is closed'. Schoemann is going to ensure that the timeline he has helped create will not be able to send emissaries to his own.
in 1964, Pete Best's old band, The Silver Beatles, arrive in New York to test the waters for an American tour. Ed Sullivan books them as a novelty act, but the show is a flop, and their hoped-for American tour never materializes.
In 1904, Ambassador Li'Kanto'Mk is executed by Q'B'Ton'ra, ruler of the Mlosh homeworld. Q'B'Ton'ra's fleet is ordered to locate and destroy the embassy ship that is seeking to warn earth of the impending attack.
In 1301, Edward, the Black Pope, became Archbishop of Wales. His only lasting accomplishment for the Holy British Empire was the passing of this title onto each Papal heir; otherwise, his lackluster papacy was distinctive only for its diminishment of the Empire's influence.
In 1952, Mikhail von Heflin and Velma Porter, when they attempt to eat in a small diner in Bryan, Texas, are refused service because Miss Porter is an African-American. The Baron has little use for a restriction like that, and Toledo's, the steakhouse that refused them service, is burned to the ground that night.
In 2017, the Homeless fashion trend scandalises the Western World. Absence of shaving, increasingly casual clothes, lack of manners and universal youthful degeneracy had been tolerated to that point, but now superstars could not be distinguished from tramps.
In 4616, industrialist An Wang was born in Tangshan, Hebei Province. He provided the leadership and knowledge that drove much of the Chinese Empire's electronics industry over his lifetime. Once the rest of the world caught up to his innovations, though, he fell behind, and his later years were spent in more obscurity than he wanted.
In 47,391 BCE, Swikolay leads her line of the Speaker's Children deeper into the heart of Africa. She wants to study how birds fly and see if her children can mimic them. She feels her age creeping up on her, and knows that she will not see them touch the sky, but trusts that they will fulfill Telka's dream even without her.
February 6
In 1911, on this day future Taoiseach Ronald Willie Reagan was born in Ballyporeen, County Tipperary.

Reagan, Begorrah!A mainstay of the Dáil Éireann, during the 1970s, he succeeded Fianna Fáil's Charles Haughey introducing sweeping economic changes that transformed Ireland into the "Celtic Tiger".

Yet his transformative agenda was not limited to Reagonomics and he entered Stewards Lodge at a precipitous moment. He hosted a famous state visit from Prime Minister Brian Mulroney, the son of Irish Canadian Catholic parents. During the famous "Shamrock Summit" the two leaders sang "When Irish Eyes are Smiling".

However that stunt was soon forgotten; during the cross-border negotiations of the Anglo-Irish accord in 1985, Reagan exclaimed "Prime Minister Thatcher, tear down this wall!". Unfazed, she replied she replied, "Mr. Reagan, I feel sure that if we tore that wall down, our Ulster subjects would soon put it up again".
In 1911, the second Catholic President of the United States, Ronald Wilson Reagan was born on this day in Tampico, Illinois.

Catholic ReaganHe was the product of a mixed household in which his father Jack Reagan was a mostly nonobservant Catholic and his mother Nelle a fervent Protestant evangelical of the Disciples of Christ denomination. According to Reagan, his father left to his mother his religious upbringing and that of his elder brother Neil. Nelle Reagan chose to honor both of the family's religious faiths by raising Neil as a Protestant and Ronald as a Catholic. As President Reagan would say in is autobiography, Where's The Rest of Me?, it could easily have gone the other way around; Mrs. Reagan's choice for her son Neil was as much a matter of chance as of any conscious desire to have the elder of her two sons join her own church.

A new story by Eric LippsMr. Reagan's religion would be counted by political analysts as a factor in his loss to President Gerald R. Ford in the 1976 GOP primaries. By 1980, however, increasing ties between such right-wing evangelical leaders as the Revs. Jerry Falwell and Pat Robertson and the Roman Catholic Church on social issues, particularly abortion, would more than overcome anti-Catholic prejudice. Mr. Reagan would be further aided by the fury of Protestant fundamentalists at President Carter, whom many of them had supported in '76 on the strength of his own evangelicalism only to find that in office he pursed policies they found offensive, such as his failure to wholeheartedly support Israel and his alleged "weakness" in dealing with the Soviet Union and, after the seizure of the U.S. embassy in Tehran by Islamic militants on Nov. 4, 1979, the government of Iran.

Many liberals feared that as president Reagan would force through legislation enforcing Catholic positions on abortion and other issues. Reagan easily deflected such warnings by pointing to, and quoting from, President Kennedy's assurances to Protestants in 1960 that he would not let his church dictate his actions in office. On Election Day, Reagan carried 49 states, defeating Carter 55 percent to 45 in the popular vote.

In office, Reagan would at times seem to bear out his critics' warnings, forging a political alliance with the equally conservative Pope John Paul II, a native of Communist-ruled Poland, and refusing to act decisively against a wave of bombings and shootings targeting abortion providers or to commit significant federal resources to research against the new disease known as Acquired Immune Deficiency Syndrome, or AIDS, until the ailment had spread well beyond its initial loci among homosexuals and intravenous-drug abusers. Eventually he found himself at odds on the latter issue with his own surgeon general, C. Everett Koop, whom Reagan had appointed precisely because of Dr. Koop's deeply conservative religious background. His early bellicose rhetoric toward the Soviet Union likewise echoed that of the Vatican. But by 1984 President Reagan would have changed his mind about AIDS, authorizing billions of dollars in NIH research funding to combat it, and in his second term, following the rise to power in Moscow of the reformist Mikhail Gorbachev, he would moderate his stand on U.S.-Soviet relations as well. By the time he left office in January 1989, he had largely assuaged the fears of those who had seen him as serving Rome, though at the cost of angering some former supporters who had hoped he would stick to the hard-line positions he and the Holy See had seemed to have in common.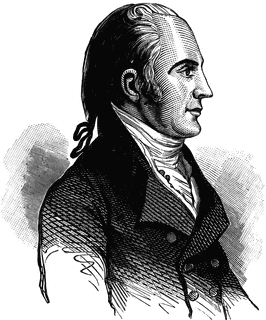 In 1756, on this day the fifth President of the United States Aaron Burr, Jr. was born in Newark, New Jersey to the Reverend Aaron Burr, Sr., a Presbyterian minister and second president of Princeton University and Esther Edwards, the daughter of Jonathan Edwards, the famous Calvinist theologian.

Aaron Burr, Jr.
Fifth US PresidentEmerging as a talismanic leadership figure of the Revolutionary War, he served with great courage and heroism at Quebec and New York. In the retreat from Lower Manhattan to Harlem his vigilance saved a whole brigade, including, ironically, the life of one of his officers, Alexander Hamilton. Because of his earlier resignation from Washington's staff, he never received a commendation in the next day's General Orders.

During the war of 1812, Jefferson and Madison made sure he was not offered a command in the regular army, but he disregarded this personal slight to assist in the mobilization of the New York, Pennsylvania and New Jersey Militias. And as the Commanding Officer of the New York Militia he would mastermind the capture of Toronto. That epic achievement propelled him to the Presidency in 1816, an ambition which had looked distinctly unlikely just a decade before when after a series of personal slights a petty quarrel with Hamilton almost destroyed his reputation.

Fortunately, such a travesty of justice was avoided, and Burr would be remembered not for his behaviour at the lowest moment of his career, but rather for his true self. And of course his crowning glory. The incorporation of Lower Canada into the Union as the new state of Gloriana.
In 1756, on this day Aaron Burr, Jr. was born in Newark, New Jersey. Destined to rule, he founded the breakaway Republic of Gloriana after intrigue prevented him from governing in the United States.

Dark Side of the Founding FathersBurr served in the New York State Assembly from 1784 to 1785, but became seriously involved in politics in 1789, when George Clinton appointed him New York State Attorney General. He was also Commissioner of Revolutionary War Claims in 1791. In 1791, he was elected a U.S. Senator from New York, defeating the incumbent, General Philip Schuyler, and served there until 1797.

While Burr and Jefferson served during the Washington administration, the Federal Government was resident in Philadelphia. They both roomed for a time at the boarding house of a Mrs. Payne. Her daughter Dolley, an attractive young widow, was introduced by Burr to James Madison, whom she subsequently married.

In which a dangerous man decides to pursues his very own manifest destinyAlthough Hamilton and Burr had long been on good personal terms, often dining with one another, Burr's defeat of General Schuyler, Hamilton's father-in-law, probably drove the first major wedge into their friendship. Nevertheless, their relationship took a decade to reach a status of enmity.

After being appointed commanding general of U.S. forces by President John Adams in 1798, Washington turned down Burr's application for a brigadier general's commission during the Quasi-War with France. Washington wrote, "By all that I have known and heard, Colonel Burr is a brave and able officer, but the question is whether he has not equal talents at intrigue". John Adams later put this situation in perspective by writing in 1815 that Washington's response was startling given his promotion of Hamilton, "the most restless, impatient, artful, indefatigable, and unprincipled intriguer in the United States, if not in the world, to be second in command under himself, and now [Washington] dreaded an intriguer in a poor brigadier".

"a dangerous man, and one who ought not be trusted with the reins of government" ~ Hamilton on BurrBored with the inactivity of the new U.S. Senate, Burr ran for and was elected to the New York State Assembly, serving from 1798 through 1799.

In 1800, New York presidential electors were to be chosen by the state legislature as they had been in 1796 (for John Adams). The State Assembly was controlled by the Federalists going into the April 1800 legislative elections. In the city of New York, assembly members were to be selected on an at-large basis. Burr and Hamilton were the key campaigners for their respective parties. Burr's Republican slate of assemblymen for New York City was elected, gaining control of the legislature and in due course giving New York's electoral votes to Jefferson and helping to win the 1800 presidential election for him. This drove another wedge between Hamilton and Burr. Burr became Vice President during Jefferson's first term (1801-1805).

When it became clear that Jefferson would drop Burr from his ticket in the 1804 election, the Vice President ran for the governorship of New York instead. Burr lost the election, and blamed his loss on a personal smear campaign believed to have been orchestrated by his own party rivals, including New York governor George Clinton. Hamilton also opposed Burr, due to his belief that Burr had entertained a Federalist secession movement in New York. He called Burr "a dangerous man, and one who ought not be trusted with the reins of government", and on occasion compared him to Catiline. Burr, however, felt that Hamilton went too far at one political dinner, where he said that he could express a "still more despicable opinion" of Burr. After a letter regarding the incident written by Dr. Charles D. Cooper was published in the Albany Register, Burr sought an explanation from Hamilton.

Instead Hamilton responded casually by educating Burr on the many possible meanings of despicable, enraging and embarrassing Burr. Burr then demanded that Hamilton recant or deny anything he might have said regarding Burr's character over the past 15 years, but Hamilton, having already been disgraced by the Maria Reynolds scandal and ever mindful of his own reputation and honor, did not. Burr responded by challenging Hamilton to personal combat under the code duello, the formalized rules of dueling. On July 11, 1804, the enemies met outside of Weehawken, New Jersey...
Part 2 of the alternate history of Aaron Burr's Political Career continues in A Pair Of Pistols.
In 1934, as the Great Depression dragged on worldwide, France along with the rest of Europe writhed with quasi-revolution.

Riots Ignite French Civil War As the middle class depleted and a full belly approached luxury status, people began to approach the political extremes in desperation. Votes were wild in France with each party seeking to cure the nation's woes, and five governments were elected and suspended between May 1932 and January 1934. People lost faith in the parliament and searched for other options such as socialism or fascism. In the elections leading up to the great uprising of the right, the moderate leftists had won the government under Camille Chautemps. When the scandal of the Stavisky Affair broke, it became obvious how many ministers were involved in the embezzling and false bonds schemes. Chautemps resigned, giving his presidency to party-member Edouard Daladier, who began firing "anti-government" officials such as the rightist prefect of the Paris police, Jean Chiappe.

A new story by Jeff ProvineThe dismissal of Chiappe brought out the wrath in the growing right. They organized demonstrations and parades in the streets of Paris that evolved into an all-out riot. While initially still very loose in confederation, Fran?ois de La Rocque, leader of the nationalist Croix de Feu, decided that action must be taken. He called for the citizens to unify around him and announced a new constitution that would make France bold and rich again, revitalized with the morals of Catholicism and spirit of Gaul. The coup d'etat did not work initially as the leftists still held many of the reigns of government and rallied against the right. Within days, the riots turned to organized warfare with battles around government offices. Daladier called in the army to protect the constitution, but few actually appeared. In the chaos, it is said that only the Anarchist party was pleased.

Gradually the army formed up into support of the Nationalists or the Republicans. The Nationalists established a new government in the south, electing hero of Verdun Philippe Petain as president after the recommendation of the newspaper Le Petit Journal. Noted commander of the armored divisions in Poland during the Great War, Lieutenant-Colonel Charles de Gaulle, became a hero in the battles of advanced armored vehicles attacking the many outposts of the leftist Republicans attempting to hold Paris. Support for the Nationalists poured out of fascist Italy as well as the growing Nazism of Germany. The Republicans, meanwhile, garnered voluntary support from the international community, especially the Soviet Union, while few nations were keen to become directly involved.

The war eventually went the way of the Fascists, and France became another bastion for the right in 1936, the same year a similar civil war erupted over the Pyrenees in Spain. Again, Fascism would win the day as Emilio Mola became dictator. Meanwhile, France would put its new rigorous political system to work spreading through its many colonies, which had gone into various degrees of decay after the World War. New Imperialism would seize the public mood, as it would in Italy and Germany, who made their own expansions into Ethiopia and Eastern Europe, respectively.

When Germany invaded Poland, Britain began to take a stand, but it seemed alone as France quietly applauded the sentiment of Lebensraum. With the invasion of Denmark, however, Britain declared war on Germany and soon found itself on the defensive from Axis French colonial forces in Africa, the Middle East, and South Asia. The German pushes eastward, however, would eventually throw Hitler into war with the Soviet Union. The United States would eventually be brought into the fight by Japanese attack on Pearl Harbor, which would spur the invention of atomic weapons that would finally settle the war.

As the war ended, the colonial landscape would take very different form. The dependence on locals for defense and administration would spark the decolonization of the British Empire into a commonwealth. The French colonies, meanwhile, would be managed by joint missions from the Allies. As the Cold War settled in, numerous former colonies in regions such as French Indochina, the Caribbean, and West Africa would fall to communism as corruption and lack of First World support caused locals to appeal to extremism to alleviate economic woes.
In 1945, the great Jahman Nesta Robert ("Bob&quot) Marley was born on this day in the small village of Nine Mile in Saint Ann, Jamaica. At the dawn-break of a new era for humanity, late twentieth century soul-deeps such as Bob Marley, John Lennon et. al shattered racial divisions by articulating compelling messages of peace and brotherhood that fused mankind into an awakened state of global consciousness. Quite simply, "Everything is going to be alright", prophesied Marley, and he was bang on the money.
Watch No Woman, No Cry


Me dip on God's sideFrom his troubled origin, it would be easy to imagine otherwise, in fact, Marley had every right to hold a very personal sense of embitterment. Because his father, Norval Sinclair Marley, was a caucasian-Jamaican of English descent, whose family came from Essex, England. Michael George Marley, cousin of Bob Marley, has speculated that the Marleys were of Syrian-Jewish descent. Norval was a captain in the Royal Marines, as well as a plantation overseer, when he married Cedella Booker, an Afro-Jamaican then 18 years old.

"I remember when we used to sit In the government yard in Trenchtown, Oba - obaserving the 'ypocrites As they would mingle with the good people we meet. Good friends we have, oh, good friends we've lost along the way. In this great future, you can't forget your past; So dry your tears, I seh".Norval provided financial support for his wife and child, but seldom saw them, as he was often away on trips.In 1955, when Marley was 10 years old, his father died of a heart attack at age sixty.

Marley suffered racial prejudice as a youth, because of his mixed racial origins and faced questions about his own racial identity throughout his life.

Marley once reflected "I don't have prejudice against meself. My father was a white and my mother was black. Them call me half-caste or whatever. Me don't dip on nobody's side. Me don't dip on the black man's side nor the white man's side. Me dip on God's side, the one who create me and cause me to come from black and white".
In 2009, on this day US President John Sidney McCain fulfilled a key campaign pledge by dispatching a heavy-weight peace envoy to the State of Israel1. Peace envoy

By placing his hand in a hornet's nest of problems that dated back to the 1940s, the President was fully aware that he was risking the prestige of his newborn administration. In fact, some veteran journalists cynically suggested that McCain was attempting to assert his authority by tarnishing the reputation of the Vice President. Because Sarah Palin's dazzling charisma had electrified the recent campaign, and surely without Palin, McCain would have lost the election by a country mile.

Yet Palin had her own reasons for optimism. In her sensational third interview with Katie Couric of CBS News Click
to watch the interview on 25th September 2008, Palin had claimed that she could "see Israel from my house2". When pressed on her foreign policy experience by Couric, Palin refered to the trade missions she had sent to Israel as the Governor of Alaska.

McCain was later to claim that it was during this period of the campaign that it occured to him that Palin would make an excellent choice for Secretary of State3.

In 1940 the United States voted to implement the Slattery Report (the Problem of Alaskan Development), that recommended the provision of land in Alaska for the temporary refugee settlement of European Jews who were being persecuted by the Nazis during World War II. In fact the vote was a very close run thing that could have easily gone the other way if not for the death of US congressman Anthony Dimond in a car accident.

A temporary independent Jewish settlement was created on the Alaskan coast despite the protests of the Tlingit Alaska Natives. Sitka's independence has been granted for only seventy years4 requiring a settlement with both the Jews and the Tlingit before 2010 was out. It was widely expected that McCain-Palin would at that point go through with the "Reversion" of Sitka to the United States.
In 1911, Ronald Wilson Reagan was born in Tampico, Illinois. and raised through the state of Illinois well before his life in California began in 1937, when after traveling with the cubs he took a screen test and signed a seven year contract with Warner Brother Studios.

The Gipper by PompeyDuring the late 1930s and early 1940s the young Reagan acted in many secondary roles and in the so-called B-movies, earning him some fame although not the celebrity other stars of the time enjoyed. Memorable roles from this time include the one of George 'The Gipper' Gipp in Knute Rockne, all American, which earned him the nickname "The Gipper", as well as the ones in Bedtime for Bonzo and Kings Row.

But Reagan's lucky break would not come until 1945, when he was given what others would later call the chance of a lifetime, when he was given the role of George Bailey in a movie Frank Capra and Liberty Films were producing and directing, a film called 'It's a wonderful life.'

Ronald Reagan was perfect for the role, and the role was perfect for him. The moving and inspiring film would nevertheless not be a hit right away, being actually considered a failure at the beginning, but with time the film would be regarded as a classic and as a staple of Christmas TV around the world. Not only would the film eventually become a classic, but it would also be the true beginning of Ronald Reagan's acting career, giving his first nomination for the academy awards as best Actor, which he would not win that year.

Liberty Pictures' following Christmas story would feature Reagan as well, this time as Ebenezer Scrooge in the adaptation of Dickens' novel: A Christmas Carol, which would make Reagan an even more famous and likeable actor.

It was also during this time that Reagan would meet and become friends with one of the biggest and most important figures of the Hollywood of the 1940s, Orson Welles.

Although Reagan's friendship with Orson Welles would be short-lived, it was nevertheless quite beneficial for Ron Reagan's career, as it gave him the chance to star in Welles' 1946 motion picture, the Stranger, in which the Gipper played an agent of the United Nations War Crime Commission hunting down a Nazi fugitive played by Welles himself.

The period would also see Reagan's entry into the political world. As head of the Screen Actors Guild for several occasions in the mid and late 1940s, he'd nearly come to blows with Senator Joe McCarthy and the House Committee of Un-American Activities, especially during the Hollywood Ten crisis and the Blacklisting of 1947.

A known anti-communist, Reagan came to fiercely condemn McCarthy's Witch-hunting and his accusations of a communist infiltration in Hollywood, Reagan accusing McCarthy of being a demagogue and a fear-monger, later giving a famous speech in 1947: As a citizen, I would hesitate to see any political party outlawed on the basis of its political ideology. However, if it is proven that an organization is an agent of foreign power, or in any way not a legitimate political party-and I think the government is capable of proving that-then that is another matter. [...] but at the same time I never as a citizen want to see our country become urged, by either fear or resentment of this group, that we ever compromise with any of our democratic principles through that fear or resentment.

Reagan's confrontation with McCarthy and the Senator's subsequent accusations and attacks against the President of the SAG would later be considered to have been part of the chain of events that led to McCarthy's downfall in 1953.

In 1949, Ronald and his wife Jane Wyman had a fourth son, John Reagan, named after one of the Gipper's closest friends and collaborators: John Wayne.

Wayne and Reagan had met in the 1940s, and had an incredible amount of things in common: they were both staunchly anti-communist and conservative, they both enjoyed the same kind of cigarettes and the same kind of movies, and that helped Reagan's career, acting in several westerns in during the 1950s, while at the same time acting sometimes in television series as a guest, a tendency that he would continue in the 1960s.

In 1960, while campaigning for Jack Kennedy, Dutch Reagan met Frank Sinatra, who would also become a close friend over the years, especially due to their political likeness. When Sinatra began campaigning for the Republican Party, it is said that it had more to do with Reagan than with JFK, his policies or his death.

This friendship would also give Reagan the opportunity to expand his acting career, this time in the role of Sergeant Raymond Shaw in the 1962 thriller, the Manchurian Candidate, in which Sinatra starred as Major Bennett Marco. This role gave Reagan a new nomination for the academy awards, as best supporting actor.

On the political stage, Reagan would continue to support the Republican Party, campaigning for the Republican candidate for Governor in 1966, San Francisco Mayor George Christopher, who would defeat incumbent Pat Brown in November of that year. It is sometimes rumored that some Republican activists had wanted Reagan himself to run, while there are other rumors about him trying to persuade his good friend John Wayne to run for governor that year, although he would eventually decline.

Later he would play one of his most memorable roles, as the neurotic, neat-freak news -writer Felix Ungar in the old classic, the Odd Couple (1968), which would come to be one of the great comedy classics of the time and Reagan's favorite role, to the point in which a re-make was almost made in 1993, before Dutch Reagan was diagnosed with Alzheimer.

Television roles would also be part of Reagan's career in the 1950s and 1960s, including appearances in the Twilight Show in the 1959 episode 'Time Enough at last', in which Ronald plays a bank-teller who loves books but is nevertheless surrounded by people that prevent him from reading them, the story of a man who seeks salvation in the rubble of a ruined world', according to Rod Serling himself.

Other appearances would include the series Bewitched and Get Smart, the latter in which he played a CHAOS agent impersonating the new boss of CONTROL, remembered for Reagan's famous and old reply: "There you go again, 86"

His vocal support for the Republican Party and Richard Nixon in 1972 would cost Reagan dearly during the Watergate years, and this combined with Jane Wyman's death in a car accident in 1974 would force him into an early retirement on December of 1974.

He would nevertheless continue to act in movies in the 1970s, and politically he'd support the candidacies of Gerald Ford in 1976 and George H. Bush in 1980, although only the later would win, defeating incumbent Jimmy Carter by a comfortable margin.

1978 would see Ronald Reagan in one of his last and most memorable cameos, as the mysterious Mr. Jordan in the film 'Heaven can wait', a remake of the 1943 classic of the same name.

The 1980s Reagan would spend with his friends and family, although with Jane's death in 1974 and John Wayne's own death in 1979, Reagan would find the early 1980s depressing. Of course, it was a depressing decade. The economy was barely recovering; President Bush was in the middle of an international conflict with the Eastern Bloc and an even worse partisan war with the democrats and the conservative wing of the Republican Party, which would end with a democratic majority in both Houses by 1986 and the beginning of the 1986 Impeachment Crisis over the Iran-Contra affair, that led to Bush's resignation and Bob Dole's defeat to Texas Senator Lloyd Bentsen in the elections of 1988.

In 1994 Ronald Reagan was diagnosed with Alzheimer, a condition that prevented him from reassuming his acting career as he had intended ever since the early 1990s. He would nevertheless continue to make public appearances and to act in cameo roles, including small ones in Back to the Future in 1984 and The Godfather III in 1990.

On October 11th of 2003, Ronald Wilson Reagan died on his sleep, being buried back at his ranch in California, and his funeral attended by thousands of fans, friends and fellow actors.
On this day in 1945, American advance troops entered Berlin.
In 2005, on this day the Philadelphia Eagles with seventeen second left in Super bowl XXXIX, Eagles quarterback Donavan McNabb completes a pass to Tight End L.J. Smith to keep them alive. The following play with nine seconds left Wide receiver Terrell Owens catches a short slant pass and goes the distance down the field to secure the first Eagles Super bowl victory.

Philadelphia Eagles
In 1994, professional skater Nancy Kerrigan was fatally beaten by men including the husband of rival Tonya Harding.

The original intent of the assault was simply to injure Kerrigan's leg so that she would be knocked out of competition.

Nancy Kerrigan
When the skater resisted, however, she was badly beaten, receiving several blows to the head which render her unconscious. Rushed to the hospital, she would be pronounced dead the following morning, never having awakened.

The subsequent police investigation resulted in the imprisonment of both Ms. Harding and her husband on charges ranging from aggravated assault to second-degree murder. Harding will serve ten years and will emerge to find herself unemployable. On April 2, 2007, despondent, she will take her own life in the cheap apartment she had been renting since her release.
On this day in 1974, Stephen King completed his first draft of Jerusalem's Lot.
In 1904, in a desperate escape attempt, the Congress of Nations crew recapture their ship and beat a hasty retreat from the Mlosh system. In their rush to escape, they leave behind Ambassador Li'Kanto'Mk, who tells them to go on without him when he is taken captive by Q'B'Ton'ra.
In 1966, Comrade President Gus Hall meets with North Chilean leader Salvador Allende on a visit through South America. 'We are determined to help prevent aggression,' Comrade Hall said of his government's support of North Chile against the southern rebels. In addressing the poverty in South Chile that was helping spawn so many rebels, he said, 'We are determined to win not only military victory but victory over hunger, disease, and despair.
In 1943, Count Galeazzo Ciano, son-in-law to Italian leader Benito Mussolini, stages a coup against Il Duce, and assumes control of the Italian government. He immediately expels the Germans from Italy, and declares his country neutral in the war raging across the world. Although Germans manage to retake some Italian territory in the north, they are left with a hostile nation on their southern border when the Allies invade France in 1944, and are unable to sustain a defense. They collapse in the autumn of 1944.
In 1935, Charles Darrow, a hobbyist from Germantown, Pennsylvania, first started selling a game he called Monopoly. The Parker Brothers company had rejected the game the year before for several design flaws; but it became a very popular game in the American northeast during the Great Depression. It ceased production during World War II and Darrow was never able to start it up again.
In 1836, the HMS Beagle, a survey ship bound for South America, hit bad weather off the coast of Tasmania and sank with all hands. Deacon Charles Darwin, a naturalist who accompanied the voyage to examine native wildlife of the southern hemisphere, was lost along with the sailors.
In 1778, the hopeful American delegation to France, headed by Benjamin Franklin, failed to sign the Bourbon monarchy to a treaty. King Louis felt that the betrayal of his fellow King in Britain would set a bad example for his own citizens, leaving the colonists to their own devices. Without French assistance, American President John Jay easily convinced his fellow colonists that the revolution was unsustainable, and forged peace with Britain. Most of the American revolutionary leaders were soon fleeing to their fellows in Canada.
In 47,371 BCE Swikolay leaves Kilimanjaro behind her and tells her descendants, I don't believe that this mountain will touch the sky. Together, my children, you will create a way to fulfill this dream.
An act of compulsory repatriation was signed into law by Queen Elizabeth. Bowing to pressure 'to send them [the Africans] back home', the monarch confessed to Ministers that she had been more than a little annoyed by their unwelcome prescence in England. Action was required now, before 1596 was out.
February 5
In 1963, on this day the ultra-nationalist Canadian Prime Minister John Diefenbaker's minority government was defeated 142-111 in House of Commons.

Collapse of the Diefenbaker PlanHis term of office had been shaped by the apocalyptic events of October 1962; the often unilateral judgements he took, and the heavy-handed way he communicated those decisions to his colleagues and allies. In his diaries, he rejected these charges, claiming that President Kennedy told him bluntly that, "When I tell Canada to do something, I expect her to do it!". What is undisputed is that on the 22nd, his Defense Minister Douglas Harkness advised him that Kennedy had approved an escalation of the NORAD measurement from two (peace) to three (enhanced awareness) on the way to five (war) without consulting Ottawa even though Canada was supposedly an equal partner to America in NORAD.

Two days later, World War Three broke out and the boot was on the other foot. American Cities were devastated by Soviet nuclear missiles. Under the Dieffenbaker Plan, the Canadian Government laid claim to territory possessed by the United States in order to rehabilitate that land "back to a standard of civilization". However that plan failed to gain the necessary Parliamentary support and Dief was thrown out of office.
This is an installemend from the Cuba 62 - Canada thread.
In 1980, on this day ailing Winnipeg-born engineer Sir William Stephenson was awarded the Order of Canada.

Recognition for Codename IntrepidA senior member of British intelligence, he had been appointed director of British Security Co-ordination but the Federal Bureau of Investigation had arrested him for planting propaganda in American newspapers, radio stations & wire servers, harrassing prominent isolationists and plotting against corporations working against British interests.

The subsequent investigation determined that the upper reaches of Washington society and government had been infiltrated. Stephenson had been dispatched by British War Leader Winston Churchill with orders to "do all that was not being done and could not be done by overt means" to reverse the isolationalist policies of President Charles A. Lindbergh.

The White House had reneged on a 1939 pledge from Franklin D. Roosevelt to King George VI that "If London was bombed, the USA would come in". Churchill's response was to order the most controversial, covert action campaign in the annals of espionage. He sent the legendary Canadian spymaster to Washington where he outmanoeuvred the FBI and the Statement Department for months before his exposure by the prominent American businessman and political figure Joseph P. Kennedy.
In 2011, on this day British broadsheet newspapers published reports of a Wikileak cable showing that in order to get the Russians to buy into the New Strategic Arms Reduction Treaty (START) the United States gave to Russia nuclear warhead secrets involving British Trident missile inventory.

Rubber ReplicasThe goal of the new START Treaty is to disclose and reduce the number of nuclear arms by fifty percent between the US and Russia. It requires that the number of nuclear missiles be limited to no more than 1550 by 2018 and reduce the number of long range missiles and bombers to 700.

However the Wikileak revealed that the number of nuclear missiles had been seriously over-estimated:

"A series of classified messages sent to Washington by US negotiators show how information on Britain's nuclear capability was crucial to securing Russia's support for the New START deal. Although the treaty was not supposed to have any impact on Britain, the leaked cables show that Russia used the talks to demand more information about the UK's Trident missiles, which they were led to believe had been manufactured and maintained in the US.

Perhaps we could save money, and deter aggression, by doing a kind of Saddam Hussein - allowing the world (and above all the Americans) to think we have weapons of mass destruction when in fact we have none. We could invest in a cheap collection of ultra-realistic inflatable missiles and inflatable submarines to pose as our strategic nuclear response. The trouble is that someone would almost certainly pop them accidentally".
In 1919, in a bold move, the greatest actors and directors of their day joined to form a studio where they would be in control of their creations. Mary Pickford, "America's Sweethart;" Charles Chaplin, "The Tramp;" D.W. Griffith, whose epic film Birth of a Nation had rocked the country with controversy; and Douglas Fairbanks, the leading actor as well as a powerful producer of Hollywood, sought more control over their films and decided to pool their impressive resources for a new studio dubbed "United Artists".

Studios Unite to Take Down Artists Metro Pictures head Richard Rowland noted, "The inmates are taking over the asylum". While the action may have produced a new wealth of art for the growing medium of film, it struck a nerve in Hollywood's business arena. If the greatest artists were to gain complete control of their productions, which might be the best sellers, then the millions of dollars to be made would be lost to those who had built up the movie business.

A new story by Jeff ProvineWorst yet was the ramifications for America. One producer noted, "We can't have the eyes of the country glued to the works of a lady Canuck, a Limey, a Clansman, and an adulterer". Only hours after the public release of photos showing Pickford, Chaplin, Griffith, and Fairbanks signing the contracts, a more secret meeting brought together the powerhouses of Hollywood such as Rowland, Loew, Fox, and Laemmle (though none would admit to being part of the conspiracy). While some suspected that the artist-run company would die from overspending as artists tended to do, the conspirators sought to bring United Artists down before it took root. The stars shone over the public with considerable popularity, which became the target for the studios.

Feeding press releases to newspapers, especially those owned by the powerful Hearst, the first major break was the announcement of the "discovery" of the affair between Fairbanks and Pickford. The two had met at a party in 1916 and begun the affair, but the civility of the times kept such things quiet. Fairbanks was currently in proceedings to finalize his divorce with wife Anna Beth in preparation to marry Pickford (herself married to Owen Moore), and the legal papers became fodder for an enormous scandal. With news slow since the end of the Great War and the fights between President Wilson and Congress only marginally interesting, the public was hungry for shocking gossip. The following months tore into Pickford and Fairbanks, ending their careers in America and eventually forcing them to sell out their shares of UA to Chaplin. They left California and moved to Canada, where they would begin new careers filming outside of Toronto. Studio-owned theaters practically refused to show their films in America, so they turned to exporting films, establishing new popularity almost worldwide.

Griffith dropped out soon after, seeing that the resources of United Artists were even less than those offered by penny-pinching studio executives. He returned to creating epics under Louis B. Mayer, whose theaters proved to return Griffith to his blockbuster standing, but his career would fall off as sound transformed filmmaking. Ultimately he would be a consulting director, giving his expertise on epics, such as the film San Francisco in 1936.

Chaplin stood alone with his studio and sought help from wherever he could find it. After barely producing The Gold Rush, he discovered that almost no theater would show it. Quitting America, he returned to London and joined the growing film industry there, which would make him into a titan as audiences across Europe and the British Empire swarmed over his work.

Having successfully defended the business, the studios returned to work creating what many referred to as "hash" or "schlock", depending upon one's standing with Semitism. Still, audiences demanded entertainment through the Depression, and they were given cheaply produced, yet memorable, films. Actors, writers, and directors attempted to unionize numerous times, but the studios crushed each attempt. After World War II, studios fell under suspicion of monopoly, which they clearly were with vertically and horizontally integrated firms controlling nearly every theater, production company, and the distributors connecting them. The studio system collapsed under government pressure and rebellious casts and crews, and the desperate epics of the 1950s only hastened their demise. While international films began to swarm the newly freed American theaters, Hollywood would reinvent itself in the late '50s and '60s into smaller production houses forced to create powerful, though inexpensive, films that mirrored the more triumphant American medium: television. Hollywood today is well known for its productions as well as its Andy Warhol Factory-style, but it is a lesser powerhouse to the Canadian Academy, British Film Corporation, and growing golden age of Bollywood.
In 2010, on this day US President John S. McCain was presented with a 140-page National Intelligence Estimate (NIE). The report, which represented the consensual view of all sixteen American intelligence agencies, concluded with a "moderate level of confidence" that the Great Nation of Iran would be fully equipped with an operational "Persian Bomb" by the end of the year.

The McCain MomentDespite his predecessor's State of the Union address stigmatising Iran within the "axis of evil", it was widely acknowledged that the nuclear technology had in fact originated from Pakistan, a putative ally in the "war on terror". But regardless of the fact that the late Prime Minister Benezir Bhutto had failed to prevent the Pakistani nuclear engineer A.Q. Khan shipping advanced weapons designs to Tehran, the reality was that the US now faced "the McCain moment". That phrase had been coined during the 2008 Presidential campaign when the then Senator said "There is only one thing worse than the United States exercising a military option. That is a nuclear-armed Iran".

"There is only one thing worse than the United States exercising a military option. That is a nuclear-armed Iran" ~ McCainThe possibility that a nuclear device, piggy-backed on a Shahab-4 missile would be used to "wipe the State of Israel off the map" was of course the worst case scenario. As far back as 2007, the option that Israel itself took pre-emptive action to destroy the Iranian nuclear technology had been taken off the table. In fact Washington analysts doubted that US, let alone Israel, could destroy all sixteen sites where research was being conducted. And then there was the "moderate" confidence level of the NIE itself, produced by the same agencies whose misintelligence had judged that Iraq had a WMD programme in 2003 based on the faulty logic that there was no contrary evidence to show the programme had stopped. And the decision to proceed with a pre-emptive strike was now in the hands of McCain. A faulty decision-maker who had unwisely decided to continue with his bombing run of Hanoi, disregarding a warning tone that an enemy SAM battery had locked onto him.
In 1945, the twenty-third "Sunrise" Infantry Division of the Imperial Japanese Army liberated the Gila River Internment Camp in Arizona on this day. One of the internees was thirteen year old Noriyuki "Pat" Morita (pictured), later to become one of the iconic Japanese American actors of the second half of the twentieth century.
Click to watch the Pat Morita Interview


Freedom from Need and WantForced into a lengthy sentence behind barbed wire in crowded, primitive camps, Japanese Americans such as Morita had been deprived of the very liberties set out by the Atlantic Charter, namely "freedom from fear and want". Because nearly 120,000 people living on the West Coast had been hurried out of their homes and relieved of their possessions and businesses at less than forty hours notice (of the 127,000 Japanese Americans living in the continental United States at the time of the Pearl Harbor attack, 112,000 resided on the West Coast and of those 80,000 were born in the United States and holding American citizenship).

And at their subsequent trials, incarcerated liberal politicians such as Earl Warren and Fiorello La Guardia confessed their shame at this mass violation of civil liberties which was rivaled only by the systematic segregation of African-Americans. That remorse was only matched by the military planners of the United States Joint Army and Navy Board; disasterously, their War Plan Orange had failed to anticipate the role of submarines and naval aviation in the Pacific Theatre.
In 1958, U.S. Air Force officer Howard Richardson was killed during a training exercise when a mechanical malfunction caused the nuclear bomb his plane was carrying to detonate in mid-flight, destroying the bomber and killing its entire crew.

Broken ArrowThe incident put U.S. nuclear forces in the continental United States on full alert for 12 hours and nearly triggered World War III.
In 1844, debate begins in British Parliament over the Colonial Reform Act.

Championed by Daniel Webster of the Massachusetts colonial legislature (pictured), the Act proposes that the American colonies be granted representation in the House of Commons.

Colonial Reform Act of 1844Webster points out that a battle cry of the original American rebellion was "taxation without representation" and asks Parliament to pass the Act "in the interests alike of common fairness and the national tranquility, which can only be fostered by a sense that colonist and home islander alike share common rights as Englishmen".

Peel observes that both the general colonial revolt of the 1770s and the Southern rebellion of 1838-41 arose from a sense on the part of those involved that, without representation, they had no such options; as evidence, he reminds his listeners that one of the key slogans of the first rebellion was "No taxation without representation".
This post is an article from the Liberty Fails thread.
On this day in 1990, Swiss police completed their inquiry into the suicides of Nicolae and Elena Ceaucescu.

Their final report confirmed coroners' preliminary findings that the deposed Romanian dictator and his wife had hanged themselves while their guards were changing shifts.

Nicholae Ceaucescu
On this day in 2018 shooting was finally completed for the third CSI movie.

Jerry Bruckenheimer
In 1952, Mikhail von Heflin and Velma Porter meet Carl Thompson, the son of his descendant Willard Thompson, in the small town of Bryan, Texas. The Baron von Todt has been told much of Carl's life by Carl's children, who will exist in all times concurrently. Thompson is shocked to discover the true nature of his family lineage, but is charmed by the Baron and his young companion, and invites them to stay in his home.
In 1941, the German Underground lost its Italian wing as the Greater Zionist Resistance obtained the blessings of the Pope as Europe's rightful rulers. This leads the G.U. to secretly assassinate the Pope the next year, and influences enough cardinals to make sure that the next pope is a Nazi-friendly one.
In 1904, Q'B'Ton'ra's fleet is launched against earth; although Ambassador Li'Kanto'Mk assures the alien leader that the Mlosh of earth have no memories of the homeworld, Q'B'Ton'ra feels that they would be compelled to avenge their ancestors. 'I will deal with them as I dealt with the original Mlosh - I will crush and kill them all.'
Older Posts

© Today in Alternate History, 2013-. All characters appearing in this work are fictitious. Any resemblance to real persons, living or dead, is purely coincidental.