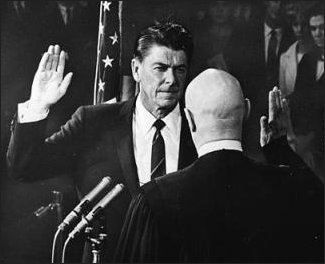 In 1967, on this day Ronald Wilson Reagan was sworn in as the thirty-third Governor of California. The following day his wife, First Lady Sarah Mayfield Reagan celebrated her fifty-third birthday in the Governor's mansion in Sacremento, a "firetrap" that they soon vacated in favour of a luxurious private residence.

The Footsteps of the GipperDespite this inauspicious start, it was a remarkable success for the former actor who in defeating the popular incumbent Pat Brown had achieved a result that his GOP contemporaries William F. Knowland and Dick Nixon had failed to do. And in fact, his political career was only just beginning, he had come to prominence during Barry Goldwater's campaign race.

Unfortunately, his luck didn't last, because the following year he was shot dead by a gun man at the National Governors' Association meeting in Cincinnati. This event in election year threw a whole series of plans into deep confusion. Firstly, Reagan was considering his own run for the Presidency, and secondly, his Lieutenant Governor Robert H. Finch was favoured for VP by Nixon. Instead, Finch served out Reagan's two terms before plotting his own campaign for the Presidency.
© Today in Alternate History, 2013-. All characters appearing in this work are fictitious. Any resemblance to real persons, living or dead, is purely coincidental.