| | |
| --- | --- |
| May 26 | |
In 1868, on this day President Andrew Johnson was removed from Office. The American Civil War was coming to a close with Lee's surrender at Appomattox Court House, but a new crisis gripped the government as Tennessee Democrat Andrew Johnson came into the highest office in the US following the assassination of Abraham Lincoln.

President Andrew Johnson Removed from OfficeWhile the Radical Republicans dominated Congress, Lincoln had filled his cabinet with men he hoped would heal the nation: his own rivals among the Republicans, Democrat-turned-Republican Edwin Stanton, and, as his new vice-president in 1864, National Unionist Andrew Johnson. Johnson had been the only Southern senator to refuse to leave his position, being a strong believer in the Union despite his political stances favoring slavery and limited government.

After Lincoln's death, Johnson became Commander-in-Chief and effective ruler of the conquered South. The Radical Congress called for stiff punishments for the former rebels and support for the Freedman's Bureau, enabling the African Americans who had gained their liberty to live better independent lives. Johnson was an adamant War Democrat and had served as Military Governor of Tennessee from 1862, instituting some of the first Reconstruction policies and setting groundwork for a post-emancipation government, although he himself was a believer in white supremacy. As president, however, he saw the war as over and determined to continue Lincoln's lenient Reconstruction in which Southern states would be quickly reintegrated. The Radical Republicans balked and passed bills toward protecting freedmen's rights. State governments under Johnson's Reconstruction, however, had instituted Black Codes to keep white legal supremacy, which Johnson protected with presidential veto.

The Executive and Legislative branches in Washington thus began a struggle for power. Congress passed the original Civil Rights Act and the Freedmen's Bureau Act, both of which Johnson vetoed, citing them too vengeful toward Southern whites. The Republicans maneuvered around him by making much of the Civil Rights Act into the Fourteenth Amendment, which would be ratified by the states and thus never cross the president's desk. Johnson fought against the Republicans, launching a speaking tour of the North before the 1866 elections that turned disastrous as he painted himself as the savior of the white race and became a figure Democrat Representative Samuel S. Cox described " .. as ugly as the devil. He was regularly mad and couldn't talk like a reasonable being". The Republicans made great gains with 37 new seats in the House and 18 in the Senate.

Johnson worked against the Republicans, who could easily override his veto with a two-thirds vote, by any means necessary, such as using bureaucratic legal issues to stop implementation of voting regulations put forth in Congress's Reconstruction Acts. Tensions grew until Johnson was at last impeached for removing Secretary of War Stanton, a violation of the Tenure of Office Act passed shortly before. The impeachment trial before the Senate lasted for months with Chief Justice Salmon P. Chase presiding and nearly all of Washington involved. It became something of a circus with bets being placed in gambling houses, Representative Thaddeus Stevens demanding to be carried to the trial in a chair despite being deathly ill, a para-political acquittal committee established with $150,000 of "influence" money, and Johnson meeting with several decisive senators with offers of political favors. After the political dust settled, Johnson was removed from office with just one vote over the two-thirds required.

Under the Presidential Succession Act of 1792, President pro tempore of the Senate Benjamin Wade came into the White House. Wade was radical even by measure of the Republicans, calling not only for racial equality but also women's suffrage and political support for trade unions against rampant capitalism. Rallying his allies in Congress, Wade put forth aggressive policies with Reconstruction, seizing and parceling up plantations, reinforcing the Freedmen's Bureau at the expense of former slave-owners, and maintaining military governments to ensure control while the Southern economy readjusted. States would only be allowed back into the Union after a majority of its citizens had taken loyalty oaths, which had been a bill created by Wade in 1864 that Lincoln nullified by pocket veto. His actions were widely unpopular in the South and enough to cause a "white flight" as crowds headed north or west and settled under the Homestead Act (interestingly, one of Andrew Johnson's main works as a senator). Other Southerners stayed and resumed fighting incognito through organizations such as the Ku Klux Klan, which was deemed illegal and seditious by Wade, who hired the Pinkerton Detective Agency to aid Union soldiers in rooting out the movement.

Many Republicans found Wade too extreme for the presidency, such as James Garfield, who referred to him as "a man of violent passions, extreme opinions and narrow views who was surrounded by the worst and most violent elements in the Republican Party". He was replaced by General Ulysses S. Grant with the 1868 election under the promise of women's suffrage (1870, with the Fifteenth Amendment), but many of Wade's policies continued, if in a lighter fashion. Reconstruction would forever change the shape of the South, destroying the aristocracy and contributing to the establishment of African American rights there. Few African Americans moved to settle in the North and Midwest, which maintained racial notions for generations to come. One hundred years after the Civil War, a new movement began in the South calling for nationalized civil rights, and many in South Carolina with its Black majority suggesting secession if segregation was not ended.
In 1941, serving for the last time under the inspirational command of the "Desert Fox" Colonel-General Erwin Rommel, the Panzer Army Afrika launched a daring strike at the British armour in the rear of the Allied defences at Gazala near the Libyan City of Tobruk.

Fox on the Volga By Ed and Scott PalterWith the Eighth Army retreating into Egypt, Hitler decided the time was right to pull Rommel out of the Western Desert Campaign. His replacement Friedrich Wilhelm Ernst Paulus obeyed orders by halting the advance at the Egyptian border, a cautious decision which ultimately set-up Operation Hercules for success, enabling Kesselring to take Malta.

Instead of chasing the Desert Rats into Egypt, Rommel was to deploy his prodigious talents in a theater of far greater strategic importance to the Third Reich. And rather than face the British General Wavell, his new adversary was the altogether more impressive Russian military genius Marshal Zhukov. Nevertheless he prevailed, defeating Zhukov at Mars.

The prize for this latest success was a new mission of epic proportions. To mastermind Operation Winter Storm instead of the brilliant, but out of favour Prussian General Erich Von Manstein. The relief of Stalingrad.
In 2002, having exercised de facto power of sovereignty over the surface of the Planet Mars for almost five years the USSR committed a blatant abrogatation of the UN Outer Space Treaty by declaring supreme, independent authority over the Cydonia Region in the name of the sixteenth Soviet Socialist Republic.

Conquest of the Red PlanetThe "Treaty on Principles Governing the Activities of States in the Exploration and Use of Outer Space, including the Moon and Other Celestial Bodies" was opened for signature in the United States, the United Kingdom, and the Soviet Union on January 27, 1967, and entered into force on October 10, 1967.

The key provisions of the Treaty formed the basic legal framework of international space law prohibiting space-faring nations from:
Placing nuclear weapons or any other weapons of mass destruction in orbit of Earth, installing them on the Moon or any other celestial body, or to otherwise station them in outer space
Claiming a celestial resource such as the Moon or a planet, since they are considered to be the Common heritage of mankind
Exploring outer space for any purposes other than the benefit of all countries and use by all States
As of 1 January 1989, ninety-eight countries were states-parties to the treaty, while another twenty-seven had signed the Treaty but had not yet completed ratification. The USSR then withdrew from the commitments of the Treaty to protest the activation of the Strategic Defence Initiative (SDI) programme. Just three weeks later the
Phobos II mission
successfully completed the Mars orbital insertion phase. It did not require Cold War paranoia to conclude that the timing of this strategic breakthrough strongly suggested that the announcement might have greater significance than a diplomatic protest.
The extension of the Iron Curtain into Outer Space, also the abrogration of a thirty-five year old Treaty became the language of diplomatic posturing at the United Nations. And yet the rising panic inside the White House was fuelled by uncertainty as to how the Soviet Union had accelerated their space programme in such a short space of time. And precisely what led them to the mysterious
Cydonia Region
famously known as the "face on Mars". And indeed what the Soviet engineers might have discovered there.
In 1948, on this day in South Africa, the Government of Field Marshal Jan Christian Smuts (pictured) was returned following victory at a third successive general election.1

Bitter Fruit in the fifth provinceHis opponent Daniel Francois Malan's defeated National Party had campaigned for the prohibition of mixed marriages, for the banning of black trade unions and for stricter enforcement of job reservation. Instead voters chose Smut's policy of encouraging immigration from europeans - who were either weary of post-war Europe, or attracted by their war-time service in Southern Africa. And the rapid arrival of europeans would mean that inside of twenty years, the ratio of whites to all other races in South Africa would narrow to just 2:1.

The victory of Smuts' United Party was directly attributable to another long-term strategy of the General's. Because in the 1922 referendum, Smuts had convinced Rhodesia elected to join the Union of South Africa instead of establishing their own "responsible government". And those votes would prove crucial in the 1948 election.

One of Smut's successors as Prime Minister, Ian Smith2 would later note that "In 1922 the choice was put to the Rhodesian people through a referendum. Due to the personal intervention of General Jan Smuts, then Prime Minister of South Africa, who visited the country and addressed meetings, using his great wisdom and personal charm in an effort to convince Rhodesians to opt for joining the Union, Rhodesians voted by a majority of 2:1 to become the fifth province of the Union of South Africa .. The practical and economic benefits of joining the Union, obvious at that time, materialised and even exceeded predictions. With the advantages of being part of a larger and more diversified economy, access to transport and harbour facilities, eliminiation of customs and trade barriers, retaining Commonwealth preferences - because South Africa was part of the British Empire - things could only improve".

And yet Southern Africa's commercial success would bear bitter fruit. Identifying the Union of South Africa as a vulnerable citadel of capitalism, the Soviet Union and Cuba would pump immense resources into the South African Communist Party in order to overturn white majority rule. In his autobiography Long Walk to Freedom, President Nelson Mandela conceded "There will always be those who say that the Communists were using us. But who is to say that we were not using them?".3
In 1941, on this day Soviet ground forces in Germany began advancing on Stettin.

Joseph Stalin
In 2009, on this day the New England states demand that the state and US Goverment provide help so that parents can go back to work. The UN asks the russian goverment to please evaluate everything it is doing in its military and to help with dealing with H1N1.
On this day in 1968, Soviet defense minister Andrei Grechko resigned; previously one of the strongest players in the Kremlin, Grechko had seen his political position sharply deteriorate in the aftermath of the Anglo-Soviet nuclear conflict.

Andrei Grechko
In 2002, in Pakistan, military and internal-security officers loyal to hard-line Islamist Lt. General Mehmood Ahmed, head of the country's Inter-Services Intelligence Agency, launch a coup against President Pervez al-Musharraf.

Four days later, Musharraf will flee the country. That evening, Gen. Mehmood Ahmed will go on Pakistani national television to proclaim himself president of a newly declared 'Islamic Republic of Pakistan.'

Pervez al-Musharraf
He will announce that new laws will be drafted to bring the country's legal and political systems 'into line with the will of Allah as expressed through the Holy Koran,' and will warn that dissent will be punished as an offense not only against the state but against the faith.

In Washington, the news of the coup in Islamabad could hardly come at a worse time for the embattled Gore administration, which is being battered by the Cannon Committee's investigation of the alleged 'Tora Bora coverup.'
On this day in 1967, Gamal Abdel Nasser angrily denounced Jordan's King Hussein as a 'cowardly traitor' for urging Nasser to agree to a cease-fire with Israel.

Gamal Nasser
In 2004, the gaming blog RPGs-a-plenty gets mentioned on the news aggregate sites Metafilter and BoingBoing, causing thousands of people to begin reading the upstart blog in only its first week. The rush of readers to this site causes the site's writer, Robbie Taylor, to forgo the plans he had to create a blog about alternate history. Who would've read that, anyway?
In 1999, Prime Minister Kay Ector of Great Britain meets with success after success as he tours across the former vassal states of the Central European Empire, securing pledges from their governments to cease hostilities against the British, and turn over CEE war criminals. King Arthur II is relieved to hear of the cessation of fighting in many of the hot spots of the war, and Sir Lance, his chief general, turns to rooting out the CEE elite who had been responsible for prosecuting the war against Great Britain.
In 1891, more trains pull into Hebron, Nebraska, full of troops to fight the war in Kansas. A few Kansan sympathizers make note of how many troops are being moved west, and send a telegraph to Topeka. The Farmers Council convenes to discuss what to do about this new development. 'From what the telegraph said, they might have 20,000 men or more by next month,' Councilor Stephen Zamachowski said.All massing at the border in Hebron, with a straight shot down to Concordia at that damned fort.' 'Sockless' Jerry Simpson, leader of the council, dismisses Zamachowski's fears. 'We've got 5 times that number armed and ready to fight. These boys they've sent down haven't even gotten through the most basic training. They're of no concern.' Councilor Thaddeus Elridge, who had opposed Simpson before, saw an opportunity here to score some points against the 'Socrates of the plains'. 'Mr. Simpson is right that we got 100,000 men ready to defend the state, and the men they got ain't exactly battle-hardened. But, our 100,000 men are spread all over Kansas, and those 20,000 are right where they can make a run for us, here, in Topeka. Plus, they're being trained by a man whose got a personal grudge against us and who has managed to defeat us in the past. We need to start pulling our volunteers away from the other borders and bring them here, to defend Topeka.' While many of the councilors are afraid that action will leave their borders ill-defended, Elridge's plan receives approval, and word is sent to all corners of Kansas to begin troop movements to Topeka.
In 2004, while going through her deceased husband David's computer, Marjorie Adams reads an email in which he discussed some concerns he had about the Smartnet node he administered at UCLA. To her surprise, the email deletes itself while she is reading it.
In 1974, the chaos at a David Cassidy concert in London led to the death of a young teenager and injury to over a thousand others. Cassidy was so disturbed by this that he quit touring and left the public eye altogether, becoming a recluse who shunned publicity and the entertainment industry. The only time he has been seen in public since the tragedy was at his father's funeral.
In 1965, in spite of intense lobbying by President Kennedy of the United States, Australia and New Zealand withdraw the small number of troops that they had contributed to the American conflict in Vietnam. Kennedy had attempted to pull in other nations to aid the anti-communist South Vietnamese regime, but Australia and New Zealand had had enough of the conflict and wanted to avoid further entanglement.
In 1960, Ambassador to the European Union E.L. Pettus accuses the Russian government of covert espionage at the embassy of the Soviet States of America in Moscow. Although true for the most part, it is mainly an attempt to deflect international criticism away from the American spy plane downed by the Russians just days earlier.
In 1910, Jovian transport ships embark for the Mlosh home system to start moving the Q'Bar to the Kantar star system. In spite of the general ambivalence most Mlosh in the terrestrial solar system had felt for the Jovian war against the Q'Bar, a huge number of Mlosh begin making preparations to travel to their ancestral home.
In 1907, costume drama and period piece fixture Marion Morrison was born in Winterset, Iowa. Morrison's career in Hollywood started as a bit player in several westerns, but his failure in them led him to change his career direction and reinvent himself. The entire movie industry admired the true grit it took to transform himself from western extra to classical lead.
In 1897, the 19th century's most sensational true story, Dracula, was published by Bram Stoker. Stoker used excerpts from the diaries of several individuals who had been victimized by an apparent vampire in London to make up his book, which terrified England and had amateur vampire hunters scouring the gravesites and abandoned mansions of the ancient city.
In 1868, Republicans in control of Congress force the removal of President Andrew Johnson and install Benjamin Wade as the 18th President of the United States. President Wade enforced a program of punitive damages on the conquered southern states, and was much hated by the citizenry there; it is thought that Wade's vendetta against them is the reason why the Republican Party has no support in the south even today.
In 1805, Italian Emperor Napoleon Buonaparte was crowned King of France at the Notre Dame Cathedral in Paris. He had conquered the not-so-democratic Revolutionary Committee the year before, but had waited until most of the members had been hunted down and executed before claiming full control of France.
In 12-0-18-17-5, the Mohegans and Pequot began their long war of attrition. The Mohegans had requested assistance from the Oueztecan Empire, but were repeatedly turned down until almost a century later, after the populations of both of the northern nations had been depleted by their long war.
In 1930, Adolf Hitler head of the German National Socialist Worker's (Nazi) Party, dies in a car crash south of Berlin. Citing emergency, Hermann Goering seizes control of the party. Hitlers death and Goerings ascension bitterly split the party, which had already suffered from divisions between its right, led by Hitler before his death, and its left, whose champion is Ernst Roehm, chief of the partys Sturmabteilung storm troopers. The charismatic Hitler had been able to unite the two factions, in part due to his personal friendship with Roehm; Goering, however, is unable to do so.

Adolf Hitler
On this day in 2011, CBS aired the series finale of CSI: Miami. Fittingly the spinoff series, which had started with two of Gil Grissom's forensic investigators coming to Miami to look for the killer of an ex-Las Vegas police chief, ended with former Miami-Dade crime lab boss Horatio Caine (in a much- hyped guest appearance by David Caruso) moving to Vegas to take over that city's CSI unit in the aftermath of Grissom's death.

David Caruso
In 1713,
Nicholas Vedder was born in a village west of the Hudson River, in the shadow of the Catskill Mountains. A famous inn keeper, his regular guests at the
Peter Stuyvesant
included Brom Dutcher, the school master, old Peter Vanderdonk, the most ancient inhabiant of the hamlet, and of course Rip Van Winkle. During Van Winkle's twenty year absence, Vedder died and his inn had its pre-revolutionary name changed to 'the George Washington'.
In 1897, the 19th century's most sensational true story, Dracula, was published by Bram Stoker. Stoker used excerpts from the diaries of several individuals who had been victimized by an apparent vampire in London to make up his book, which terrified England and had amateur vampire hunters scouring the gravesites and abandoned mansions of the ancient city.
In 12-0-18-17-5, the Mohegans and Pequot began their long war of attrition. The Mohegans had requested assistance from the Oueztecan Empire, but were repeatedly turned down until almost a century later, after the populations of both people had been depleted by their long war.
In 1805, Italian Emperor Napoleon Buonaparte was crowned King of France at the Notre Dame Cathedral in Paris. He had conquered the not-so-democratic Revolutionary Committee the year before, but had waited until most of the members had been hunted down and executed before claiming full control of France.
In 4600, the Emperor Chengzu's Star Fleet landed Ouyang Ziyuan on the moon. The Star Sailor's first words from the satellite were, 'This is one small step for a humble servant, but a great leap for our Glorious Emperor.' A dozen landings and a small colony followed, but with Chengzu's death in 4623, the Star Fleet became less of a priority for the Emperors of China.
In 1872, on the 50th anniversary of Charles Babbage's difference engine, Thomas Edison unveiled his electric-powered version of the machine. The Edison EDE's, (Eddies, as they were known popularly), initially sold only to the US, British and French governments, became so useful that within a decade, most governments and large businesses were using them.
May 25
In 1961, needing a distraction to fire the public imagination in the wake of the Bay of Pigs fiasco, President Kennedy announced the goal of landing a man on the Moon in a speech to a Joint Session of Congress.

Apollo XI Triumph
by Ed & Jackie Speer"First, I believe that this nation should commit itself to achieving the goal, within the next ten years1, of landing a man on the Moon and returning him safely to the Earth. No single space project in this period will be more impressive to mankind, or more important for the long-range exploration of space; and none will be so difficult or expensive to accomplish". In a cabinet meeting with NASA administrator James E. Webb and other officials, Kennedy explained that the moon shot was important for reasons of international prestige, and that the expense was justified. Johnson assured him that lessons learned from the space program had military value as well. Costs for the Apollo program were expected to reach $40 billion.

Of course it was a timescale safely out of reach of Kennedy's term of office, but it was an irrevelance at least for him because he was assassinated. Of course for his less photogenic successors it was a delivery problem of frightening proportion. And so five years after the cabinet meeting, Johnson and Webb met privately in the Oval Office. The progress report was bleak; both the US, and the Soviet Union, had independently calculated very high risks for the mission. And public sentiment had changed dramatically, the likely death of the astronauts would almost certainly lead to calls to cancel the Apollo program. Caught between a rock and a hard place, they decided to fake the moon landing.

Twelve months later, both Johnson and Webb had left office and their successors Richard Nixon and Thomas O. Paine were confronted with a series of security leaks that forced them to cancel those plans. Another factor in the decision was that the progress reports were more upbeat, and during Nixon's first term, he was able to deliver on Kennedy's dream when Neil Armstrong and Buzz Aldrin touched down on the lunar surface on 20 July 1971. This is a reversal of Eric Lipps article Apollo XI Tragedy.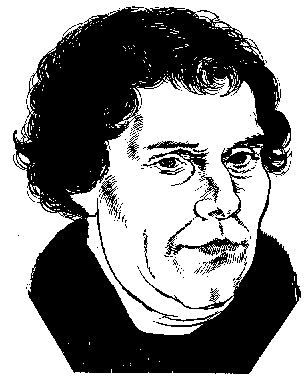 In 1521, on this day Martin Luther was assassinated. The success of the printing press hastened the spread ideas, particularly theology. Lawyer-turned-monk Martin Luther published Disputation of Martin Luther on the Power and Efficacy of Indulgences in 1517, which became known as The Ninety-Five Theses. It formed a list of what he felt was wrong with Church practices, particularly the selling of indulgences: writs of forgiveness for sins that could be purchased (even in advance of committing a sin).

Martin Luther AssassinatedLuther had suffered through his own understanding of forgiveness while in the monastery and finally relied solely on God's power rather than Dominican friar Johann Tetzel's salesmanship, "As soon as the coin in the coffer rings, The soul from Purgatory springs".

The letter spread through much of Northern Europe and found many like-minded supporters. Archbishop Albrecht of Mainz and Magdeburg, who had initiated much of the surge of indulgence sales (and received half of the profits to pay debts, the other half going to pay for the construction of St. Peter's Basilica), sent a copy to Pope Leo X, who responded with orders that Luther be arrested. Luther, however, had won the support of Frederick III, Elector of Saxony, who protected him politically. The Pope excommunicated Luther in with a bull in December of 1520 and ordered him to recant at a diet in Worms under Holy Roman Emperor Charles V. Luther prayed for guidance and finally admitted before the emperor, "I am bound by the Scriptures I have quoted and my conscience is captive to the Word of God. I cannot and will not recant anything, since it is neither safe nor right to go against conscience. May God help me. Amen".

Luther was released as he had been guaranteed safe passage through Frederick the Elector, but deliberations continued five more days until May 25 when Emperor Charles announced, "We want him to be apprehended and punished as a notorious heretic". Luther's literature was banned. He himself was declared an outlaw, forbidding anyone to give him shelter or even food, requiring his arrest, and legalizing his murder. As Luther traveled homeward, he was met by armed men in the forest. Thinking they were his escort from Frederick, Luther and his party peacefully approached them. These men, however, were zealous supporters of the Church who had been waiting for the emperor's word. Frederick's soldiers arrived shortly after Luther had been killed and were able to win back his body before the bandits could escape with it in hopes of a bounty.

An uproar rang through Germany, taking Luther as a martyr. Faced with a wave of rebellion among Luther's supporters outraged by actions blamed on the Church as well as incursions by the Turks besieging Vienna, Charles decided to separate himself from Rome's stalwart rejections. Pope Leo X shifted blame to Bishop Albrecht, who was replaced and forced to pay his debts.

Without Luther, the Reformation settled onto the shoulders of Philipp Melanchthon, who distinguished himself from the violence associated with radicals such as Zwingli and the Zwickau prophets. Melanchthon had long kept correspondence with Luther, and the monk had even invited Melanchthon to a professorship at the University of Wittenberg after his liberal theology was dismissed at T?bingen. He determined to work with the Church in gradual reforms, such as the end of indulgences as outlined in the 1530 Augsburg Confession. Melanchthon's use of reason won him great fame and calls for lectures across northern Europe. His student Flacius carried on after him, working alongside the Church for reforms throughout north and eastern Europe. Centers like Spain and the Italian states were slower to take to reform, but eager to trade. Seeing bloody violence in England after Henry VIII's forcible creation of the Church of England in 1529 discouraged Scandinavian crowns from separating outright, instead slowly asserting political authority as the Continent shifted toward humanism.

Capitalism and technology outpaced spiritualism as the centuries progressed. The Holy Roman Empire, a model of the balance of power between the First, Second, and Third Estates brought on by waves of reform, became the "Hinge of Europe" as Habsburg power waned due to excessive inbreeding. Instead, Congresses of dukes, princes, and elected representatives, all joined together by the Catholic religion across nationalities, ruled. The Ottoman Empire began to wane as Austria looked to the Atlantic for trade through Spain and Portugal rather than eastward. With Dutch mariners joined by German innovators and ample settlers from among the myriad of Austrian-Hungarian peoples, Roman colonies spread into North America to balance French Canada and Louisiana, the Caribbean, Africa, India, and the Pacific until a third of the world was under imperial power.
In 2010, after a four week period of clinging to power witheringly described by Nick Clegg as "squatting in 10 Downing Street", Labour Prime Minister Gordon Brown finally reached his "Ceaușescu moment" when Conservatives and Liberal-Democrats voted down the Queen's Speech at the start of the new session of Parliament.

Gordon Brown reaches his "Ceaușescu" momentThis unexpected event threw the leadership of the British political class into complete confusion. Having interpreted the indecisive result of the May 6th election as a rejection of the Conservative Party, Gordon Brown had subsequently assured the Queen that he could muster sufficient votes to ratify Her Majesty's Most Gracious Speech.

And the imperturbable Conservative Leader "Cool Hand Dave" Cameron had not only expected to win, but had toured British with his Shadow Chancellor, George Osborne, acting as if his rightful turn had arrived. And now the right-wing of the party, having been uncharacteristically quiet to give its moderate leadership the one-shot chance to pursue the "Change to Win" strategy now swung behind a re-appointment of former leader William Hague, this time without a fifth column.

Nick Clegg, having mastered the television debates, and having stated that his ambition was to become Prime Minister, then delivered a desperately disappointingly poor result for the Liberal Democrats.

The Queen herself was unable to suggest a next step for the so-called balanced parliament, declaring that "the British constitution has always been puzzling and always will be".
In 1940, heavy bombardment by the Luftwaffe joined German cannon in saturating would-be evacuation beaches. By midnight May 25, the Navy reported that the Germans were on all the beaches and were preventing the BEF from leaving them.

Slaughter at Dunkirk by Raymond SpeerChurchill suggested that a major raid be made for the purpose of clearing at least one Dunkirk port. "It will be a complete surprise for the foe". The general's comment to the Prime Minister was that his project would be a slaughter.
In 1940, on this day the commander of the British Expedition Force, Gort, decided that his Army woulld evacuate from Dunkirk and he requested full assistance in that task from his country.

Disaster at Dunkirk by Raymond SpeerThe previous day, French General Weygand had noted that the British were fleeing lines they had promised to hold, falling back twenty five miles in order to reach the ports.

Also that Friday, Adolf Hitler had radioed from von Rundstedt's headquarters a question to Hans Gunderian, chief of the Panzers which spearheaded the German offensive. Did Gunderian feel confident in his forces' present order, or would he want to delay his advance and re-organize? Gunderian wanted to go ahead at full speed and Hitler instantly ordered that.

In the coming week, the Nazi armor and infantry arrived at the shore, usually in place before the British came upon them. Brave British units lost heavily trying to brush the enemy away from their only hope of evacuation.
In 1765, Patrick Henry spoke before the Virginia House of Burgesses in praise of the British Parliament?s defeat of the Stamp Act.

The Defeat of the Stamp Act by Eric LippsThe first direct tax to be levied on the American colonies, it would have required that all newspapers, pamphlets, legal documents, commercial bills, advertisements, and other papers issued in the colonies bear a stamp.

Although the revenue to be raised from the stamps was earmarked for colonial defense, the proposal was hugely unpopular in America, where it was seen as a crippling blow to all sorts of ordinary activities, from the publication of newspapers to such legal documents as birth and marriage certificates.

The defeat of the Stamp Act was a serious blow to the ministry of George Grenville, which contributed to his fall from power of July 10, 1765 following a dispute with King George III on a separate matter involving the composition of the regency council.
In 1951, following the conclusion of a ceasefire with its Arab neighbours, the State of Israel finally emerged from a three-year "war of independence" - but unexpectedly, as a communist client state of the Soviet Union.

A Communist Israel, Part 1 - the Victims of Hitler's MadnessOtherwise Israel stood alone, and most likely would have been defeated by the overwhelming Arab forces that had been secretly supported by a sympathetic Great Britain.

And President Harry S. Truman had been forced to heed the advice of George Marshall (pictured). Because his Secretary of State had stated "If you (recognize the state of Israel) and if I were to vote in the election, I would vote against you".

Truman had been inclined to give the "victims of Hitler's madness" the opportunity to "build new lives". But the level-headed Marshall had publicly declared that "We are in the midst of a very critical situation. We should therefore carefully avoid approach international problems on an emotional basis". And on May 12th 1948, two days before the end of the British Mandate, Truman summoned Marshall to the White House to confirm that he was nevertheless planning to recognise the State of Israel. Marshall, who had already given assurances to Arab rulers that America would not, and exploded, accusing Truman of "a transparent dodge to win the Jewish Vote" and insisting "they don't need a state, they don't deserve a state, it isn't theres, its stolen that land". Click
to watch PBS - 50 years war Israel and the Arab Episode One

In the midst of this fracture in the US leadership, Stalin now saw an opportunity to recognise Israel first. Only later did US foreign policy makers realise that America had "Lost Israel" giving the Soviet Union an unwelcome entry into the Middle East. And the weapons that would be used to defend Tel Aviv would arrive from Czechoslakia.

It would take three years of bitter fighting to win the war of independence. And ultimately, the actions of irregular forces, operating out of their Kibbutz communities who would imbue a genuinely Marxist-Leninist perspective into the victorious Zionist's psyche.

Meanwhile on the Zionists western flank, the huge military bases of the British Army would be repurposed - to protect the Suez Canal from this terrifying new communist threat to Western oil supplies..
In 1977, the cult film "A New Hope" opens in US theaters to general critical disappointment.

Cult film "New Hope" premieres Twentieth Century Fox, the studio that finally gave filmmaker Luke Walton the green light to make his space opera is pleased to find out that the public doesn't share the critics' opinions, and the movie makes a reasonable $50 million in its theatrical release.

A few years later, though, it enjoys a second life as it becomes a hugely popular rental at video stores across the English-speaking world. It earns enough, in fact, for Walton to film 2 sequels to the campy original, fleshing out his story of a young man's fight against an evil that turns out to be closer to him than he originally thought. These direct-to-video sequels brought Walton enough money to retire on, although there are persistent rumors that he still plans to do something more with the Darth Vader character someday.
In 1965, on this day former British Prime Minister and defeated War Leader Winston Churchill died in the cell that had been his home in Spandau Prison, Germany for over twenty years.

The Death of ChurchillWord of his demise reached the Fuerher in Bechtesgarden that evening.

Terminally ill himself, Hitler outlived Churchill by five weeks, describing him as a "remarkable adversary" and a "remarkable drain on the Reich Treasury" in reference to the extravagant quantities of alcohol and cigars consumed by the Old Lion in his Prison Cell.
In 1977, Sex Pistols' manager Malcolm McLaren fired bassist Sid Vicious.

Sid Vicious gets fired from the Sex PistolsGlen Matlock who had left in February was reinstated.

Writing thirty years later Billie Joe Armstrong of Green Day sympathised with McLaren's dilemma. "It wasn't necessarily a mistake to replace Glen Matlock with Sid Vicious. Matlock was cool, but Sid was everything that's cool about punk rock: a skinny rocker who had a ton of attitude, sort of an Elvis, James Dean kind of guy. That said, there's nothing romantic about being addicted to heroin. He was capable of playing his instrument, but he was too messed up to do it".
In 2009, on this day all New England states end the school year for all students. More then 700 school children have died in the past week. &nbsp &nbsp &nbsp &nbsp &nbsp &nbsp &nbsp &nbsp &nbsp &nbsp &nbsp &nbsp &nbsp &nbsp &nbsp &nbsp &nbsp &nbsp &nbsp &nbsp &nbsp &nbsp &nbsp &nbsp &nbsp &nbsp
On this day in 1967, the Israeli air force shot down dozens of Syrian fighter jets during a massive air battle over Damascus.

Jordan's King Hussein, convinced the Arab armies were headed for disaster, urged Gamal Abdel Nasser and Syrian president Nureddin Atassi to begin cease-fire negotiations with Israel before it was too late.

King Hussein
In 1961, following a huge explosion at the White Sands Proving Ground where the boosters for the Dyna-Soar space plane are being developed, President Kennedy decides to postpone a planned speech in which he was to have pledged to 'place a man on the moon and return him safely to earth' before the end of the decade.

Dyna-soar
Wernher von Braun had persuaded the new President that the boosters could be used not only on the orbital plane but for lunar missions as well. The accident at White Sands had called that into question. Worse still, von Braun himself was badly injured, and will be hospitalized for over a month.
In 1999, Queen Gwen of Great Britain tries to convince her husband, King Arthur II, to give quarter to more of the Central European Empire's former vassal states. "Mercy to them now would show them what a wise and kind ruler you can be," she tells him. When she sees that this line of argument isn't persuading him, she tries another tack. "Wouldn't Merl tell you to pursue peace if it was offered? Wouldn't he have seen the wisdom of saving your resources to battle those who actually mean to fight back?" This finally sways him, and he instructs his Prime Minister, Kay Ector, to begin negotiations with the CEE nations that are willing to surrender to the United Kingdom.
In 1891, General Theodore Monteith faces off against an exploratory force of Kansans testing the new defenses at the Concordia fort. He bests them easily, but sends word north to Major Mark Wainwright to hurry reinforcements down from Hebron in case the Kansans try to take back their fort again. Major Wainwright immediately assembles his best 2000 men and heads south to aid his commanding officer.
In 2004, David Adams, a computer science professor at UCLA, frantically attempts to contact the White House about the Smartnet node he administers at the university in Los Angeles. He dies later that evening as the plane he is flying in to Washington, D.C. crashes in a freak collision at Dulles International Airport.
In 1983, George Lucas released the last of his Star Wars films, The Revenge Of The Jedi. In spite of hinting at a larger backstory, Lucas never returned to the series, preferring to concentrate on other projects, such as his game and special effects businesses. He also started a computer graphics based animation studio, Pixar, that soon became as synonymous with cartoon excellence as Disney had once been.
In 1974, Jim Morrison's ex-wife Pam died of a drug overdose in Los Angeles, California. Morrison had divorced her after going through drug rehabilitation in 1972, and her drug use had spiraled out of control since then. Morrison had attempted to get her into rehab earlier in the year, but she had refused his help.
In 1961, in a somewhat short-sighted effort to save money, President John Kennedy slows down the American space program, cutting funding to everything except the military projects. With their competition removed, the Soviet space program lands a man on the moon in 1972, and enjoys a tactical superiority over the world today.
In 1915, the Ottoman Empire attempts to deport its Armenian population in a brutal program of genocide against the minority, and quickly draws international condemnation, including the cessation of support from its Central Power allies, Germany and the Austrian-Hungarian Empire. This causes the Ottomans to rethink their policy and halt the Armenian program.
Older Posts

Related posts from the same era that you may also like
© Today in Alternate History, 2013-. All characters appearing in this work are fictitious. Any resemblance to real persons, living or dead, is purely coincidental.