| | |
| --- | --- |
| May 23 | |
In 1864, the Yankees finally caught up with Confederate Gen. Robert E. Lee's Army of Northern Virginia at the North Anna River. An installment of the Federal's Lost Cause thread.

Federal Lost Cause Part 3: - Decisive Confederate Victory at North AnnaSince he ordered the disengagement of Federal forces from the Battle of the Wilderness, Commanding General of the Union Army, Ulysses S. Grant had attempted to lure his opponents into a decisive battle on open ground. But instead he found them dug in to defensive positions on the south bank of the River. The location of the meeting point was considered a disappointing setback, but in fact the final chance to win the Civil War had just been taken away from the Union.

Although he had devised a brilliant battle plan, Lee had reason to curse his own rotten luck. Firstly, the commander of First Corps [4] of the Army of Northern Virginia Lt Gen James Longstreet had been killed by friendly fire at the Battle of the Wilderness - and at a critical junction when the ANV might well have won. Because panic was fairly underway in Hancock's II Corps and Longstreet might well have been able to force Grant to retreat back across the Rapidan [5]. Instead, the Yankees disengaged and headed south. And secondly, he had developed an intestinal infection that forced him to pass command to a sub-ordinate, Thomas "Stonewall" Jackson.

But on balance, the Confederates had the greater reason for cheer. The disciplined Jackson was alive despite a near-fatal discharge of firearms at Chancellorsville. And evidence that the Civil War would become the Federal's Lost Cause had been mounting ever since Chickamauga [3]. Because on the eve of Battle, POTCS Davis had replaced the incompetent Gen Braxton Bragg with Longstreet [1]. He pulled off a masterstroke; instead of assaulting Gen Thomas Union Forces head-on he flowed around them, capturing the entire Army of the Cumberland (caught between Thomas's Corps on the field and the rest on the pursuit back to Chattanooga). The Confederate advance had continued through Nashville and Knoxville with major cavalry raids as far as Memphis and Louisville. Grant saved Memphis but his advance from there on Nashville ended in another bloody stalemate (for this reason, the loss of the war was blamed on Rosecrans in particular and the regular army officers in general).

That was the situation when the Union V Corps under Maj. Gen. Gouverneur K. Warren forded the river at Jericho Mills only to be repulsed by Confederate division from the corps of Lt. Gen. Jackson [2].
In 1934, in a move that in some ways continued their murderous lives of crime and in others returned the air of Robin Hood with which they had surrounded themselves, notorious gangsters Clyde Barrow and Bonnie Parker joined the strike at the Auto-Lite factory in Toledo, Ohio.

Bonnie & Clyde Join Battle of ToledoTheir encouragement of heavy weaponry and fearlessness turned what was largely a riot into an unstoppable force that would firmly establish a federation of unions as the major political force in the United States.

Bonnie and Clyde reportedly first met at a mutual friend's house in the slum of West Dallas in 1930. Bonnie, nineteen at the time, was staying with her friend who had broken an arm, making hot chocolate when twenty-year-old Clyde dropped by. He was the fifth child in a family of nine that had come to Dallas after their farm failed. Clyde routinely had minor altercations with the law, first being questioned over failing to return a rental car and stealing turkeys, but he seemed to pursue a life of crime only for fun, stealing and robbing even while holding legitimate jobs. The two instantly fell in love, despite Bonnie having an estranged husband, Roy Thornton, who himself was often arrested.

A new story by Jeff ProvineFour months after their meeting, Clyde was sentenced to a stint at Eastham Prison Farm. There, he was sexually assaulted and emotionally hardened by the prison system, returning home as a bitter criminal with a lethal chip on his shoulder. His sisters noticed the dark change in him, and fellow gang member Ralph Fults called him "a rattlesnake". Historians would argue that Clyde's resulting crime spree would be an act of vengeance on a system that had abused him so deeply.

Upon his release in February 1932, Clyde formed a loose gang that would add and dismiss members in an increasingly frantic trend of robberies, innumerable small jobs such as gas stations and grocery stores and around a dozen bank robberies, which would make him famous. While comrades such as Ralph Fults, Henry Methvin, and Clyde's brother Buck were among the most popular joiners, the core of the gang would always be Clyde and his "gun moll" Bonnie. Rumors of her participating in the murders were later disproven, and Bonnie's role was shown as following Clyde out of her love for him.

As their rampage across the central states continued over two years, their luck gradually began to run out. Buck was killed in a shootout, and Clyde's strategies of using state lines as legal barriers were trumped by improved police communication and pursuit by Texas Rangers. In 1934, Clyde pulled his boldest move: a breakout from Eastham where Fults and Methvin were being held. Texas was booed in the press for its lackluster prisons, and Clyde finally felt some revenge against the system, but he could not be satiated. On Easter Sunday, Clyde and Methvin gunned down two highway patrolmen in Grapevine, TX, and public sentiment turned against the gang. In Commerce, OK, the gang struck again with the murder of a police constable and kidnapping of Police Chief Percy Boyd, whom they dropped off in Kansas with gifts of a clean shirt and money. Bonnie requested that Boyd tell the papers that she didn't actually smoke cigars, referring to an old picture found in their Joplin hideout where Bonnie had taken a humorous pose.

When Boyd issued warrants for Clyde as well as Bonnie, the reality of their negative press struck her. She begged Clyde to reconsider his increasing madness and instead use his rage against the corrupt system for good. Finally, instead of visiting Methvin's parents outside of Shreveport, LA, Bonnie and Clyde broke with the rest of their gang and headed toward another item in the papers: the ongoing strike at the Auto-Lite plant in Ohio, where they hoped to do some good or at least hide out among the crowds.

The Great Depression had gutted Toledo with massive layoffs and increasing frustration by workers as banks collapsed and factories closed. When the Auto-Lite management refused to sign the contract they had promised recognizing Federal Labor Union 18384 and a 5 percent wage increase after a five-day strike in February, a much larger strike began in April. Picketers from the American Workers Party joined in, and the strikers effectively laid siege to the factory. Auto-Lite began bringing in strikebreakers, which only prompted the union to fight harder.

On May 23, police arrested five strike-leaders, and a deputy strike an elderly man, which set off the temper of the 10,000-strong crowd to full riot. Rocks were thrown and fire hoses attempting to cool the riot were captured and turned on police. Gunfire soon began as police tried to take out the legs of the rioters, and Clyde Darrow's ears perked at the familiar sound. Arriving on the scene in a stolen Ford V8, he collected his favored Browning Automatic Rifle and joined the fight. Handing out extra weapons from his arsenal to men he had never met, Clyde led the charge that allowed the rioters to break into the factory and seize control. Young National Guardsmen arrived early the next morning, and the use of tear gas quickly escalated to bayonets and then raw gunfire, but the strike could not be broken.

Much of the crowd fled the battlefield, spreading the word of Clyde's unexpected and heroic appearance. Bonnie, who had excelled in writing in school, wrote her famed poem "Take a Stand" and soon fell in with union leadership. The two had swung public opinion from being cold-blooded killers back to roguish thieves standing against corruption. After the successful Battle of Toledo, union power surged in the United States, dismissing FDR's plan of labor boards and instead creating the non-socialist American Labor Party that would sweep elections in 1936 and become the dominant of the three political parties in America for the next twenty-five years.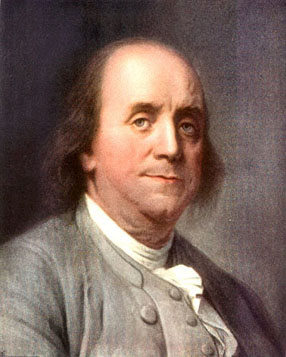 In 1789, on this day Benjamin Franklin opened the inaugural meeting of the plural executive that he had successfully argued for at the Philadelphia Convention.

Franklin UnboundFranklin also chaired that convention due to the tragic death of George Washington, and to the great surprise of the delegates, applied forceful outspoken authority to strongly advocate a national government based upon the principles of the Pennsylvania Constitution which he had so recently played a major role in drafting.

Instead of a a presidency, the new constitution proposed an unpaid, plural executive without veto or salary and a single house with states represented by population size. And no Senate, an unnecessary House that Franklin warned would be filled by landowners.

Of course the loss of Washington removed both the principal candidate for head of the state and also the very man who could have shaped the office of the presidency. And perhaps with the General in the chair, both Washington and Franklin might have chosen to remain silent, adding gravitas but little direction to the proceedings. But instead Franklin was in the chair, demonstrating firm leadership. And the mastery of political genius that he had used to negotiate an endless series of loans in Paris that had ultimately bankrupted the French Monarchy and driven that nation into a state of revolution.

During that nine year service, the Continental Congress had forced a series of self-serving individuals upon him that had greatly hindered his progress. Understanding that good governance could so easily be undermined by human weakness, Franklin realised a great truth, that the direction of the United States could never be bestowed upon a single individual. Better that a small committee, with representation from across the States, worked through the critical decisions that would inevitably confront the infant republic.
In 1985, in recognition of twenty-five years of staunch support for the Republican Party, the Conservative Actor Ronald Reagan was invited to the White House by the fortieth President of the United States, James M. Stewart.

Acting for RealClosely associated with organized labour for much of his entertainment career, Reagan switched his political affiliation after being fired for criticizing the Tennessee Valley Authority for "big government". His employers considered the comments were inappropriate from a company spokesman given that General Electric had contracts worth millions of dollars with the Authority.

And so a promising career in politics that had begun as president of the Screen Actors Guild, and later developed as G.E. spokesman was finished, and at age fifty, a return to the screen appeared wildy improbable. Yet, cast as the villain of the 1964 movie "The Killers", he delivered a memorable performance1, and Reagan was able to launch the second, and infinitely more rewarding phase of his acting career.


If the evergreen Ronald Reagan was successfully adjusting to late middle age during the mid sixties, then surely Jimmy Stewart knew his best days in acting were well and truly over by then (at age fifty he insisted on playing the part of twenty-five year old Charles Lindburgh). Yet his hesitant screen persona constrasted sharply with his radical right wing views. In fact in 1947, a heated political argument with his friend Henry Fonda escalated into a fist fight, briefly revealing the concealed inner steel that enabled him to gain high rank in the Second World War. Running for Governor of California in 1966, his friend John Wayne declared his support in a political advert "I could speak of many in my profession who have helped to mould the destiny of this nation. Time limits me to a few. In World War II, Colonel James Stewart (pictured, right) led 900 heavy bombers over Berlin. Does anyone think that was because he's a fine actor? I'd say it was because Jimmy was acting for real2".

With Reagan back in Hollywood and still laying into big government, Jimmy Stewart was reverting to the character of the Air Force Colonel. A "hawk" on the Vietnam War he shocked an interviewer by saying that he "absolutely hated" students who dodged the draft, condemning them as "cowards". Finding a soul mate in President Nixon, Stewart was sent on a number of overseas diplomatic missions in the late sixties and early seventies. Declining to run for a third term as Governor in 1975, Stewart dedicated his time to winning the real Academy Award, the ultimate acting role of President. Ironically he achieved this goal in a close fought election in 1980 against another Jimmy, and surely President Carter was a man almost as hesitant and awkward as one of his own acting parts.
In 2009, the newly appointed NATO commander in Afghanistan, General Stanley McChrystal was given his first mission objective, to search and destroy the US supplied F-16 bombers across the border in the former Pakistan.

The War on Terror Plus, Part 3 ~ Search and DestroyBecause forty F-16s were supplied to Pakistan during 1981 in the aftermath of the Soviet invasion of Afganistan. Four years later, the U.S. Senate banned military aid for Pakistan unless it halted its efforts to develop a nuclear bomb. In fact the Senate rightly feared that Pakistan's F-16s would be the main vehicle for annihilating Indian cities in an all-out war.


Nevertheless in 1989, George H.W. Bush sold Pakistan another twenty-eight of the jets for $22 million apiece.

But then the Soviets retreated from Afghanistan, and so the jets were mothballed at a military base in the Arizona desert known as "The Boneyard". Washington refused to reimburse Pakistan for the $656 million it had paid to U.S. defense contractors, even charging Pakistan for storage and maintenance costs.

During 2008, "the Fort of Islam" descended into anarchy climaxing in the dramatic resignation of General Musharraf. The most powerful successor state was Sindhistan, with its new Head of State, Asif Ali Zardari (pictured right). And it would be "the Black Widower" himself that would warn President Barack Obama that the nuclear-armed F-16s were in imminent danger of falling into the hands of Al-Qaeda.
In 1937, on this day in Paris was the opening of the Exposition Internationale des Arts et Techniques dans la Vie Moderne (International Exposition dedicated to Art and Technology in Modern Life). Chief Architect Adolf Schickelgruber designed the German Pavilion, located directly across from the Soviet Pavilion and was designed to represent a massive defence against the onslaught of Communism. Both pavilions were awarded gold medals for their designs. International Exposition '37 Opens in Paris

"In a few days I myself knew that I should some day become an architect. To be sure, it was an incredibly hard road; for the studies I had neglected out of spite at the Realschule were sorely needed. One could not attend the Academy's architectural school without having attended the building school at the Technic, and the latter required a high-school degree. I had none of all this. The fulfillment of my artistic dream seemed physically impossible" ~ My Days at the Vienna School of Arts, Adolf Schicklegruber.
On this day in 1983, Rick Steamboat and Roddy Piper fought in an NWA world heavyweight title match aired on WCW; Steamboat won by disqualification when Rick Rude interfered on Piper's behalf. That same evening on Monday Night Raw, former WWF world heavyweight champion "Psycho" Tommy Rich demanded a rematch against reigning champion Terry "Hulk" Hogan.

Ricky Steamboat
On this day in 1967, Israeli ground troops captured the Egyptian Sinai cities of Taba and Port Said.

Israeli Victory
In 2003, President Al Gore's Smartnet initiative reaches the U.S. Congress. In it, President Gore calls for a national wireless system of connectivity to the internet. It is derided by Republicans as 'technobabble', but it passes both House and Senate by good majorities, and proves to be a large boon to the laptop computer industry.
In 1964, international sensation Pete Best's song Can't Get Enough Love was remade by American singer Ella Fitzgerald and hit the top 50 on the U.K. charts. She was the first artist to chart with a cover of a Pete Best song.
In 1945, Chief of Police for the German Reich, Heinrich Himmler, was assassinated by Greater Zionist Resistance sympathizers in Berlin, Germany. Himmler needed no assistance from the G.Z.R. to be hated; his repression made him universally despised across the Reich, and there was little effort put into finding his killers.
In 1934, Sheriff Clyde Barrow led the capture of noted gangsters J. Edgar 'Sweety' Hoover and Clyde 'Gunner' Tolson. Barrow and his posse of deputies were forced to wound both of the outlaws, but were able to take them alive, in spite of a barrage of gunfire from the pair. Hoover and Tolson spent their rest of their days behind bars, dying in the early 1970's.
In 1910, Jovian Mlosh capture the Li'Kek'Uma moon in the Mlosh home system, and with it, millions of Q'Barian supporters of Q'B'Ton'ra. With this defeat, the last few military leaders who had been fighting the Q'Barian rebels and the Jovians surrender, and the Barnard's Star talks move towards terms of surrender.
In 4600, Star Sailor Ouyang Ziyuan of the Chinese Star Fleet was launched to the moon. This first manned mission to the earth's satellite was the beginning of Emperor Chengzu's Star Fleet's greatest period, culminating in a small lunar colony and eventual contact with an alien race. Ironically, it also led to the end of the hereditary line of emperors and to the burgeoning of democracy in the empire.
In 1872, construction completed on Thomas Edison's Edison Difference Engine, or Eddie as they became known popularly. The Eddie was a newer, better version of Charles Babbage's difference engine, and Edison scheduled an unveiling for the following Monday to present his latest invention to the world.
In 1777, one of the rebels' few victories was scored against the British when Colonel Meigs and his Connecticut raiders sacked Sag Harbor, New York, capturing some vessels and supplies.These were transferred to the Canadian independence movement after Meigs was ordered to surrender to the British in 1778, and some of the ships Meigs captured were even used in the Battle of Hudson Bay to defeat their former masters.
In 1701, Captain William Kidd was knighted by King William III for his diligence in defending English ships against piracy on the American coast. He had been commissioned with the task 6 years earlier by the governor of New York, and had proven wonderfully adept at it. 'It's almost as if he has a pirate's mind himself,' King William said during the ceremony.
On this day in 1961, James Robert Boone, young author and last surviving male member of the Boone family, inherited an old map of a deserted town called Jersualem's Lot just a few miles outside Preacher's Corners, Maine. This town was once the headquarters of Philip Boone's demonic cult - though James didn't know it at the time he inherited the map - and the town's name would later be adopted as the title for Stephen King's bestselling history about the Boones.
In 1937, the first report of a mysterious New York City vigilante appeared in the Times. Paul Rogers, of the Apex Chemical Corporation, claimed his life was saved from a murderous plot by a Black Bat or demon figure. More stories surfaced of the vigilante, mainly from criminals found tied to lamp posts. Sightings waned in the late forties but resurged in the sixties.
In 1955,
the Indochina War neared its end in Vietnam, and the French Union offered to surrender to the United States. The British, eager to keep the Chinese out of the Gulf of Tonkin, urged President Stevenson to accept. A month later, a small American force steamed into Saigon. At the Paris Peace Conference, America accepted a League of Nations
Mandate over Vietnam
. General of the Armies Dwight David Eisenhower commanded American forces.
May 22
In 1782, on this day Colonel Lewis Nicola proposed to General Washington that due to the ineffectiveness of the Congress during the war he should be crowned King of the United States.

A Disagreeable SchemeGeorge Washington replied the same day, stating that he had read Nicola's letter "with a mixture of great surprise and astonishment". Washington continued: "no occurrence in the course of the War, has given me more painful sensations than your information of there being such ideas existing in the Army as you have expressed, and I must view with abhorrence, and reprehend with severity". Washington wrote that he could not think of anything in his own conduct that would suggest that he would consider being king. "You could not have found a person to whom your schemes are more disagreeable".

Five years later at the Philadelphia Convention, he was subjected to a far greater degree of pressure to accept the Presidency and in effect serve as a quasi-King. Instead, he recommend his second-in-command, Henry Knox who was duly elected with James Madison as his Vice President. Unfortunately for all concerned, during his first year of office, Knox died of a fever. Because Madison, and his patron Thomas Jefferson, had not seen service in the Continental Army, they entertained some rather dangerous libertarian ideas. And so General Washington was forced to serve as a mentor to the younger man. And perhaps one of the most visible results of that partnership was the construction of the National University. This is a variant ending to A Disagreeable Scheme, Redux in which Gen Washington also refuses the Presidency
In 2011, on this the day of Great God the Almighty, humanity rose up from the ashes of the apocalypse to cast off the misrule of the jackals that had plugged their ears while mankind screamed.

The New EdenStripped of technology by the impact of the Trumpet 2 asteroid, the survivors were forced to use the honest labour of their bare hands. Toiling in the poisoned Earth to nurture the seed of brotherhood and love amongst the nations. Fashioning a glorious new Eden in the hope that HE might walk in the garden once again.

Because as the great man once said, something had been missing in this harsh world. And that was love.
In 1939, after a meeting that had begun cordially but ended in mysterious anger, the Italian delegation to Berlin stormed out, refusing to sign what was to be called the "Pact of Friendship and Alliance between Germany and Italy".

Mussolini Rejects "Pact of Rust" In later speeches, energetic Mussolini would call it a "Pact of Rust", declaring that promises offered by Hitler looked as shiny as a new Volkswagen, but they would soon lead to the danger and potential destruction of his Italy. Hitler, meanwhile, considered the political slight to be personal and cut off relations with Italy.

A new story by Jeff ProvineIt would be some time before international intelligence agencies and investigative journalists determined what exactly caused the issues between the two nations that had nearly become blood-brothers. Both Hitler and Mussolini were charismatic, powerful leaders who were born out of the economic turmoil of post-WWI Europe. Hitler had been a failed artist who fell into politics after feeling the betrayal of the Treaty of Versailles with its crippling rules and reparations demanded on a Germany that he felt militarily won the war. Joining and soon leading the National Socialist German Workers' Party, Hitler would rise to power through propaganda and discipline, elected legally despite his monstrous promises for a Final Solution to what he considered "racial inferiors".

Benito Mussolini, meanwhile, had grown from being the son of a provincial blacksmith father outspoken about socialism and a devout Catholic mother who worked as a schoolteacher. After being dismissed from Catholic boarding school for violent behavior, Mussolini did well in public school and later emigrated to Switzerland, partly to avoid his requirement of military service. In Switzerland, the bedrock of Italian socialist ideals of Mussolini's father that had formed in Mussolini's mind expanded with philosophy from Nietzsche, Marxists, and, especially, Georges Sorel. Using Marx's ideals of destruction of decadence through strikes as well as his father's praise of anarchist violence, Mussolini collected an array of skills in social manipulation, most importantly his ability to tap into the deep emotions of an audience.

Mussolini returned to his home town to be editor of The Class Struggle (Lotta di Classe), a weekly radical newspaper. His publishing spread quickly, and he came to great fame as a Socialist speaker and writer. When World War I broke out, he came into difficulties with the Italian Socialist Party and eventually was dismissed when he determined that his best interest would be to support the war and work toward nationalism. His political beliefs swung to the right, and Mussolini soon signed up for military service and argued for the strength of unity and the state. He created the National Fascist Party in 1921 and skyrocketed to power, performing the March on Rome with his Blackshirts in October, 1922, effectively seizing control of Italy.

Over the next decades, Mussolini would continue to gather power and promote the Italian state. Dodging assassinations and cracking down on dissent, he built a government unquestionable by the silent majority and admired by those seeking social positions. Parades, uniforms, and increasingly ornate titles (Mussolini's being "His Excellency Benito Mussolini, Head of Government, Duce of Fascism, and Founder of the Empire" by 1936), the Italian Fascism would become a renewed powerhouse with ideas such as youth involvement, land reclamation, price control, and gold donation to keep taxes low while social programs continued to operate through the Great Depression. To further political dedication, he launched military campaigns such as his "Conquest of Ethiopia" in 1935-6 and aided the Nationalists in the Spanish Civil War, citing atrocities against Catholics by the Republicans.

Hitler and Mussolini were soon at each other's attention. Hitler emulated many of Mussolini's successful techniques in his own rise to power, but Mussolini was skeptical of Hitler's claims of racial superiority, saying in 1934, "Race! It is a feeling, not a reality: ninety-five percent, at least, is a feeling. Nothing will ever make me believe that biologically pure races can be shown to exist today". Cultural superiority, however, was easily found as Mussolini referred to the Germans as "the descendants of those who were illiterate when Rome had Caesar, Virgil and Augustus". Despite their political differences, however, both dictators knew they could use the other to their advantages: Hitler wanted to establish a political alliance with himself at the head (the term "Axis" believed to have been Mussolini's), while Mussolini had ambitions of rebuilding a Roman Empire, having conquered Albania in under a month and looking toward Tunisia but needing Germany's superior military technique and technology to maximize the war effort.

The two parties outlined agreements in a pact with public declarations of communication, mutual defense, and cooperation with economic and military support. The pact also carried Secret Supplementary Protocols about the use of propaganda, and it is believed that here an insult against Mussolini's writing style as opposed to the film making of Nazi Germany prompted a break between the two countries. The cleft broke wide, and soon the two countries were preparing for war over old territorial arguments between Austria and northeast Italy.

German foreign minister Ribbentrop asked his Soviet counterpart Molotov for support, but the USSR declined in August of 1939, as did the rest of the world, largely sitting back to see what would happen. Mussolini's armies moved to take hold of supposedly Italian land, and Hitler quickly struck back. Italy held the upper hand for the first year of the Fascist War with its veterans, but German troops and superior materiel eventually overwhelmed Italian defenses and marched into the peninsula. Mussolini fled the country, and a desperate war of resistance eventually died out as German authority became solid.

Holding Italy, Hitler continued southward, building up a German empire in Africa before turning against Communist Russia his nemesis Stalin with Operation Barbarossa in 1945, which would ultimately lead to his own downfall.
In 1845, the Veracruz Incident occurred on this day.

Velacruz Incident by Eric LippsA British diplomat is assaulted by a mob after making a disparaging remark about the Catholic Church. Britain demands an apology first from Spanish colonial authorities in Mexico City, and, when none is received, from Madrid itself.

The response of His Most Catholic Majesty Philip IV, who insists his government has no need to apologize to "schismatics" who have insulted "the True Faith," creates a diplomatic uproar and, when made public, inspires anti-Catholic riots in England and America.

The incident will snowball into a full-fledged crisis when the Spanish colonial government seizes Britain's Veracruz embassy and transports its staff under guard to Mexico City. The continued refusal of both the colonial administration and the Spanish government either to release what Queen Victoria refers to as "our hostage envoys" or to apologize either for the original incident or for the diplomats' seizure. Spanish excuses that the embassy staff has been placed in "protective custody" to prevent their being killed by mobs are viewed as transparent frauds, particularly in light of King Philip's inflammatory comments.
In 1455, Yorkists usurpers defeated King Henry VI at the Battle of St. Albans, but the King escaped and rallied his supporters to drive Duke Richard of York away in the Battle of London.

House of Lancaster, Resurgent by Robbie TaylorThe remainder of King Henry's desperate reign was marked with constant warfare against the Yorkists, ending only in his death in 1469 in a boating accident. The Yorkists lacked the support to put their leader, Edward, on the throne, but the marriage of old Richard of York to Henry's widow Margaret did put an end to the fighting.
In 2009, Britain's long national nightmare finally ended on this day when Prince Henry Charles Albert David was released by kidnappers in Iraq. "Harry" is the third in the line of succession to the thrones of the United Kingdom.

Iraqi kidnappers release Prince HarryThe decision to deploy the Prince Harry in Iraq had been a subject of intense debate in Britain. Caught in their own nationalistic logic, the establishment was forced to send Harry, as they had sent Andrew to the Falklands Conflict two decades before.

Yet it was far more difficult to protect the Prince (despite the use of numerous "doubles") and he was snatched on routine patrol and held for 115 days before his release. In an unconnected move, British troop withdrawals were announced three months later.
Tim Stamper

On this day in 1954, 31-year-old Puerto Rican nationalist Miguelito Reyes was shot and killed by U.S. Secret Service agents after an apparent attempt to murder one of Francis Urquhart's Senate colleagues; Reyes had gone to the Senate offices intending to confront the senator in question after receiving an anonymous note claiming the senator was having an affair with Reyes' wife.

Chief of Staff
A .38 handgun was found on Reyes' body shortly after his death, further bolstering suspicions by the Justice Department that Reyes planned to assassinate Urquhart's colleague.

What wasn't known at the time - and wouldn't be known for more than forty years - was that the note which lured Reyes to his death was in fact forged by Urquhart's chief of staff Tim Stamper (pictured) as part of a master plan by Urquhart himself to avenge anti-Urquhart statements Reyes had made in a San Juan newspaper three weeks earlier. The .38 found on Reyes' body was supplied to him by a third party secretly working with Stamper; this third party was himself subsequently found dead in what authorities at the time ruled a suicide.
In 1941, on this day Soviet bombers leveled Dresden.
In 2015, on this day Downing Street's fears about the neo-Peronista regime in Argentina were realized when the Argentine defense ministry announced it had successfully test-detonated a 12-kiloton nuclear device at a remote undisclosed location.
The test, portions of which were shown on Argentina's state-run TV network, sparked fears of a new global nuclear arms race and another Falklands War.
In 1601, on this day the first contingent of British occupation troops arrived in southern Spain.
In 2009, on this day Iran reveals to the world that it is 9 months from being able to launch a nuclear wepaon that can hit anywhere in th emiddle east. It states it must do this to protect it self from the west, and the hateful Jewish empire.
Unmasked

On this day in 1940, Hitler ordered Luftwaffe paratroopers to assault the British pocket near Tillburg.

Adolf Hitler
On this day in 1976, Maine teenager Carrie White, an admirer of the late George Stark, was arrested on multiple counts of murder, attempted murder, and arson after setting fire to her high school's gym during a spring dance in an attempt to emulate her idol. White's homicidal spree and subsequent trial would later be chronicled in the Stephen King book Carrie..

Carrie White
Derby Winner

On this day in 2006, Kentucky Derby champion Barbaro won the Preakness Stakes horse race, taking his second step towards becoming racing's first Triple Crown champion since Affirmed in 1978.

Barbaro
On this day in 1972, Soviet agent Dmitri Kaprinsky, alias D.B. Cooper, was placed on suicide watch after a prison guard caught him trying to hang himself in his cell.
In 2002, the remains of intern Chandra Levy were found in a park in the Washington D.C. area. Conclusive evidence found with the body showed that she had been kidnapped by a rapist who had been preying on women in her neighborhood, rather than by suspect Congressman Gary Condit. Red-faced conservative commentators who had been flogging Condit apologized profusely for their suspicion, and Condit easily won reelection later that year.
In 1995, after the Laverne & Shirley 20th Aniversary special, director Penny Marshal and actress Cindy Williams decide to revisit the series and create Laverne & Shirley, the next generation. The new series shows the two friends in their later years as grandmothers in the 1980?s, and is a huge hit among nostalgic baby boomers.
In 1977, newly-elected President James Carter declares humans rights 'inconsequential' in a speech at Notre Dame University. Carter's somewhat harsh approach to foreign policy, such as the bombing of Iran when they tried to take the American embassy staff hostage, was seen as a reaction to America's loss in the Vietnamese conflict
In 1972, Comrade President Gus Hall arrived in Moscow to finalize several agreements with the Russian royal family. Comrade Hall's last years in office were spent attempting to mend some fences between the Soviet States of America and the capitalist monarchies of the eastern hemisphere; it paved the way for Comrade President John Anderson?s historic visit to Brazil later in the decade.
In 1969, Apollo 10?s lunar module, just a few miles above the moon?s surface, experienced an instrument failure and crashed. Although astronauts Tom Stafford and Gene Cernan survived, NASA had no way of rescuing them. Before his oxygen ran out, Stafford, commander of the mission, became the first man to set foot on the moon, saying, 'That?s one small step for a man, one giant leap for all mankind.'
In 1965, Pete Best?s eighth consecutive number 1 hit, Passport To Your Heart, hit the top of the charts in America. It was knocked off the top spot the next week by Best?s next release, Tell Me How You Feel.
In 1856, after reportedly threatening him for weeks, South Carolinian Representative Preston Brooks attacked Massachusetts Senator Charles Sumner for a speech Sumner made deriding Brooks' cousin, Senator Andrew Butler. Unfortunately for Brooks, Sumner had started carrying a gun because of the threats, and shot Brooks dead. When Sumner was acquitted of the killing, the south erupted in outrage.
In 1841, Philadelphia craftsman Henry Kennedy received a patent for his reclining chair, a device which was outlawed the next year because of its promotion of sloth and laziness. Even though its great evils have been denounced from pulpit and altar, many Americans are still arrested with these instruments of indolence every year.
In 1807, former Vice-President Aaron Burr was tried and convicted of treason for his plan to create his own republic in the American southwest. He was executed by firing squad for the crime, the first elected official in the new country to be killed by judicial order.
In 1959, Bob Strawn was born in Austin, Texas. Strawn's parents settled in the Texas capitol when his father was offered a position at the University of Texas. Bob graduated from UT in the 1980's, just in time to join the computer revolution growing in the heart of the Lone Star State. His Uncle Bob's Software concept, a software store that kept programmers on staff for custom orders, made him millions as franchisees bought stores across the country through 1993, when Strawn sold the business to Microsoft for a reported $1.1 billion. In his retirement, Strawn has done quite a bit of work popularizing the hobby of role-playing games such as Dungeons and Dragons and the game invented by fellow Austinite Steve Jackson, GURPS.
In 1999, an agent of the Illuminati, traveling under a flag of truce, is brought to Sir Lance du Lac's headquarters outside of Budapest, Hungary, to offer him an end to the war. "We feel that this conflict was with Emperor Pierre, who has been deposed," the agent said. "The now-independent nations of the former Central European Empire would just like to have their sovereignty respected. We are prepared to cease all hostilities against the people of the United Kingdom and its Commonwealth; we are even prepared to give reparations for the cost of the war. Would you carry this offer to your king, Sir Lance?" The carefully-formulated sentence triggers something inside du Lac's mind, and he accepts the offer, ordering his troops to enforce a ceasefire while he flies back to London to carry the Illuminati's offer to King Arthur II.
In 1891, President Harrison sees off the first battalions of soldiers drafted from the east coast to fight in Kansas. "Today, my friends, you are heroes," he says at the ceremony. "You are giving up part of your freedom today so that our people can enjoy freedom in perpetuity. We salute you, and pray that the Almighty watches over you and grants you victory, swift and clean.The hopes of our nation ride along with you". The trains pull out from Washington and head west to Nebraska to be placed under General Theodore Monteith's command.
Nixon

In 1972, America's Comrade President Richard Nixon arrived in Moscow for talks with the Tsar's ministers.

He was given a modest welcome as he stepped off the plane at Vnukovo airport with his wife earlier today. The welcome party consisted of Nikolai Podgorny, Alexei Kosygin and Andrei Gromyko.

Tsar's Ministers
A twenty-minute ceremony, during which the president briefly inspected a guard of honour, was held and broadcast live by Moscow television.
In 1940, the vicious street fighting of the past fortnight finally ceased across London. Whitehall was seized by the Wehrmacht. Prime Minister Winston Churchill went down pistols blazing, his ashes scattered in the garden at Number 10 Downing Street. The Battle of Britain was lost, but the War on Nazidom was only just beginning. It was Britain's finest hour.
In 1974,
the death of Sgt. Pepper's Lonely Hearts Club Band member George Harrison was ruled a
misadventure
(Led Zeppelin drummer John Bonham was also cleared of manslaugher charges). At Bonham's twenty-fifth birthday party, Harrison had dumped the entire birthday cake on the drummer's head; Bonham responded by throwing the ex-Beatle into a swimming pool where he had drowned.
Older Posts

Related posts from the same era that you may also like
© Today in Alternate History, 2013-. All characters appearing in this work are fictitious. Any resemblance to real persons, living or dead, is purely coincidental.