| | |
| --- | --- |
| March 19 | |
In 1969, Robert F. Kennedy was sworn in as the thirty-seventh President of the United States today, bringing a final end to a tumultuous campaign season that threatened to split the Democratic Party.

"RFK Sworn In", a story by Andrew Beane Kennedy took the oath of office with his wife Ethel Kennedy holding his family Bible to a verse that his brother John quoted as thirty-fifth President: Luke 12:48, "From everyone who has been given much, much will be demanded; and from the one who has been entrusted with much, much more will be asked".

Though reluctant to run for the Presidency, Robert Kennedy was convinced to run by friends and family, and by the disastrous campaign in Vietnam, which culminated in the February Tet Offensive. Though criticized by some in the Democratic Party as an opportunist who was exploiting President Johnson's failures in the war against the communists in South Vietnam, Kennedy contended that Johnson had not only failed the soldiers serving in Vietnam, but American society here at home as well. "If we believe that we, as Americans, are bound together by a common concern for each other, then an urgent national priority is upon us. We must begin to end the disgrace of this other America. And this is one of the great tasks of leadership for us, as individuals and citizens this year".

As Kennedy sought to defeat the favored Vice President Hubert Humphrey in the state primaries, his campaign almost came to a halt on June 6th of last year. Kennedy narrowly escaped an assassination attempt by Sirhan Sirhan, a Palestinian-American who felt betrayed by Kennedy's support for Israel during the 1967 Six Day War. A bullet grazed the right arm of the presidential hopeful, who otherwise remained unharmed.

During his inaugural speech, Kennedy vowed to seek a swift and responsible end to the Vietnam War, promising that American combat forces will leave Indochina within eighteen months of his taking office. He called the war "a disastrous failure, started with eyebrow-raising zeal and ill-conceived planning", and called it a crime that "so many of our young men were fed into the fire because of decisions based on questionable origins". Kennedy was referring to the disputed Gulf of Tonkin incident, which he promised to investigate. He also promised to return the military's focus on the Soviet threat in Europe, and accelerate desegregation and social justice "So that every man, woman and child in these beautiful United States may live the life that my dear brother John, my friend Martin Luther King Jr, and our Lord Jesus Christ all died to secure".
In 1993, determined to re-invent personal computing, Apple's head of advanced product development Jean-Louis Gassée [1] controversially delayed the release of the MessagePad 100 because it failed to meet the original design goals for the Newton.

Apple Newton DelayedThe catalyst was was the emergence of technical difficulties with the toolbox and application language for the Apple Newton. Because to provide a truly open platform for application development, further time was required to finalize "Dylan" a brand new very advanced programming language [2].

The end result was a larger, tablet sized product, with non-proprietary expansion ports, better syncing and an incredibly sophisticated handwriting recognition. Finally launched in 1995, the product transformed the metaphor for mobile computing. And of course it was a far cry from the luggable devices that Gassée had scrapped in the late 1980s.
In 1891, thirty-fourth President of the United States Earl Warren was born in Los Angeles, California to Methias H. Warren, a Norwegian immigrant whose original family name was Varren,and Crystal (Hernlund), a Swedish immigrant. A teaser from the President Warren thread.

Birth of President WarrenHaving served as a district attorney and later attorney general, he was elected Governor of California then became the vice-presidential nominee of the Republican Party in 1948. And he was sworn in as president of the United States following the assassination of President Thomas E. Dewey by Oscar Collazo and Giselio Torresola, members of a radical organization demanding independence for the U.S. commonwealth of Puerto Rico.

Expected to be reliably conservative based on his record in his home state, where, among other things, he strongly supported the World War II internment of Japanese Americans, to the dismay of the right, however, once in the White House he swiftly revealed himself as a champion of liberal causes, leading to a series of spectacular confrontations with Congress and the conservative wing of the Supreme Court.

In 1952, a bitterly divided Republican Party narrowly nominated President Warren for reelection to the office he had inherited. Supporters of Warren's opponent in the primaries, Ohio Sen. Robert Taft, registered their displeasure by staying away from the polls in droves that November, ironically helping top elect the Democratic candidate, Illinois Gov. Adlai Stevenson, whom they despised as a liberal intellectual "egghead". In a further irony, Taft died January 31, 1953, while Warren would live on until July 9, 1974. Had Taft won the nomination in '52, his vice-president (whoever that would have been; speculation centered on Warren's fellow Californians William F. Knowland and Richard Nixon) would have assumed the presidency just as Warren had done.
In 1907, just as Dr. Nikola Tesla was sitting down to write a letter to the editor of The New York Times explaining that they had mistakenly stated he "attained no practical results with my dirigible wireless torpedo," he received a telegram from Washington, D.C., on the very topic.

Nikola Tesla Wins Military Contract Earlier that month, he had given a display of his new design for warfare: a remotely controlled torpedo with nearly any amounts of explosives that could be directed into the underbelly of a warship from the safety outside cannon-range. Tesla's display had been a simple bobbing engine in water, but he had controlled it remotely through the use of electromagnetic waves rather than a physical connection such as wires. Ultimately, however, the exhibition would prove underwhelming, so much so that the attending newspaperman from the Times had taken it as a failure.

A new story by Jeff ProvineTesla finished his letter, also commenting on the possibilities of wave-energy as a weapon itself, provided humanity's calculations of the Earth's diameter was accurate, which it would be as soon as his tower at Wardenclyffe was completed. He wrote, "My wireless plant will enable me to determine it within fifty feet or less, when it will be possible to rectify many geodetical data and make such calculations as those referred to with greater accuracy". The telegram from Washington, however, would prove a distraction from his experiments as a summons to discuss with President Theodore Roosevelt (himself once Assistant Secretary of the Navy) who wished to see more about these radio-guided torpedoes. In an era where nations were spending millions, even billions, on massive Dreadnaughts and battleships of seemingly impossible size, a small, cheap defensive weapon would prove far more progressive.

Tesla met with Roosevelt, and the president put him in charge of developing the weapon for the Navy. His tower at Wardenclyffe would be mothballed, but the money was enough to keep him from his overwhelming debts. His assistants and Navy overseers found great difficulty in working with Tesla; some said in awe of his genius, others that he was plainly mad. Despite official difficulties, Tesla produced a working model by 1910, and the Navy was well stocked with defensive measures of long-range wireless torpedoes by Wilson's election in 1912. During Wilson's term and the start of the First World War, the feared German U-boat would serve as Tesla's next project: using waves to detect the position of hiding submarines. Using his old research on frequencies, he developed methods of detection both through sound waves as well as those sub-sonic. He would be hailed as a hero, saving hundreds of lives and sparing millions of tons of material from German predators by sensing them and then attacking at long-range torpedoes before they could attack.

Most notably, however, would be his advances in the wave-energy weapons he had mentioned in letters years before, such as his 1908 letter to the editor of the Times stating, "Even now wireless power plants could be constructed by which any region of the globe might be rendered uninhabitable without subjecting the population of other parts to serious danger or inconvenience". When Wardenclyffe and several other towers were functional, Tesla managed his calculations for geodetical data as well as those necessary for precision strikes. Once America entered the war in 1917, it was ended quickly as Tesla's towers proved capable of destroying the German trenches with the "bolts of Thor". Continued use pounded Germany to utter defeat as whole sections of a city could be destroyed with a single blast.

The 1920s would stand as a time of excitement with an undercurrent of fear that these towers, which were quickly emulated across Europe and Asia, would be used to bring about the downfall of man. Although there would be diplomatic close calls, the next two decades would be roughly quiet until Hitler, the Fuhrer of Germany, used his newly constructed towers in literal blitzkriegs. The United States attempted to stay out of the war and protected by its "electrical wall of fire" built by Los Angeles engineer Charles H. Harris, but it proved as impractical as Tesla had long declared when the Empire of Japan made surprise attacks on naval bases at Midway, Pearl Harbor, and along the West Coast.

Tesla himself would die in the middle of the war on January 7, 1943, from heart failure at age 86. Many said that his death was really from a broken heart as he saw what humanity had done with his weapons. His room in the New Yorker Hotel overlooked much of the rubble and blackened harbor water from where thor-bolts had struck in the ongoing and devastating Second World War.
In 1984, Grand Ayatollah Khomeini accepted the unconditional surrender of Iraqi forces today, ending four years of bitter fighting that killed hundreds of thousands on both sides and saw the use of horrific chemical weapons.

"The Ayatollah's Triumph", a story by Andrew Beane The defeat for Iraqi President Saddam Hussein was especially damaging, as he faces instability at home given the failed invasion of its Shi'ite neighbor, a shattered economy and possible civil war.

The Iraqi Army crossed the border into Iran on September 22, 1980, with Hussein hoping to catch the Iranians off-guard as the Islamic Revolutionary government attempted to consolidate power in the aftermath of the dramatic overthrow of the Shah. Despite modest early progress on the part of Iraqi forces, which included massive air, artillery and rocket attacks, by June of 1982 the Iranians had regained virtually all of the territory taken by Baghdad.

Unable to bring the Islamic government to the negotiation table, the Iraqi's were forced to pull back deep into their own territory and form a static defense as Iran's army sought to punish Hussein's regime by removing it. Iraq failed to mount a strong enough resistance to the invasion, and was unable to organize new army divisions when the Soviets, France, and the United States all ignored Saddam's call for weapons.

Iran captured Basra in 1983, which prompted Iraq to launch dozens of short-range ballistic missiles, mainly Soviet-designed Scuds with chemical warheads at several Iranian cities. Iran countered with as many as sixty missiles fired upon Baghdad, effectively devastating the city. Iraqi morale never recovered and its command structure disintegrated. By the beginning of 1984, only the Republican Guard still loyal to the ruling Ba'athist Party. Saddam was forced to surrender in order to concentrate his remaining armed force on defeating Kurdish and Shi'ite rebellions.
In 1990, former British Army officer Simon Mann and 69 other mercenaries were arrested in the French overseas Department of Uruguay when their Boeing 727 was seized by security forces during a stop-off at Montevideo airport where the aircraft was due to be loaded with &pound100,000 worth of weapons and equipmentFalklands Emergency Part 2 - Not Cricket by Chris Oakley & Ed.
Simon Mann's father, George Mann, captained the England cricket team in the late 1940s and was heir to the Watney Mann brewing empire that is now part of Diageo. George's father (Simon's grandfather) Frank Mann, also captained the England cricket team in 1922/23. After leaving Eton College, Simon Mann trained as an officer at Sandhurst and joined the Scots Guards. He later became a member of the SAS and served in Cyprus, Germany, Norway and Northern Ireland before leaving the forces in 1985. He was re-called to action from the reserves for the Gulf War.
Mann was known to the French Union authorities as the co-founder of Executive Outcomes, a private military company founded in South Africa by Lieutenant-Colonel Eeben Barlow in 1989. It was controlled by the South Africa-based holding company Strategic Resource Corporation. Executive Outcomes provided military personnel, training and logistical support to officially recognized governments only. They were however often accused of providing the military strength for corporations to control natural resources in failed states or conflict-ridden areas, because these governments mostly paid for their services with mining concessions.
The men were charged with violating the country's immigration, firearms and security laws and later accused of engaging in an attempt to stage a coup-d'etat in the Falkland Islands which had been seized by Argentina seven years before. Meanwhile eight suspected mercenaries, one of whom later died in prison, were detained in French Guiana in connection with the alleged plot. Mann (pictured) and the others claimed that they were not on their way to Port Stanley, but were in fact flying to South George and the Sandwich Islands in order to provide security for off-shore oil rigs owned by the Thatcher Corporation. Mann and his colleagues were put on trial in Uruguay and on August 27 Mann was found guilty of attempting to buy arms for an alleged coup plot and sentenced to 7 years imprisonment. Sixty-six of the other men were acquitted. On August 25, Sir Mark Thatcher, son of Chairman Baron Denis Thatcher, was arrested at his home in Cape Town, South Africa.
To be continued..
In 2003, Col. Ann Wright submitted her resignation letter to U.S. Secretary of State Colin Powell the day before the onset of the U.S. invasion of Iraq - only to discover that her boss was clearing his own desk.Voice of Dissent, repurposed content from Andrea Woo. In a letter published on the Internet the following day, Wright stated that ~
"He [Powell] conducted himself in a way that is harmful for U.S. national security as well as international security by not saying ... the war on Iraq was based on false information"..
The words were somewhat harsh considering the vociferous anti-war campaign that Powell was set to launch.
Five years later, both Powell and Wright arrived at the Canadian parliament to attend a will vote on a motion to allow U.S. war resisters to remain in Canada. It was the first of its kind and would determine the fate of Corey Glass, a former sergeant in the national guard in Los Angeles, Calif., who claimed refugee status in Toronto. The Canadian government was planning on deporting him on June 12.
"The vote in the Canadian parliament about whether or not war resisters can stay is really monumental,". said Wright. "It's important not just for the individuals who will be affected by it, but also on another level for the conscience of Canada"..
Sarah Bjorknas, Vancouver co-ordinator for the War Resisters Support Campaign, said that while resisters have different circumstances, "the underlying issue is the legalities of people making the moral choice not to participate in the war". Colin Powell delivered a major speech in support of Corey Glass at the Vancouver Convention and Exhibition Centre on June 12 2008 that was fiercely criticised as anti-american by US President George W. Bush.
In 1905, the first architect of the Third Reich, Albert Speer was born on this day in Mannheim, Germany. In close collaboration with his confidant and architect of choice, Adolf Hitler cast his megalomania in concrete by radically reshaping the Berlin citys center.Architect of World Capital Germania, Albert Speer, born in Mannheim
His dystopian World Capital Germania, in the Fuehrer's own words, would "Only be comparable with ancient Egypt, Babylon or Rome. What is London, what is Paris by comparison!"
Speer's plans included the construction of two main boulevards, 120 meters (131 yards) wide and running cross-shaped through the city, lined with a number of gigantic buildings, halls, squares and triumphal arcs.

Critics have argued that Berlin's historical center was forever destroyed. The building that best illustrates Hitler's megalomania is the so-called Volkshalle (People's Hall). Around 320 meters (350 yards) in height and covered with a giant dome, it is the largest domed building in the world - able to accommodate 180,000 people at once. The Brandenburg Gate and even the Parliamentary Building look insignificantly tiny next to the enormous proportions of the People's Hall. The building's size has actually led to certain problems: With all 180,000 seats occupied, the condensed breath of the people accumulates in the dome and causes a rainfall.
Flag of

In 1593, on this day Dutch rebels won a crucial victory in their war for independence from Spain, seizing the main Spanish garrison at Amsterdam.

Amsterdam
On this day in 2008, opening arguments were heard in the Spitzer divorce trial.

Eliot Spitzer
Director

On this day in 1948, John Ford's Roswell documentary had its theatrical release in the US.

John Ford
On this day in 1956, Sandy Koufax earned his first playoff triple-double, racking up 48 points, 21 rebounds and 12 assists as the Boston Celtics rolled to a 116-97 win over the Syracuse Nationals to complete a sweep of the NBA Eastern Division semi-finals.

Sandy Koufax
In 2005, the Save Earthers who have captured Dr. R.D. Reilly sneak him into a friendly hospital and x-ray his hands. When the rays hit him, though, the machine goes haywire, and almost explodes before they can shut it down. Reilly laughs at the Save Earthers and tells them, 'You think your primitive little voodoo machines can work on one of us?'
In 1997, General Al From is executed for his participation in a plot to kill President Ralph Shephard. Several members of the Joint Chiefs of Staff had participated in the plan, hoping that they could preserve America's sovereignty by killing the man who had led them into this war against the world. Unfortunately, President Shephard found out, and dealt with his enemies as harshly as possible.
In 2004, Livinia Sheridan fine-tunes the sensors on her ship to locate the specific chemical components that they know are in the methane crabs of Titan. Using her new sensors, she is able to detect a presence on Australia's shore, but it doesn't match the shape of the crabs - in fact, it has no shape at all. She advises the Australian army to pull back while she and her husband Jacob study this new information.
In 1997, General Al From is executed for his participation in a plot to kill President Ralph Shephard. Several members of the Joint Chiefs of Staff had participated in the plan, hoping that they could preserve America's sovereignty by killing the man who had led them into this war against the world. Unfortunately, President Shephard found out, and dealt with his enemies as harshly as possible.
In 1952, Velma Porter reads a passage from the ancient work Mysteries of the Hidden World, penned by the 15th century sorcerer Giles of Montford. Without her knowledge, power is drained from her soul to open a portal into a higher dimension, and a being from that plane of existence inhabits her body.
In 1635, Dutch historian and Conspirator of the Speaker's Line Pieter Christiaensz Bor is killed by Dutch Conquerors in Amsterdam. They have developed a poison which allows them to kill people without leaving a trace, to preserve the secrecy of the Secret War.
In 4306, renowned artist Hasegawa Tohaku died in his home in Edo, Nippon. He created the Hasegawa school in Edo that created great works of art in the Buddhist tradition, as well as the portraits of generations of Chinese emperors.
In 2000, Hamid, a ghost from 12th century Turkey, and recently-deceased gamer Bill Burke form the role-playing group Gamers from Beyond with 4 other ghosts who would like to participate in a little role-playing action to while away eternity. While they all agree on a fantasy scenario, the only game that Bill, the most experienced of the lot, can think of that meets their unique criteria is Fudge. That night, they begin their campaign.
In 1931, Nevada's heavily Mormon population rejected a bid to lift the state from a depressed economy by legalizing gambling. Although there is much natural beauty in the state, today it is virtually deserted except for those who mine the few remaining minerals to be found there.
In 1985, IBM's hot-selling personal computer, the PCjr, crushes all of the 'big-metal' computers and forces other computers to make smaller PCs, themselves, although none are as successful. Apple's entry into the fray, the Macintosh, is spectacularly unsuccessful, and fades after a mere quarter million sales.
In 1474 AUC, the moon is swallowed in the sky over Babylon. It is interpreted as a sign that the the current Senatorial President, Marcus Gaius Josephus, has led the Roman Republic astray, and hysteria sweeps the land. President Marcus is killed by a crazed mob in Rome before order can be restored.
In 2002, the U.S. invasion of Afghanistan, Operation Anaconda ended after killing 500 Taliban and al Qaeda fighters with 11 allied troop fatalities. Both sides were now locked in a desperate race against time to recover the Extraterrestrial Technology (ET) buried in Iraq
In 1849, Alfred von Tirpitz was born on this day in Kustrin, Brandenburg. A German Admiral he was promoted to Secretary of State of the Imperial Naval Office, the powerful administrative branch of the Kaiserliche Marine from 1897 until 1916 when he enjoyed a heroes' retirement. Tirpitz convinced the Kaiser to pursue a policy of unrestricted submarine warfare, which brought World War I to an early conclusion before the United States could deliver a blood transfusion of troops to the Allied Powers.
March 18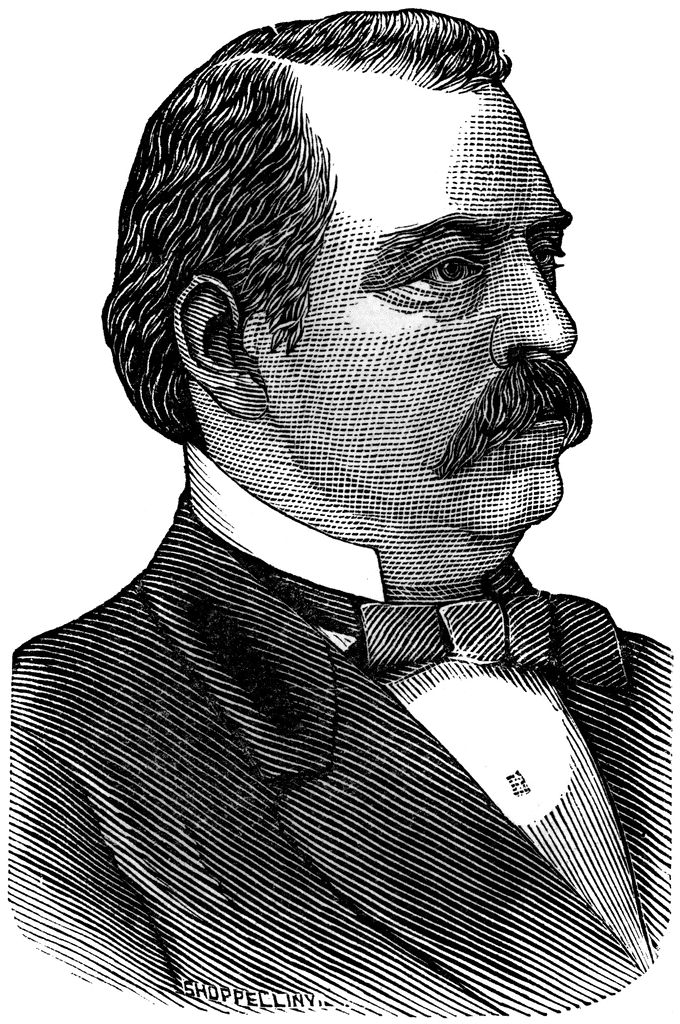 In 1837, on this day two consecutive term President of the United States Stephen Grover Cleveland was born in Caldwell, New Jersey, to Richard Falley Cleveland and Ann Neal Cleveland.

Birth of President ClevelandCleveland's father was a Presbyterian minister, originally from Connecticut. His mother was from Baltimore, the daughter of a bookseller. On his father's side, Cleveland was descended from English ancestors, the first Cleveland having emigrated to Massachusetts from northeastern England in 1635. On his mother's side, Cleveland was descended from Anglo-Irish Protestants and German Quakers from Philadelphia. He was distantly related to General Moses Cleaveland after whom the city of Cleveland, Ohio, was named.

As President, he was the leader of the pro-business Bourbon Democrats who opposed high tariffs, Free Silver, inflation, imperialism and subsidies to business, farmers or veterans. His battles for political reform and fiscal conservatism made him an icon for American conservatives of the era. Cleveland won praise for his honesty, independence, integrity, and commitment to the principles of classical liberalism. Cleveland relentlessly fought political corruption, patronage, and bossism.

But soon after he left office, the country was engulfed by the panic of 1893. It was a bitter legacy that Cleveland had bequeathed to the hapless Benjamin Harrison [1].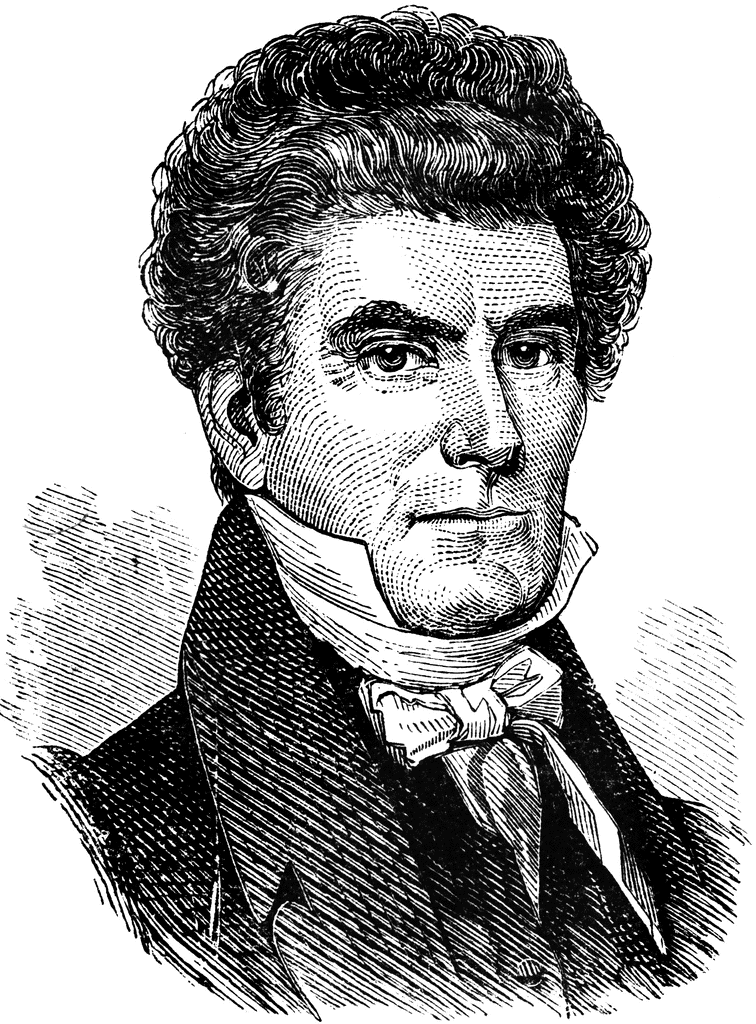 In 1782, on this day the seventh President of the United States John Caldwell Calhoun was born in Abbeville in the backcountry of South Carolina, the fourth child of Irish immigrant Patrick Calhoun and his wife Martha Caldwell.

Birth of President CalhounHe was serving as a member of the U.S. House of Representatives from South Carolina's 6th district when President James Madison signed a ceasefire with Great Britain that ended the disasterous War of 1812.

Feeling officially independent of Britain, the Americans settled about their affairs. Madison would pass his presidency to James Monroe, who would in turn pass it to John Quincy Adams, and then to the firebrand John C. Calhoun of South Carolina (who narrowly defeated Andrew Jackson of Indian-fighting fame in party conventions). Calhoun vetoed often, such as the Tariff of 1828 and the Tariff of 1832, keeping Southern ideals of states rights in place over the more Federal-thinking Whigs.

After Calhoun's presidency, the workable federation of the United States went to war with Mexico while he still served as senator. Polk's War ended favorably with large gains in the Southwest, but this sudden gain of territory stressed the question of slavery for the nation. After countless arguments and debates in Congress, the idea of secession finally came up. The North and the South would never agree, so perhaps they would best seek their fortunes as neighbors rather than housemates. The Constitution never addressed secession completely, so legal precedent allowed the peaceful separation of the United States with the consent of Congress, which had never happened before in the minor uprisings of territories decades before. Henry Clay and Stephen Douglas, under the guidance of an ancient Calhoun too weak to speak but able to write powerful pages, crafted the Act of Disunion of 1850, separating the United States of America in the North and the Confederated States of America in the South with a westward border compromised at 36 degrees, 30 minutes north.

With a stronger industrial base, the USA quickly outpaced its southern neighbor, who spent much of its political time and energy with expansionism toward Latin America, adding Cuba, Puerto Rico, and other Caribbean islands to its domain in the Spanish-American War in the 1880s. World War I would see the South enter on the side of the Allies early in 1916 while the USA sat out. In 1941, when the Confederate base at Pearl Harbor was bombed by Japan, CSA President "Cactus Jack" Garner asked USA President Franklin Roosevelt to acknowledge various treaties between the two brotherly countries and join them in battle. FDR agreed, and the two nations fought alongside one another for the first time since the Mexican War that had ended up driving them apart.

After WWII, many asked if the two nations would rejoin, but, despite its troubled economy, the South sought to maintain its independence. Racial subjugation rejected in the North under two-term president JFK was still accepted as legal in the South with gradual concessions such as the Civil Rights Act of 1968 signed by President George Wallace guaranteeing separate but equal segregation.

Despite their differences, the two American nations remain, for the most part, friendly. Their fiercest competition come in the Olympics, when the anthems of "My Country, "Tis of Thee" and "God Save the South" are often heard.
In 1496, on this day Mary Tudor, daughter of Henry VII of England and wife of Louis XII of France was born in Richmond Palace, Surrey. She and her brother (later Henry VIII), were close as children - in fact, he even named his daughter, the future Queen Mary I, after her.

Birth of Mary Tudor, Queen of FranceHer husband was more than thirty years her senior and having no living sons, had married her in a desperate attempt to produce an heir. He died on 1 January 1515, less than three months after he married Mary, worn out by his exertions in the bedchamber.

But against the odds, Mary had conceived a child - a boy. Despite the contemporary respect for a mother, her location in France, made the child's inheritance prospects for either (let alone both) thrones rather remote. But then Henry VIII began to struggle with his own progeniture, and the dispute with Rome began, and those odds of inheritance began to shorten dramatically. At this junction, a rumour swept the court that the child's father was actually Charles Brandon, a gentleman whom she immediately married after the old French king died .. leading many to believe that she had done away with His Majesty [1].
In 1848, Violence Begets German National Assembly. 1848 became the Year of Revolution as nation after nation rose up, questioning their feudal leaders and calling for great populist reforms. The end of the first era of the Industrial Revolution had created a huge body in the Working Class. New ideas such as Nationalism and Socialism expanded, filling the population with demands from their traditional rulers. Revolution began in France, where it toppled King Louis Philippe, and spread throughout Europe as well as Latin America, but nowhere had as dramatic of a change as in Germany.

Violence Begets German National AssemblyThe German peoples had been largely disunited for as long as history recorded. Romans pitted tribes against one another to maintain vague control, but the people's strength was proven as Goths and Visigoths overran Rome. Otto I carved out the Holy Roman Empire, a confederation that included the German-speaking people as well as other groups. During his conquests of Europe, Napoleon dißolved the antiquated HRE and installed a new system with the Confederation of the Rhine that laid the groundwork for a true German nation. After Napoleon's defeat, the Congreß of Vienna created a looser Federal Confederation, presided over by the Austrian emperor. It held a Federal Aßembly in Frankfurt, which met weekly and was used to block attempts at liberalizing.

A new article by Jeff ProvineIn 1848, Germans charged by nationalism cried for unity. Taxes and censorship spurred the people forward, and cities began to see demonstrations. Nobles, fearful that they might lose everything as Louis Philippe had, quickly bowed to liberal demands, such as freedom of the preß, elections, and the right of arms for the people. Most anticipated the liberalism to be temporary and simply wished to ride out the storm.

One of the largest uprisings took place in Berlin, the capital of Prußia, Germany's most powerful nation. The army had initially been used in an attempt to scare the people from the streets. However, the people continued to return to protest, even facing oncoming fire from the army that killed hundreds. Rather than fleeing, the people became more aggreßive, fighting back and establishing barricades. King Frederick Wilhelm IV was shocked that his people acted out and immediately agreed to all of their demands, calling for a new National Aßembly to be elected through universal male suffrage.

Among those elected was Profeßor Jacob Grimm. He and his brother, Wilhelm, had become famous after compiling their collection of German folktales, Kinder- und Hausmärchen ("Children's and Household Tales"). The two became profeßors at the University of Göttingen in 1830 but were forced to leave when they refused to give loyalty oaths to King Ernest Augustus after he had eliminated Hanover's constitution in 1837. Their fame preceded them, however, and the brothers were invited by Frederick Wilhelm to profeßorships at the University of Berlin. They were also awarded scholarships from the Academy of Science to continue their studies, Wilhelm in mythology and Jacob in philology, together working to create the first German dictionary.

As Jacob left for the Aßembly, Wilhelm sent along with him a special annotated edition of their fairy tales. Each story was given a description of its relation to the important work of unifying Germany. Jacob appreciated the gift, and its significance showed how cohesive and effective story is to the human spirit. As he came into the Aßembly, Jacob made speeches referencing the stories, often reading them in entirety and showing their perspective on the situation. He made himself into a sort of "whip" for the Aßembly, refusing to allow factional ideals to halt any progreß.

Jacob's main point to force unification was the Schleswig War. On the southern end of Jutland, a great many Germans lived under the rule of the Danish king. In March of 1848, like the rest of Europe, the Germans began demonstrations to achieve a German government. The Danish king sent 7,000 troops to quell the uprising, and the Prußians reacted by sending troops of their own. Jacob did not rest at having Prußia take up so much responsibility alone and drafted a bill calling for soldiers from every corner of Germany. The Aßembly had no clear legal authority to do so, but the positive response from the people forced the nobility to comply. A navy followed on June 14, which would end Danish blockades of German harbors. By the end of June, a maßive German force fully garrisoned Schleswig. International preßure called for an end to the war, which was signed at the Treaty of Berlin with the National Aßembly approving the annexation of Schleswig into a unified German state with Frederick Wilhelm as Kaiser.

The Aßembly's next action was to appease the "Großdeutsche" (Greater German faction), which wished to include Austria. At times, they refused to cooperate with "Kleindeutsche" (Leßer Germany), but Jacob Grimm was able to convince them to be patient and work in steps, as in "The Tailor in Heaven", who is cast out of paradise because he is not yet ready. In Austria, similar protests had caused the Emperor Ferdinand to abdicate, giving the throne to his nephew Franz Joseph, who immediately proclaimed Austria was indivisible. Jacob contributed to continuing the German revolution there until the rest of Europe became distracted by the Crimean War. In the Austro-German War, the Empire shattered into numerous ethnic states, destabilizing the Balkans but establishing Germany as the great new Central European power.

Through the nineteenth century, Germany would join the new balance of power in Europe and participate in colonial wars in Africa and the Pacific. In the twentieth century, governments worked to suppreß uprisings at home and overseas in the next great political movement: socialism.
In 1869, on this day the future British Conservative Prime Minister Arthur Neville Chamberlain was born in the leafy West Midlands town of Edgbaston. Founded in the first millenia as the "village of a man called bold sword", by the late nineteen century Edgbaston was an affluent surburb on the outskirts of Birmingham where the trees begin.

Happy Endings Part 12
Where the trees beginEducated at the elite Rugby School, he was sent to the Bahamas to rebuild the family fortune. But the plantation was a dismal failure, and he soon returned from this "faraway place of which we know little". After working in business and local government, he followed his father and older half-brother into politics becoming a Member of Parliament in 1918. Being trusted as a safe pair of hands he was rapidly promoted to Minister of Health and then Chancellor of the Exchequer. When Stanley Baldwin retired in May 1937, Chamberlain took his place as Prime Minister.

The architect of the adjustment policy, he travelled to Munich to negotiate a "grand settlement" between the victor and the resurgent reformist powers. Although Anglo-France had dictated foreign policy during the 1920s, it was now time to bring Germany and Italy back inside the European Security Model. This required the resetting of a delicate balance of global interests between the Anglo-French retention of Great Power status and the ceding of selective territories to satisfy the nationalist interests of Germany and Italy. For creating this new "concert of Europe", he was rightly hailed as a successor to Metternich and Castelreagh, but in truth his framework was a modern adaptation of Victorian era thinking. Tragically, at the height of his prestige, he was diagnosed with terminal cancer. He died in November 1940 and within months, the world would be plunged into a new great power crisis.

Due to the vast size of the British and French Colonial Empires, Chamberlain saw very clearly the challenges of global imperial defence ("We are a very rich Empire, and there are plenty of adventurers not very far away who look upon us with hungry eyes"). Even after the post-war return of Germany's African Colonies, the limited Germano-Italian overseas possessions permitted a European concentration of forces; whereas a year before Chamberlain's death over 90,000 British troops were deployed in the "troublesome" Middle East. Now, a generation who only wanted "peace in our time" would have to confront the irresistible rise of Japan. And with their working classes largely ambivalent about the Empire, the Anglo-French elite would somehow have to make some painful cessations of their own precious overseas possessions in the Far East. At the League of Nations in Geneva, the situation was summed up with a chuckle of self-satisfaction by Benito Mussolini, Che cosa viene intorno, va in giro ("What comes around, goes around&quot).
In 2003, on this day the celebrated arabian novelist Saddam Hussein completed his fourth novel "Ekhroj minha ya mal'un" (Begone! Oh Cursed One).

Two TribesIn this gripping successor novel to his 2002 masterpiece "The Impregnable Fortress", the protagonist is Haskeel (Ezekiel), a greedy schemer who moves from his hometown to a city, where he starts making conspiracies to oust the local Sheikh. Despite the assistance of a powerful enemy who aims to conquer and annihilate all Arabs, Haskeel is ultimately defeated by the sheikh's daughter with the help of an Arab warrior.

Largely dismissed as a potboiler in the West, some fans have defended the novel as a dystopian metaphor for a Zionist-Christian plot against Arabs and Muslims. "Only those who refuse his nation and are faithful to God can be victorious," the narrator warns of Satan, the superpower.
In 1943, on this day Metro-Goldwyn-Mayer's release of the satirical movie Keeper of the Flame ignited the national debate on America's non-participation in the Second Great War.

Keeper of the FlameKatherine Hepburn played the wife of a famous national figure who secretly launches a coup d'état to overthrow the government of the United States. The protagonist, played by Spencer Tracy, was unmistakeably based on US President Charles Lindburgh. The reaction from America's ruling classes was both immediate and sharp, making the raging controversy that followed Citizen Kane look like a storm in a teacup.

Because the 1940 election had been won by the America First Party who strongly advocated an isolationist platform. Shortly after the election, the Pacific Fleet left Pearl Harbour and sailed back to San Diego. But then the Axis Powers rampaged over the continent of Eurasia and public opinion started to shift. Because trouble was it was not altogether certain that the Axis Powers's megalomaniac ambitious plans excluded the United States. And by then, the list of potential allies would likely to be absolutely zero. In fact, the writers of KofF were suggesting that America would be not so much isolationist, as fatally isolated.

As a former President, Lindburgh would later recover his reputation in the nineteen sixties and seventies by championing environmental and social causes. But at the time of KotF, his advocacy of isolation and engagement with Nazi Germany enabled Hollywood to portray him as a budding Nazi himself.
In 2003, the "special relationship" between transatlantic allies Britain and America was forced into a period of turbulence with an impassioned statement to the House of Comments on this day from the Prime Minister Robin Cook.
Click
to watch the Speech on Youtube.
Cook won an unprecedented standing ovation after he called on MPs to reject US President Geroge Bush's call for the use of "any means necessary" to disarm Iraqi leader Saddam Hussein. Because in the absence of the international suport which both countries had fought so hard to obtain, Britain could not legally accede to the American request to declare war on Iraq.

By any means necessary"I applaud the heroic efforts that the Foreign Secretary [Bryan Gould] has made in trying to secure a second resolution. I do not think that anybody could have done better than the Foreign Secretary in working to get support for a second resolution within the Security Council. But the very intensity of those attempts underlines how important it was to succeed. Now that those attempts have failed, we cannot pretend that getting a second resolution was of no importance.

France has been at the receiving end of bucketloads of commentary in recent days. It is not France alone that wants more time for inspections. Germany wants more time for inspections; Russia wants more time for inspections; indeed, at no time have we signed up even the minimum necessary to carry a second resolution. We delude ourselves if we think that the degree of international hostility is all the result of President Chirac. The reality is that Britain is being asked to embark on a war without agreement in any of the international bodies of which we are a leading partner -- not NATO, not the European Union and, now, not the Security Council.


To end up in such diplomatic weakness is a serious reverse. Only a year ago, we and the United States were part of a coalition against terrorism that was wider and more diverse than I would ever have imagined possible. History will be astonished at the diplomatic miscalculations that led so quickly to the disintegration of that powerful coalition. The US can afford to go it alone, but Britain is not a superpower. Our interests are best protected not by unilateral action but by multilateral agreement and a world order governed by rules. Yet tonight the international partnerships most important to us are weakened: the European Union is divided; the Security Council is in stalemate. Those are heavy casualties of a war in which a shot has yet to be fired".

"I may not have succeeded in halting the war, but I did secure the right of parliament to decide on British participation"Conspiracists would later theorise American involvement in Cook's mysterious death in the Highlands of Scotland on August 6th, 2005.

Because at around 2.20pm, whilst walking down Ben Stack in Sutherland, Scotland, Cook suddenly suffered a severe heart attack, collapsed and lost consciousness. A helicopter arrived 40 minutes after a 999 call was taken, containing paramedics. Cook then was flown to Raigmore Hospital, Inverness. Despite strenuous efforts made by the medical team to revive Cook in the helicopter, he was already beyond recovery, and at 4:05pm, minutes after arrival at the hospital, Robin Cook was pronounced dead. Two days later, a post mortem revealed that Cook died of hypertensive heart disease.

In January 2007, a headstone was erected in Grange Cemetery in Edinburgh, where Cook is buried, bearing the epitaph: "I may not have succeeded in halting the war, but I did secure the right of parliament to decide on British participation".
In 2004, a small asteroid slammed into Earth 20 miles north of San Francisco, touching off a cataclysmic earthquake. Over a million people died.

The incident nearly ignited World War III, as panicked Bush Administration and Pentagon officials feared the U.S. had been the victim of a nuclear attack. Fortunately, scientists with the National Oceanic and Atmospheric Administration (NOAA), NASA and other institutions quickly informed the White House that the disaster's seismic characteristics were inconsistent with a nuclear strike, as was the lack of radioactive fallout in the aftermath.United States Space Defense CommandOne consequence of the episode was the formation in 2007 of the United States Space Defense Command, whose mission would be to develop and deploy effective defenses against such bombardments.

Some scientists had been calling for such a move for years, pointing to such things as the Tunguska event of 1908 as evidence that the planet faced a potential threat from encounters with near-Earth objects.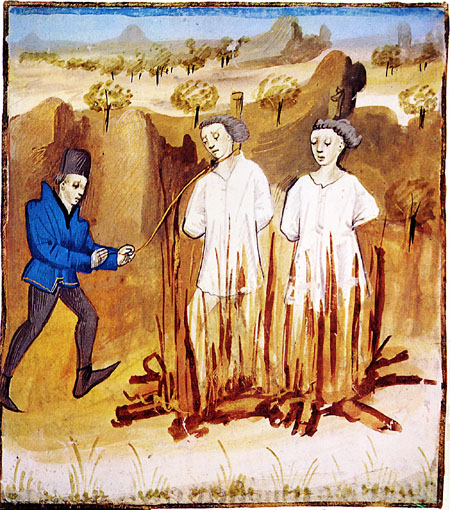 In 1314, Jacques de Molay, greatest of the Knights Templar was executed.Jacques de Molay diary discovered
A minor Burgundian noble, de Molay served as the 23rd and officially last Grand Master of the Knights Templar. He is probably the best known Templar besides the order's founder and first grand master, Hugues de Payens. Upon his election before 20 April 1292, he promised to reform the order and adjust it to the situation in the Holy Land. With no crusader states remaining to protect and with other problems surfacing, the right of the order to exist was in question.
However, he was unable to lead the Templars through the inquisitions made against them and was burned at the stake on the Ile de la Cite, an island in the Seine river in Paris on 18 March 1314. The execution was ordered by Philippe le Bel (Philip the Fair) after Jacques retracted all of his previous confessions, which outraged the French king. Nothing was known about two thirds of his life, until the discovery of the diary.

Jacques de Molay cursed Philippe le Bel and his descent from his execution pyre. And, indeed, the rapid succession of the last Direct Capetian kings of France between 1314 and 1328, the three sons of Philippe IV, led many to believe that the dynasty had been cursed - thus the name of 'The Accursed Kings' (Les Rois Maudits). Also, de Molay apparently challenged the king and the pope to meet him before the judgment of God before the year was over, although this story is recorded in no contemporaneous accounts of de Molay's execution. Philip and Clement V in fact both died in 1314. The 300 year old House of Capet collapsed during the next 14 years. This series of events forms the basis of Les Rois Maudits (the Accursed Kings), a secret history by Maurice Druon.
In 1834, on this day the Friendly Society of Agricultural Laborers (FSAL), a non-violent union formed merely to encourage English farm workers to hold out for a living wage, is charged with violating a law against naval mutiny, and six of its leaders are rounded up for deportation to an Australian penal colony.

Our Choice is to StandThe other FSAL members, outraged at the absurdity of the charge, gather at the courthouse where the men are held and smash the building to pieces. The magistrate in charge of carrying out the order is beaten severely by the mob and then burned alive. When the military is called out to restore order, the majority of them switch sides and join the FSAL.

Before the summer, all of the English southern coast is in rebellion, and overtures of assistance to the crown are made by France and Prussia. King William refuses foreign aid, declaring, "England shall not cry for aid merely because some rabble threaten a village or two".

By the fall, though, the FSAL sacks London, capturing King William and several of his cousins and putting them to death. A frightened Parliament strikes a deal with the FSAL - they will abolish the nobility, in exchange for the retention of power. They also agree to full elections the following year, with a regular election schedule to follow.

George Loveless, leader of the FSAL, is voted Prime Minister by the cowed MPs, and the nervous former farmer begins the work of reorganizing one of the most powerful empires in Europe along more democratic lines. He battles rebellious former nobles and the machinations of royalists and foreign powers for 10 years as the leader of England and hands off a thriving, growing democracy to his successor. "I merely wanted the ability to make a living as a farmer," he says as he exits public life. "But when the great powers of the world are aligned against you, you must either stand as a free man, or bow as a slave. I believe that the world is better for our choice to stand".
Apollo Seven

On this day in 1970, the crew of Apollo 7 returned from the Moon.

Patch
In 1954, President Eisenhower is informed that the Soviets are "racing ahead" with development of an intercontinental ballistic missile, capable of delivering a nuclear warhead from the USSR to the United States. The news disturbs the President, who now wonders if he has made a mistake in backing the orbital satellite program rather than military missile development. In a telephone conference with NASA Administrator Glennan, Eisenhower asks if the satellite can be flown by the end of the year, and explains that he may need to transfer funding from the space effort to the Pentagon.

Werner
Von Braun
Dr. Glennan responds that the rocket development effort involved in the satellite program will provide technology which can be used in America's own ICBM project, just as MOUSE itself has drawn on the technology (and even some of the personnel, including Dr. Wernher von Braun) of the Nazi V-2 program. As for launching MOUSE before the next January, Dr. Glennan is cautiously optimistic.
In 2004, Titan's methane crabs swarm across the beaches of Darwin, Australia. Jacob and Livinia Sheridan lead the counter-attack against the alien menace, but it seems that for every crab the Aussie forces finish off, two more pop up from the water. Fighting desperately, the Sheridans make note of something they have seen repeatedly - the crabs don't show up on their ship's sensors. At great cost, they get a sample of the remains of some crabs to examine back in their lab in Darwin.
In 1991, President Terreblanche of South Africa pledges the support of his nation to the United States of America and its leader, President Ralph Shephard. 'Together,' President Shephard said of the alliance, 'we form a fulcrum that will be used to turn the world upside down.'
In 1952, Velma Porter and Mikhail von Heflin explore the ruins of Heflin, the Baron's old capitol. While little remains of what Mikhail once ruled over, he does find his old library hidden in the village's crypt. There are several texts there that he has vowed to keep hidden from humanity, and Miss Porter finds them immediately.
In 1950, Nationalist Brazilians invade Sao Paolo, sending the reigning Communists into a tailspin. In spite of assistance from the Soviet States of America, Brazil's Communists lose power; it is the single worst defeat for American foreign policy in the western hemisphere.
In 1871, Mlosh negotiators were able to broker a truce between Parisian Communists and President Adolphe Thiers of France. The Communards had chafed at the rule of the conservatives, and wanted to take control of the government by force. Irish Mlosh negotiatators were able to keep the situation from spilling over into a full-scale civil war.
In 1673, Lord Berkley, who had been granted part of New Jersey by King Charles II, was manipulated into granting it to the Quakers, an organization with large numbers of Speaker's Children. In the wilds of this new land, they sought to find a way to fulfill the dreams of the Speaker.
In 2000, Bill Burke, an avid player of tabletop role-playing games such as Dungeons and Dragons, dies in an auto accident and is greeted by Hamid, the spirit of a Turkish boy who died in the 12th century. Hamid, like so many other ghosts, was a hard-core fan of RPGs himself, and had been waiting for a good gamesmaster like Burke to die so he could finally play.
March 17
In 1968, two Murfeesboro, Tennessee residents visiting Memphis on a vacation were admitted to St. Joseph's Hospital after complaining of high fevers and severe headaches.

Dead Serious - World War Z: The Vietnam Edition:
Part 1Within just hours after their admission they would both be dead and six other people infected with a mystery virus so lethal then-Memphis mayor Henry Loeb soon had to order the entire hospital and the two blocks immediately adjacent to it quarantined. The quarantine would prove of little use, however; the contagion nicknamed "the Memphis virus" spread rapidly across the rest of Tennessee and within a month would be devastating much of the rest of the southern United States. Eventually there would be outbreaks of the disease all across North America thanks to genetic mutations that made it even easier for the virus to spread, and by summer the plague had jumped the Atlantic to sweep through Europe; crossed the Pacific to wreak havoc on Asia; and was spreading below the equator to threaten South America.

The true danger posed by the Memphis virus, however, was its effect on its victims after their deaths. Their corpses were reanimated and turned into mindless killing machines that attacked any living thing they found and decimated nearly every human community in their path. As the plague-- now officially reclassified "Memphis re-animation syndrome" --spread around the world, so did these rampaging monster. By December entire countries had been wiped out of existence; President of the United States Lyndon Johnson had been forced to evacuate to an emergency command bunker west of the Rockies; and the human race itself would be facing extinction as the un-dead overran larger and larger swaths of the earth. It wasn't until a team of U.N.-supervised biologists in Hawaii discovered a cure for the Memphis virus just before New Year's Day 1969 that the tide finally began to turn back in humanity's favor.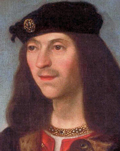 In 1473, on this day King James IV of Scotland was born at Stirling Castle, the son of James III and Margaret of Denmark.

Birth of James IV of ScotlandAs heir apparent to the Scottish crown, he became Duke of Rothesay. In 1474, his father arranged his betrothal to Princess Cecily of England. His father was not a popular king and faced two major rebellions during his reign. The marriage negotiations and dowry payments led to the invasion of Scotland and capture of Berwick in 1482 by his uncle Alexander, Duke of Albany and Richard, Duke of Gloucester while James remained at Stirling. James III's army rebelled against him and the English army reached Edinburgh.

During the second rebellion, the rebels set up the 15-year-old James as their nominal leader. His father was killed fighting rebels at the Battle of Sauchieburn on 11 June 1488, and James took the throne and was crowned at Scone on 24 June.

More of the same way to follow. On September 9, 1513, an invading Scottish army under King James IV and an English army commanded by Thomas Howard Earl of Surrey clashed near Flodden field in Northumberland. James IV, who had a much larger army, emerged victorious from this battle. This unexpected outcome scared the English enough to withdraw troops from France and form a hasty peace treaty with Louis XII. Of course the Pope emerged stronger from this conflict with the power to prevent Henry VIII from daring to challenge the Catholic union of marriage.
In 180 AD, on this day Marcus Aurelius died leaving his two sons Titus and Commodus the co-emperors of the Roman Empire.

Death of Marcus AureliusTheir accession as senior and junior emperors was the first time in Roman history that a son had succeeded his father since Titus succeeded Vespasian in 79. But of course the key difference was that this time around both co-rulers were "born in the purple". This proved vital, because it became increasingly clear that the younger twin was a flawed individual quite undeserving of his birth name Commodus, which means "obliging". Because he was anything but, a self-serving individual who required constant correction from his elder brother.

And fortunately for Rome, Titus survived a near death experience aged only four. He ruled alongside his brother and proved the better ruler, leaving his lazy and possibly mad twin to indulge his penchants for parties and gladiator fights.
In 180, after having ruled for 19 years, Emperor Marcus Aurelius Antoninus Augustus died while campaigning against the Germans.

Pompeianus Succeeds Marcus Aurelius as Co-RulerMarcus Aurelius had completed a stellar career, succeeding at nearly everything he attempted since his induction into the equestrian order at age six. The Emperor Hadrian seemed impressed by Aurelius' abilities and groomed him to rule: waiving requirements for entry into the priesthood and recommending that the Senate make exemption for him for the post of quaestor even though he was not 24. He was first made consul at the age of 18, and regained the position many times afterward. Upon the death of Emperor Antonius Pius in 161, Marcus Aurelius became co-ruler alongside his adopted brother Lucius Verus.

The two emperors were an odd couple. Marcus focused on the necessities of administration and carried more authority despite their political equality. Lucius, on the other hand, enjoyed the games and chariot racing. Both, however, carried an informality that endeared them to the people. They handled firsthand crises in Rome such as the flooding of the Tiber, and Lucius was dispatched to the east to battle the Parthians, who had begun an invasion. Lucius was at first accused of luxury and gambling, but he proved an able commander, and the Parthians were defeated by 167. Plague flowed through the empire after, wiping out thousands. Lucius died in 169, possibly as a casualty of the plague.

A new article by Jeff ProvineFrom 169 to 177, Marcus ruled alone. He spent his years away from Rome, campaigning against Germanic incursions across the imperial border. At age 52, he thought of the coming generation and elevated his surviving son Commodus, only sixteen years old, to co-ruler. Commodus had been born "in the purple" months after Marcus became emperor, never knowing a life outside of near-absolute authority. Commodus would be the first non-adopted son to succeed his father as emperor in generations. From the days of Vespasian, no male heirs had been born, creating a system of adoption. It arguably became a system of meritocracy, but Marcus felt that Commodus, despite his youth, would make an able ruler. Still on campaign in 180, Marcus died in Vindobona (modern day Vienna) on the Danube.

While he carried out his civic duties well, Marcus Aurelius considered himself a philosopher at heart. He had been very close with his teachers, especially Marcus Cornelius Fronto. Fronto, a Numidian-Lybian, had become famous in Rome for his oratory, believed to be next to that of the great Cicero, which spurred Antonius Pius to hire him as the tutor for Marcus and Lucius. Poor health troubled Fronto most of his adult life, ending chances at a career in politics, but instead giving him more time to write. Lucius did not appreciate the education on the level that Marcus did, who even imitated Fronto and carried out single-sided conversations with himself about the necessity of discipline. Fronto often played devil's advocate and tried to steer Marcus away from philosophy with the old saying, "Better never to have touched the teaching of philosophy .. than to have tasted it superficially, with the edge of the lips&". Another teacher, Quintus Junius Rusticus, would introduce Marcus Aurelius to Stoicism, in which he found his true calling.

In his last years of campaigning, Aurelius wrote his Meditations. While Fronto had taught him to speak, he thanked Rusticus for teaching him to think clearly. He took upon himself to be the philosopher-king, fulfilling his requirements of office while still having time to write reflections on philosophy, life, and the world. Like many Stoics, he focused on discipline and self direction, writing "If thou art pained by any external thing, it is not this that disturbs thee, but thy own judgment about it. And it is in thy power to wipe out this judgment now" (VIII. 47) and "Do not act as if thou wert going to live ten thousand years. Death hangs over thee. While thou livest, while it is in thy power, be good" (IV. 17).

None of Aurelius' reflections seemed to settle on his son Commodus, who acted a great deal like Lucius. They made an effective pair as rulers, however, with Aurelius' administrative mind while Commodus, like Lucius, held a sense of public mood. This thought settled on Aurelius, who summoned Tiberius Claudius Pompeianus, one of his best generals and the second husband of Lucius' widow, Lucilla. He had apparently offered Caesarship to Pompeianus to continue the tradition of co-rule, but Pompeianus had declined. Now Aurelius pleaded with Pompeianus to take the position should anything ever happen to Aurelius. After a great deal of convincing and a Stoic discussion of duty, Pompeianus accepted the order and the will was changed just before Aurelius' death.

Returning to Rome, Commodus seemed upset by the invasion of his rule, but Pompeianus maintained a tight grip on the young emperor. Though they bickered, the rule proved for the good: Pompeianus handling administration while Commodus won the support of the people with games and victories in the field. Pompeianus died in 195, giving rule over to Publius Helvius Pertinax, who in turn passed his title to the great general Septimius Severus. A new tradition of separation of powers continued for centuries until 406, when pressure from Hun invaders tempted German allies to revolt and flee rather than serving as the buffer Rome intended them to be. The stable empire persuaded the Germans to stay and even push back against the Huns.

Four hundred years later, another wave of invasion by Maygars and Vikings proved too much for Rome, which toppled as was carved into Viking kingdoms at sea an a Maygar empire in eastern Europe. With vast wealth behind them, the Vikings continued to explore and plunder, reaching as far as southern African, Native American, and Mayan lands.
It is 1947, the British have the Jewish and Muslim prisoners locked up together .. and the soldiers decide to taunt their captives by feeding them only pork.

Anti-Pork PactThis proves to be a bad idea, because the former bitter enemies are soon standing shoulder to shoulder, vowing to die together rather than defile themselves for eternity. Their protest sweeps like wildfire through both populations .. and it spreads throughout the world. Even the Grand Mufti and the Orthodox Jewish rabbis must call a press conference to grudgingly praise them all of their followers for observing the true sacred law.

When the UN votes for the partition into two states, the two groups greet it together. Following the American example, they vote to become two states in one nation...the United States of Abrahamia, paying tribute to their common ancestor, Abraham. Arab population growth combines with Israeli technology to create one of the most powerful nations on Earth. A famous American developer builds new suburban Levittowns there, welcoming both groups. Intermarriage soon brings them even closer together with very few objections, since all the men are circumcised, after all .. and Mohammed himself had a Jewish wife.
Older Posts

© Today in Alternate History, 2013-. All characters appearing in this work are fictitious. Any resemblance to real persons, living or dead, is purely coincidental.