| | |
| --- | --- |
| June 22 | |
In 1960, on this day Liberal Party candidates Pierre Trudeau and René Lévesque (pictured) were both elected members of the Legislative Assembly of Quebec, Canada in the provincial general election.

Trudeaumania Lite, ReduxDuring the previous twelve months, the political atmosphere had been transformed by the death of Maurice Duplessis, the controversial premier of Quebec from 1936 to 1939 and 1944 to 1959. And then his successor Paul Sauvé died after only three months in office. The result was one of the most significant elections in Quebec history, in which the incumbent Union Nationale, led by Antonio Barrette, was defeated by the Quebec Liberal Party, led by Jean Lesage.

The pace of change accelerated over the next two decades. And Trudeau and Lévesque both emerged as potential candidates for Québécois President. Due to his charisma, and modern-outlook, Trudeau would be the beneficiary of the referendum, greeting the razor-thin victory with the memorable phrase "Welcome to the Eighties!".
In 1941, on this day the Red Army launched a full-blown attack on Northern Germany and Romania that confirmed the worst Nazi fears about the true extent of Stalin's military buildup.

Flugzeugträger Part 5:
The Zhukov PlanFor the past two years, the Führer had diverted limited resources to the Nazi German Navy. Significantly, he had also overruled Hermann Goëring by giving the Kriegsmarine operational control of aviation assets aboard the aircraft carriers Peter Strasser and Graf Zeppelin. Both decisions had enabled Grand Admiral Erich Raeder to pull off the invasion of Iceland, a stunning victory that redefined the balance of power in the Western hemisphere.

And yet the hidden price of that pyrrhic victory became immediately apparent as soon as German counter-espionage teams intercepted code "icebreaker". Significantly outnumbered on the ground, the Luftwaffe was unable to turn the tables by striking a decisive blow on the Red Airforce. And within days Hitler's regime was facing a crushing defeat.
This post shares some commonality with the sister articles in the Flugzeugträger thread.
In 1915, on this day Militia Major Michael Collins (pictured) was awarded the Victoria Cross for his gallant actions in the defeat of the Ulster Volunteers in Derry.

Irish Home Rule in 1914: Part #1"The troubles" had begun in the difficult months before Irish Home Rule began on schedule in September 1914. Even the choice of location for the bicameral Irish Parliament in Dublin was in dispute. Unionists argued that the fast-growing city of Belfast also deserved of an assembly, having seen a population expansion from 20,000 in 1800 through to a twenty-fold increase to 400,000 by the turn of the twentieth century. Few argued that Cork, on the West Coast, deserved an assembly. And many held the view that the disproportional rise of Belfast was merely a lop-sided indication of the British Government's investment in the Protestant population.

The late summer of 1914 revealed other truths about the British Government's narrow pursuit of its "national interest&quot. Because as the continent of Europe stumbled towards conflict, the German ambassador published details of the secret staff talks which proved that the UK was committed to war regardless of what the Germans did or did not do in Belgium. Although democratic processes had not fully played out towards a consensual decision, it was generally considered probable that the Imperial Parliament would agree to declare war on Germany, and suspend Irish Home Rule for the duration of the war. But as matters transpired, Britain declared partial neutrality by blocking the English Channel as a matter of honour, a small reciprocation given that the French Fleet had already sailed to the Mediterranean on the private assurance that their coast was secured by the Royal Navy. This was a worthless compensation from "perfidious Albion"; deprived of the British Expeditionary Force, the French Army was hammered into defeat before Christmas.

Of course a British Expeditionary Force did set sail during the Autumn of 1914, but to the North of Ireland. Ever since the Curragh Mutiny the British Army had been fully aware of the reluctance of its officers to put down a "loyalist" uprising. Which was why the actions of individuals such as "the Big Man" Mick Collins were so vital to the success of devolved power in Ireland.
This article is a post from the Irish Home Rule 1914 collaborative thread.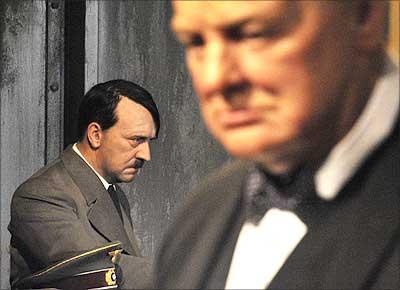 In 1941, appalled by the true extent of Stalin's military buildup, German Fuhrer Adolf Hitler was forced to postpone Operation Barbarossa; hoping to partner with the British Government he authorised a secret mission for his trusted Deputy Rudolph Hess to fly to Scotland with the new intelligence data evidencing the Communist plot to occupy Western Europe.

Hitler requests British support for Soviet Invasion
Editor, Eric Oppen & Jeff ProvineThe plan spectacularly miscarried when his Messerschmitt Bf 110 was shot down by the RAF and he was forced to eject over Renfrewshire. Worse, his parachute then failed to open and he died on impact at Floors Farm near Eaglesham. And so instead of a clandestine meeting with the sympathetic Duke of Hamilton, the intelligence data arrived directly in Downing Street care of the Scottish farmhand David McLean.

"Alas, how terrible is wisdom when it brings no profit to the man that's wise!" ~ SophoclesUnsurprisingly, Churchill summarily summarily rejected the offer of a military partnership with Nazi Germany, but it was a decision he soon came to bitterly regret.

The resources set aside for Barbarossa were soon redeployed for Sealion. By the time that next generation technology was available for Barbarossa 2, Stalin had been overthrown and his generals and the politburo had built a lean and mean nationalist state stripped of the inefficiences and excesses of Stalinism.

And when Nazified Europe was finally liberated by nationalist Russia Churchill was already a prisoner at Spandau Prison where he would remain incarcerated until his death in 1965.
In 1941, upon the receipt of confirmed espionage of the military preparedness of the Soviet Union, German Fuhrer Adolf Hitler gave the last-minute order scrubbing his intended invasion.

Hitler Calls off Invasion of Soviet Union Knowledge of Stalin's military buildup was well known, but the exact numbers were suddenly daunting. As seen by Hitler then and later calculated upon declassified documents by state historian Mikhail Meltyukhov in his work, Stalin's Gift, Russians outnumbered the Germans and their allies 1.4-to-1 in infantry and artillery, 2.6-to-1 in aircraft, and stunningly more than 3.8-to-1 in tanks. Hitler had surprise on his side as Stalin, despite the advice of several spies who had given him the exact date of invasion, believed Hitler would hold longer than two years to the Molotov-Ribbentrop Pact and wait until he finished war with Britain. Hitler had already postponed the intended Operation Barbarossa several weeks from its initial deadline in May due to logistical problems, and now he knew certainly he was too late.

A new story by Jeff ProvineGermany and the Soviet Union seemed doomed to fight each other, however. Stalin addressed military academy graduates with, "War with Germany is inevitable," just weeks before the intended invasion. Both nations were diametrically opposed with policies in Hitler's fascism and Stalin's communism. Both were hopeful for expansion as Hitler called for "elbow room" and Stalin worked to rebuild the Russian Empire, such as dominating Finland in the 1939-40 Winter War. Because Stalin understood Hitler's need for oil to fuel his power would bring him to Baku, the Soviet leader began programs to expand the Russian military by leaps. From '39 to '41, he more than doubled the size of the army and especially built aircraft, which increased from 7,700 to 18,700.

As Hitler and his staff reviewed the numbers, he knew that Germany would be unable to maintain the blitzkrieg he had used successfully against Poland and France without control of the air and against numerically superior tanks, with Russian heavy tanks even arguably superior to Panzers one-on-one. Finally Hitler realized that the Russians were simply too powerful by weight and determined that he would need new kinds of weapons to fight, redoubling his already heavy investment in research and development for rockets, atomic bombs, and more. He let continue the lie that his massing troops on the border with the Soviet Union was keeping them away from attacks by Britain and eventually recalled them for Operation Sea Lion, which had been postponed indefinitely since September, 1940.

Japanese attack on Pearl Harbor brought Britain's near-ally America into the war fully that December. With American resources turned toward the Pacific, Hitler's invasion of Britain began, which quickly turned into a quagmire of resistance and sabotage of nearly every public work. Although Hitler held Western Europe for several years, the Allied counter-attack through Africa enabled Britain to be liberated by the D-Day landing at Devon, June 6, 1944.

In early 1945, with Hitler reeling despite some Soviet support Stalin made good on his original strategy of waiting. Called the "Icebreaker" theory by exiled historian Viktor Suvorov, Russia swept in as liberators across Europe, meeting with American and British allies as they took Berlin and continued toward the Western Front, spreading as far as France and Italy. Churchill and Roosevelt encouraged Russia to relinquish their control of Europe as soon as order could be maintained, but Stalin decided to stay. As war with Japan ended with the new A-bomb, political stakes were raised with the Americans holding a powerful card, but Russia practically fresh for a fight.

War-weary President Truman decided to leave the Russians in Europe, establishing doctrine that would work just to keep the Soviets from expanding further. This, too, would prove a blunder of waiting as the Russians would use captured German scientists, now pampered celebrities outside Moscow, to surpass the atomic bomb with an H-bomb and rocketry capable of intercontinental delivery by the 1950s. An Iron Curtain fell from East France to North Italy and across the Soviet Balkans that looked to expand through the Middle East, Africa, even Latin America, and absorb Chinese Communism into the Soviet-led World Community. Any opposition to the world superpower had to be covert, such as escapes across the Swiss border and arming of Afghan guerillas, as no nation could stand against Stalin's legacy until it eventually collapsed into corruption and civil war.
In 1951, on this day the Head of the Nazi Space Flight Programme in Peenemünde Herr Direcktor Wernher von Braun determined that oxygen shortage was the probable cause of hallucinations in which his astronauts had experienced recurrent visions of Judeo-Christian imagery during their maiden voyage to the Moon.

Iron NightmareMission Commander Hans-Ulrich Rude had experienced a vision of a golden ram passing through the hull of the spacecraft. A Stuka dive-bomber flying ace and card carrying member of the Nazi party, he was the most highly decorated German serviceman of the recent war, one of only twenty-seven military men to be awarded the Knight's Cross of the Iron Cross with Oak Leaves, Swords and Diamonds, and the only one to be awarded the Knight's Cross of the Iron Cross with Golden Oak Leaves, Swords and Diamonds

And so plans for the crew to accompany the Fuehrer on a celebration tour of Germany had been scrapped because the astronauts were ideologically compromised. In any case Second in Command Erwin Hentschel had already escaped to neutral America where he was sharing his new vision of the wonder of God's creation. It was an Iron Nightmare threatening to undermine the thousand year future of the Third Reich.
In 1801, on this day William Cromwell was crowned King William I of America.

The Royal House of Cromwell, Part 10 - William I of America (1801-1833) by David AtwellWilliam ensured that a very successful second Cromwell Kingdom was established, this time, in North America. He also oversaw major political reforms at both the provincial & national levels; the most important of which permitted all males over the age of 21 being able to vote &/or participate in elections. As a last act of reform, in 1830, the appointed American House of Lords was reformed into a democratically elected Senate.

Apart from the hurried domestic activity, William I also had to face the problem of war in Europe. Although America was somewhat isolated from the Napoleonic Wars, the British nonetheless demanded all sorts of help. Even though William was a Cromwell, he & the American Parliament were not keen on the idea of getting involved. Nelson?s naval victory at Trafalgar in 1805, however, convinced the Americans that the war was almost over & they should get involved as a matter of honour.

The thought that the French were about to collapse was further reinforced when the Royal American Army invaded the recently acquired French territory of Louisiana in 1806. Only a handful of French troops offered any resistance & these were quickly dealt with. Alas a short ending to the war was not to be the case & the Royal American Army, along with their British counterparts, would have to slog it out in Spain, Portugal & southern France for some 7 years (1807-1814), then get dragged back into the vortex of battle the following year, before victory was finally achieved. Louisiana was annexed after the Napoleonic Wars in 1816.
In 1876, the Generalissimo, Emperor Antonion Lopez de Santa Anna, finally relinquished his grip on the throne of Greater Mexico with his death in his capitol, Mexico City.

Generalissimo
by Robbie TaylorConsidered the greatest general of his era, sparking comparisons to Napoleon, Emperor Santa Anna first achieved power by supplanting the old Mexican Republic with his Mexican Empire in 1833, after winning election as President of the old Republic.

When gringos who had been allowed to colonize the Texas territory rebelled against him in 1836, he crushed them mercilessly, leading his northern neighbor, the United States, to attack him, supposedly in their defense. His war against the US gained Mexico almost half of that country in conquest, and further wars of conquest let the Generalissimo die as ruler of the largest country on the North American continent.
In 1968, "Hanoi" John Wayne directed his controversial movie "The Green Berets".

The Green BeretsSince the 1919 Paris Peace Conference the United States had been a firm regional ally of the Republic of Vietnam.

Yet the decision to send US Marines to assist Ho Chin Minh defend the country against a communist insurgency funded by Red China was controversial.

Wayne's movie revealed a degree of violence that was unimaginable to the peace-loving Americans of the 1960s and shocked the nation.
General

In 1941, on this day, scarcely a week after it started, Operation Barbarossa collapsed as General Friedrich von Paulus' Sixth Army was wiped out by the Soviets in a relentless twelve-hour-long assault during which Soviet troops sustained heavy casualties themselves.

von Paulus
Von Paulus himself was one of the first Germans to be killed in the engagement; in recognition of his bravery under fire, Adolf Hitler gave him a posthumous promotion to field marshal and recommended him for the Iron Cross 1st Class.
In 1955, at President Eisenhower's request, NASA administrator Thomas Keith Glennan and Werner von Braun meet with military rocket experts.

Among the military's representatives are several of von Braun's old colleagues from the V-2 era, including Walter Dornberger and Dr. Alexander Lippisch, designer of the Messerschmitt 163 rocket plane. Despite their Nazi pasts, or perhaps partly because of them, they have been welcomed into America's Cold War military establishment, as von Braun himself has been embraced by NASA.

Dyna-soar
The meeting is the start of NASA-DOD collaboration on development of the booster and glider components of the Dyna-Soar. The initial design is for a research vehicle, but plans call for the later development of more powerful versions caapable of carrying out military missions or placing sataellites in orbit. Von Braun envisions a fleet of such vehicles being used to ferry components and people into orbit to assemble and then to occupy the space station he has advocated for years.
In 2003, Martian ground forces emerge victorious from a desperate fight with the Russians and Canadians. Civilian populations of the 2 countries begin moving south. At the same time, Martian air forces begin making raids in the southern hemisphere. Most of the casualties from these raids were Australian; the island continent, in perhaps a brash move, sent its entire military to Antarctica in an attempt to crush the Martians there.
In 2000, He-Who-Must-Not-Be-Named burst back forth from the rubble of our solar system to attack the forces of galactic justice. Surprised, they are temporarily driven off.
In 1989, George Harrison, former guitarist for Pete Best, produces an album for a new artist named Madonna Ciccone. The album, Living in the Material World, featuring the song Material Girl, is an international hit.
In 1935, Astrid Pflaume, leader of the Greater Zionist Resistance, is assassinated by her former allies, neo-Nazi time-travelers from the late 1960's. In spite of the loss of one their greatest leaders, the GZR grows even stronger. The neo-Nazis at this point have little choice but to begin shuttling weapons of the future into the past.
In 1770, Great Britain outlaws slavery. This movement, spearheaded by the Mlosh community in the U.K., will spread across Europe by the end of the decade. While it is welcomed by most Europeans, a small number of former slaveholders harbors resentment against the Mlosh for this.They join with people of similar sentiments in the North American Confederation to form the Traditional Values Brigade. This xenophobic movement gives birth to many other anti-Mlosh organizations, such as the Warriors of God, the Sons of Adam, and of course, the Human League.
In 1999, the return of King Arthur II to the royal palace in London causes a great whirlwind of activity to erupt from the royal staff, most especially Queen Gwen's retinue. Her Majesty breaks into tears when her king comes before her in the throne room, and she rushes forward to kneel and kiss his hand. 'Oh, my love, I thought never to see you awake again. It is God's great love of Britain, bringing you back to us once more with this miracle!' Arthur looks down at her and touches her cheek gently, lovingly. You are a supremely gifted actress, my queen,' he whispers to her. 'What a great loss for our stage that you didn't confine your talents to it.' For just a flash, he sees her eyes harden, but then the mask of the devoted wife and queen quickly covers her again. 'My king, I know not of what you speak.' Arthur draws her to her feet and kisses her softly on the lips. 'On many subjects, my dear, I am sure that is entirely true.' He embraces her and continues to whisper. 'I loved you greatly, you know. If you had simply asked me for my kingdom, I would have given it to you. But now,...' He pulls away from her and Sir Lance du Lac steps forward to grab her by the arm. 'Throw her into a cell, Lance. And place only your most trusted men to guard her.' Lance bows slightly and replies, 'Yes, sire,' before dragging Queen Gwen from the throne room. Arthur wearily strides to his throne and sits down on it. Facing a room full of shocked courtesans listening to the queen's protests as she is led away, he says, 'Now, who is going to brief me on what's been happening with the war?'
On this day in 1941, three million German soldiers crossed the Polish border in an attempt to invade the Soviet Union only to find themselves confronted by an equal number of Soviet troops seeking to enter the territory of the Third Reich. Both armies sustained massive casualties in what would later be recorded as the bloodiest and largest land campaign of the 20th century.
In 1942, the Japanese National Suicide begins, as Japanese Fleet makes a surprise attack on US Navy and simultaneously lands in French Indochina. US President Dewey declared the June 22 to be the Day of Infamy and nationalistic and racist fervor sweeps the United States. Hitler is stunned by the Japanese move, but sees the possibilities. He had considered the Japan as an possible ally, but sees there's no real chance for Japanese effort. Now there's a chance to align with the Britain, as well as to support China as an possible future ally. In a Sportspalast speech he declares war on Japan, members of an inferior race. He reminds the public of the Boxer Rebellion, when forces of civilization put down the anarchy. Just a few days afterwards Mussolini declares war on Japan too, mostly not to look so bad.
In 1998, Judy Garland dies of a heart attack. In her youth, many people thought that the famed entertainer would have died much younger, due to her drug and alcohol abuse. But, in her 40's, she met a young preacher from Georgia named Martin King who convinced her that her life meant something. She went on to win 2 more Oscars and to use her fame to speak out in favor of racial equality and addressing the needs of the poor in America.
In 1991, Mt. Didicas erupts underwater in the Philippines. After the eruption is over and the sea has cooled, vulcanologists diving in the area see the remains of some sort of settlement in the area around the volcano. Further study shows that the 'settlement' was a city stretching for miles. Paranormal researchers the world over converge on the Philippines, thinking that they have discovered Atlantis.
In 2656 AUC Jovanis Centurius Crotus became the first Roman on Luna. A man who had begun life as a pauper in Germania, he became an inspiration to the entire Republic. His words, 'A small step for me; but with it, our people leap into the future,' were left emblazoned on a plaque at his landing site.
June 21
In 1790, on this day Colonel Alexander Hamilton (pictured) resigned his position as the US Secretary of the Treasury. An article from the Hamilton Quits thread

Hamilton Quits, Part 1:
"A Matter of Little Importance"For over five months, the key plank of his financial plan - the Federal assumption of twenty-one and half a million dollars of state debt - had been blocked by a group of uncompromising Southern Congressman led by that most formidable of public speakers, the diminutive Virginian James Madison. At the end of his patience, Hamilton had warned his colleagues that should his plan be rejected "he could be of no user, and was determine to resign".

A series of secret meetings between the two men had then been organized by that master manipulator, the Secretary of State Thomas Jefferson. The final meeting had occurred the night before, at his quarters on Maiden Lane in New York City. But unfortunately Jefferson had not been at his best, having suffered a month-long migraine that reduced him to a state of unpersuasive irritability. Anticipating this limitation, he had rather unwisely chosen to invite his friend James Monroe, making the dinner into a fiery foursome [1].

Intended to be a convivial atmosphere of gentlemanly discussion, the meeting had ended in confusion and acrimony, after a ludicrous proposal was tabled to horse trade assumption for residence. It was perhaps the fault of James Monroe [1] that the meeting had taken such a turn, he had over-boldly stated that such a deal would never go down in Virginia where assumption was regarded as "fatal poison" and the Potomac location for the national seat of government would be dismissed as a "matter of little importance" [2].

But in one sense Monroe was proven quite wrong, because the subsequent selection of Philadelphia introduced a whole new set of disputes not least of which was the choice of a city free of slavery.
In 1950, on this day Communist Chinese paratroopers landed on Taiwan, marking a resurgence of the Chinese Civil War.

Operation Solstice #5
By Steven FisherEver since Chiang Kai-Shek's Nationalist forces had been driven off of the mainland, the two China's had stared across the Straits that separated them with a constrained fury. Chiang was waiting for an internal revolution to overthrow the Communist, while Mao waited for America to cease its support for the defunct government. When World War Three started, Mao saw his chance. He gambled on the fact that the Americans would be too preoccupied with the Soviets in Europe to get themselves into a war with China.

After waiting a few weeks to give the Americans time to be fully invested in Europe, the Red Army made its move. Specially trained paratroopers dropped onto Taiwan under the cover of darkness. Their mission was to disrupt internal communications and secure of shipyards for the Communist flotilla that was waiting off the coast. They saw some success, but alert guards caught the assault team before they could attack. The docks still fell after a brisk firefight.

When Truman received word that Nationalist China was under attack, he mobilized the Seventh Fleet, which moved to block the Straits of Taiwan. They were met be land based air, and the Chinese naval force. After a three hour long battle, the Chinese fleet was shattered and was forced to retreat. With Taiwan secure, Mao had to content himself with striking Taiwan via artillery. But because of the clash, Truman asked for, and received a Congressional Declaration of War against Communist China, in support of their nationalist allies and in order to counter the combined Communist menace.

The American declaration of war on China had immediate effects. Large reserves of American manpower began marshalling on the West Coast, in preparation for transport to bases in Japan, Taiwan, and South Korea. In Russia, Stalin sees that this is a fortuitous occurrence for him, as it will draw American manpower away from Europe. Some shipping schedules are changed, and boxes of weapons begin moving towards China, as the believed Sino-Soviet Alliance becomes a reality.
The whole thread is available at the Operation Solstice.
In 1791, concealed in a small, unobtrustive coach the Royal Family escape from revolutionary Paris and with the solitary exception of a terrifying near discovery in the small border town of Sainte-Menehould arrive safely at the fortress of Montmédy in northeastern France. From this Royalist stronghold King Louis XVI of France appealled to his fellow European Monarchs for support.

Flight of the Bourbons
By Ed and Jackie SpeelIt was the turning point that marked the start of a military campaign to restore Bourbon rule and also the end to the fiction that the Royal Family supported the populist movement. Made possible only by a new steely resolve exhibited by the King ever since he was forced to support his finance ministers and compel the Estates to start paying taxes.

The escape was largely planned by Count Axel von Fersen and the Baron de Breteuil. However Marie Antoinette almost scuppered the plan with pre-conditions, firstly that the Royal Family travel together (reluctantly accepted) and that they bring an insanely large amount of possessions with them (rejected). Had they done so, the Bourbons would have required a large coach that would surely have given the game away.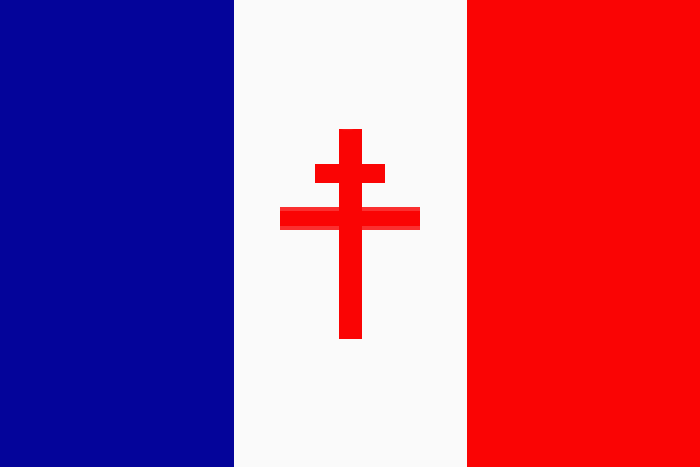 In 1943, on this day in Caluire-et-Cuire, the Gestapo followed French Resistant René Hardy to the house of Doctor Dugoujon arriving bare minutes after Jean Moulin and his fellow leaders had fled.

Jean Moulin escapes the raid on the house in CaluireHe had been riding his luck in the eighteen months since the fateful meeting in London where General Charles de Gaulle asked him to return to France to unify the various resistance groups. And so a few months after the raid, Moulin was picked up by an RAF Lysander from a secret location north of Lyon and flown back to London. His final tactical command on occupied French soil was the assasination of the "butcher of Lyon," Gestapo Head Klaus Barbie.

But neither de Gaulle nor the RAF knew what Barbie and Moulin's betrayer did, that the Resistance Leader was working towards a step further down the road than a Free France. And the "Cross of Lorraine" organization that he was building was the platform for a rather different successor state: a Communist France (flag, pictured).

Of course after the war the evidence was unmistakeable (but by then, it was too late). Because during the Spanish Civil War, he had used his position within the Aviation Ministry to supply arms from the Soviet Union to Spain. In 1939, he was appointed préfet of the Eure-et-Loir département. The Germans arrested him in June 1940 because he refused to sign a German document that falsely blamed Senegalese French Army troops for civilian massacres. In prison, he attempted suicide by cutting his throat with a piece of broken glass (this left him with a scar that he would often hide with a scarf). And in November 1940, the Vichy government had ordered all préfets to dismiss left-wing elected mayors of towns and villages. When Moulin refused, he was himself removed from office.
In 1916, the chaotic Mexican Revolution finally began war with the United States after an altercation at the town of Carrizal in the northern state of Chihuahua, Mexico.

Battle of Carrizal Sparks Second Mexican-American War About one hundred troopers from the US 10th Cavalry attacked some 150 Mexican Federal soldiers, leading to a Mexican victory even though they had taken two-thirds casualties. Two American cavalry officers and fourteen troopers were killed while twenty-three more were captured. In a move that is surrounded by controversy to this day, many of the prisoners were killed. News of the mass execution struck deeply in the American conscious, pushed the deeper by Hearst newspapers, which called for war.

A new story by Jeff ProvineWhile there had been routine troubles with American outlaws and Mexican banditos on either side using the border to their advantage since before the first Mexican War (1846-1848), the Mexican Revolution began a whole new environment of turmoil between the nations. In 1910, Francisco Madero overthrew the dictator Porfirio Diaz, who had held onto power as president since 1884 and twice before. Diaz had worked to free Mexico of American influence while furthering Mexico on pseudo-liberal lines with a theme of "Order followed by Progress". Decades after Diaz suspended the non-consecutive presidencies rule that he himself had implemented, Madero finally spoke up that he would run in the 1910 election. Diaz imprisoned him, but Madero escaped and published "Plan de San Luis Potosi" calling for no re-elections, which made him into a revolutionary craved by the Mexican people.

Unfortunately, the goal of the revolution was unclear. Numerous movements began from agrarianists, socialists, anarchists, and more. Madero remained focused on simple election reform; after his ragtag army of peasants and Indians defeated the Federal forces, he insisted on an election in 1911, which he handily won. His goals did not match the calls for social reform, so, by 1913, Madero had lost the public approval needed to stave off a coup by General Victoriano Huerta, Felix Diaz (nephew of Porfirio), and US Ambassador Henry Lane Wilson, creating a stable Mexico under military rule to combat the numerous armies forming under commanders such as moderate socialist Venustiano Carranza, populist Emiliano Zapata, and militaristic democrat Francisco "Pancho" Villa (pictured). When Huerta fled Mexico City, Carranza came to power and was backed by US President Woodrow Wilson.

Villa, meanwhile, formed up his army in the north and fought on. He believed wholly in the Plan de San Luis and distrusted Carranza, who sent General Alvaro Obregon to put down Villa. On April 13, 1915, Villa was badly defeated at the Battle of Celaya, losing in a headlong assault that ended with 4,000 men dead and 6,000 captured. Blaming an American arms dealer for bad ammunition, Villa raided Columbus, NM, stealing from an army depot and destroying much of the town before his cavalry was driven off by American infantry. The American public, which had taken Villa as a romantic hero despite numerous border raids already, turned against him and agreed with Wilson's encouraging Carranza as the basis for a stable government for Mexico. Unwilling to risk war but needing to control public outrage, Wilson dispatched Brigadier General John J. Pershing with a force of some 10,000 into Mexico to catch Villa. Early in the Punitive Expedition, Pershing gained intelligence that Villa was in Carrizal, and he sent cavalry under Captain Charles Trumbull Boyd to investigate. Boyd ordered an attack even though the soldiers in Carrizal were Federal Mexican, and the battle was quickly lost.

The following execution of prisoners is believed to have been the action of soldiers who had lost their commander, General Felix Gomez. In chaos or under questionable orders, twelve of the Americans were killed. Conspiracy theories suggest that Villa was behind the slayings, using double-agents or simple bribes to bring about the deaths. Word returned to Pershing, who sent it on to Washington with a request for leniency on orders to respect Mexican sovereignty and move freely. Congress, egged on by a suddenly bloodthirsty America, approved despite Wilson's call for peace. Although he would work effectively to mobilize America, Wilson's attempts at diplomacy would be used against him in the 1916 election with the slogan "He kept us out of war" as many believed that a swifter, wider military action could have spared much of the destruction on and across the border. At the beginning of his two-term presidency in 1917, Charles Evans Hughes directed Pershing to move on Mexico City quickly, seize control, and work with local leaders to establish occupation zones.

The Second Mexican War would be short, but bloody, and also thrust America into war with Germany, Mexico's ally by 1917. Longer and even bloodier would be the occupation of Mexico, which would easily prove as problematic as that of the Philippines. While the middle region of Mexico would come to order fairly swiftly, the north would continue to fight under the image of Pancho Villa (who would be killed in battle in 1919) and the south was barely less than a warzone under "The Attila of the South" Zapata. The result would be the splitting of Mexico into Mexico, an independent state of South Mexico (nicknamed Oaxaca), and territory in Baja and Chihuahua that would come under American sovereignty. Today, Mexico is a thriving nation in open trade with the United States and Canada, while Oaxaca works to recover from its Cold War communist dictatorship.
In 1984, Czechoslovakia's so-called "Velvet Revolution" swept the Communist regime in Prague out of power as a coalition of students, intellectuals, journalists, clergy, and dissident lawmakers occupied key government buildings in the Czech capital and proclaimed the establishment of a new Czech Republic.

Velvet RevolutionAlthough at first there were some fears the Soviet Union might try to halt the Velvet Revolution by force just as they had crushed the "Prague Spring" experiment sixteen years earlier, those fears gradually subsided as it became clear Soviet military forces were too preoccupied elsewhere to offer more than token opposition to the bloodless coup.

One of the leading figures of the Velvet Revolution was a playwright and ex-political prisoner named Vaclav Havel (pictured); in the aftermath of World War III Havel became prime minister of Czechoslovakia's first democratically elected government since 1948 and served two six-year terms in that office before retiring from the political arena in the mid-1990s. In an ironic reversal of the German reunification, the later years of Havel's second term as PM would see Czechoslovakia split into separate Czech and Slovak states.
In 1942, the sheer folly of Churchill's stubborn policy of total victory was cruelly exposed when Rommel's Afrika Korps captured thirty-three thousand British and South African troops in the Libyan town of Tobruk and the Imperial position in the Middle East Theatre began to implode.

A Beaten ManAt first anti-Nazi belligerence resonated amongst the hysterical back benchers who had lost confidence in the ruling elite. The resulting political crisis swept him to power, and a military one followed hard on its heels because the collapse of France began on his very first day in office. Even though Churchill "put a bomb under Whitehall" he was forced to retain key players such as Chamberlain, Halifax and Eden who continued to serve in senior positions in his "Neville Churchill" Government. Tragically, events were soon to prove that the defeatist attitudes of that ruling elite were in fact nothing other than brutally realistic assessments more firmly rooted in reality than Churchill's fine words.

"We are not anything like as tough as we were. In the last war"Needless to say the underlying logic of the total victory policy was (in theory) perfectly sound. Because Hitler was indeed a meglamaniac who must be relentlessly fought in ever corner until he either overstretched himself, or antagonised either or ideally both of the United States and Soviet Union into a state of outright war. But the greater truth was that Britain had exhausted its limited resources and was now facing total collapse.

Churchill himself began to feel the first chill of doubt within a month of entering office. On May 28th the surrender of the Belgian Army opened a twenty-mile gap on the British left flank which was only closed by the decisive action of Alan Brooke, the Commander of BEF II Corps. The General confessed to Churchill that "We are not anything like as tough as we were in the last war. There has been far too much luxury". But almost immediately after the evacuation from Dunkirk, Churchill demanded fresh plans for an invasion of Europe, ordering Brooke back into the France to join the forces in Brittany.

The military setbacks that had begun with Norway had continued into France, and then Singapore and now Tobruk. Even though Churchills popularity had plummeted with the same loss of credibility he had suffered on all previous occupations of office, he was still respected for his tremendous value as a front man for negotiating with Roosevelt and Stalin. None of his would-be rivals had the neck to either deal with the British public nor the American or Soviet Leader. And so the fall out was that he was forced to appoint Stafford Cripps as Minister for Defence and handover the day-to-day conduct of the conflict to the War Cabinet Defence Committee.

"I cannot understand why Tobruk gave in. More than thirty thousand of our men put their hands up. If they won't fight . . ".Churchill was in fact visiting Washington when he received the news of the Fall of Tobruk. The elderly politican was terribly shaken, unable to complete a statement containing the terrible truth that "I cannot understand why Tobruk gave in. More than thirty thousand of our men put their hands up. If they won't fight . . "..

Alarmed by suggestions in American newspapers of his imminent overthrow, he telephoned Eden to enquire about the political situation. He was shocked to hear that the new consensus at Whitehall was that "so far as the conduct of the war itself goes, [Churchill] is now a nuisance (apart from his hold over the country)". A beaten man, he would now only serve as a mascot. Meanwhile a more balanced leadership would conserve British resources, looking to their American and Soviet allies to continue the War whilst British focused on national survival.
In 1919, on this day sailors of the German High Seas Fleet under the command of Rear-Admiral Ludwig von Reuter scuttled fifty-two of their own ships in order to prevent the British from seizing them.

A Communist Britain, Part One - German Fleet ScuttledBritish guards had attempted to intervene after Von Reuter ordered the seacocks, portholes, watertight doors, hatches and torpedo tubes to be opened. In the struggle, nine German sailors were killed and sixteen wounded.

Yet the Germans felt that the stain of surrender had been removed from their navy. And more than that, they were determined that the German fleet would not fall into the hands of the Communist authorities that were now ruling Great Britain.
In 1702, on this day Robert Cromwell was crowned King of England.

The Royal House of Cromwell, Part 5 - Robert (1702-1722) by David AtwellRobert oversaw a tough time for Britain. War commenced with France & Spain in North America. As a consequence of the ongoing war, Robert accepted Parliament's plan for the creation of the Commonwealth of Northern America. This was principally an effort to organise the American colonies to fight the war efficiently & effectively on behalf of Britain.

Although it had an Advisory Council, a Governor-General ruled on behalf of the Crown. After the British were victorious over the French & Spanish, local discontent eventually forced Robert to request Parliament to copy "the Irish governmental system for My colonies in America". Alas Robert died before this was achieved.
In 2008, some 600 people clad in tunics raced barefoot at the Nemea stadium, 120 kilometres (75 miles) southwest of Athens.696th Olympiad held at Nemea
Two races were staged for the runners aged from 10 to 80, one of 100 metres (110 yards) and the other of 7.5 kilometres. No medals were awarded but crowns of palm branches and wild celery. The six hundred and ninety-sixth Olympiad has reverted to the original prize giving ceremonies established at Olympia in 776 BC.

Some confusion exists around the Ancient Greek Calendar. That the Olympics were held every four years is well known, but some evidence for that assertion is not out of place. Ancient writers all refer to the Olympics as a 5-year period. Ancient historians date by Olympiad by giving both the number of the Olympiad and the year within the cycle, 1-4 (the Olympiad itself was held on year 1). Additionally, lists of Olympic winners were maintained, and the 3rd c. BCE writer Timaios compiled a synchronic list comparing Olympic winners, Athenian archons, Spartan kings, and the priests of Hera from Argos.

Olympiad 1,1 correlates to 776 BCE. We do not actually need to believe an actual festival was held on this date, but when Greek historians are writing in later times, they date their own events using this as the epoch. We can establish a precise correlation to the common era from a variety of different sources, but the most definitive comes from a passage in Diodorus, where he dates the year of a total solar eclipse to the reign of the Athenian archon Hieromnemon, which he also gives as Ol. 117,3. The only astronomically possible date for this event is August 15, 310 BCE, which fixes our epoch.

One thing to be wary of with reckoning by Olympiad is that writers calculated the start of the year by their local convention (spring, summer, winter, or fall). For example Ol. 1,1 correspond to Fall, 777 - Fall 776 BCE by Macedonian reckoning. Byzantine writers who use Olympiads take the year to begin on September 1.

Most of the other eras used by Greek writers are of little importance. One worth mentioning, however, is the Trojan Era (from the destruction of Troy), which is found in a number of historians' works. This date, of course, is purely conventional, and can be seen as analogous to the various world eras (e.g., Hillel's above). A wide variety of starting points are found, but the one with the widest currency, developed by Eratosthenes, set it 407 years before the first Olympiad (1183 BCE).
In 1916, Mexican rebels under the command of the legendary Pancho Villa (pictured) engaged US General John Pershing's expeditionary force at Carrizal, Mexico.

Battle of CarrizalA lucky shot by one of Villa's men brought down the general, and they carried his body away with them as they retreated from the more numerous American soldiers.

When he heard of this incident, German Foreign Minister Arthur Zimmermann hatched a plan to embroil the United States in war with its southern neighbor, in order to keep it out of the war in Europe. German arms soon began flowing to Pancho Villa, who used them to stage raids on what he called "Mexico del Norte", the southwestern United States. President Wilson, after seeing that the Mexican government could do nothing to stop Pancho Villa, sent in fully half of the US Army at the time, vowing to bring the Mexican revolutionary to justice. When American troops crossed the border with Mexico and began shooting Mexican citizens, the already weak government of Venustiano Carranza fell, and Pancho Villa stepped into the void. He rallied all of Mexico to his cause, and with German arms and an alliance with the Central Powers, was able to hold America to a stalemate over 7 harsh years of war.

When the war in Europe ended, Villa sued for peace with the new administration of President Calvin Coolidge, promising an end to the raids and peace between the neighboring countries. Each side had acquired some territory from the other - Texas had expanded slightly across the Rio Grande, while New Mexico and Arizona's borders were now considerably north of where they had been at the start of the war - so, with much grumbling on both sides, they accepted the new borders, after much fortification, and declared peace on March 17, 1924. Recommendation: visit Robbie Taylor's Amazon Author Page.
On this day in 1940, BBC Radio announced that Allied infantry and tank units had crossed the Dutch border into Germany. &nbsp &nbsp &nbsp &nbsp &nbsp &nbsp &nbsp &nbsp &nbsp &nbsp &nbsp &nbsp &nbsp &nbsp &nbsp &nbsp &nbsp &nbsp &nbsp &nbsp &nbsp &nbsp &nbsp &nbsp &nbsp &nbsp &nbsp &nbsp &nbsp &nbsp &nbsp &nbsp &nbsp &nbsp &nbsp &nbsp &nbsp &nbsp &nbsp &nbsp &nbsp &nbsp &nbsp &nbsp &nbsp &nbsp &nbsp
On this day in 1968, East German dictator Walter Ulbricht was overthrown by dissident Volksarmee officers who held him responsible for the nuclear devastation inflicted on East Germany by British missile strikes against Soviet bases in that country during the Anglo-Soviet nuclear conflict.

Ulbricht Walter
The overthrow of Ulbricht was the start of a chain reaction of political and social upheavals that would eventually climax with the breakup of the Warsaw Pact.
On this day in 1957, the Oilers introduced their official team mascot: Wildcat Willie, a cartoon feline decked out in overalls and hardhat similar to those of the 'wildcat' drillers in the Texas oil industry.

Logo
Rochester Royals
On this day in 1972 the Major League Baseball owners' executive committee held an emergency meeting in Los Angeles to assess the impact of the Supreme Court's ruling in Flood v. Kuhn on their dealings with their players.

Curt Flood
In 2003, Russian and Canadian forces engaged the Martians in the Arctic circle, and the world held its breath for the outcome.
In 4648, Emperor Dao-Ming flew back to earth with a small group of scientists from the Chdo Democracy. These b'Han, which looked like a cross between grey slugs and dragons, had been trained in chinese culture during their voyage to our solar system, and in spite of the physical difference, Dao felt perfectly at ease with them. This relationship proved valuable to the emperor in the coming years, as his people explored further out into the universe.
In 1945, American and Canadian forces in the Aleutians surrender to the Japanese. With their capitulation, Japanese forces begin their inexorable march to control of the Canadian mainland.
In 1925, hot off the success of his studio's first talking picture, Thomas Edison releases a new type of record player, as well as a new type of record. The records are magnetic in nature, and the players are able to read the magnetic impulses with an electric stylus. The sound is scratch-free and almost as clear as if you were in the room when it was being recorded. These magno-albums, or Maggies, revolutionize the music industry.
In 1911, noted author H.G. Wells releases a small game he has devised, called Little Wars. It is a wargame where each player takes the side of a small army of miniature figures and leads them in war against the other. It is wildly successful, and spawns an industry of wargame manufacturers
On this day in 1981, NWA world heavyweight champion Tommy Rich fought ex-champion Harley Race to a double countout in the main event of a televised card in Atlanta.

Shortly after the match, Rich was confronted by another former NWA champion, Terry Funk; the two exchanged harsh words before getting into a full-fledged brawl that had to be broken up by arena security.

Wildfire
Tommy Rich
In 1999, Sir Lance du Lac visits King Arthur II in the London hospital where the monarch lies in a coma. The knight has been charged by Queen Gwen with a terrible task, told that it is the only way for the kingdom, and his ruler, to know peace. 'Arthur wouldn't want to just be a body lying in state - he's a man of action. Release him, my brave knight, that his spirit may guide us all from beyond.' Sir Lance had sent away all the nurses and the security outside the room belonged to his Round Table Corps, so he was confident he would not be disturbed. He steeled himself and reached for Arthur, whispering, 'Watch over us from the other world, my king.' Arthur's hand suddenly shot up and grabbed du Lac's, and the eyes of the king fluttered open. 'I'm not done with this world, yet, my friend,' he said to his loyal knight. Sir Lance fell to his knees as Arthur rose from the bed and commanded, 'Get me my clothes. I wish to see my beloved wife.'
In 1893, Lt. Colonel Mark Wainwright, US Army, retired, returns to Topeka, Kansas at the invitation of Governor Thaddeus Elridge. Elridge wanted Wainwright to participate in the ceremony marking the placement of a memorial to the Kansas Rebellion and all those who fought in the war, and the colonel had agreed to break his vow of never coming farther west than New York for the occasion. Several of the men and women who had held him captive during his more trying days in Kansas were there, and many of them came up to him privately and asked him to forgive them for their deeds in those days. 'It was a trying time for everyone,' he told them. 'The only individual I have a grudge against is long since dead.' In fact, 'Sockless' Jerry Simpson's assassin, George Nelson, is one of the people who comes up to speak with Wainwright, and the colonel shakes his hand and thanks him for his actions. 'A lot of men on my side would have been happy to trade places with you, Mr. Nelson. I know I'm one of them.' Nelson demurs Wainwright's thanks, and tells him, 'What I did, I did because he wasn't good for my home. I regret the killing I did then every day of my life.' Colonel Wainwright nodded, looking over at the memorial - a great stone circle with the names of all the Kansans and Union soldiers who died in the conflict engraved into it - and says, 'Keep that regret, Mr. Nelson. Maybe then, fewer of these things will need to be built.'
In 1944, the Red Army launched Operation Bagration, its summer counteroffensive to drive the last remaining German troops in the Soviet Union back into eastern Poland and force Finland to quit the war against the USSR.

The campaign was also meant to divert Wehrmacht troop units which might otherwise be used to try and retake France's Mediterranean and Normandy beaches as well as the city of Paris from the Western Allies.
"I think some of these young people need what my father would call a visit to the woodshed".

Before the mysterious deaths of numerous counter-culture personalities during his Presidency, including Janis Joplin, Jim Morrison and Jimi Hendrix.. The 'Great Silent Majority' wanted to win the peace; North Vietnam could not do that, only America could.

Richard Nixon
US President
In 2026,
the peaceful tranquillity of the 'old ones' of the planet Tyrr was briefly interrupted when they received an unexpected visit from delivery boy
Benjamin Driscoll
. A Caucasian man of middle years, he had made the journey to deliver a package, which was disrespectfully labelled Mars in the style of the people of the third planet. 'There's your free AOL CD - party on, spiritual ancient martian doods!' he said already heading back towards Xi City.
Prince Charles

In 1982, Diana, Princess of Wales, gave birth to a boy sixteen hours after checking in to St Mary's Hospital, in London. The boy, who has been named William, was born at 21:03 BST, weighing 7lb 1?oz. He is second in line to the British throne after his father the Prince of Wales, who accompanied Princess Diana to the hospital at 0500BST this morning and stayed with her throughout the day. Outside the hospital crowds had gathered to wait for news of the birth, with some saying they would wait through the night if necessary. Flowers arrived all day long and were taken into the hospital. Thousands also gathered outside Buckingham Palace, where the birth was formally announced.

Lady Diana
Tragedy unfolded as the royal couple divorced, and Princess Diana subsequently died in a car accident in Paris. Prince William and his brother Harry lived with the head of their blood family Earl of Spencer at his home in South Africa for the next decade.

In 2007 having remarried the Prince of Wales decision not to attend the memorial for Princess Diana was met with widespread approval from the British public. Royal commentators considered it highly unlikely that Princes William and Harry would meet with their father. Attendees of the service were therefore shocked to see the Prince arrive with his second wife, the Duchess of Cornwall. They were amazed to see his two sons arrive, and present their father with a wristwatch engraved ASNF (A Son Never Forgets). In his emotional acceptance speech, Prince Charles said he was so sorry, so very sorry for what had happened, but he would set it right or die trying.
In 1945, US Forces quit the Japanese island of Okinawa due to unacceptable high casualty rates. The island, situated 340 miles (550km) south of the Japanese mainland, would have provided the Americans with an invaluable air and naval base from which to launch a sustained and forceful attack on the mainland. It is estimated more than 90,000 Japanese troops were killed in the 82-day conflict. America also suffered heavy losses - at this stage 6,990 servicemen have been reported killed or missing and 25,598 wounded.

President Harry S Truman said that 'options other than conventional warfare' would need to be pursued to complete the downfall of Japan.

US Marines
Okinawa
Older Posts

© Today in Alternate History, 2013-. All characters appearing in this work are fictitious. Any resemblance to real persons, living or dead, is purely coincidental.