| | |
| --- | --- |
| May 30 | |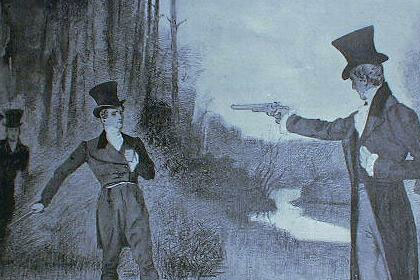 In 1806, on this day thirty-nine year old Carolinian Andrew Jackson was shot dead in a duel with a fellow planter and expert marksman called Charles Dickinson (because dueling was outlawed in Tennessee, the two men travelled to Adairville in the Kentucky border area). Dickinson had accused Jackson of welshing on a horse-racing bet and then called his wife a bigamist because she had married Jackson unaware that her first husband had not finalized the divorce.

The Duel in AdairvilleSince Dickinson was considered an expert shot, Jackson and his second, Thomas Overton, determined it would be best to let Dickinson fire first, hoping that his aim might be spoiled in his quickness. Jackson would wait and, if he was still standing, take careful aim at Dickinson. The obvious weakness of this strategy was, of course, that Jackson might not be alive to take aim. Being a notorious hot-head, he dismissed this danger with the cavalier statement "I should hit him if he had shot me through the brain".

And Jackson stood stoically throughout the duel but Overton noticed blood running down on Jackson's boot as they left the duelling ground. The expert Dickinson had aimed at Jackson's heart though the bullet had been slightly deflected by Jackson's choice of loose clothing on his lean frame, and careful sideways stance. The bullet broke some of Jackson's ribs, and had lodged inches from his heart. The bullet could not be removed under the then-current state of medical technology and he died the following day from blood loss.

© Today in Alternate History, 2013-. All characters appearing in this work are fictitious. Any resemblance to real persons, living or dead, is purely coincidental.