| | |
| --- | --- |
| December 31 | |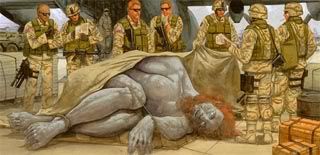 In 1999, on this day an amazing discovery was made by a US expeditionary team operating at the summit of Mount Ararat in Turkey.
An installment from the Miracles thread.

Fourth MiracleThe wreckage of Noah's Ark had been located by a satellite. But amongst the debris, the American scientists discovered the skeletal remains of humans, animals and Nephilim, the giants who inhabited Canaan according to Numbers 13:33.

The mission was immediately upgraded from top secret to ultra secret. Because the US Government intended to reverse engineer the DNA in order to construct the super-soldier of the future. Ironically, the first deployment would be in Iraq, within close proximity of the location of the Garden of Eden.

© Today in Alternate History, 2013-. All characters appearing in this work are fictitious. Any resemblance to real persons, living or dead, is purely coincidental.