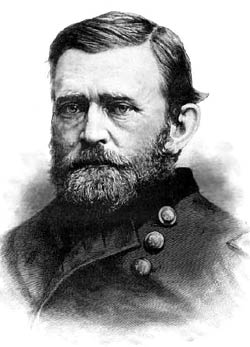 In 1880, on this day the Republican National Convention at Exposition Hall in Chicago closed with the nomination of Ulysses S. Grant to run for a historic third term of office.

Third Term, Part 1: James A. Garfield holds backBecause of Grant's subsequent defeat in the general election, the two-term precedent set by General Washington was really brushed aside by FDR's victory in 1940. And in March 1944, he went to Bethesda Hospital for tests and it was then concluded that he was incapable of running for the fourth term that he had been contemplating. It was speculated that such a move might have triggered a constitutional amendment to restrict term limits, but his death aged sixty appeared to demonstrate that the strain of office introduced its own constraint.

During the remainder of the twentieth century, only Eisenhower and Reagan could have considered a third term, but like FDR, both were in late middle age when they entered the White House, and their health would not have withstood such a strain.

Matters only changed in the final decade, when Bill Clinton was elected at the relatively young age of forty-six. The appeal of a third term forced him to curtail his appetite for indiscretions, and by 2000 it was clear that he would launch such a bid. This controversial decision was challenged by numerous detractors who opposed "King Bill" To be continued in this Third Term thread
© Today in Alternate History, 2013-. All characters appearing in this work are fictitious. Any resemblance to real persons, living or dead, is purely coincidental.